Login
Log in if you have an account
Dont have an account? Register
New Releases & Staff Picks 1/21/22
21 Jan 2022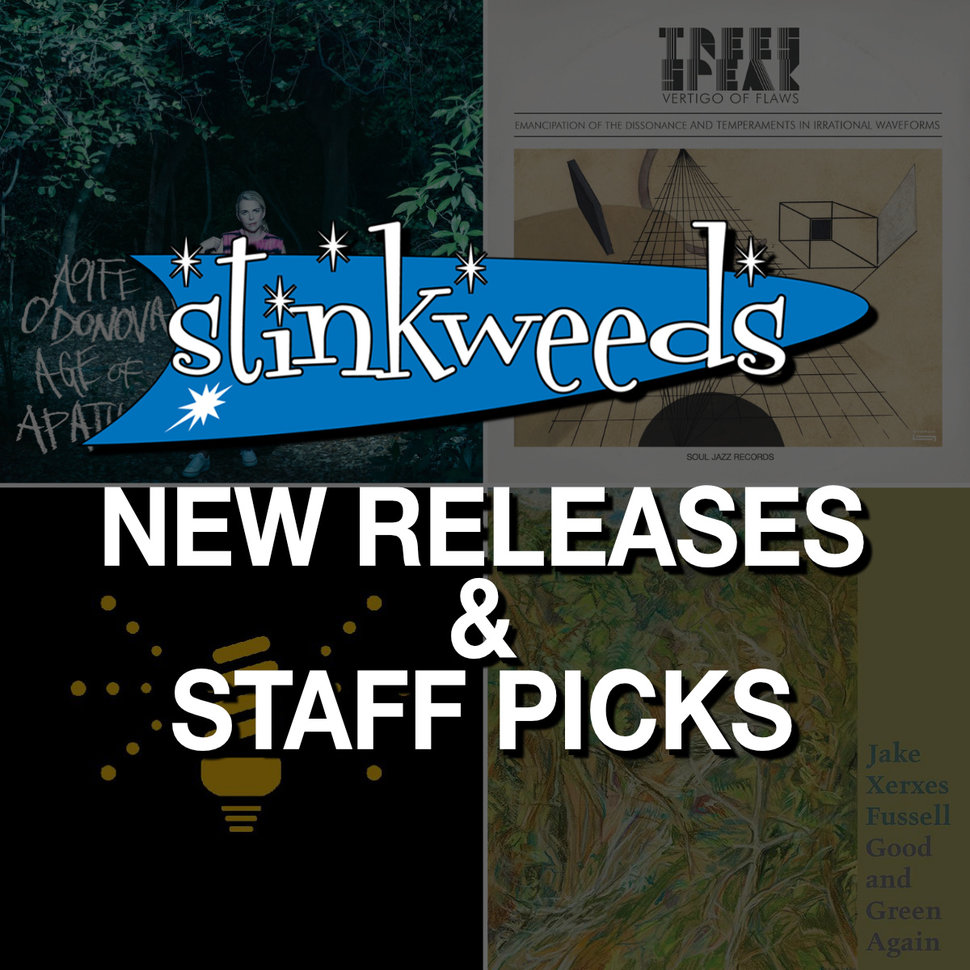 Staff Picks
Lindsay – Trees Speak
Dario – Jake Xerxes Fussel
Zach – Nick Hakim and Roy Nathanson, and Boris
 Caleb – Xiu Xiu Reissue 
Kimber – Film School
Trees Speak – Vertigo of Flaws: Emancipation of the Dissonance and Temperaments in Irrational Waveforms CD /LP+7" (Soul Jazz)
Tucson, AZ's Trees Speak's new album is a vast leap into an ocean of space and sound, a quantum leap into cybernetics, biology, anti-gravity, time travel, dream speech and transfiguration. Alongside their now trademark German krautrock motoric-beat rhythms, angular New York post-punk attitude, tripped-out 60s spy soundtrack, psyche-rock, and 70s synthesizers and vocoders, you will also hear a new cosmic spacial awareness (both personal inner space and galactic outer space) and a truly willful pushing of sonic boundaries.
Boris – W CD/LP/Cassette (Sacred Bones)
In an effort to sublimate the negative energy surrounding everyone in 2020, legendary Japanese post-rock band Boris focused all of their energy creatively and turned out the most extreme album of their long and widely celebrated career, NO. The band self-released the album, desiring to get it out as quickly as possible but intentionally called the final track on the album "Interlude" with anticipation of a follow-up. The follow-up comes with W the band's debut album for their new label Sacred Bones Records. The record opens with the same melody as "Interlude" in a piece titled "I want to go to the side where you can touch…" and in contrast to the extreme sounds found on NO, this new album whispers into the listener's ear with a trembling hazy sound meant to awaken sensation. [A limited-edition sea blue color vinyl pressing is available.]
Jake Xerxes Fussell – Good And Green Again CD/LP (Paradise Of Bachelors)
Jake Xerxes Fussell's fourth album finds the acclaimed folksong interpreter, guitarist, and singer navigating fresh sonic and compositional landscapes on the most conceptually focused, breathtakingly rendered, and enigmatically poignant record of his wondrous catalog. Produced by James Elkington and featuring formidable players both familiar (Casey Toll, Libby Rodenbough) and new (Joe Westerlund, Bonnie Prince Billy), it includes Jake's first original compositions; atmospheric arrangements with pedal steel, horns, and strings; and cover art by Art Rosenbaum.
Aoife O'Donovan – Age Of Apathy CD/2xCD/LP+MP3/2xLP+MP3 (Yep Roc)
Produced by fellow Grammy-winner Joe Henry (Bonnie Raitt, Rhiannon Giddens) and featuring guest appearances from Allison Russell and Madison Cunningham, Age Of Apathy finds Aoife O'Donovan's gift for poetic imagery and unconventionally alluring melody in full bloom as she confronts the sense-dulling barrage of the digital age. Amid symphonic arrangements that reveal a stunning mastery of her craft, Aoife puts forth a statement of defiance and radical love – one that reaffirms her as one of our most vital songwriters today. [A deluxe double-CD edition is available, in addition to two color vinyl issues – single and double-LP.]
Penny And Sparrow – Olly Olly CD/LP (I Love You)
Written and recorded over the past year, Penny And Sparrow's remarkable new album, Olly Olly, is a work of liberation and revelation, a full-throated embrace of the self from a band that's committed to leaving no stone unturned in their tireless quest for actualization. The songs here are fearless and introspective, embracing growth and change as they reckon with desire, intimacy, doubt, and regret, and the arrangements are similarly bold and thoughtful, augmenting the duo's rich, hypnotic brand of chamber folk with electronic flourishes and R&B grooves.
Fucked Up – Epics In Minutes [Reissue/2003] LP (Get Better)
Epics in Minutes is the definitive landmark of Fucked Up's early days of releasing 7″ records and cassettes. Released only three years into their existence on CD only, it has been remastered and made available on vinyl for the first time. The songs here are the beginning of the long journey of Fucked Up's larger than life catalogue with sounds ranging from blown out hardcore punk recorded on four track cassette, to the glorious interlocking guitar parts and narrative lyric writing that would set the tone for the rest of their musical career.
Fujiya & Miyagi – Lightbulbs [Reissue/2008] LP+MP3 (Impossible Objects)
Over the last two decades Brighton's Fujiya & Miyagi has been steadily building a vast body of work that explores 1970's Germany-tinged beats, whip smart electronica, intoxicating disco, shimmering pop and generally concocting an idiosyncratic blend of dance music that sounds utterly and uniquely their own.
Nick Hakim and Roy Nathanson – Small Things LP (TMWRK)
Nick Hakim and Roy Nathanson deliver the new collaborative album Small Things.Executive-produced by Isaiah Barr of Onyx Collective, the album sees two artists who are staples in the Onyx Collective universe join forces. The creative process behind the record was an organic one: Hakim read some of Nathanson's poetry which in turn inspired several chords that became the foundation of Small Things. Nathanson puts it best: "It seems we were lucky. Looks like we got ourselves on the moon the old-fashioned way."
Justice – Viewpoints [Reissue/1998] 2xLP (Hydrogen Dukebox)
Since it first dropped in 1998, Viewpoints, the debut album by UK producer Justice, aka Tony Bowes, has been celebrated as one of the most influential albums by DJs and producers across the spectrum of electronic music. The 11-track album was the product of a fevered burst of creativity and experimentation that explored Justice's many influences, resulting in the creation of unheard-before sonic hybrids.
LP – Chuches 2xLP (Sota)
The lush and captivating Churches was executive produced by Mike Del Rio (Kylie Minogue, X Ambassadors, Skylar Grey). In addition to tracks produced by Del Rio, Churches includes production by Nate Campany (Tove Lo, K. Flay, Christina Aguillera) and Kyle Shearer (Becky G, Tove Lo, Carly Rae Jepsen) – collectively known as Valley Girl; Lars Stalfors (Health, Local Natives, Cold War Kids); two-time Grammy winner Dan Wilson (Adele, Pink, Leon Bridges, James Bay); Dan Nigro (Olivia Rodrigo, Carly Rae Jepsen, Sky Ferreira); and Isabella Machine Summers (Florence & The Machine).
Aimee Mann – Queens Of Summer Hotel LP (Super Ego)
The 2021 release from the the acclaimed singer/songwrite contains songs inspired by the book Girl Interrupted, written by Susannah Kaysen.
Xiu Xiu – Dear God, I Hate Myself [Reissue/2010] LP+7"+MP3 (Kill Rock Stars)
The two biggest constants throughout Xiu Xiu's catalog are honesty and evolution. This remains true with Dear God, I Hate Myself as it delivers a look at responsibility, fear, healing, and societal roles wrapped in rich gothic pop music. The sound is still distinctly Xiu Xiu, but Jamie Stewart's vocals are finally effortless paired with vibrant melodies full of subtlety and the distinct sonic accents expected of this anticipated Xiu Xiu release. The result is a record that proves that art can be pop and pop can challenge you to look inside yourself.
Keb' Mo' – Good To Be… CD (Rounder/UMGD)
Written partially in Nashville and partially in the Compton house 5x Grammy-winner Keb' Mo' grew up in, Good To Be… weaves together past and present into a heartwarming tapestry spanning more than 40 years of sonic evolution. Joined by a variety of collaborators, including Vince Gill, famed producer Tom Hambridge, Darius Rucker, and Kristin Chenoweth, Good To Be… is a deeply cohesive and optimistic collection of music about appreciating what you've got, where you come from, and who you get to share it with. [Vinyl edition due May 13.]
Artsick – Fingers Crossed LP (Slumberland)
Artsick was formed in June 2018 when Christina Riley was feeling "artsick" and writing songs, but missing the inspiration and excitement of collaborating with her old band, Burnt Palms. Christina was soon joined by Mario Hernandez (Kids On A Crime Spree, Ciao Bella) on drums and Donna McKean (Lunchbox, Hard Left) on bass and a band was born. Following up their terrific 2018 7″ single they are back with their debut album Fingers Crossed, a thrilling, compelling and downright fun record that surveys a vast swathe of indie and indiepop history, from DIY progenitors like Dolly Mixture through the punkier side of C86 (think Talulah Gosh, Fat Tulips) to the 90s K Records-centered International Pop Underground and straight through more recent exemplars like Vivian Girls and Colleen Green. Across its 11 songs Fingers Crossed is packed with great songs and memorable moments, indelible melodies and heartfelt lyrics. Christina says that she was "always been drawn to fuzzy guitars, melodies with emotion and songs with urgency" and that is readily apparent on every moment of this excellent album.  
Film School – We Weren't Here LP (Sonic Ritual)
Indie shoegaze stalwarts Film School return with their sixth full-length release and first for Sonic Ritual, We Weren't Here, the follow-up to 2018's Bright to Death.Whereas the band recorded the previous album while holed up together in the isolated Southern California desert enclave of Joshua Tree, the Covid pandemic forced a different kind of isolation this time around. What emerges from beneath the waves of the album's psychedelic dream pop are bittersweet themes of a year lived in suspended animation: anticipation, separation, regret, revelation. With their sixth full-length release since the band's formation over 20 years ago, Film School crystallize their position in the shoegaze pantheon.
Spirit Of The Beehive – Door 7″ (Saddle Creek)
Six months on from the release of their critically-acclaimed fourth album,ENTERTAINMENT, DEATH, Philadelphia trio SPIRIT OF THE BEEHIVE closeout 2021 with brand new 7″ THE DOOR, comprising two previously-heard but never physically released songs in "THE DOOR IS OPEN" and "THE DOOR IS CLOSING". Super limited teal vinyl!
King Gizzard and the Lizard Wizard – 3001 LP (KGLW)
King Gizzard and the Lizard's first ever remix album over 2LPs of heavyweight wax. Jason Galea's Butterfly 3000 artwork remixed (by himself) on 350 gsm reverse board with spot glossing, a die-cut disco hole and housed in a recycled and recyclable custom cardboard sleeve as a shrink wrap alternative. Comes in these variants named after beautiful butterfly species
Ramones – Rocket To Russia LP (Rhino)
Limited edition colored reissue.
COMING NEXT WEEK!
BURIAL – Antidawn LP
ANTELOPER – Kudu LP
PJ HARVEY – Let England Shake Reissue CD/LP and demos
ST PAUL & THE BROKEN BONES – Alien Coast CD/LP
BILL CALLAHAN / BONNIE PRINCE BILLIE – Blind Date Party CD/LP
PINEGROVE – 11:11 CD/LP
LUCINDA WILLIAMS – Lu's Jukebox 6 CD/LP
ANAIS MITCHELL – Invited CD
JONSI – Without Remorse CD
EARTHLESS – Night Parade Of One Hundred CD/LP
EELS – Extreme Witchcraft CD/LP
SIMONE FELICE – All The Bright Coins CD/LP
FRUIT BATS – Sometimes A Cloud Is Just A Cloud LP
SAINT ETIENNE – Foxbase Alpha LP
LADY WRAY – Piece Of Me CD/LP
BLACK REBEL MOTORCYCLE CLUB – Beat The Devils Tattoo LP reissue
BLACK REBEL MOTORCYCLE CLUB – Specter At The Feast LP
BLACK REBEL MOTORCYCLE CLUB – Wrong Creatures LP
WIZ KHALIFA – Kush + Orange Juice LP reissue