Login
Log in if you have an account
Dont have an account? Register
New Releases & Staff Picks 1/7/22
09 Jan 2022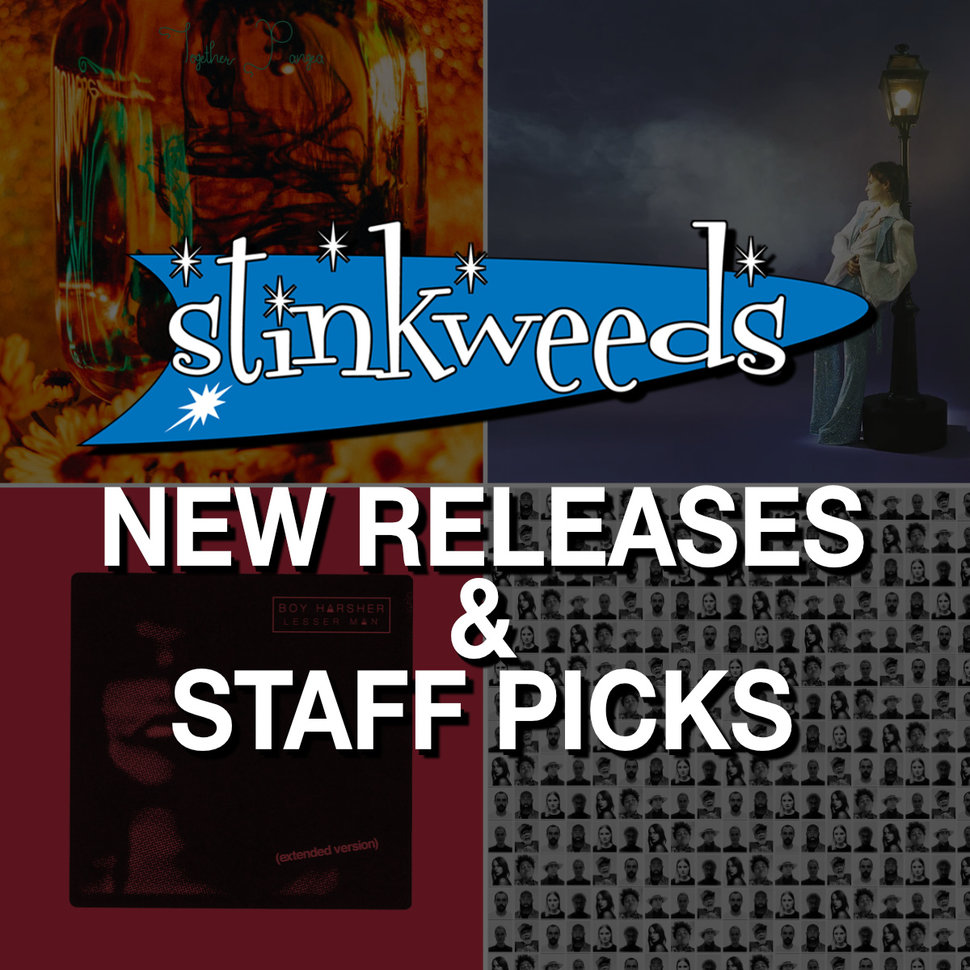 Staff Picks
Lindsay – Corrosion Of Conformity
Dario – Elliott Smith 7″s
Zach – Together Pangea and Lonely Guest
 Caleb – Lonely Guest
Kimber – Elliott Smith 7″s 
Together Pangea – Dye LP (Nettwerk)
The members of the Los Angeles indie band Together Pangea-William Keegan, Danny Bengston, and Eric Jimenez-made the most of the 2020 turbulence by writing and recording DYE, an upbeat, undeniable collection of hooks, anthems, and power-pop garage-rock catchiness that is unmistakably the album of their career. And while they-and we-are still processing not only what the hell happened during the past bonkers year but also just what in the hell got made in it, too, one thing is certain: when life gives you lockdowns, make some fucking lemonade. DYE is filled to the brim with a sense of primal urgency, with feedback and distortion leading the charge.
Christine and the Queens – La Vita Nuova LP (Because Music)
La Vita Nuova, features 6 new songs, including the single "People, I've been sad." Standard 140-gram black vinyl with printed inner sleeve.
Travis – The Invisible Band LP 20th Anniversary Reissue (Craft Recordings)
Celebrating the 20th Anniversary of the multi-platinum album The Invisible Band, the original album has been remastered by GRAMMY® Award-winning engineer Emily Lazar and features the hit singles, "Sing," "Flowers in the Window," and "Side." LP Packaging: First-ever vinyl reissue remastered by GRAMMY® Award-winning engineer Emily Lazar, cut at London's Air Studios.
Boy Harsher – Lesser Man LP reissue (Nude Club)
Lesser Man (Extended Version) now available on rose colored vinyl, is the first release of Boy Harsher`s imprint, Nude Club Records, originally released on cassette by Soft Science in (2014), and Night People (2015). The album was reissued by the infamous Berlin goth label aufnahme + wiedergabe in Nov 2017 on 500 copies, and sold out in less than two weeks. Remastered by Thomas P. Heckmann at Trope Mastering, Lesser Man (Extended Version) includes the dark wave hit, 'Pain' and the unreleased track 'Run' which was recorded during the Lesser Man session. LP version includes digital download code + 2 bonus tracks: 'Pain (radio edit)' and 'Pain (The Soft Moon Remix.'
Corrosion Of Conformity – Blind LP (Red Music Legacy)
30th Anniversary of COC's landmark LP Blind. Available on limited edition red vinyl, with bonus material.
Various Artists – Juno Soundtrack LP (Rhino)
Limited reissue on green vinyl.
Elliott Smith – Needle In The Hay 7″ ( KRS)
Available on red vinyl. Released on New Year's Day, 1995, "Needle In The Hay" followed up on Elliott Smith's debut album Roman Candle the previous year, and appeared as the lead track on the eponymous Elliott Smith later in '95. The song has left a remarkable legacy, having been covered by an array of artists spanning Juliana Hatfield, Bad Astronaut, and Kermit the Frog. This 7" features "Needle In The Hay" backed with "Alphabet City" and "Some Song", offering an encapsulation of Smith's early work.
Elliott Smith – Speed Trials 7″ (KRS)
Available on yellow vinyl. Released on October 1, 1996, "Speed Trials" was the first single from Elliott Smith's breakthrough album, Either/Or. The track's careening rhythms and languished vocal melodies have kept it a favorite in Smith's catalogue decades after its debut. Backed with additional Either/Or track "Angeles" and the elsewhere unreleased "I Don't Think I'm Ever Gonna Figure It Out", this 7" highlights Smith's talent during one of the most earnest and creative periods of his life.
Lonely Guest – Lonely Guest CD (K7)
CD now, vinyl coming in Feb. Lonely Guest was conceived and put together over the last 18 months by one of British music's true innovators: Tricky. But as he's keen to make clear: this ain't no Tricky album. Rather it's a thrilling meeting of musical mavericks, with the likes of Lee "Scratch" Perry and Idles' Joe Talbot all pitting their unique approaches to songwriting against Tricky's otherworldly production. From an unsettling tale of isolation courtesy of Maxïmo Park's Paul Smith 'Christmas Trees' to the grunge stylings of Marta's 'Move Me', via the tense storytelling of London rapper Kway's 'On A Move', these diverse statements come together as a bold artistic statement of their own.
COMING NEXT WEEK!
BONOBO – Fragments CD/LP
ELVIS COSTELLO – Boy Named If CD/LP
PUNCH BROTHERS – Hell On Church Street CD/LP
JEFF TWEEDY – Chelsea Walls LP
BILL FAY – Still Some Light CD/LP
FRONT BOTTOMS – Self-Titled picture disc reissue
KERNAL – Listen To The Blood CD/LP
LUMINEERS – Brightside CD/LP
PORTRAYAL OF GUILT – Christfucker LP
WOMBATS – Fix Yourself Not The World CD/LP
BEACH FOSSILS – Other Side Of Life: Piano Ballads LP
MARY LATTIMORE – Collected Pieces 2015-2020 CD/LP
GANG OF FOUR – Entertainment LP
UNDEROATH – Voyeurist LP
KURT VILE / STEVE GUNN – Gunn Vile LP
TKAY MAIDZA – Last Year Was Weird 3 LP
RICHARD HELL – Blank Generation LP reissue
O SEES – Levitation Sessions 1 LP
CORROSION OF CONFORMITY – Technocracy LP
LOST IN TRANSLATION SOUNDTRACK LP