Login
Log in if you have an account
Dont have an account? Register
New Releases & Staff Picks - 2/18/22
17 Feb 2022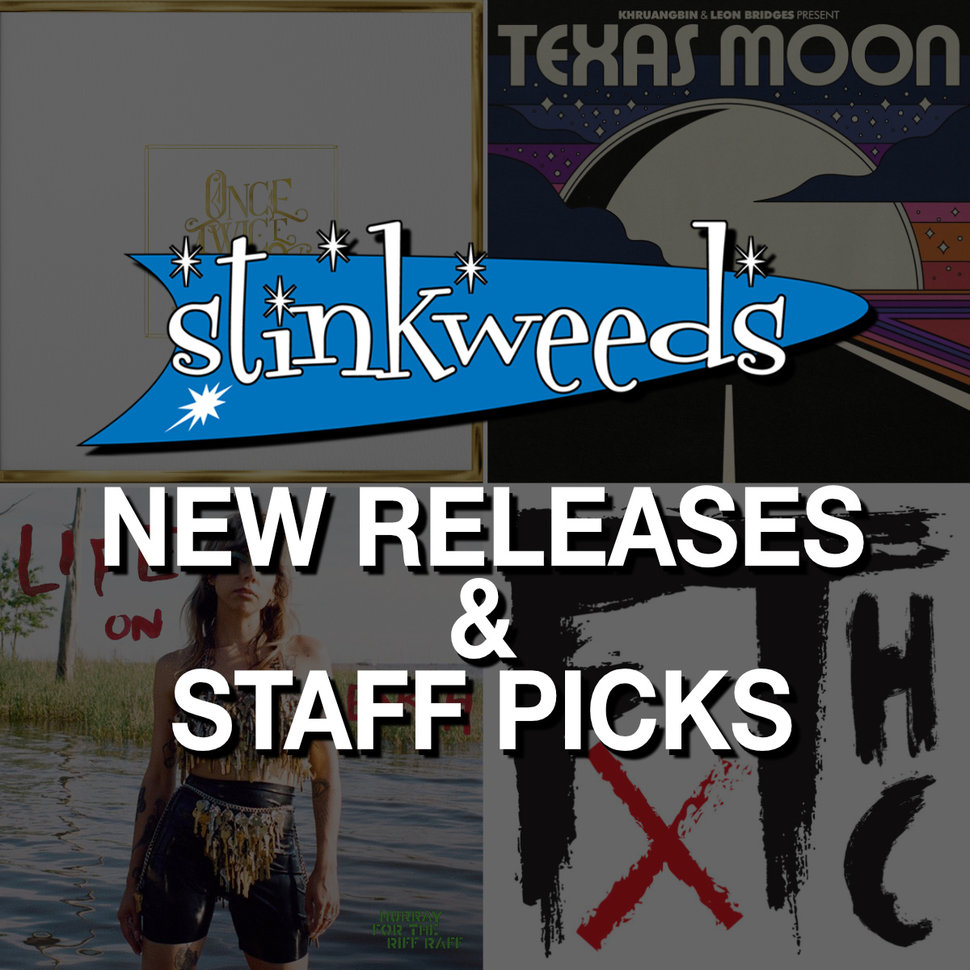 Staff Picks
Lindsay - Hurray For The Riff Raff, Saint Etienne, and Water From Your Eyes
Dario - Khruangbin & Leon Bridges
Zach - Beach House, Water From Your Eyes 
 Caleb - Beach House 
Kimber - Khruangbin & Leon Bridges
Beach House – Once Twice Melody CD/LP/2xLP+MP3/2xCassette (Sub Pop)
Once Twice Melody is the eighth studio album by Beach House, a double album, featuring 18 songs presented in four chapters. Across these songs, many types of style and song structures can be heard. Songs without drums, songs centered around acoustic guitar, mostly electronic songs with no guitar, wandering and repetitive melodies, songs built around the string sections. In addition to new sounds, many of the drum machines, organs, keyboards and tones that listeners may associate with previous Beach House records remain present throughout many of the compositions. [Two vinyl editions are available: Silver Edition and Gold Edition. The Silver Edition is comprised of two black vinyl LPs housed in a wide-spine jacket with poster and custom inner sleeves. The Gold Edition features two color vinyl LPs housed in separate jackets with custom inner sleeves plus two posters and a book, all enclosed in a hinged box.]
Khruangbin & Leon Bridges – Present Texas Moon CDEP/12"+MP3 (Dead Oceans)
Two of the acts boldly leading Texas music into the future have now delivered a second chapter of their groundbreaking collaboration, further extending the region's sonic possibilities. Singer/songwriter Leon Bridges, from Ft. Worth, and trailblazing Houston trio Khruangbin have joined forces for the Texas Moon EP, a follow-up to 2020's acclaimed Texas Sun project. While the five new songs are clearly a continuation of the first EP, they also have an identity all their own-Bridges calls it "more introspective," while Khruangbin bassist Laura Lee says it "feels more nighttime." [An indie store exclusive limited-edition blue color vinyl pressing is available.]
Frank Turner – FTHC CD/LP (Virgin)
FTHC is Frank Turner's first album since 2019. It was recorded at Abbey Recording Studios and produced/mixed by Rich Costey. It darts between punk, folk, hard rock and singer-songwriter confessionals, starting with "The Gathering" featuring Jason Isbell and Muse's Dom Howard. The project ends with a rumination on leaving the capital after 7,300 days for a new life on the Essex coast with the bittersweet "Farewell To My City". [A limited-edition indie store exclusive red color vinyl edition is available.]
Gregor Barnett – Don't Go Throwing Roses In My Grave CD (Epitaph)
Gregor Barnett, guitarist/co-vocalist for The Menzingers, delivers his debut release Don't Go Throwing Roses In My Grave. Written and recorded in the midst of the COVID-19 pandemic, Don't Go Throwing Roses In My Grave is a sonic departure from Barnett's more punk-leaning work with The Menzingers, drawing on the gritty, off-kilter Americana of Tom Waits or Warren Zevon as it faces down loss and doubt in search of relief and redemption. "It was this perfect storm," says Barnett. "The band couldn't tour, I was going through a really difficult time, and I was stuck at home watching my family struggle with illness and death and hardship. The only thing I could do was write my way through it." [Vinyl editions – including a limited-edition indie store exclusive clear w/ black smoke color vinyl pressing – due 3/18/22.]
Hurray For The Riff Raff – Life On Earth CD/LP (Nonesuch)
The Nonesuch debut of Hurray For The Riff Raff (aka Alynda Segarra) is a departure for the Bronx-born, New Orleans-based singer/songwriter. It's eleven new "nature punk" tracks on the theme of survival are music for a world in flux-songs about thriving, not just surviving, while disaster is happening. For her eighth full-length album, Segarra drew inspiration from The Clash, Beverly Glenn-Copeland, Bad Bunny, and the author of Emergent Strategy, Adrienne Maree Brown. Recorded during the pandemic, Life On Earth was produced by Brad Cook (Waxahatchee, Bon Iver, Kevin Morby). [A limited-edition indie store exclusive clear vinyl pressing is available.]
Sleigh Bells – Texis LP (Mom+Pop)
Released last October on CD – now available on limited clear vinyl. After releasing their 2010 album Treats, which became an indie classic, deemed 'Best New Music' by Pitchfork, 'phenomenal' by Paste Magazine, 'pop smarts' by Rolling Stone, and a 'game-changer' by Stereogum - Sleigh Bells have returned with their fifth studio album, Texis.
Los Bitchos – Let The Festivities Begin! CD/LP+MP3 (City Slang
Panthers prowling through a desert. Cowgirls swaggering into a saloon and kicking up dust. Riding shotgun with a Tarantino heroine. Having the fiesta of your lives under a giant piñata with all your friends. Los Bitchos' hallucinatory surf-exotica is as evocative as it is playful: the London-based pan-continental group could well be your new favorite party band with their instrumental voyages that are the soundtrack to setting alight to a row of flaming sambucas and losing yourself to the night. They've got a bun-tight knack for a groove – and they've got the best fringes in rock 'n' roll too. Their unique sound is a retro-futuristic blend of Peruvian chica, Argentine cumbia, Turkish psych and surf guitars. They are London's answer to Khruangbin, if Khruangbin spent all weekend getting slammed on cheap tequila in a Dalston dive bar. [A limited-edition indie store exclusive color vinyl pressing is available.]
Sarah Shook & The Disarmers – Nightroamer CD/LP (Abeyance)
Produced by multi-platinum, Grammy-winning producer and groundbreaking guitarist Pete Anderson (most widely known as the musical partner to Dwight Yoakam from 1986-2003, and collaborator with Lucinda Williams, Jim Lauderdale, Michelle Shocked and Rosie Flores), Nightroamer is the third album from the North Carolina band Sarah Shook & The Disarmers who merge raw country with punk grit and pop sensibilities. "Straightforward, undiluted songs about shared hardships and unlikely victories that can bring even the most polarized people together," Sarah reveals. [A limited-edition indie store exclusive translucent blue color vinyl pressing is available.]
Metronomy – Small World CD/LP (Because Music)
Metronomy's Small World is a return to simple pleasures, nature, and an embracing of more pared-down songwriter sonics. So sure, things are different now Joe Mount is getting older and what's on his mind is changing, but that doesn't mark a change in quality for Metronomy. An immaculate set of tracks, Joe Mount's ability as a songwriter and arranger shine through on Small World, evergreen. Metronomy continues to make great pop music - and, really, that's all that we could ask for. [A limited-edition indie store exclusive clear vinyl pressing is available.]
Eric Chenaux – Say Laura LP+MP3 (Constellation)
The new record by Eric Chenaux is his most immaculate and pristine. Say Laura perfectly incarnates the counter-intuitive interplay of instrument and voice that Chenaux has been revealing and reveling in throughout the past decade: his gently unhinged juxtaposition of resplendently smooth, seductively assured singing and puckish, frazzled, thoroughly destabilized guitar could come from no other musician. The five wandering, wondering ballads on Say Laura bring Chenaux's semi-improvised but keenly intentional songwriting to its fullest, clearest, warmest and coolest articulation; uncompromising and generous, hyper-specific and loose, spartan and luxurious, elemental and ornate.
alt-J – The Dream LP (Atlantic)
Released last week on CD and indie store exclusive clear vinyl – now available on black vinyl. The Dream is an album of intrigue, beauty and humanity - a coalescence of everything that has made alt-J a global band with true staying power. True-crime inspired stories and tales of Hollywood and the Chateau Marmont rub shoulders with some of the band's most personal moments to-date. The album was created after a period of rest for the band following their seismic world tour in support of previous record Relaxer. It is a record that is the sound of a band growing as songwriters and storytellers.
Assemblage 23 – Failure LP (Metropolis)
2021 marks the 20-year anniversary of Assemblage 23's seminal album Failure. This release consists of the original album, given a fresh mix from the ground up by Shear, and a selection of remixes of "Failure" tracks by other artists.
Bad Brains – Quickness [Reissue/1989] LP (Org Music)
Vinyl reissue of Bad Brains' fourth full-length studio album. At the time of its release, it was the band's best-selling album and landed them a featured MTV music video for the opening track, "Soul Craft". This reissue marks the fifth release in the remaster campaign, re-launching the Bad Brains Records label imprint.
The Dodos – Grizzly Peak LP+MP3 (Polyvinyl)
Released last November on CD – now available on pink color vinyl. Since 2006, The Dodos (singer and guitarist Meric Long and drummer Logan Kroeber) have been careening, almost recklessly, towards some perfect ideal of how The Dodos should sound. Meditative and sometimes painful in its emotional excavation, over the course of ten anthemic, gorgeously rendered tracks, Grizzly Peak reveals itself as that place Long and Kroeber were always desperately trying to find. Befitting a record that hits so close to The Dodos' career-long goal, Grizzly Peak also serves as a love letter to the fans who have devoted their hearts to Long and Kroeber's music.
Echo & The Bunnymen – Songs To Learn & Sing [Reissue/1985] LP (Rhino)
Originally released in 1985, Songs To Learn & Sing is a comprehensive collection of Echo & The Bunnymen's first four albums, from their second single "Rescue", to "The Cutter" and the anthemic "The Killing Moon". Also included is "Bring On The Dancing Horses", a single launched at the time in conjunction with Songs To Learn & Sing.
Joe Henderson – Inner Urge [Reissue/1964] LP (Blue Note)
Joe Henderson had fully hit his stride by the time he made Inner Urge, his fourth album for Blue Note, recorded in November 1964. After a series of quintet dates, this was the tenor saxophonist's first quartet album, and it featured an extraordinary line-up with McCoy Tyner on piano, Bob Cranshaw on bass, and Elvin Jones on drums.
The Hope Conspiracy – Death Knows Your Name [Reissue/2006] LP (Deathwish Inc.)
The Hope Conspiracy is a legendary hardcore band from Boston, MA. Death Knows Your Name is their landmark album originally released in 2006. A limited-edition indie store exclusive vinyl pressing is available.

Lavender Country – Blackberry Rose LP+MP3 (Don Giovanni)
Limited color vinyl pressing. Led by principal songwriter Patrick Haggerty, Blackberry Rose is Lavender Country's first album in nearly 50 years. Their debut self-titled album, released in 1973, is universally recognized as the first ever country album to be released by an openly gay artist.
Lucero – Lucero [Reissue/2001] 2xLP (Liberty & Lament)
Like the great river that flows through Memphis, the music of Lucero keeps rolling on, twisting and turning through the years, the same dark and brooding steadiness always at work. Since forming in late the '90s, this group of Memphis road-dogs has mixed heartfelt lyrics with the sounds of early rock and roll, classic punk, country-folk, and deep-fried Southern soul. It's a sound that stands on the pillars of American music, born more of feeling than technique, delivered night after night to legions of fans in dive bars and theaters, and on stages as august as Red Rocks Amphitheater and the Ryman. In short, it's music that is built to last, impervious to trends. Lucero's eponymous 2001 debut album pressed for the first time ever on vinyl, in honor of the 20th anniversary of its release. Gatefold 180gm double-LP set with original CD artwork reformatted for vinyl.
Circle Jerks - Wild In The Streets (40th Anniversary)LP (Trust)
Wild In The Streets (40th Anniversary Edition) Circle Jerks - Bass - Roger Rogerson / Drums - Lucky Lehrer / Guitar - Greg Hetson / Vocals - Keith Morris. Features bonus tracks, a booklet and photos.
Drive Soundtrack LP (Lakeshore)
Limited color vinyl LP pressing. The timeless soundtrack for Drive is now available on Neon Noir Splatter to celebrate the films 10th Anniversary! The soundtrack features original music by Cliff Martinez
Lonely Guest - Self-Titled LP (K7)
Lonely Guest was conceived and put together over the last 18 months by one of British music's true innovators: Tricky. But as he's keen to make clear: this ain't no Tricky album. Rather it's a thrilling meeting of musical mavericks, with the likes of Lee 'Scratch' Perry and Idles' Joe Talbot all pitting their unique approaches to songwriting against Tricky's otherworldly production. From an unsettling tale of isolation courtesy of Maxïmo Park's Paul Smith 'Christmas Trees' to the grunge stylings of Marta's 'Move Me', via the tense storytelling of London rapper Kway's 'On A Move', these diverse statements come together as a bold artistic statement of their own. Available on black or limited, white vinyl.
Saint Etienne - Foxbase Alpha (30th Anniversary) LP (Heavenly)
Limited green colored vinyl LP pressing. Foxbase Alpha is the debut studio album by Saint Etienne, originally released in 1991. The album was recorded in a style which drew on the club culture and house music of the time, but also incorporates the group's characteristic love of 1960s pop, with tracks also bridged by samples from films or by short songs. At the time of recording, Sarah Cracknell was not fully part of the group, and as a result she does not sing on "Only Love Can Break Your Heart", which is sung by Moira Lambert. Foxbase Alpha was on the short list of nominees for the 1992 Mercury Prize. It was accompanied by several successful singles, including "Nothing Can Stop Us."
Combo Chimbita - Ire LP (Epitaph)
Combo Chimbita unleash a primal roar of catharsis on their latest album, IRÉ, channeling a burning spiritual awakening blazing through the world and in their hearts. Rapturous cumbia, ancestral drumming, free jazz, electronic distortion and wordless chants abound throughout IRÉ; a testament to the ever expanding scope of Combo Chimbita's sonic palette and acts of resistance in realms both spiritual and terrestrial.
Water From Your Eyes - Structure LP (Wharf Cat)
Delighting in contradiction, Structure is an ambitious LP that approaches its own impressive scope and aspiration with a tongue-in-cheek humor and a reflexive self-effacement that wonderfully reflects the personalities of it's creators. Influenced by Scott Walker's sole 80s release, Climate of Hunter and the works of the colorfield painter Mark Rothko, it's a concept album that pokes fun of the idea of concept albums, exploring high-minded ideas while subverting them and applying a hyper-focused eye for detail in the service of a series of clever misdirections.
COMING NEXT WEEK!!!
STURGILL SIMPSON - Ballad of Dude and Juanita LP
GANG OF YOUTHS - Angel In Realtime CD
TEARS FOR FEARS - Tipping Point CD/LP
ROBERT GLASPER - Black Radio III CD/LP
LO MOON - A Modern Life CD/LP
JOHNNY MARR - Fever Dreams Pt 1-4 CD/LP
YONDER MOUNTAIN STRING BAND - Get Yourself Outside CD/LP
DEERHOOF - Actually You Can LP
SINEAD O'CONNOR - So Far... The Best Of LP
SUPERCHUNK - Wild Loneliness CD/LP
ALAN VEGA - Invasion / Murder One CD/LP
MOLDY PEACHES - Origin Story CD/LP/CASS
JOYWAVE - Cleanse LP
THURSON MOORE- Screen Time LP
PORTUGAL THE MAN - In The Mountain In The Clouds LP
SASAMI - Squeeze CDLP
THEY MIGHT BE GIANTS - Mink Car LP
ERYKAH BADU - Worldwide Underground LP
SWAMP DOGG - I Need A Job So I Can Buy More Autotune LP
KESHA - High Road LP