Login
Log in if you have an account
Dont have an account? Register
New Releases & Staff Picks 3/11/22
11 Mar 2022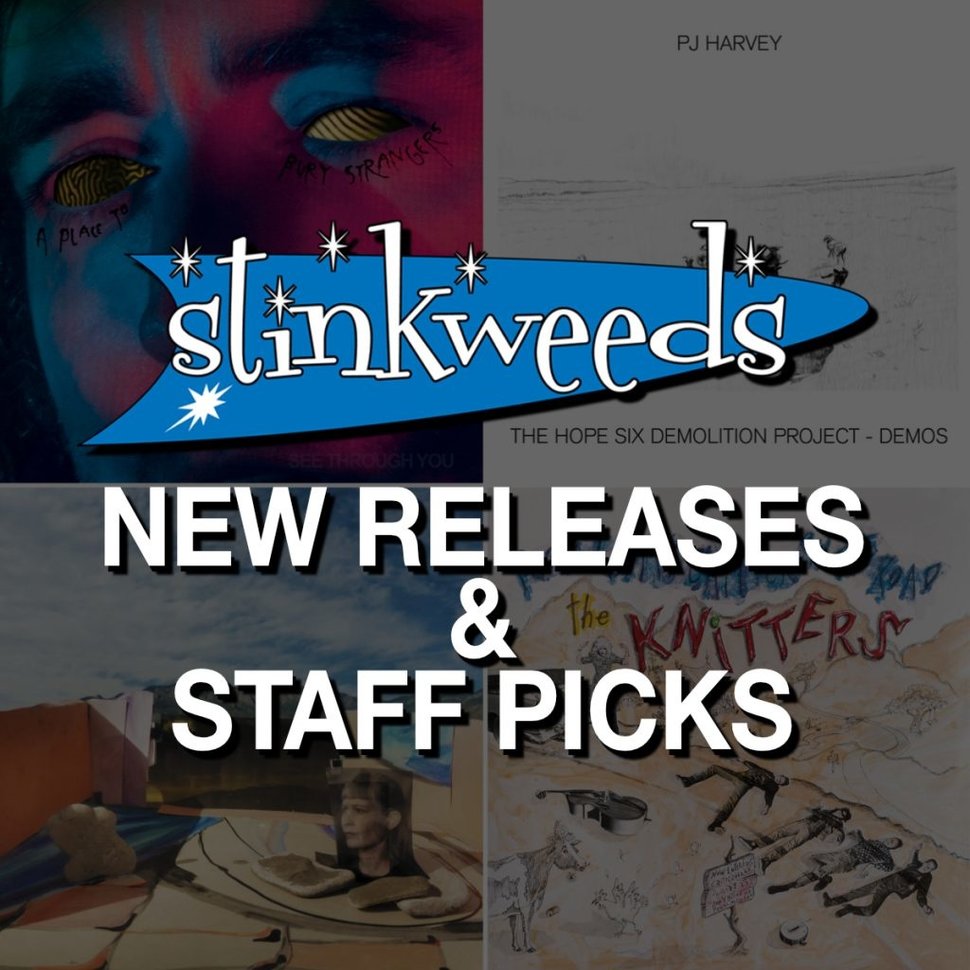 Staff Picks
Lindsay – Knitters and Widowspeak
Dario – Widowspeak and Midlake reissue
Zach – Bodega, Ethan P Flynn, and Alex Cameron
 Caleb – Bauhaus
Kimber – Midlake reissue  
Franz Ferdinand – Hits To The Head CD/2xLP+MP3 (Domino)
Hits To The Head is a 20-track greatest hits collection showcasing the world-conquering success of Franz Ferdinand's career to date. Alongside 18 classics the album features two brand-new tracks "Billy Goodbye" and "Curious" co-produced by Alex Kapranos, Julian Corrie and Stuart Price. Talking about the process of picking tracks for the album, Kapranos said: "It's the same as writing a set-list for a festival: you want to play the songs you know people want to hear. The hits. Bring the hits to the head. The heart. The feet." [A deluxe CD edition featuring book packaging and a limited-edition indie store exclusive red color vinyl pressing are available.]
The Knitters – Poor Little Critter On The Road [Reissue/1985] LP (Fat Possum)
It's been 37 years since the release of Poor Little Critter On The Road, the debut album from The Knitters, the original alt-country band comprised of three members of X, one Blaster and a Red Devil. It was in 1985 that Exene Cervenka, John Doe and DJ Bonebrake joined Dave Alvin and Jonny Ray Bartel to record the critically acclaimed debut for a sound that Alvin described as "It's like if the guys at Sun Records dropped LSD and made a record with Lead Belly and the Carter Family. That's what The Knitters sound like."
Johnny Marr – Fever Dreams Pts 1 – 4 2xLP (BMG)
Standard black vinyl pressing. In the wake of his time leading The Healers, Johnny Marr's solo career has given rise to three UK Top Ten albums – The Messenger(2013), Playland (2014) and 2018's Call The Comet. He now returns with his most expansive work to date, Fever Dreams Pts 1 – 4. It was created during the long, uncertain period that followed the arrival of the UK's first lockdown, when his focus was pushed into both his interior life and evoking the emotional states of others. "It's an inspired record, and I couldn't wait to get in and record every day," he says. "But I had to go inwards." The new album reflects his multi-faceted past but takes his music somewhere startlingly new. "There's a set of influences and a very broad sound that I've been developing – really since getting out of The Smiths," he says. "And I hear it in this record. There are so many strands of music in it. I think it's the most ambitious solo record I've done." [A limited-edition indie store exclusive turquoise color vinyl pressing was released a few weeks ago.]
A Place To Bury Strangers – See Through You CD/LP (Defari/Dedstrange)
A Place to Bury Strangers defund post-punk orthodoxy with the most audacious and varied songwriting of their career on their sixth album, See Through You. Following up on 2021's highly acclaimed Hologram EP, the rebooted lineup – vocalist/guitarist Oliver Ackermann plus drummer/vocalist Sandra Fedowitz and bassist John Fedowitz (both of Ceremony East Coast) – delivers an overclocked set of futuristic electronic punk music encoded with punishing industrial rhythms, swirling voltage-starved guitars, and unclassifiable auditory annihilation. Across thirteen tracks recorded in seclusion throughout the nihilistic absurdity of the coronavirus pandemic, See Through You is proof-positive that the group hailed as 'The Loudest Band in New York' is still finding new ways to push the needle deeper in the red. [An indie store exclusive yellow /w black color vinyl pressing is available.]
Rex Orange County – Who Cares? CD/LP (RCA)
Who Cares? is Rex's first studio album since 2019's critically acclaimed album, Pony. Who Cares? was made in close partnership with musician Benny Sings, over the course of a few sessions in Sings' Amsterdam studio. After spending the bulk of 2020 quarantined back home in the UK due to the Covid-19 pandemic, Rex made the trek to Amsterdam that fall to record with Sings. What started as sessions without expectations turned into an incredibly productive 48-hour window of recording with Benny, prompting a follow-up trip to Amsterdam. The subsequent 10 days of work together produced his fourth album, made in close partnership with Benny, that is a playful record by an artist in a playful mood. The album also finds Rex reunited with Tyler, The Creator, who contributes a verse to "Open A Window", which marks the first time the two have collaborated since Tyler's 2017 album Flower Boy.
Adult. – Becoming Undone CD/LP (Dais)
After a quarter century of nearly nonstop activity, dystopian Detroit synth-punk institution Adult. has perfected a strain of stylistic cohesion in the album format, "but for this we wanted something that's falling apart." Becoming Undone, the ninth official full-length by co-founders Nicola Kuperus and Adam Lee Miller, explicitly succeeds in this aim, simultaneously rejecting and reflecting the planetary discord that inspired it. [A limited-edition color vinyl pressing is available.]
Alex Cameron – Oxy Music CD/LP+MP3 (Secretly Canadian)
Alex Cameron has always been a great storyteller, finding his ways into the depths of the places where not many others are looking, and Oxy Music continues that trajectory. It's filled with stories of people who fall outside the system and exist in the grey areas of life. And much like 2017's Forced Witness, Oxy Music is a work of fiction. In its design – it's music, lyrics and tracklist – lies the journey a person can take, if the circumstances present themselves – down the road of heavy drug and alcohol abuse. Initially inspired by Nico Walker's Cherry, Cameron was spurred into yet another commentary on American Life, this time about the opioid crisis that has taken over the country. [A limited-edition teal color vinyl pressing is available.]
The Districts – Great American Painting CD/LP (Fat Possum)
Great American Painting is the rare album that shines a bright light on all that's wrong in the world but somehow still channels a galvanizing sense of hope. With equal parts nuanced observation and raw outpouring of feeling, the Philadelphia-based band confront a constellation of problems eroding the American ideal (gentrification, gun violence, the crushing weight of late capitalism), ornamenting every track with their explosive yet elegant breed of indie-rock/post-punk. [An indie store exclusive gold color vinyl pressing is available.]
PJ Harvey – The Hope Six Demolition Project – Demos CD/LP+MP3 (Island)
A collection of unreleased demos written for the ninth PJ Harvey studio album The Hope Six Demolition Project, originally recorded in London and Dorset in 2012, including demos of "The Wheel" and "The Community Of Hope". Features brand new artwork with cover art based on a drawing by Polly Jean Harvey, plus previously unseen photos by Maria Mochnacz and Seamus Murphy. [A vinyl reissue of the original version of The Hope Six Demolition Project is also available this week.]
PJ Harvey – The Hope Six Demolition Project [Reissue/2016] LP+MP3 (Island)
180gm vinyl reissue. PJ Harvey recorded The Hope Six Demolition Project behind one-way glass, as part of a public installation at London's Somerset House. Originally released in 2016, it features the singles "The Wheel", and "The Community Of Hope".
Jenny Hval – Classic Objects CD/LP (4AD)
Classic Objects is a map of places; past places, like the old empty Melbourne pubs Jenny Hval's band used to play in, public places the Norwegian musician missed throughout lockdown, imagined, future places, and impossible places where dreams, hallucinations, death, and art can take you. It is interested in combining heavenly things and plain things. Classic Objects is Hval's version of a pop album. Every song has a verse and a chorus. There are interchangeable moments of complexity, interesting melodies throughout, and a feeling of elevation and clarity in the choruses. [An indie store exclusive vinyl pressing is available.]
Nation Of Language – A Way Forward CD/LP (PIAS America)
Released last week on vinyl – now available on CD. Nation of Language's A Way Forward is more relaxed and confident than anything the Brooklyn band have done before. Released in May of 2020, their debut album, Introduction, Presence, did so much better than they'd ever imagined it would that they felt it best to trust themselves and follow their instincts on the resulting follow-up. Those instincts led them to a record more rooted in Krautrock and early electronic music, with influence from artists like Kraftwerk, Laurie Spiegel, and Cluster. A Way Forward feels even more like a journey than its predecessor, something that can be followed from start to finish with greater emotional peaks and valleys and new sonic landscapes being explored.
Widowspeak – The Jacket CD/LP (Captured Tracks)
On Widowspeak's sixth album, they expertly pepper in slow-core, dream-pop, Pacific Northwest indie, and outlaw country, resulting in a '60s-meets-'90s aesthetic. But the duo also wields their own aesthetic feedback loop as a tool of its own, a way to better tell multi-layered stories in their own RIYL language. This sense of sonic nostalgia adds another layer to lyrics that reflect on old selves, invented and true. The Jacket is a present and comfortable record, imbued with a sense of collective pause and the ease of a band at the top of their game. For all its familiar textures, it still feels entirely fresh within that canon: proudly a guitar record, a rock record, a songwriter's record. [A Coke bottle clear vinyl pressing is available.]
Current 93 – If A City Is Set Upon A Hill LP (House Of Mythology)
Two unique 180gm vinyl pressings: clear and translucent curacao. Current 93 is the long running project of David Tibet, who has collaborated with a wide range of musicians over the years. If A City Is Set Upon A Hill is no different in that includes guest spots from the likes of Alasdair Roberts and Andrew Liles. It continues Tibet's interest in folk and mysticism and follows on from the hugely successful 2018 work The Light Is Leaving Us All.
The Mars Volta – Tremulant [Reissue/2002] 12″ (Clouds Hill)
Limited color vinyl LP pressing. From the very beginning, The Mars Volta was conceived as more than simply a new vehicle for Omar Rodriguez-Lopez and Cedric Bixler-Zavala. The group was to be a rebirth, a redrawing of their creative frontiers, a repudiation of the stylistic provincialism that had ultimately spelled the end of their previous band, At The Drive-In, a year earlier.
Midlake – The Trials Of Van Occupanther [Reissue/2006] LP+7"+MP3 (Bella Union)
Limited 180gm gold color vinyl LP pressing w/ 7" single. Includes a B2 pull-out poster, handwritten lyrics and previously unseen photos. The cover artwork has been reimagined in a fittingly flushed, hallucinatory painting by neo-impressionist (and pavement-scorching skateboarder) Brian Lotti. The bonus 7" features two previously unreleased tracks: the plaintive rolling lament of "The Fairest Way" and the revelatory psychedelic swirl of "Festival", both of which were recorded before original vocalist Tim Smith departed the band.
Bauhaus – The Bela Session LP (Leaving)
Limited edition black and red version. UK post-punk pioneers Bauhaus' immensely influential 'Bela Lugosi's Dead' – originally released in 1979 – is considered the original gothic rock record. This is the first official vinyl reissue of 'Bela Lugosi's Dead' and the first release of the complete recording session (including three previously unreleased tracks), mastered by Mandy Parnell.
Various – 4 Visions: Of Love and Androids LP (Numero Group)
In the midst of the UK house rave-olution of the early-'90s, London's V4 Visions imprint documented the confluence of street soul, deep house, swingbeat, and jungle sounds emanating from the clubs and pirate radio signals. Over the course of half a decade, V4's unparalleled 12″ output referenced every significant Black British music scene; from lovers rock to jazz-funk, sound system reggae to hip hop, new jack swing to garage, from artists Ashaye, Julie Stapleton, Maureen Mason, Rohan Delano, The Wades, and Endangered Species. This 18-track double LP is the first critical overview of the label, with extensive notes by Simon Reynolds, era-defining photographs, and fresh remasters, all housed in a glorious foil-stamped gatefold tip-on sleeve. Is this a dream?
Thurston Moore – Screen Time LP (Southern Lord)
Thurston Moore Surprise-Releases New Instrumental Album, Screen Time. The former Sonic Youth member announced the project as "Thurston Moore new music 'screen time' (10 songs)." In a statement, he expanded upon the project, saying he wanted to compose a soundtrack for an imaginary film noir, with each track representing a different scene.
Ethan P Flynn – Universal Deluge LP (Young)
The by-product of an intensely fruitful creative few years, The Universal Deluge marks a significant shift for the London-based songwriter, beatmaker and multi-instrumentalist Ethan P. Flynn, who inexplicably made his debut with a B-Sides & Rarities album in 2020. Reemerging as a more confident and accomplished songwriter plunging into the darker side of experimental pop, The Universal Delugeshowcases Flynn's distinctive multifaceted production methods that effortlessly combining electronic experimentation with stripped-back acoustics, all underpinned by his idiosyncratic voice.
Bodega – Broken Equipment CD/LP (What's Your Rupture)
The follow-up to the band's acclaimed debut album, Endless Scroll (2018), and 2019's Shiny New Model EP, Broken Equipment was inspired by a book club. In the early months of 2020, the Brooklyn art-punk incendiaries gathered together with close friends to study the works of a wide range of philosophers. Passionate debates lasting long into the night became a regular occurrence, motivating the band to become as ideologically unified as the weighty tomes they were reading. Broken Equipment is BODEGA's attempt to interrogate the external factors that make them who they are, propelling existential quandaries with tongue-in-cheek humour, highly personal lyrics, and irresistible grooves.
Jameszoo – Blind LP (Brainfeeder)
Blind is an album and short film by Jameszoo. The music is avant garde / experimental and quite conceptual. Free jazz with electronic touches.The record features some first class musicians: Matthew Bourne – Niels Broos – John Dikeman – Kit Downes – Petter Eldh – Peter Evans – Oliver Johnson (Dorian Concept) – Christian Lillinger – Evan Parker – Julian Sartorius – Richard Spaven
COMING NEXT WEEK:
MIDLAKE – For The Sake Of Bethel Woods CD/LP
JUICE WRLD – Fighting Demons CD/LP
SON HOUSE – Forever On My Mind CD/LP
BRAD MEHLDAU – Jacob's Ladder CD/LP
CHARLI XCX – Crash CD/LP
BROADCAST – BBC Maida Vale Sessions CD/LP
BROADCAST – Microtonics Vol 1+2 CD/LP
BROADCAST – Mother Is The Milky Way CD/LP
HOT WATER MUSIC – Feel The Void CD/LP
SONIC YOUTH – In/Out/In CD/LP/CASS
BURIAL – Antidawn CD
LEGENDARY PINK DOTS – Museum Of Human Happiness CD/LP
ROSALIA – Motomami CD
BLUSHING – Possessions LP
COLIN HAY – Now and Evermore CD/LP
MOON DUO – Mazes LP reissue
SHOUT OUT LOUDS – House CD/LP
SPRINGTIME – Self-Titled LP
PRETTY RECKLESS – Going To Hell LP
RAINCOATS – Self-Titled LP
KEITH RICHARDS – Main Offender LP
YOUNG FATHERS – Dead LP