Login
Log in if you have an account
Dont have an account? Register
New Releases & Staff Picks – 3/18/22
18 Mar 2022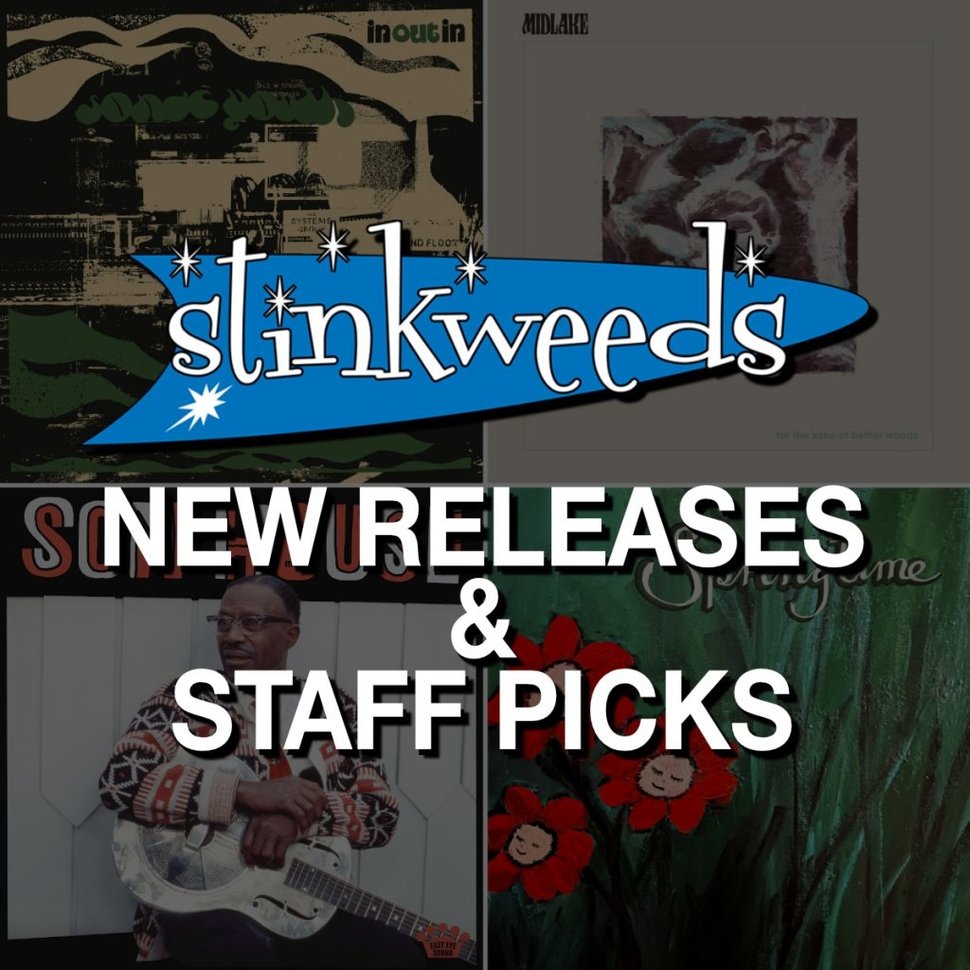 Staff Picks
Lindsay – Springtime and Young Fathers
Dario – Springtime
Zach – Midlake and Sonic Youth 
 Caleb – Sonic Youth 
Kimber – Broadcast reissues 
Midlake – For The Sake Of Bethel Woods CD/LP (ATO)
Loss and hope, isolation and communion, the cessation and renewal of purpose. These themes echo throughout the 5th album from Midlake, their first since 2013. Reuniting with intense focus after a long hiatus, the result is For the Sake of Bethel Woods – an album with tremendous thematic and sonic reach, produced by John Congleton. It's a record full of immersive warmth and mystery from a band of ardent seekers. Indie Exclusive Coke Bottle Clear LP in gatefold jacket.
Sonic Youth –In/Out/In CD/LP/CASS (Three Lobed)
Album formatted collection of underheard Sonic rarities from the legendary band's 2000-2010 era, most for the first time on any physical format. Essential for the band's hardcore fans and for enthusiasts of instrumental rock. Available on black and maroon vinyl, CD and cassette.
Gang of Youths – Angel In Realtime LP (Warner)
Now available on limited edition colored vinyl with alternate album art. Founded in Sydney six years ago, Gang of Youths are just getting their own share of attention in America after releasing two hit albums in Australia: 2015's The Positions and 2017's Go Farther in Lightness, a four-time winner of that country's equivalent of the Grammys, including Album of the Year.
Charli XCX – Crash LP (Atlantic)
Crash is the fifth studio album by singer and songwriter Charli XCX. Visuals for the album include "femme fatale powers and a multitude of dark spells and curses" as well as signature nods to both cars and car crashes.
Springtime – Self-TItled LP (Joyful Noise)
As the world continues to plunge into a fiery blaze of calamity, the Southern Hemisphere's air warms, its leaves glow green, and the damp earth jolts awake. Springtime is coming to Australia, and it will be ushered in by three sonic shamans who are no strangers to our ears. Gareth Liddiard (Tropical Fuck Storm / The Drones), Jim White (Dirty Three / Xylouris White) and Chris Abrahams (The Necks) are Springtime-a new endeavor that is as much a tonal experiment as it is a meditation on modern-day absurdity. Springtime's self-titled debut combines free jazz, poignant lyricism crafted alongside renowned Irish poet Ian Duhig, and improvisation to craft austere portraits of a world paralyzed by shellshock. Across the span of seven tracks, Liddiard incants with wild-eyed fury as White and Abrahams lay down stuttering strings, fizzling electronics, and feathery piano melodies. It is within these raving abstractions that one may find an answer to the enduring question, "What fresh hell will this new season bring?"
Mars Volta –Landscape Tantrums – Unfinished Original Recordings of De-Loused In The Comatorium LP
Limited glow in the dark LP pressing. Lost for two decades, the recent rediscovery of Landscape Tantrums, the first attempt at recording the music that would become The Mars Volta's De-Loused In The Comatorium, revealed an important and hitherto missing chapter in the group's evolution. Self-recorded by Omar at Burbank's Mad Dog Studios within a head spinning four days, Landscape Tantrums captures De-Loused in somewhat embryonic form, though much of what would make The Mars Volta's debut album such an electrifying, sublime experience was already in place: the fearless invention, the fusion of futurist rock elements and traditions from outside of the rock orthodoxy, the sense of virtuosity working in service of emotional effect. Landscape Tantrums is an essential text for the dedicated Mars Volta aficionado, and a breathtaking album in its own right.
Son House – Forever On My Mind CD/LP (Easy Eye)
A new Son House album of previously unreleased recordings from the legendary "Father Of The Delta Blues" features the never before recorded track, "Forever On My Mind." The album comes from noted blues manager and historian Dick Waterman's archives which were the first upon Son House's 1964 re-discovery. Restored to remarkable clarity, by producer Dan Auerbach for Easy Eye Sound, these recordings represent the earliest recordings of House upon his return to the limelight after 20+ years away
Brad Mehldau – Jacob's Ladder CD (Nonesuch)
The album features new music that reflects on scripture and the search for God through music inspired by the prog rock Mehldau loved as a young adolescent, which was his gateway to the fusion that eventually led to his discovery of jazz. Jacob's Ladder is made up of original compositions by Mehldau alongside interpolations and covers of songs by Rush, Gentle Giant and Yes. Featured musicians on the album include Mehldau's label mates Chris Thile and Cécile McLorin Salvant, as well as Mark Guiliana, Becca Stevens, Joel Frahm, and others.
Bo Burnham – Inside (The Songs) LP (Imperial)
Limited edition coke bottle clear LP Critically acclaimed soundtrack to Bo Burnham's Netflix musical comedy special INSIDE.
Legendary Pink Dots – Museum Of Human Happiness LP (Metropolis)
Double vinyl LP pressing. 2022 release. The Legendary Pink Dots has developed a devoted following over its four decade career. On The Museum of Human Happiness, the bands unique explorations in textural ambience, rock experimentalism, lyrical imagery, hypnotic guitar & synth washes create a spellbinding experience. In the era of lockdowns, The trademark avant-garde sound is perhaps informed by observing the state of current events.
Broadcast –Maida Valle Sessions  CD/LP (Warp)
Four BBC sessions recorded at the Maida Vale studios between October 1996 and August 2003. 15 tracks available on 2 x LP, and CD.
Broadcast – Mother Is The Milky Way CD/LP (Warp)
Mother Is The Milky Way – Originally released as a tour only CD in 2009, the album has been remastered. 11 tracks available on LP and CD
Broadcast –Microtonics Vol 1 + 2 CD/LP (Warp)
Originally released as 3" tour only CDs in 2003 and 2005, the albums have been compiled and remastered. 21 instrumental tracks available on a single LP and CD.
Young Fathers – Dead LP (Big Dada)
Reissue. Dead, the winner of the UK's 2014 Mercury Prize, is the debut album from Young Fathers. Against a backdrop of creative resurgence in 'indie' rap, Young Fathers make the sort of uncompromisingly leftfield, forward thinking hip-hop that has nothing to do with artiness and everything to do with brilliance, all with grain silo production and genuine pop hooks. Early adopters have included Johnny Marr, Diplo, Ghostpoet, and Alt J.
Raincoats – The Raincoats LP (Kill Rock Stars)
40th Anniversary limited opaque yellow and red swirl vinyl.  The Raincoats, seminal post-punk band, 'godmothers of grunge' and inspiration to a generation of riot grrrls, formed in the late 1970s when Gina Birch met Ana da Silva, becoming one of the most important underground bands Britain has ever produced. Ana and Gina, along with the various musicians who flowed in and out of the band's many formations, created a sound that, while inspired by punk and rock music that had come before, was uniquely and uncompromisingly powerful and female, and which has held a fascination over all those lucky enough to have stumbled across it. – Nazmia Jamal
Blushing –Possessions LP (Kanine)
Shoegaze lovers rejoice in the sounds coming from Blushing's new album Possessions. With lead single "Blame" featuring Miki Berenyi of the great 90's shoegaze, indie pop band LUSH and currently of Piroshka, along with Mark Gardener of RIDE lending a hand on mixing and mastering, Possessions serves as a 1990s transport. Complete with charismatic vocals, dreamy guitar hooks and swirling bass lines, it is an album filled with dream pop intensity. Blushing is a part of the modern dream pop and shoegaze community that has contributed to the resurgence of the genre. Enlisting longtime friend Elliott Frazier of Ringo Deathstarr to produce and engineer the album in their native Austin, TX has helped Blushing create an album that all indie music lovers need to hear. Fans of LUSH, Cocteau Twins, My Bloody Valentine, RIDE, Slowdive won't be able to resist this album.
M83 – Hurry Up We're Dreaming LP (Think Indie)
Blue/Pink Marble LP reissue. Limited.
M83 – Saturdays = Youth LP (Think Indie)
Autumn marble LP reissue. Limited.
Juice Wrld- Fighting Demons CD/LP (Interscope)
Fighting Demons, the fourth studio album and second posthumous album from Juice Wrld, is now available on vinyl with features from Justin Bieber, Polo G, Trippie Redd, and more
Tool – Opiate2 Bluray (RCA)
Opiate2 is a special limited edition package that includes a reimagined and extended version of the TOOL classic track. The song is presented on a blu-ray DVD that features a groundbreaking short film directed by Dominic Hailstone. Bonus features include insight and observation from special guests, and this blu-ray disc comes in a special 46 page hardcover art book that includes behind the scenes and making of photos.
Keith Richards – Main Offender CD/LP (BMG)
Newly Remastered versions of Keith Richards second studio album. All Remastering overseen by original producer and X-Pensive Wino Steve Jordan. Containing the original 10 track album including the tracks "Wicked As It Seems", "Eileen" and "Hate It When You Leave."
COMING NEXT WEEK!
WALLOWS – Tell Me that It's All Over CD/LP
COWBOY JUNKIES – Songs Of The Revolution CD/LP
ALDOUS HARDING – Warm Chris CD/LP
MATISYAHU – Self Titled CD/LP
SUICIDE – Surrender CD/LP
XAVIER RUDD – Jan Juc Moon CD/LP
MATISYAHU – Self TItled CD/LP
BINKER AND MOSES – Feeding Machine CD/LP
BARRIE – Barbara CD/LP
BON IVER – Self Titled LP reissue
GUERILLA TOSS – Famously Alive CD/LP
IBIBIO SOUND MACHINE – Electricity CD/LP
JOHNNY THUNDERS – So Alone LP
GIFT OF GAB – Rejoice! Rappers are Rapping Again LP
KAREN DALTON – In My Own Time LP/CASS
FUCKED UP – Do All Words Can Do LP
GOLDFRAPP – Felt Mountain LP reissue
OINGO BOINGO – Only A Lad LP reissue
JAMES HUNTER SIX – With Love CD/LP
NAS – Kings Disease II LP
ANAIS MITCHELL – Self Titled LP