Login
Log in if you have an account
Dont have an account? Register
New Releases & Staff Picks - 3/25/22
24 Mar 2022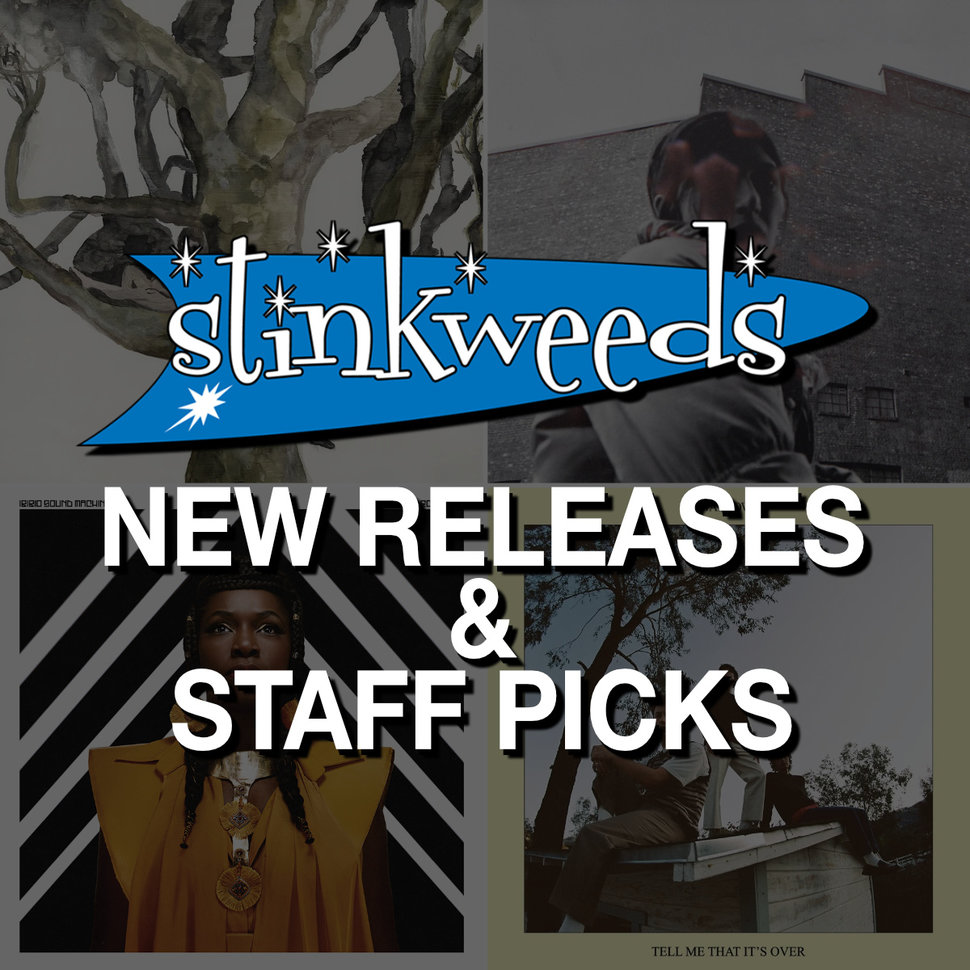 Staff Picks
Lindsay - Ibibio Sound Machine, Aldous Harding, Binker and Moses
Dario - Aldous Harding
Zach - Fucked Up, Tom Rogerson, Destroyer, Ibibio Sound Machine
 Caleb - Destroyer and Guerilla Toss
Kimber - Destroyer and Aldous Harding
Destroyer – Labyrinthitis CD/LP+MP3 (Merge)
Destroyer's new album brims with mystic and intoxicating terrain, the threads of Dan Bejar's notes woven through by a trove of allusions at once eerily familiar and intimately perplexing. More than an arcane puzzle for the listener, Labyrinthitis warps and winds through unfamiliar territory for Bejar as well. Written largely in 2020 and recorded the following spring, the album most often finds Bejar and frequent collaborator John Collins seeking the mythic artifacts buried somewhere under the dance floor, from the glitzy spiral of "It Takes a Thief" to the Books-ian collage bliss of the title track. Initial song ideas ventured forth from disco, Art Of Noise, and New Order, Bejar and Collins championing the over-the-top madcappery. [An indie-store exclusive green w/ bone white color vinyl pressing is available.]
Aldous Harding – Warm Chris CD/LP+MP3 (4AD)
An artist of rare caliber, Aldous Harding does more than sing; she conjures a singular intensity. Her body and face a weapon of theatre, Harding dances with steeled fervor, baring her teeth like a Bunraku puppet's gnashing grin. Her debut release with 4AD, Party (produced with the award-winning John Parish; PJ Harvey, Sparklehorse) introduced a new pulse to the stark and unpopulated dramatic realm where the likes of Kate Bush and Scott Walker reside. Harding's 2019 album Designer found the New Zealander hitting her creative stride, touring the world, and making her American television debut. For Warm Chris, the New Zealand musician reunited with Parish. All ten tracks were recorded at Rockfield Studios and includes contributions from H. Hawkline, Seb Rochford, Gavin Fitzjohn, John and Hopey Parish and Jason Williamson (Sleaford Mods).
Ibibio Sound Machine – Electricity CD/LP+MP3 (Merge)
Produced by the Grammy Award and Mercury Prize–nominated British synthpop group Hot Chip, Electricity is the fourth and most progressive album from Ibibio Sound Machine. Their collaboration was born out of mutual admiration watching each other on festival stages, as well as a shared love of Francis Bebey and Giorgio Moroder. The fruits of their labor reveal a gleaming, supercharged, Afrofuturist blinder. Electricity is the first album Ibibio Sound Machine has made with external producers since the group's formation in London in 2013 by vocalist Eno Williams and saxophonist Max Grunhard. Along the way, the team conjured a kaleidoscope of delights that include resonances of Jonzun Crew, Grace Jones, William Onyeabor, Tom Tom Club, Kae Tempest, Keith LeBlanc, The J.B.'s, Jon Hassell's "Fourth World", and Bootsy Collins. [An indie-store exclusive yellow & black splatter color vinyl pressing is available.]
Richard Thompson – A Collection Of Unreleased And Rare Material 1967-1976 [Reissue/1976] 2xLP (Island)
45th Anniversary reissue of the British folk legend's 1976 collection of rarities with Fairport Convention, Linda Thompson and solo.
Wallows – Tell Me That It's Over CD/LP (Atlantic)
Wallows' highly anticipated sophomore album, Tell Me That It's Over, was produced by multi-Grammy Award winner Ariel Rechtshaid (Vampire Weekend, Haim, Adele) and contains 10 tracks informed by everything from lo-fi post-punk to indie-folk to early '90s dance-pop psychedelia. TMTIO is a thrilling continuation of the sonic exploration first begun on Wallows' 2019 album Nothing Happens featuring their platinum-selling single "Are You Bored Yet?" (feat. Clairo). Following their critically acclaimed 2020 EP Remote, the band released the first taste of music from their new album with the well-received singles "I Don't Want To Talk" and "Especially You". [A value-added guitar pick pack is available while supplies last.]
Barrie – Barbara CD/LP/Cassette (Winspear)
On Barbara, the sophomore album from Brooklyn-based songwriter and producer Barrie, she battles the loss of a parent, the start of a new relationship, and the impulse to separate herself from her music. This result is a beautifully peculiar, and quietly ambitious collection of synth-pop, art-pop, indie rock, and folk songs that reflect a new willingness to let listeners into her world. Two events redefined Barrie Lindsay's life and shaped the direction of Barbara. In the summer of 2019, she met her now-wife, the musician Gabby Smith. Simultaneously, Lindsay's father learned that his lung cancer had worsened. In January of 2020, she moved home to Ipswich to spend time with family and begin work on her album. Three months became nine, thanks to the pandemic. Lindsay wrote Barbara while quarantining with Smith in Maine, while her father was dying, and while she was falling in love. [An indie store exclusive blue color vinyl pressing is available.]
Guerilla Toss – Famously Alive CD/LP+MP3/Cassette (Sub Pop)
Dig deep enough inside yourself -- start treating your body as your sanctuary rather than your enemy – and eventually you'll find yourself blooming right back out into the sun. That's the transformation Guerilla Toss trace on their effervescent new album, Famously Alive. After a decade sprinkling glitter into grit, building a reputation as one of the most ferociously creative art-rock groups working, the upstate New York band have eased fully into their light. This is Guerilla Toss at their most luminescent – awake, alive, and extending an open invitation to anyone who wants to soak it all up beside them. [An indie-store exclusive purple color vinyl pressing is available.]
Matisyahu – Matisyahu CD/2xLP (Fallen Sparks)
Like all gifted storytellers, Matisyahu spins the rare kind of stories that simultaneously enlighten and enthrall and expand the audience's sense of possibility. On his eponymous new album, the Grammy Award-nominated singer/songwriter/rapper shares his most autobiographical work to date, merging that personal revelation with a shapeshifting collision of reggae and hip-hop and boldly inventive pop. Produced by Salt Cathedral (a Brooklyn-based duo comprised of Colombian musicians Juliana Ronderos and Nicolas Losada), the result is an undeniably transformative album, one that invites both intense introspection and unbridled celebration.
Placebo – Never Let Me Go CD/LP (BMG)
Nine years on from the release of their last outing Loud Like Love, Placebo return with the long awaited eighth studio album, Never Let Me Go. As great masters in cataloguing the human condition, Placebo's unique way of examining both its flaws and beauty finds fertile ground in 2021. Crawling out of the pandemic into a landscape of intolerance, division, tech-saturation, and imminent eco-catastrophe, theirs is a voice that has rarely felt more significant to contemporary discourse, and more appropriate to sing these stories to the world. [An indie store exclusive translucent red color vinyl pressing is available.]
Anaïs Mitchell – Anaïs Mitchell LP (BMG)
Recently released on CD – now available on vinyl (including an indie store exclusive green color pressing). Anaïs Mitchell returns with her first solo studio album in over a decade. "The sound is gently polished and the songs richly melodic enough to bear comparison with Taylor Swift in downhome mode (both Mitchell and Swift contributed vocals to Justin Vernon and Aaron Dessner's last album as Big Red Machine), but the whole enterprise is noticeably low-key. Around Mitchell's acoustic guitar are delicate shimmers of tremolo-heavy guitar or electric piano; little smears of electronics so subtly placed you barely notice them first time around; the occasional sax solo courtesy of Bon Iver sideman Michael Lewis, sprawling gracefully in a way that recalls the same instrument's use on Nick Drake's Bryter Layter, as well as Lewis's work on Gayngs' small-hours soft rock-inspired album Relayted. Even the drums are gently tapped: rimshots rather than snares; brushes and soft mallets rather than drumsticks. That the musical scenery is shot in soft focus draws the listener's attention to Mitchell's distinctive voice…" – The Guardian
Suicide – Surrender CD/2xLP (BMG)
Collated by Marty Rev, Alan Vega's partner, Liz Lamere, and Henry Rollins, Surrender includes tracks from Suicide's classic debut album, Suicide (1977), to their final outing, American Supreme (2002). The LP also features two brand new, unheard tracks "Girl (Unreleased Version)" and "Frankie Teardrop (First Version)". Presented as digipack CD and a limited-edition blood red color double vinyl with an embossed outer and mirror board inner gatefold, this unique package also contains a set of brand new, extensive and extraordinary liner notes by long serving fan/collaborator and NYC stalwart Henry Rollins.
Tinariwen – The Radio Tisdas Sessions [Reissue/2001] 2xLP+MP3 (Wedge)
Double white color vinyl pressing housed in gatefold jacket. The 20th Anniversary edition of Tinariwen's first studio album The Radio Tisdas Sessions has been remastered for vinyl. It includes an unreleased bonus track, exclusive photos, and brand-new liner notes.
Tinariwen – Amassakoul [Reissue/2003] 2xLP+MP3 (Wedge)
Double indigo color vinyl pressing. Amassakoul was Tinariwen's breakthrough album, originally recorded in Mali and the UK in 2003. Now remastered for vinyl with a bonus unreleased track, exclusive photos, and brand-new liner notes.
Binker And Moses – Feeding The Machine CD/LP (Gearbox)
Feeding The Machine is the long-awaited third studio album by semi-free jazz duo Binker And Moses. The album yet again cements Binker and Moses' status as being at the vanguard of London's jazz and jazz-adjacent music scene. With honorary band member Max Luthert on tape loops and electronics, Feeding The Machine crosses into ambient, minimalism and experimental electronic music territories, whilst also nodding to the duo's roots in riff-heavy free jazz.
Bon Iver – Bon Iver, Bon Iver (10th Anniversary Edition) CD/2xLP+MP3 (Jagjaguwar)
Expanded 10th anniversary edition of Bon Iver's highly acclaimed sophomore release, 2011's Bon Iver, Bon Iver. This edition features five songs from Bon Iver's beautiful AIR Studios session, which captures the grand spirit of the album and distills it into sharper focus, as Justin Vernon and Sean Carey perform the songs as a duo, on grand pianos and vocals only. [A white color vinyl edition is available.]
Cowboy Junkies – Songs Of The Recollection CD (Proper)
The brand-new Cowboy Junkies album Songs O The Recollection features covers of well-known songs by the likes of David Bowie, Gram Parsons, The Rolling Stones, Neil Young, Gordon Lightfoot, Bob Dylan and The Cure [Vinyl edition due May 13.]
Goldfrapp – Felt Mountain [Reissue/2000] CD/LP (Mute)
Felt Mountain is the melodic and moody debut album by English electronic duo Goldfrapp featuring Alison Goldfrapp and Will Gregory. Originally issued in 2000, the influential album takes inspiration from a variety of musical styles including 1960s pop, cabaret, folk, and electronica. [A limited-edition gold color vinyl pressing is available.]
Xavier Rudd – Jan Juc Moon CD/2xLP (Virgin)
The wind blows strong through Australian singer-songwriter's Xavier Rudd's tenth album, Jan Juc Moon. It's a recurring image that speaks of wide-open space and the awesome natural elements that shape it: a force far greater than us, but ours to harness if we take the time to learn, reflect and respect its ways. [A limited-edition white and an indie store exclusive blue color vinyl pressings are available.] 
The Winstons – Color Him Father [Reissue/1969] CD/LP+12"+MP3 (Soul Jazz)
What do Tyler the Creator, Mantronix, Stetsasonic, DJ Shadow, Eric B and Rakim, Brand Nubian, Jay-Z and N. W. A. have in common? What do UK Apachi and Shy FX, DJ Zinc, Bukem, Ganja Kru, Lemon D Ice, Dillinga, Photek, 4-Hero, Congo Natty, Krome and Time, Roni Size, Skream and Shut Up and Dance have in common? Not to mention The Prodigy, Squarepusher, Leftfield, Oasis, Aphex Twin, Calvin Harris, Dua Lipa, David Bowie, Primal Scream, Lady Gaga and Dizzee Rascal? Answer: They have all sampled The Winstons' Amen, Brother! The Winstons' Amen, Brother is THE most sampled drum break in the history of music and has shaped the evolution of electronic music ever since its creation in 1969. This reissue includes four bonus tracks.
Gregor Barnett – Don't Go Throwing Roses In My Grave LP+MP3 (Epitaph)
Limited-edition indie store exclusive clear w/ black smoke color vinyl pressing. Gregor Barnett, guitarist/co-vocalist for The Menzingers, delivers his debut release Don't Go Throwing Roses In My Grave. Written and recorded in the midst of the COVID-19 pandemic, Don't Go Throwing Roses In My Grave is a sonic departure from Barnett's more punk-leaning work with The Menzingers, drawing on the gritty, off-kilter Americana of Tom Waits or Warren Zevon as it faces down loss and doubt in search of relief and redemption. "It was this perfect storm," says Barnett. "The band couldn't tour, I was going through a really difficult time, and I was stuck at home watching my family struggle with illness and death and hardship. The only thing I could do was write my way through it." 
Blink 182 – Greatest Hits [Reissue/2005] 2xLP (Geffen)
Blink-182's Greatest Hits is a collection of tracks from Cheshire Cat, Dude Ranch, Enema Of The State, The Mark, Tom & Travis Show, Take Off Your Pants And Jacket, blink-182 and more. The album also sports two bonus items: "Not Now" (an outtake from their 2003 self-titled album) and "Another Girl Another Planet", which served as the theme to the MTV reality show Meet The Barkers, starring drummer Travis Barker.
Blood Incantation – Timewave Zero LP+CD (Century Media)
Clear vinyl pressing. Spawned in 2011, Blood Incantation has spent the past decade establishing a reputation for creating powerful atmospheric death metal with progressive elements, while gradually incorporating more psychedelic and ambient components with each new release. Epitomizing their cosmic essence and experimental nature, Timewave Zeroreveals an alternate dimension for experiencing the mind-bending songwriting of Blood Incantation´s dense otherworldly sonic landscapes - beyond the limitations of genre and free to travel among the stars. Echoes of Tangerine Dream, Pink Floyd, Lustmord, Popol Vuh and Dead Can Dance synthesize in an archaic planetarium soundtrack, taking the listener on a cinematic journey.
Fucked Up – Do All Words Can Do LP+MP3 (Matador)
Nine B-side rarities from the era of Fucked Up's monumental rock opera David Comes To Life, available as an LP for the first time. 
The James Hunter Six – With Love LP (Daptone)
With Love is a heart-shaped collection of candle-lit ballads and love songs. Plucked like so many "he loves you" petals from the vast and sumptuous garden of his Daptone Recordings, these twelve lilting melodies have been selected and sequenced with great care, tenderness, and intention by Daptone staff for the solitary purpose of compiling some of the criminally overlooked treasures in the James Hunter Six's critically acclaimed catalog. [CD version due April 1.] 
Nas – King's Disease II 2xLP (Mass Appeal)
Released last December on CD – now available on gold color vinyl. Following the Grammy Award winning album, King's Disease, the king returns to his throne with the second coming, King's Disease II. The star-studded project offers tacit game on life, love, and loss, uplifting through action and lived experience in a way only Nas can.
Tom Rogerson – Retreat To Bliss LP (Western Vinyl)
Since the release of his last album - 2017's Finding Shore, a collaboration with Brian Eno - pianist and singer-songwriter Tom Rogerson's life has undergone several dramatic transformations. While writing his new album Retreat To Bliss, Rogerson had a child, lost a parent, and received his own diagnosis of a rare form of blood cancer. The new decade brought him from Berlin to the Suffolk of his childhood, composing profound pieces of minimal songwriting in the church next to his parents' home. It was working with Eno, another Suffolk native, that eventually led Rogerson back to his roots and back to a place where he could write Retreat To Bliss, his solo debut album. [CD edition due April 8.]
Pailhead - Trait LP reissue (Cleopatra)
The complete recordings from the short-lived side project of Ministry's Al Jourgensen and Fugazi's Ian MacKaye! Combining Jourgensen's industrial production with MacKaye's punk rock inspired guitar playing and songwriting, Pailhead burned bright in it's short existence, recording and releasing just 6 tracks! This collection includes a rare bonus mix as well as a brand new remix by The Mission/Peter Murphy guitarist Mark Gemini Thwaite!
Come - Peel Sessions LP (Fire)
Peel Sessions is an essential nine-track set catching Boston's mighty Come at the peak of their powers. The collection includes two sessions recorded for John Peel in both 1992 and 1993, plus a previously unreleased live track 'Clockface' from 1991, unwrapping the blueprint of their sonic idealism. Raw, loud and live, exactly where the band's dissonant blues noise rock originates.
Earthless - From The Ages LP (Nuclear Blast)
The third album from Earthless, remastered for a 2022 release on limited edition vinyl.
COMING NEXT WEEK!
RED HOT CHILI PEPPERS - Unlimited Love CD/LP
PUP - Unraveling Of Puptheband CD/LP
NORTH MISSISSIPPI ALLSTARS- Set Sail CD/LP
BEIRUT - Artifacts CD/LP
GUIDED BY VOICES - Devil Between My Toes CD/LP
TEMPERS - New Meaning LP
JOHNNY THUNDERS - So Alone LP
COM TRUISE - Galactic Melt LP (10th Anniversary)
LOUIS XIV - Best Little Secrets Are Kept LP
CERAMIC ANIMAL - Sweet Unknown LP
MESJUGGAH - Immutable LP
SURE FIRE SOUL ENSEMBLE - Step Down CD/LP