Login
Log in if you have an account
Dont have an account? Register
New Releases & Staff Picks - 3/4/22
03 Mar 2022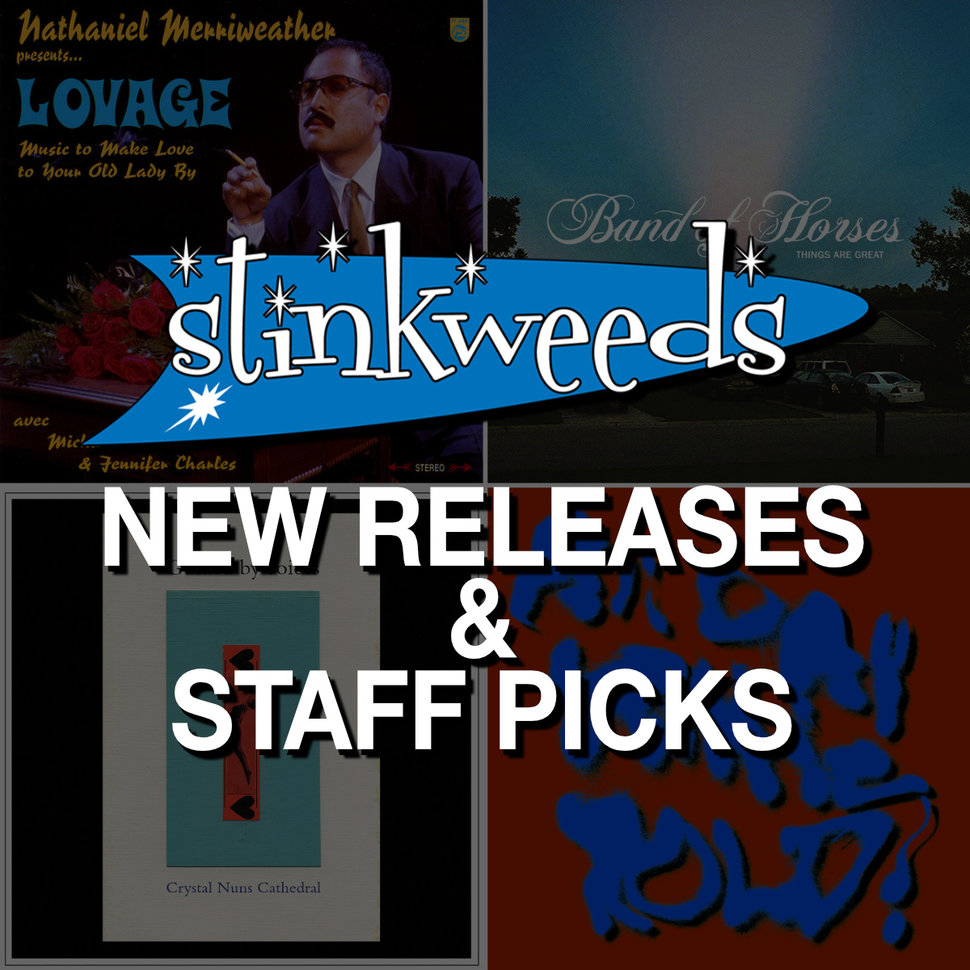 Staff Picks
Lindsay - Weather Station, King Hannah and Lo Moon
Dario - Weather Station
Zach - Cécile McLorin Salvant and Peach Pit 
 Caleb - Guided By Voices
Kimber - Roy Montgomery and Band of Horses 
Nathaniel Merriweather Presents Lovage: Music To Make Love To Your Old Lady By LP (Bulk)
This masterpiece is finally being reissued, on turquoise vinyl. Limited to independent record stores.  "Lovage" is defined as "an herb that is said to be a benefit for relieving abdominal pains due to gastrointestinal gas…also touted to reduce flatulence when consumed as a tea." But when placed in the able hands of sonic mastermind Dan "The Automator" Nakamura, recording under the guise of musical lothario Nathaniel Merriweather, the result is a concept album of "music to make love to your old lady by." With the help of collaborators such as Mike Patton (vocals), Jennifer Charles (vocals) and Kid Koala (turntables), Merriweather serves as your personal guide to the sensual side of life, painting a satirical, darkly funny portrait of love and sex with left-field hip-hop and instrumentals as only he can do.
Band Of Horses – Things Are Great CD/LP (BMG)
Band Of Horses return with their sixth album and first in over half a decade. Things Are Great marks a return to their earlier work and the kind of raw ethos that lies at the heart of Band Of Horses. Founder Ben Bridwell produced or co-produced all 10 tracks – most of which were written pre-pandemic. Past collaborators Jason Lytle (Grandaddy), Dave Fridmann (Flaming Lips), Dave Sardy and engineer Wolfgang "Wolfie" Zimmerman also all make contributions here. [An indie store exclusive translucent rust color vinyl pressing is available.]
Guided By Voices – Crystal Nuns Cathedral CD/LP (GBV Inc.)
GBV release their 35th album just four months since It's Not Them. It Couldn't Be Them. It Is Them!, 12 twelve songs determined to challenge for the title of greatest Guided by Voices album of all-time. The guitars are bigger, the arrangements are more ambitious, the songs are uplifting, epic, and as incredibly hook-laden as always. Pure power pop perfection.
The Weather Station – How Is It That I Should Look At The Stars CD/LP (Fat Possum)
How Is It That I Should Look At The Stars is an introspective record of songs which were written alongside those that appeared on Ignorance. It is intended not to be a follow up, but to be a companion piece, a piece of reflection and quiet, meant to hold stillness in the aftermath. It was recorded live, as a performance, an improvisation, with a group of Toronto jazz musicians. [An indie store exclusive color vinyl pressing is available.]
Beastie Boys – Aglio E Olio [Reissue/ 1995] 12" (Capitol)
Aglio E Olio covers a lot of ground in the span of 8 tracks and 11 minutes, a reminder of the Beastie Boys' early punk beginnings. Along with Mike D, Ad-Rock, and MCA, Aglio E Olio features contributions from drummer Amery "AWOL" Smith of Suicidal Tendencies. It was originally released by the band's now inoperative label Grand Royal.
Karate – The Bed Is The Ocean [Reissue/1998] LP (Numero)
In their short time together, Karate helped bolster the national punk ecosystem, a scene in which individual artistic vision was prized but rarely achieved. Their exacting precision and emotive interplay helped recombine the DNA of the dignified grace of slowcore, the hot-and-sweaty atmospherics of the blues, and the high-wire tension of post-hardcore to deliver drawling instrumental curveballs and a furtive riptide climax with a controlled grace.
Peach Pit – From 2 To 3 LP (Columbia)
From 2 To 3 is the new album from Peach Pit. It draws inspiration from '60s – '70s rock and folk music, with the band citing Paul McCartney, Neil Young, Eagles, Glen Campbell, and George Harrison as their biggest influences.
Swami John Reis – Ride The Wild Night LP (Swami)
Green color vinyl pressing. Swami John Reis celebrates his 100th year in rock 'n' roll with a brand-new band and record. Ride The Wild Night is neither completely similar nor dissimilar to his previous bands (Hot Snakes, Night Marchers, The Sultans, Rocket From The Crypt, Drive Like Jehu, etc). Yet the sound is immediately familiar and assuring (like an old friend you lost touch with that comes back into your life only to ask to borrow money). The music is an amalgam of '60s folk-punk, '70s punk-punk and pre-Vietnam War rock 'n' roll, filtered through the Reis' unregistered, trademark sensibilities.
Rival Consoles – Overflow 2xLP+MP3 (Erased Tapes)
Rival Consoles returns with a resonant and explorative soundscape of original music, composed for renowned choreographer Alexander Whitley's contemporary dance production Overflow. Exploring themes of the human and emotional consequences of life surrounded by data, the piece echoes the concept of social media, advertising, marketing companies and political factions exploiting our data to gain wealth, political advantage, and sow division. Key reading for the project was based around the contemporary philosophical work Psychopolitics: Neoliberalism And New Technologies Of Power by Byung-Chul Han. [CD edition due March 25.]
Lemonheads – It's A Shame About Ray [Reissue/1992] 2xCD/2LP+MP3 (Fire)
Digitally remastered and expanded double CD edition of Lemonheads' seminal album It's A Shame About Ray, lovingly reissued for its 30th Anniversary. The set includes a slew of extra material, including an unreleased "My Drug Buddy" KCRW session track from 1992 featuring Juliana Hatfield, B-sides from singles "It's A Shame About Ray" and "Confetti", a track from the "Mrs. Robinson/Being Round" EP, alongside demos. [The deluxe edition includes photos, digital download, and more.]
Roy Montgomery – Audiotherapy CD/LP (Grapefruit)
For his fourth and final release spanning 2021-2022, the New Zealand underground guitar legend builds his compositions from the subconscious, breaking down form and inviting in new techniques.
Dolly Parton – Run Rose Run CD (Butterfly)
Run Rose Run is released at the same time as the publication of a novel co-written with famed author James Patterson sharing the title, Run Rose Run. The 12 songs were inspired by the book's storyline and feature country and bluegrass artists such as Joe Nichols, Rhonda Vincent, The Isaacs, and Dailey & Vincent. [Vinyl edition due April 1.]
Porches – All Day Gentle Hold! CD/LP+MP3 (Domino)
All Day Gentle Hold! is the fifth album from Aaron Maine and a celebratory collection of songs. Harder, faster, shorter and louder than any other Porches record, it's direct and pointed, charged up and chaotic, described by Maine as "the most energetic, off-the-cuff moments, collaged together into the most captivating songs [he] could make." [An indie store exclusive vinyl pressing is available.]
King Hannah - I'm Not Sorry I Was Just Being Me CD/LP (City Slang)
KING HANNAH's debut full length album, I'M NOT SORRY, I WAS JUST BEING ME – an inspired melding of American influences as diverse as Red House Painters, Mazzy Star and Smog with more British sources like PJ Harvey and Portishead – offers a stunning showcase of the Liverpool duo's talent, its dozen songs full of darkness and wit, mesmerizing and thrilling in equal measures. Indeed, titles are rarely more impeccably chosen than the one Wales-born Hannah Merrick and local boy Craig Whittle have chosen. At once a humble clarification and a stubborn challenge, it not only sums up the duo's single-minded vision and their determination to remain true to themselves, but also offers a glimpse of the wry, knowing humour lurking in the shadows of the record. At times it's like listening to dusty jukebox 7" singles from the late 1950s played at half speed, and at others like Cowboy Junkies forced to play The Trinity Sessions at knifepoint with a pounding whiskey hangover.
Lo Moon - A Modern Life CD/LP (Strngr)
Like pausing a VHS tape, music freezes the frenetic motion of daily existence. Even if just for an instant, it calms the feedback loop of routine, engages respite, and provides perspective. Siphoning guitar transmissions and a dynamic vocal push-and-pull through a lens of cinematic production, Lo Moon deftly balance expansive soundscapes and eloquent songcraft. The Los Angeles based quartet-Matt Lowell, Crisanta Baker, Sam Stewart and Sterling Laws - ultimately use music to make sense of each day on their sophomore offering, A Modern Life.
Nation Of Language - A Way Forward CD/LP (PIAS)
Nation of Language's A Way Forward is more relaxed and confident than anything the Brooklyn band have done before. Released in May of 2020, their debut album, Introduction, Presence, did so much better than they'd ever imagined it would that they felt it best to trust themselves and follow their instincts on the resulting follow-up. Those instincts led them to a record more rooted in Krautrock and early electronic music, with influence from artists like Kraftwerk, Laurie Spiegel, and Cluster. A Way Forward feels even more like a journey than it's predecessor, something that can be followed from start to finish with greater emotional peaks and valleys and new sonic landscapes being explored. The highs are higher, the lows are lower, and there's a palpable gratitude of the ability to be present right now and experience any of these emotions at all.
Loney Hutchins – Appalachia CD/LP (Appalachia Record Co.)
The sole, full length album from Loney Hutchins' most productive era in the 1970's. Tracked over three days in 1979 at Lee Hazen's Studio by the Pond by Jack "Stack-a-Track" Grochmal - the resulting country rock album was too folksy for L.A. and too electric for Nashville. Featuring a rhythm section from Dolly Parton's live band during her "Jolene" period, and searing hot country licks, this reissue is restored from the original 2" multitrack tapes, including two never before heard tracks.
Cécile McLorin Salvant– Ghost Song CD/LP (Nonesuch)
Nonesuch Records presents Ghost Song, the label debut of singer/songwriter Cécile McLorin Salvant. Ghost Songfeatures a diverse mix of seven originals and five interpretations on the themes of ghosts, nostalgia, and yearning. Salvant says, "It's unlike anything I've done before – it's getting closer to reflecting my personality as an eclectic curator. I'm embracing my weirdness!" Ghost Song opens and ends with a sean-nós (traditional Irish unaccompanied vocal style) performance by Salvant, recorded in a church. On track one, she transitions into Kate Bush's 1978 classic "Wuthering Heights". Salvant says of the song, "Wuthering Heights is a book that really struck me to my core as I was making this album, during the pandemic. And the best interpretation of the novel is Kate Bush's song." 
Harold Budd – The Pavilion Of Dreams [Reissue/1978] CD/LP (Superior Viaduct)
Produced by Brian Eno in 1978, The Pavilion Of Dreams stands toe-to-toe with another minimalist masterpiece also released that year: Steve Reich's Music For 18 Musicians. Budd's gorgeous pieces reveal a lightness of touch that draws the listener in, while sublime voices float in and out as if in a recurring dream. Featuring saxophonist Marion Brown and multi-instrumentalists Gavin Bryars and Michael Nyman, The Pavilion Of Dreams remains a master class in exquisite timbre and shimmering texture. 
Ceramic Animal – Sweet Unknown CD (Easy Eye Sound)
Strutting out of Doylestown, PA, Ceramic Animal forge glam, post-punk, psych rock and '70s pop into an original and exciting sound. The band's music and ambition impressed Dan Auerbach, who signed them to his Easy Eye Sound label and invited them down to Nashville to write and record their fourth album, Sweet Unknown. Together, they created an album that marries the glitter-stomp of T. Rex with the slow rush of Tame Impala and the extravagant melodicism of Todd Rundgren.
The Darkness – Motorheart CD/LP (Cooking Vinyl)
Drop the needle anywhere on The Darkness' Motorheart and be instantly transported from this moaning and weeping vale of tears to Elysian fields of rock where all hands are raised, the drinks - just as in the Club Tropicana of yore - are free, and everyone wears a pleasingly salacious grin. Does it rock? Is the sun hot? Has your partner's touch grown cold? The Darkness are the Orwellian boot stamping on the flaccid face of limp rock, forever. Motorheart brims with the UK glam rock giants' trademark blazing guitar riffs and solos, soaring falsetto and immeasurable rock 'n' roll extravagance.
The Dead South – Easy Listening For Jerks Pt. 1 CDEP (Six Shooter)
The Dead South – Easy Listening For Jerks Pt. 2 CDEP (Six Shooter)
The Carter Family meets The Addams Family in Easy Listening For Jerks, two new covers EPs by prairie pickers The Dead South. Rich with quality finger picking and replete with harmonies, Easy Listening For Jerks offers many new moods of songs we think we know so well. Under a title that recalls the songwriting humor of Roger Miller and Steve Martin's comedy stylings alike, the EPs offer a surprising and compelling mix of gravity and levity. Foggy Mountain Boys meets Beetlejuice. [Vinyl editions due July 29.] 
COMING NEXT WEEK:
REX ORANGE COUNTY - Who Cares CD/LP
PJ HARVEY - Hope Six Demolition Project Demos and reissue CD/LP
KNITTERS - Poor Little Critter On The Road LP
GHOST - Impera CD/LP
ANDY BELL - Flicker CD/LP
FRANZ FERDINAND - Hits To The End CD/LP
JENNY HVAL - Classic Objects CD/LP
PLACE TO BURY STRANGERS - See Through You CD/LP
ALEX CAMERON - Oxy Music CD/LP
CURRENT 93 - If A City Is Set Upon A Hill CD/LP
KISHI BASHI - 151A (10th Anniversay)
WIDOWSPEAK - Jacket CD/LP
ADULT - Becoming Undone CD/LP
MIDLAKE - Trials Of Van Occupanther LP reissue
DISTRICTS - Great American Painting CD/LP
JOHNNY MARR - Fever Dreams LP
MARS VOLTA - Tremulant LP