Login
Log in if you have an account
Dont have an account? Register
New Releases & Staff Picks - 4/1/22
31 Mar 2022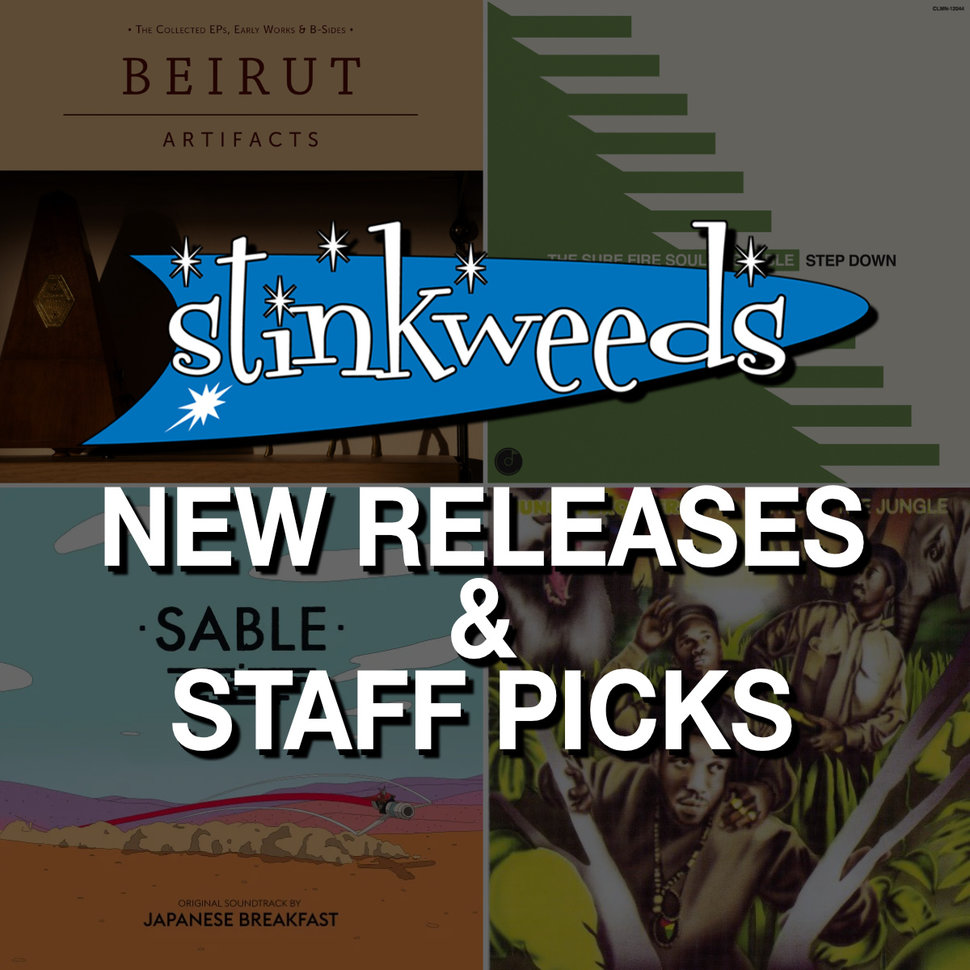 Staff Picks
Lindsay - Sure Fire Soul Ensemble 
Dario - Japanese Breakfast
Zach - Pup, Beirut, Whatever the Weather
 Caleb - Guided By Voices
Kimber - Soul Jazz Comp
Beirut – Artifacts CD/2xLP (Pompeii)
Artifacts began humbly as a means of compiling a few early Beirut EPs for a proper physical release. However, as Zach Condon explains in the album's excellent liner notes, reconnecting with old recordings through fresh ears turned a simple re-issue project into something much more expansive. "When the decision came to re-release this collection, I found myself digging through hard drives looking for something extra to add to the compilation," he notes. "What started as a few extra unreleased tracks from my formative recording years quickly grew into an entire extra records-worth of music from my past, and a larger project of remixing and remastering everything I found for good measure." Artifacts is a phylogenetic tree. A double-LP's worth music that traces the evolution of Beirut from a 14-year-old Condon's first attempts at bringing the music he heard in his mind to life, to the fully formed Beirut we know today.
North Mississippi Allstars – Set Sail CD/LP+MP3 (New West)
Luther and Cody Dickinson started the North Mississippi Allstars in 1996 as a loose collective of like-minded second-generation musicians who shared a local repertoire and regional style. Over the years the lineup shifted by design, and each NMA record offered up a different combination of collaborators. Set Sail finds the brothers working with Jesse Williams on bass and Lamar Williams, Jr. for the first time. Set Sail, the North Mississippi Allstars' thirteenth album, follows 2019's Up And Rolling. Set Sail continues the band's tradition of creating roots music that displays remarkable variety. With their latest record, NMA build upon their self-described sound of Primitive Modernism. A melding of the new and the old, traditional, and futuristic, crafted lyrics and improvisational music.
Jungle Brothers – Out Of The Jungle [Reissue/1988] LP (Warlock)
RSD Essential clear w/ smoke color vinyl reissue of the hip-hop group's debut album. Out Of The Jungle was largely recorded without the use of a sampler (with the exception of the tracks "On The Run", "What's Going On", "Because I Got It Like That", and "I'm Gonna Do You"). Instead, Jungle Brothers would lay down a beat straight off the records they were using as source material, in the words of Afrika Baby Bam: "looping it around by hand, eight bars at a time, until you had six minutes on tape, so there'd be enough music to do your rhymes before it ran out...I just had one copy of each record. That's the way most of the album was done."
Alabama Shakes – Boys & Girls [Reissue/2012] LP (ATO)
RSD Essentials 'black & white explosion' color vinyl pressing of Alabama Shakes's debut album. Produced and mixed by the band members, Boys & Girls is a vibrant fusion of swampy, dirty South rock, blues and soul delivered with punk rock fervor.
Japanese Breakfast - Sable (Original Video Game Soundtrack) LP (Sony)
A gentle and mostly wordless collection of ambient pop, Michelle Zauner's soundtrack for the indie exploration game is a streamlined glimpse into her versatility as a narrative artist.
Pup – The Unravelling Of Puptheband CD/LP (BMG)
Pup return with their fourth album, The Unraveling of Puptheband, which finds the Toronto outfit teaming up with Sarah Tudzin (Illuminati Hotties), Kathryn McCauhey (Nobro), Mel St. Pierre (Casper Skulls) and Erik Paulson (Remo Drive), as well as producer Peter Katis. "It's hands down my favorite Pup record, and I don't think it could've been made under any other circumstances," bandleader Stefan Babcock said. "As the weeks passed, we seemed less and less rational, objective, and sane. You can hear the band start to fall off the cliff, and because of that, I think this record is our truest and most genuine to date. There is nothing more Pup than a slow and inevitable descent into self-destruction. [An indie store exclusive color vinyl pressing is available.]
Red Hot Chili Peppers – Unlimited Love CD/2xLP (WB)
Unlimited Love serves as the L.A. funk-rockers follow-up to 2016's The Getaway and their first with former guitarist John Frusciante since 2006's Stadium Arcadium. The 17-track double album is introduced by the meditative lead single "Black Summer". Drummer Chad Smith commented on the direction of the band's twelfth album, "John hasn't been in our group in 10 years. That's a long time. So of course, it's going to sound different, but it's going to sound like the four of us because we do have this special chemistry together. It sounds like Red Hot Chili Peppers, but it's different and new, and to me that's great."
Johnny Thunders - So Alone LP reissue (Drastic Plastic)
Vinyl LP pressing. After the Heartbreakers split, Thunders recorded his first solo album, So Alone, in 1978. Featuring musicians such as Chrissie Hynde (Pretenders), Phil Lynott (Thin Lizzy), Steve Jones and Paul Cook (Sex Pistols) and Peter Perrett (The Only Ones), So Alone is a true Rock classic, an electric mix of Rock, Punk and Soul that showcases Johnny Thunders at his very best.
Molly Tuttle & Golden Highway – Crooked Tree CD (Nonesuch)
Recorded live at Nashville's Oceanway Studios, Crooked Tree was produced by Tuttle and Jerry Douglas and features collaborations with Sierra Hall, Old Crow Medicine Show, Margo Price, Billy Strings, Dan Tyminski, and Gillian Welch. The album explores Tuttle's lifelong love of bluegrass - a genre she first discovered though her father, a music teacher and multi-instrumentalist, and her grandfather, a banjo player. Across these thirteen original tracks, all written or co-written by Tuttle, she simultaneously honors the bluegrass tradition while also pushing the genre in new directions. [Vinyl edition due May 13.]
Ceramic Animal – Sweet Unknown LP (Easy Eye Sound)
Recently released on CD – now available on vinyl. Strutting out of Doylestown, PA, Ceramic Animal forge glam, post-punk, psych rock and '70s pop into an original and exciting sound. The band's music and ambition impressed Dan Auerbach, who signed them to his Easy Eye Sound label and invited them down to Nashville to write and record their fourth album, Sweet Unknown. Together, they created an album that marries the glitter-stomp of T. Rex with the slow rush of Tame Impala and the extravagant melodicism of Todd Rundgren.
Roxy Music - Roxy Music LP reissue (Republic)
Roxy Music's self-titled seminal debut album, released in 1972, firmly put Bryan Ferry and Brian Eno at the forefront of the art-rock movement. Their penchant for glamour was showcased in the lyrics and immortalized in the 1950s style album cover. This vinyl reissue is mastered at half-speed and cut by Miles Showell at Abbey Road Studios. It also features revised artwork with a gloss laminated finish. Version Title: [Half-Speed LP]
Roxy Music - Music For Your Pleasure LP reissue (Republic)
In 1973, Roxy Music followed up their debut with For Your Pleasure. This time, they were able to spend more time in the studio, resulting a more elaborate and experimental production. Brian Eno's blend of tape loops are apparent on "The Bogus Man" and "Do the Strand," is often called the archetypal Roxy Music anthem. This vinyl reissue is mastered at half-speed and cut by Miles Showell at Abbey Road Studios. It also features revised artwork with a gloss laminated finish.
Meshuggah – Immutable CD/2xLP (Atomic Fire)
Full of surprises and yet instantly recognizable as the work of metal's most idiosyncratic force, Immutable redefines and redesigns the Swedish progressive metal band's sound across more than an hour of the most stimulating and absorbing music. [An indie store exclusive red color vinyl pressing is available.]
The Sure Fire Soul Ensemble – Step Down CD/LP (Colemine)
SFSE use their music to beautifully paint a picture of societal woes, but also points toward the solution and a better world. Heavy cinematic soul, spiritual jazz-funk, upbeat Afro-funk, and deeply introspective rare-groove cuts lace this ten-track transmission. [An indie store exclusive clear vinyl pressing is available.]
Linda Ronstadt – Greatest Hits [Reissue/1976] 2xLP (Elektra)
Linda Ronstadt – Greatest Hits Volume Two [Reissue/1980] 2xLP (Elektra)
Linda Ronstadt's Greatest Hits and Greatest Hits Volume Two have been reissued on 180gm vinyl with special textured jackets for International Women's History Month.
Com Truise – Galactic Melt [Reissue/2011] 2xLP+MP3 (Ghostly Int'l)
Black and orange color vinyl 10th Anniversary Edition featuring five bonus tracks. A decade ago, the static signal of "Terminal" booting-up sounded and Galactic Melt launched into the atmosphere for the first time; Seth Haley's Com Truise project arrived in full. A graphic designer based in New Jersey at the time, Haley found a sound on his synthesizers that sparked an immediate nostalgia response, tapping into classic sci-fi and proto-electro in a way that felt early '80s in scope, but also remarkably weird - stutter-step proggy and intoxicatingly psychedelic.
Guided By Voices – Devil Between My Toes [Reissue/1987] LP (Scat)
Colored vinyl version in stock. Devil Between My Toes is the debut album by Guided By Voices, originally self-released by the group in February 1987 in an edition of 300 copies. Disillusioned by the lukewarm reception to the band's debut EP the previous year, Robert Pollard resolved that this record would be conceived for an audience of one: "(it) is strictly for me and me only. Because no one's going to buy it, no one gives a fuck, but I'm still gonna do it. So, I might as well put only what I want on it, for me. An album for me."
Tempers - New Meaning LP (Dais)
Available on colored vinyl. The New York City duo of Jasmine Golestaneh and Eddie Cooper aka Tempers specialize in a sleek strain of low-lit poetic synth-pop, the latest statement of which feels like the peak fruition of their elusive alchemy. With their self-produced New Meaning, Tempers present an album about navigating the unknown, coping mechanisms and exploring the nature of choice. Its ten songs reflect on the creation of meaning as an access to liberation in times of transition and loss, speculating on the transformative potential that exists alongside the grief of living in a world that is in an ongoing state of crisis.

Whatever The Weather - Self-Titled LP (Ghostly)
A longtime fan of ambient-adjacent Ghostly International artists such as Telefon Tel Aviv (who she'd ask to master the album), HTRK (whose singer Jonnine Standish features on Nothing), and Lusine (whom she remixed at the start of 2021), James saw the label as the ideal home for this eponymous album of airy, transportive tracks as they began to formulate.

Tom Morello – The Atlas Underground Fire LP (Mom + Pop Music)
Released last October on CD – now available on orange splatter color vinyl. Following the 2018 release of his most ambitious album yet, The Atlas Underground, legendary musician and two-time Grammy winner Tom Morello returns with his latest project – a follow-up album entitled The Atlas Underground Fire. Morello's remarkable guitar playing is on full display on the record fusing rock, alternative and electronic music together with collaborations from a mix of music icons and cutting-edge artists. The acclaimed list of collaborators includes Bruce Springsteen, Eddie Vedder, Chris Stapleton, Mike Posner, Damian Marley, and others.
Sonny Red – Out Of The Blue [Reissue/1960] LP (Blue Note)
Limited 180gm vinyl LP pressing in gatefold jacket. Sonny Red's Out Of The Blue is a gem of the Blue Note catalog and deserving of much wider recognition. The alto saxophonist's lone album for the label was recorded in two sessions with Wynton Kelly on piano, Sam Jones, and Paul Chambers on bass, plus Roy Brooks and Jimmy Cobb on drums. Part of Blue Note Tone Poet Series which features all-analog, remastered sound.
Bebe Rexha – Better Mistakes LP (WB)
Released last July on CD – now available on vinyl. Singer-songwriter Bebe Rexha's sophomore album features guest contributions by Doja Cat, Travis Barker, Lil Uzi Vert, Lunay, Ty Dolla $ign, Rick Ross and more "Better Mistakes is by far the most challenging yet fulfilling project I have ever worked on. I wrote, recorded, re-wrote, re-recorded and then repeated that process in order to deliver an album that truly reflects who I am as a singer, songwriter and most importantly as an artist. I want to give listeners a journey of pop paradise fused with elements of rock and hip-hop. It's important to me that my music continues to recognize ongoing themes of vulnerability, the cycle of self-destruction & self-realization, and female empowerment."
Various Artists – Soul Jazz Records Presents: Studio One Rockers [Reissue/2001] 2xLP+MP3 (Soul Jazz)
Various Artists – Studio One Dub [Reissue/2004] 2xLP+MP3 (Soul Jazz)
Studio One Rockers features many legendary Studio One tracks brought together for the first time by Soul Jazz Records. From the beginning of Reggae, when the Skatalites developed a new sound of Ska in 1962 up until today, Studio One has been the number one innovator in Jamaican music. Eighteen years on from its original release Studio One Dub (back in-print on orange color vinyl) remains super-hard hitting featuring classic and rare dub tracks from Studio One, many available on vinyl for the first time in over thirty years.
COMING NEXT WEEK!
TOOL - Fear Inoculum 5LP
REGRETTES - Further Joy CD/LP
LUCIUS - Second Nature CD/LP
PAVEMENT - Terror Twilight 4LP
DANIEL ROSSEN (GRIZZLY BEAR) - You Belong There CD/LP
TINDERSTICKS - Past Imperfect: Best Of LP
CALEXICO - El Mirador CD/LP
GEOGRAPHER - Down and Out In The Garden Of Earthly LP
NICK LOWE - Dig My Mood LP
OF MONSTERS AND MEN - My Head Is An Animal LP reissue
ROCKET FROM THE CRYPT - Group Sounds LP reissue
ROCKET FROM THE CRYPT - Live From Camp XRay LP reissue