Login
Log in if you have an account
Dont have an account? Register
New Releases & Staff Picks - 4/15/22
15 Apr 2022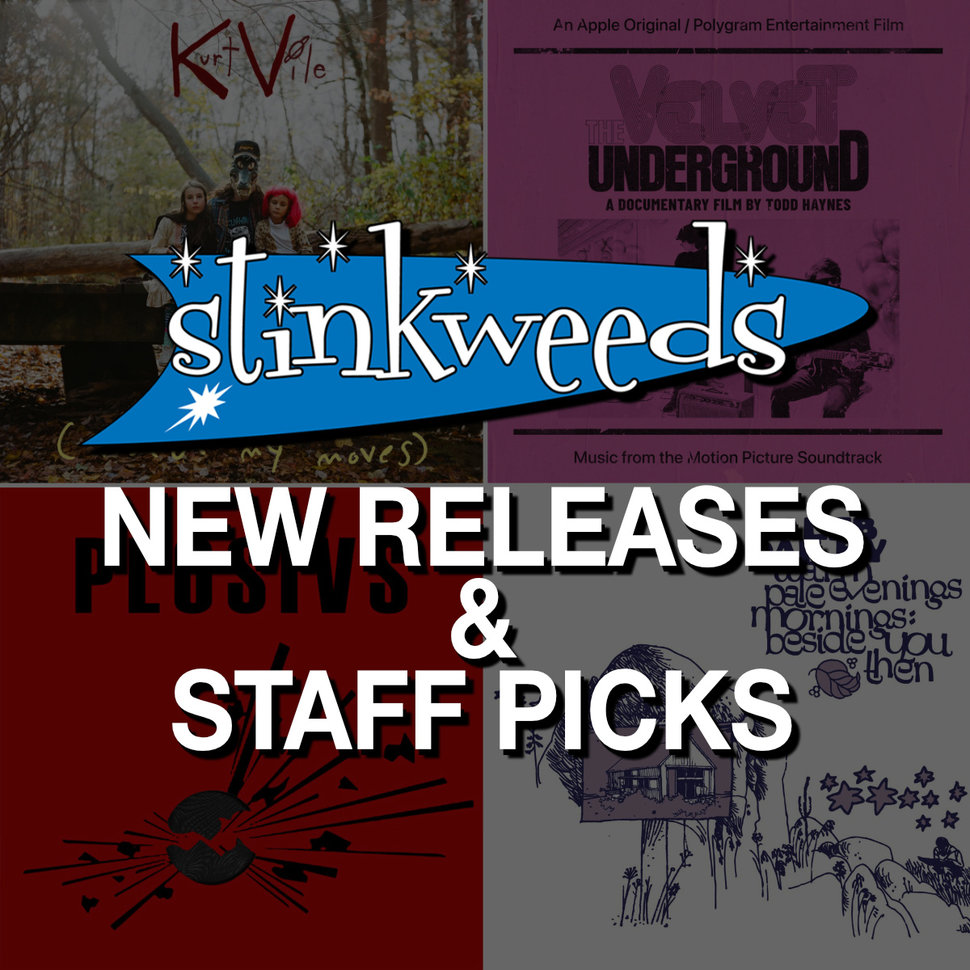 Staff Picks
Lindsay - Kurt Vile and Caleb Dailey
Dario - Caleb Dailey and Anais Mitchell
Zach - Caleb Dailey, Vundabar 
 Caleb - Caleb Dailey
Kimber - Caleb Dailey
Caleb Dailey - Warm Evenings, Pale Mornings: Beside You Then LP (Alien Transistor/Moone Records)
Growing up in the Californian sprawl and the vast suburbs of Phoenix, Arizona, Caleb Dailey largely dismissed the country and western music that surrounded him. Instead, he was drawn to independent rock, experimental zones, and other genre-defying forms, which led him to create skewed rock music with Bear State and establish the "minimal art label" Moone Records with his brother Micah Dailey in 2013. But in the early half of the 2010s, Dailey began to hear things differently. Drawn into the left-of-center works of artists like Gram Parsons and Blaze Foley, a more idiosyncratic take on country, folk, and roots music began to swirl in his imagination. Wandering into the form's cowboy chords and lonesome scenes, Dailey found himself wondering what his own country album might sound like. The result is his debut solo album, a collection of covers called Warm Evenings, Pale Mornings; Beside You Then. Produced by John Dieterich of Deerhoof, Keiko Beers, and Dailey himself, it's a melancholy charmer, rooted in traditional ideas but free roaming in its scope.
Available on CD/LP and limited edition green vinyl. On his first album in partnership with Verve Records, Kurt Vile pulls his talents as a singer, songwriter, multi-instrumentalist, and producer in unexpected directions - and the result is a vibrant, yet meditative record propelled by laid-back charm and curious spirit.
Mars Volta - Octahedron LP (Clouds Hill)
Limited red and blue colored vinyl LP pressing. Each of the Mars Volta albums that preceded Octahedron had pushed the envelope further, their music growing larger, more intense, more complex. Each had delivered an implied, unspoken challenge to its makers within milliseconds of its final notes: "top this". And with each subsequent album, Omar and Cedric had turned their creative dials up one more notch, a further step past "eleven". With the addition of new drummer Thomas Pridgen, and their ranks swollen by extra guitarists, more percussion and a sax-player, the intensity of The Mars Volta's sound had increased. Octahedron, however, would follow The Bedlam In Goliath's brilliant excesses with a sideways step few were expecting, even though the group had telegraphed their intentions to take this new direction for years.
Plosivs - Self Titled LP (Swami)

 Vocalist / guitarist Rob Crow is known for being in Pinback, Heavy Vegetable, Thingy, Physics and hundreds more. The length of drummer Atom Willard's résumé rivals a CVS receipt and is a who's who of alternative rock royalty: Against Me!, The Offspring, Rocket From The Crypt, Danko Jones, Social Distortion and Angels And Airwaves. Jordan Clark played bass with Mrs. Magician and guitar for The Frights and The Soaks. And prior to PLOSIVS, guitarist John Reis was and still is associated with Hot Snakes, Drive Like Jehu, Rocket From The Crypt, Night Marchers, The Sultans. Together, they independently isolated during what then seemed like the height of the pandemic (October 2020). After a short duration of ideas passed back and forth, they convened as a group for the very first time at Singing Serpent Studio in San Diego with Ben Moore at the controls and recorded this ten-song self-titled record.
Anais Mitchell - Self Titled LP (BMG)
Now available on colored vinyl! Anais' first solo studio album in over a decade. The self-titled album was produced by Josh Kaufman (of Bonny Light Horseman) and it features other core players including Michael Lewis, JT Bates, Thomas Bartlett and Aaron Dessner.
Boxmasters - Help .... I'm Alive CD/LP (Keentone Records)
Help... I'm Alive is the declarative statement that will resonate with anyone who has had to adjust to a new normal during the pandemic. The Boxmasters, J.D. Andrew and Billy Bob Thornton, wrote and produced the 12 songs over the past year. The themes of the 60s influenced rock and roll songs describe common feelings of uncertainty, love, fear and hope. Formed in 2007, The Boxmasters have recorded an impressive and diverse catalogue of music that touches on their love of a wide array of influences, but most importantly, the rock and roll of the 1960's. Listening to The Boxmasters, one can hear obvious odes to the Beatles, Byrds and Beach Boys, but also important to The Boxmasters are The Mothers of Invention, Kris Kristofferson, John Prine and Big Star.
Velvet Underground -The Velvet Underground: A Documentary Film By Todd Haynes LP (Polydor)
Double vinyl LP pressing. This soundtrack was curated by the documentary's director Todd Haynes, and music supervisor Randall Poster. It features well-known and rare tracks from The Velvet Underground, as well as songs and performances that influenced the band including the doo-wop of the Diablos, the groundbreaking rock n' roll of Bo Diddley, and the avant-garde compositions of La Monte Young. Also included is a booklet with exclusive liner notes by Todd Haynes.
Upside Downers - Rockin' At Golden Bull LP (1234 Go)
The Upside Downers are Billie Joe Armstrong (Green Day, Pinhead Gunpowder, The Longshot etc), Jason White (Green Day, The Influents), Chris Dugan and Greg Schneider (The Influents) when they're able. Recorded live in the before times at The Golden Bull in Oakland. What is the meaning of this? Will there be more? Mysteries, the fun of surprise shows and loud sounds abound! Let's start with these four old favorites and see where things go. On limited green vinyl.
Cassandra Wilson - Blue Light Til Dawn LP (Blue Note)
Double 180gm vinyl LP pressing. Blue Note Classic Vinyl Series is all-analog, mastered by Kevin Gray from the original master tapes. Cassandra Wilson's 1993 Blue Note debut, Blue Light 'Til Dawn, wove a tapestry of jazz, blues, folk, and R&B into a singular sound that opened new avenues of expression for vocal jazz. Produced by Craig Street, the album's inventive instrumentation, plus Wilson's riveting vocals, transformed songs by Robert Johnson, Joni Mitchell, Van Morrison, and more.
Nicki Minaj - Pink Friday (10th Anniversary) LP (Republic)
Limited double pink colored vinyl LP pressing. Nicki Minaj, celebrates the 10th anniversary of her landmark album, Pink Friday with this pink vinyl reissue housed in a jacket features a matte coating with a gloss finish.
Tsunami Bomb - Trust No One LP (Kung Fu)
Limited edition BLUE vinyl pressing of the rarities compilation from California punk rockers Tsunami Bomb! Features songs released prior to the band's 2002 full-length debut album originally released on singles, Eps and split 7"s including 2 exclusive demo recordings not found anywhere else!
Vundabar - Devil For The Fire LP (Gawk)
Vundabar singer Brandon Hagen always had a knack for storytelling. In fact, as a child, he used his malformed ankle as his first blank canvas. He told his peers that he hurt his ankle rescuing people from a burning building or fighting off an anaconda, and in effect, he discovered the power of imagination.
Andy Bell - Flicker CD/LP (Sonic Cathedral)
The second album from Ride guitarist and songwriter Andy Bell. This 18-track album finds Andy moving towards classic songwriting. Stylistically, the four sides of Flicker take in everything from modern psychedelia to finger picked folk, whimsical baroque pop, and Byrdsian 12-string beauty. It's a breathtaking array and makes it even more abundantly clear that Andy has entered a purple patch in his songwriting, hitting a new velocity in contrast to his initial inhibitions about becoming a solo artist. Flicker is also an apt description for the genesis of the album. At the start of 2021, Andy returned to the stems of the recording sessions he made at Beady Eye and Oasis bandmate Gem Archer's North London studio and added fuel to the fire, writing melodies and lyrics and turning them into fully formed songs. The same sessions were also the starting point for The View From Halfway Down (SCR 170CD/LP, 2020) and this album picks up where that one left off, quite literally, with the very first words being "I was halfway down?" This is the first of several playful, possibly intentional, references to albums and song titles that litter the record like a musical breadcrumb trail. As much as this is a modern sounding and forward-looking record, it's also very much about looking back, something that is clear from the first glimpse of the front cover - a previously unseen outtake from Joe Dilworth's photo sessions for the inner sleeve of Ride's debut album,Nowhere (1990).
These Arms Are Snakes - Duct Tape & Shivering Crows CD/LP (Suicide Squeeze)
Over the course of their seven-year run back in the '00s, These Arms Are Snakes covered a lot of territory, both in terms of actual miles spent on the road and in terms of their creative bandwidth. Though the band was often mistaken for a typical non sequitur-named screamo or another "animal" indie band, the Seattle group quickly exceeded expectations and garnered a reputation for subverting the popular underground sounds of time. The group cultivated a small but fervent fanbase across multiple continents with their signature combination of synth-infused noise rock, bad-trip psychedelia, flamboyant proto-metal boogie, and unhinged basement-show hardcore before imploding at the end of 2009. And while These Arms Are Snakes' full-length albums remain testaments to the band's frantic urgency and stylistic fluidity, there is a treasure trove of deep cuts buried on b-sides and split releases that further reinforce their position as one of the weirdest and wildest acts of the decade. For the first time, those rarities and one-offs have been compiled into a cohesive overview of These Arms Are Snakes' lifespan on the double LP Duct Tape & Shivering Crows.
Mama's Gun - Cure The Jones LP (Candelion)
Out of the turbulence of the last two years comes the new offering from UK-based soul outfit Mamas Gun - a lush, nuanced meditation on a world turned upside down, embedded in the classic soul tradition of Bill Withers and Marvin Gaye. UK label 'Candelion' working in partnership with Colemine Records & Secretly Group - will release Mamas Gun's new full-length album as a follow up to their globally supported LP 'Golden Days' which won over audiences and media fans alike including the likes of KCRW (USA), BBC RADIO (UK) and Billboard (Japan).
COMING NEXT WEEK!
Friday the 22nd also has a killer line-up of new releases:
OLD CROW MEDICINE SHOW - Paint This Town CD/LP
TAJ MAHAL + RY COODER - Get On Board CD/LP
ROGER ENO - Turning Year CD/LP
LOOP - Sonacy CD
JOSHUA HEDLEY - Neon Blue CD/LP
BARTEES STRANGE/ERIC OHMME/ANJIMILE - Province/Ever New 7"
S. CAREY - Break Me Open CD/LP
FATHER JOHN MISTY - Chloe and the Next 20th Century LP boxset
HATCHIE - Giving The World Away CD/LP
HEAD AND THE HEART - Self Titled LP reissue
HELLACOPTERS - Eyes Of Oblivion LP
CHRISTIAN LEE HUTSON - Quitters CD/LP
BONNIE RAITT - Just Like That CD/LP
DALE WATSON - Jukebox Fury CD/LP
CHICANO BATMAN - Black Lipstick LP
PONDEROSA TWINS - Plus One LP
VARIOUS - Penrose Showcase 1 LP