Login
Log in if you have an account
Dont have an account? Register
New Releases & Staff Picks - 4/22/22
21 Apr 2022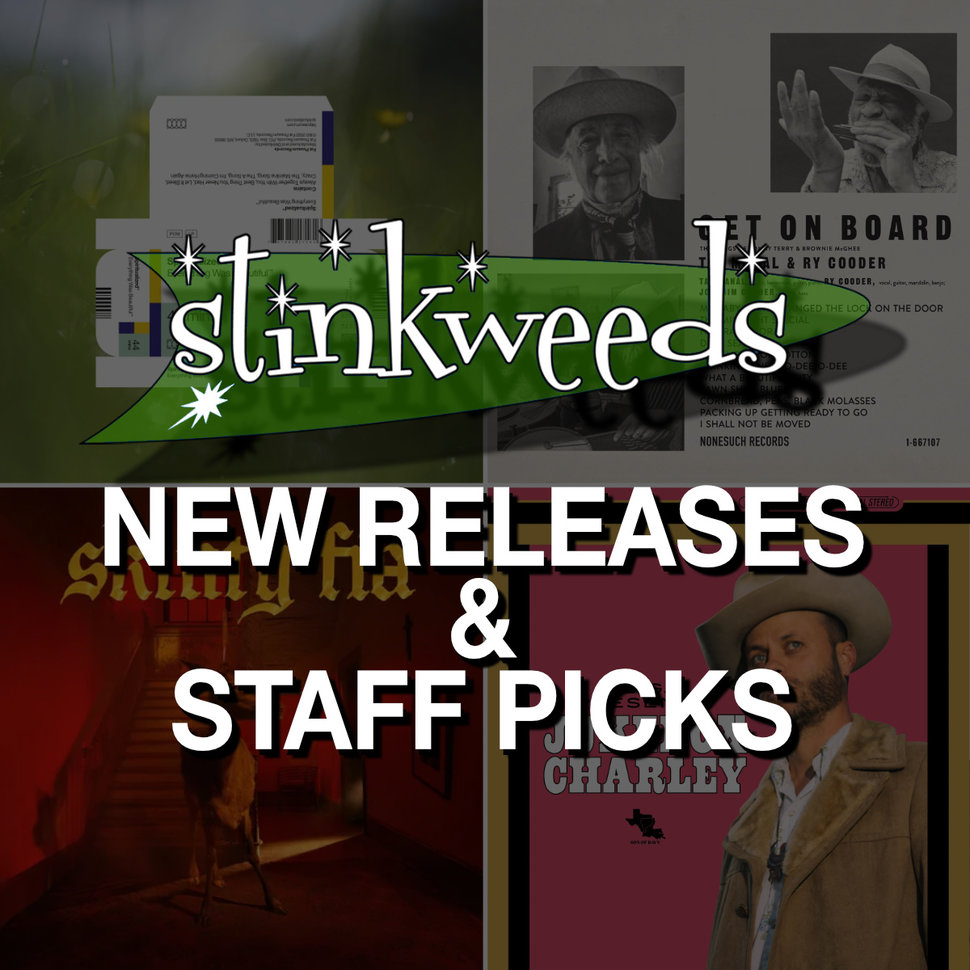 Staff Picks
Lindsay - Spiritualized, Charley Crockett and Fontaines DC
Dario - Tortoise
Zach - Fontaines DC, Christian Lee Hutson
 Caleb - Spiritualized
Kimber - Calexico
Spiritualized – Everything Was Beautiful CD/LP (Fat Possum)
Jason Pierce returns with the ninth studio album from his space-rock Spiritualized project which is ushered in by the soaring lead single "Always Together With You." Following up 2018's And Nothing Hurt, Everything Was Beautifulfeatures seven tracks recorded by Pierce (who plays 16 instruments here) and over 30 musicians and singers across 11 different studios, as well as his home. Collaborators include his daughter Poppy, John Coxon, the Whitechapel Bell Foundry and more. "There was so much information on it that the slightest move would unbalance it but going around in circles is important to me," Pierce explains. "Not like you're spiraling out of control but you're going around and around, and, on each revolution, you hold onto the good each time. Sure, you get mistakes as well, but you hold on to some of those too and that's how you kind of... achieve. Well, you get there." [An indie store exclusive vinyl pressing is available.]
Ry Cooder / Taj Mahal – Get On Board: The Songs Of Sonny Terry & Brownie McGhee CD/LP (Nonesuch)
Nearly sixty years after they first played together, Ry Cooder and Taj Mahal, longtime friends and collaborators, reunite with an album of music from two Piedmont blues masters who have inspired them all their lives: Get On Board: The Songs Of Sonny Terry & Brownie McGhee. With Taj Mahal on vocals, harmonica, guitar, and piano and Cooder on vocals, guitar, mandolin, and banjo—joined by Joachim Cooder on drums and bass—the duo recorded eleven songs drawn from recordings and live performances by Terry and McGhee, who they both first heard as teenagers in California.
Charley Crockett – Lil' GL Presents: Jukebox Charley CD/LP (Son Of Davy)
Charley Crockett delivers the new album Lil' G.L. Presents: Jukebox Charley. The fourth edition of his Lil' G.L. tribute series, produced by Billy Horton, Jukebox Charley is another great example of how Crockett is enlivening country music by looking back for inspiration and crafting his own singular sound whether through his own songs or the songs of others. On this new collection, Crockett mines country music's past and then processes it through his singular "Gulf & Western" sound - weaving old school blues, R&B, soul, Cajun, western swing and other classic touchstones with country. And while the album features songs written by country legends like Willie Nelson, Tom T. Hall and George Jones, Crockett also shines a light on songs from regional acts like Louisiana's Larry Brasso or a deep cut from Red Sovine. And even when he's interpreting songs from country legends, Crockett steers toward lesser-known or underappreciated songs, eschewing staples of the genre.
Fontaines D.C. – Skinty Fia CD/LP/2xLP (Partisan)
2020's A Hero's Death saw Fontaines D.C. land a No. 2 album in the UK, receive nominations at the Grammys, BRITs and Ivor Novello Awards, and sell out London's iconic Alexandra Palace. Now the band return with their third record in as many years: Skinty Fia. Used colloquially as an expletive, the title roughly translates from the Irish language into English as "the damnation of the deer"; the spelling crassly anglicized, and its meaning diluted through generations. Part bittersweet romance, part darkly political triumph - the songs ultimately form a long-distance love letter, one that laments an increasingly privatized culture in danger of going the way of the extinct Irish giant deer. [A limited-edition opaque red color vinyl pressing, and a deluxe double-LP 45rpm audiophile edition is available. Standard black vinyl edition due May 6.]
Joshua Hedley – Neon Blue CD/LP (New West)
Joshua Hedley is 'a singing professor of country & western,' he declares on his raucous and witty new album, Neon Blue. It might sound like a punchline, but it's not. An ace fiddle player, a sharp guitarist, and a singer with a granite twang, he's devoted his entire life to the study of this genre. His previous records have showcased his deep knowledge of country music history, in particular the beery ballads of the 1950s and '60s. Neon Blue, on the other hand, examines a very different, often forsaken era: the early 1990s. Neon Blue asks, "What if that fork had never happened? What if country kept on sounding like country?" Hedley finds something exciting in that old hat-act sound, and Neon Blue plays up the excitement of bigger-than-life choruses, the relatable emotions of those sad-eyed ballads, and the inventiveness of the lively production.
Christian Lee Hutson – Quitters CD/LP+MP3 (ANTI-)
Christian Lee Hutson starts his new album Quitters with a laugh. In this follow up to his 2020 album, Beginners, Hutson moves away from the focus on growing up to the dread and complications of growing older. The laugh that announces Quitters is the kind you'll find at the end of John Huston films, one of resignation and release, and somehow a cosmic laugh that says "California", a place where lonely people gather like birds. Across Quitters' 13 tracks, Hutson crafts this portrait of the place he's from. In these short story-like songs, Hutson presents characters who carry this golden light and sinister geography inside them. It's a place where everything in the end gets blown away and paved over with something new, where even the ocean and fires are always whispering, "One day we'll take it all back." This is a Los Angeles in constant transition, where childhood is lost, where home is gone and can never be visited again. [An indie store exclusive translucent purple color vinyl pressing is available.]
Calexico – El Mirador LP (ANTI-)
Indie store exclusive metallic gold color vinyl pressing. Calexico's Joey Burns and John Convertino return in with their luminous tenth studio album, El Mirador; a hopeful, kaleidoscopic beacon of rock, bluesy ruminations, and Latin American sounds. Oscillating between haunting desert noirs and buoyant jolts of cumbia and Cuban son, the album is permeated by longing. The title track "El Mirador" conjures images of a lighthouse, beckoning to lost souls in the night with hypnotic bass lines and cascading percussion. El Mirador  also features vocals from Guatemalan singer-songwriter Gaby Moreno, while Spanish rocker Jairo Zavala brings his signature bravado to the track "Cumbia Peninsula". By working with friends and recurring collaborators, Calexico also highlights the unique social and linguistic intersections at the US-Mexico border and the magnificent possibilities of a borderless world.
Chicano Batman – Black Lipstick [Reissue/2016] 12" (ATO)
Red color vinyl reissue of the L.A. funk/rock/soul band's 2016 EP.
Old Crow Medicine Show – Paint This Town CD/LP (ATO/Virgin)
Paint This Town is a return to form for Old Crow Medicine Show, showcasing their ability to merge profound introspection with the rapturous string band revival sound. The album is their most incisive body of work to date and shines a light on the darker aspects of the American experience with character-driven songs underpinned by the band's vision for a more harmonious future. Old Crow Medicine Show offers a riveting glimpse into American mythology and the wildly colorful characters who populate it. Co-produced by OCMS and Matt Ross-Spang, the album pays homage to everyone from Elvis Presley to Eudora Welty. Paint This Town's title track is a swinging anthem that fully embodies the band's carefree troublemaking over the last two decades. [An indie store exclusive vinyl pressing is available.]
Bonnie Raitt – Just Like That… CD/LP (Redwing)
With Just Like That..., her twenty-first album and first new release in more than six years, Rock and Roll Hall of Famer Bonnie Raitt continues to display the vitality and urgency that has defined her legendary career. The mix of sounds and approaches on Just Like That... reveals how, 50 years after the release of her debut album, Raitt continues to personify what it means to stay creative, adventurous, and daring over the course of a life's work. "On this record, I wanted to stretch," she says. "I always want to find songs that excite me, and what's different this time is that I've tried some styles and topics I haven't touched on before." [An indie store exclusive vinyl pressing is available.]
Tame Impala – The Slow Rush 2xLP+2x12"+7" (Interscope)
Deluxe box set edition. The Slow Rush was recorded between Los Angeles and Parker's studio in his hometown of Fremantle, Australia. The twelve tracks were recorded, produced, and mixed by Parker. The Slow Rush is Parker's deep dive into the oceans of time, conjuring the feeling of a lifetime in a lightning bolt, of major milestones whizzing by while you're looking at your phone, it's a paean to creation and destruction and the unending cycle of life. The album cover was created in collaboration with photographer Neil Krug and features a symbol of humanity all but swallowed whole by the surrounding environment, as though in the blink of an eye. This set includes the regular album on transparent red color vinyl, two remix 12"s, a 7" single featuring two B-sides, an expanded booklet, and The Slow Rush 2050 Calendar.
S. Carey – Break Me Open CD/LP+MP3 (Jagjaguwar)
S. Carey is the moniker of Eau Claire, Wisconsin-based multi-instrumentalist, songwriter, and producer Sean Carey. Over the past decade, Carey has fostered his flourishing solo career via themes of nature and sustainability, songwriting built from jazz beginnings, and heartfelt, emotive lyricism. [A clear smoke color vinyl pressing is available.]
Roger Eno – Turning Year CD/LP (Deutsche Grammophon)
Following the success of Mixing Colours - the 2020 duo release with his brother Brian Eno - Roger Eno returns for his solo debut on the Yellow Label. This time focusing solely on his own compositions, Eno presents a lush collection of lyrical pieces both old and new. "I thought about how our years comprise of moments, days, and the changing months. Of how we live our lives in facets, how we catch fleeting glimpses, how we walk through our lives, how we notice the turning year." - Roger Eno.
Hatchie – Giving The World Away CD/LP+MP3 (Secretly Canadian)
The sophomore album from Hatchie is the truest introduction to the songwriter/bassist at the helm of the project, Harriette Pilbeam. Produced by Jorge Elbrecht, Giving The World Away is Hatchie's most thunderous, sprawling work yet. Featuring input from longtime Hatchie collaborator Joe Agius, it takes the celestial, shimmering shoegaze, and pop sensibilities of her earlier releases, but with the volume knob cranked up tenfold. Built out with percussion from Beach House drummer James Barone, it's synthed-out, sonic opulence, a more structured and ornate musicality with traces of '90s trip-hop and acid house influences. [A coke bottle clear vinyl pressing is available.]
Loop – Sonancy CD/LP (Cooking Vinyl)
"Style-wise, it's incredibly different, going back to thinking about guitars and guitar sounds. Obviously, you have to take into consideration things like percussive elements such as drums, which I haven't been using in my other projects; but this is the mindset that makes up Loop." So says Robert Hampson, the indefatigable visionary behind inspirational sonic architects Loop, whose eagerly anticipated fourth LP Sonancy (Latin for "to create noise") is the perfect document for these strange times. Dynamic, dystopian, righteously angry, and unashamedly Loop-ian, it's an album that marks a vital re-emergence for Hampson and Co.
Vince Staples – Ramona Park Broke My Heart CD (Motown)
Esteemed hip-hop artist Vince Staples follows up his intimate self-titled album with Ramona Park Broke My Heart. "There's a direct correlation," Staples says of the two records. "They were kind of created at the same time. I was in a similar state of mind. This album will make even more sense if you heard the previous one, but this one has more answers." Long Beach's Ramona Park neighborhood is dear to Vince's heart. "It's symbolic of home," he says of why he dedicated the album to it. [Vinyl edition TBD.]
Wire – Not About To Die LP (Pink Flag)
Illegally released as a bootleg in the early 1980s, Not About To Die were recordings made for EMI as demos for the 1978 and 1979 albums Chairs Missing and 154. Now Wire has decided to redress the balance and give the album its first official release.
Eyedea & Abilities – First Born [Reisssue/2001] 2xLP+12" (Rhymesayers)
Micheal "Eyedea" Larsen and Gregory "DJ Abilities" Keltgen first met in the mid- '90s and soon began a working relationship that would play a prominent role in the burgeoning indie-rap movement of the time. After numerous successes across nearly every notable MC or DJ battle of the late '90s and early '00s, including HBO's Blaze Battle, the Rocksteady Anniversary, Scribble Jam, the DMC's and more, they had already cemented their legacies both as individuals in the battle scene and as the dynamic duo, Eyedea & Abilities, for their live performances and showmanship. However, determined not to be dismissed as one-dimensional, they set out to prove they were to be taken just as seriously at writing and recording. The release of their debut album, First Born, revealed their talents to be much more versatile and expansive than previously expected. The boastful arrogance and punchlines that had become synonymous with battling were notably scarce on the album. This limited vinyl package includes two galaxy effect color vinyl LPs and a bonus 12" pressed on ultra-clear laser-etched and UV printed vinyl featuring four bonus tracks.
Father John Misty – Chloë And The Next 20th Century 2xLP+2x7"+MP3 (Sub Pop)
Deluxe vinyl box set edition featuring two red color LPs, two bonus 7" singles, a poster, and a hardcover book. Father John Misty returns with Chloë And The Next 20th Century, his fifth album and first new material since the release of God's Favorite Customer in 2018. Chloë And The Next 20th Century was written and recorded August through December 2020 and features arrangements by Drew Erickson. The album sees Father John Misty - aka Josh Tillman - and producer/multi-instrumentalist Jonathan Wilson resume their longtime collaboration, with Dave Cerminara returning as engineer and mixer. Basic tracks were recorded at Wilson's Five Star Studios with strings, brass and woodwinds recorded at United Recordings in a session featuring Dan Higgins and Wayne Bergeron, among others. Chloë And The Next 20th Century features the singles "Funny Girl", "Q4", "Goodbye Mr. Blue", and "Kiss Me (I Loved You)".
Pinhead Gunpowder – Goodbye Ellston Avenue [Reissue/1997] LP (1-2-3-4 Go!)
What began as a recording project had become an enduring band, and this 1997 release is proof. The members brought the sounds of their other groups - Redmond Shooting Stars, Uranium 9 Volt, The Big Cats, and Green Day - but joined together to make something new and unique. Originally released on Lookout Records, this thirteen-song LP has been recut at 45 RPM and comes on limited exclusive color vinyl.
The Ponderosa Twins Plus One – 2+2+1= [Reissue/1971] LP (Numero)
Grassy green color vinyl pressing. An American soul vocal group that would go on to shape the sound of pop music much farther beyond their imaginations, The Ponderosa Twins Plus One featured two sets of identical teenage twins, Alfred and Alvin Pelham, and Keith and Kirk Gardner, along with Ricky Spicer. The group released a couple of singles and a lone album for Cleveland's Saru label in 1971, breaking up and disbanding as adolescence waned. A recent sample darling of both Kanye West and Tyler The Creator, "Bound" has revealed the Ponderosa Twins Plus One as the real Midwest kid soul deal. This vinyl reissue comprises remasters from the original analog tapes, two previously unissued bonus tracks, and a replica tip on sleeve.
Pretenders – Pretenders [Reissue/1980] LP (Rhino)
2018 remaster. Pretenders is widely regarded as one of the greatest debut albums of all-time. Featuring Chrissie Hynde's incredible vocals and guitar, James Honeyman-Scott's glistening guitar, Pete Farndon's driving bass and Martin Chambers' drums, the album is quintessential new wave, and a defining album of the '80s.
Speedy Ortiz – Major Arcana [Reissue/2013] LP+MP3 (Carpark)
Limited orange color vinyl pressing. On their debut full-length, Western Massachusetts' Speedy Ortiz manages a bit of magic by conjuring the spirits of classic American indie rock, while twisting those ghosts into new shapes. It's easy to hear the influences of Helium, Jawbox, and Chavez on Major Arcana, as well as nods to their contemporaries including Grass is Green, Pile, and Roomrunner. Sweet vocal harmonies run up against gnarly distortion, aided by basic, chunky bass parts and heavy, fill-laden drums.
Tortoise – Rhythms, Resolutions & Clusters [Reissue/1995] LP+MP3 (Thrill Jockey)
Tortoise has spent nearly 30 years making music that defies description. While the Chicago-based instrumental quintet has nodded to dub, rock, jazz, electronica and minimalism throughout its revered and influential discography, the resulting sounds have always been distinctly, even stubbornly, their own. One of the thrulines that create that distinctive sound is what might be called a pervasive element of group play, or ensemble-mindedness, as opposed to emphasis on a virtuoso soloist or frontman. Rhythms, Resolutions & Clusters follows in this line as Tortoise turned their iconic early songs over to their friends to remix.
Dale Watson - Jukebox Fury (Cleopatra) LP
Country legend and rockabilly icon Dale Watson cuts loose on a set of divebar jukebox classics for this brand new studio album! Hear Watson's unmistakable voice out grit Bob Seger on "Turn The Page," outshine Willie Nelson on "Always On My Mind," and outplay Kenny Rogers on "The Gambler" plus many more favorites! Includes special guest performances by country diva Lorrie Morgan, Stax legend Steve Cropper, Swiss rockabilly shakers The Hillbilly Moon Explosion, and more! Produced by rockabilly superstar Danny B. Harvey! Limited edition GOLD vinyl in a gatefold jacket!
Pains Of Being Pure At Heart - Self Titled LP reissue (Slumberland)
Limited white/pink/yellow vinyl. Since its release in 2009 The Pains of Being Pure At Heart's self-titled debut has attained the status of a modern indiepop classic, and even more crucially a record that continues to have an impact well beyond the indiepop scene. As one of the key bands in Brooklyn's late 00s guitar music revival (alongside Crystal Stilts, Grizzly Bear, Vivian Girls, Frankie Rose and others) The Pains paid tribute to everything from C86 to early Slumberland, Sarah and Creation label pop, but with a distinct American flavor drawn from groups like Smashing Pumpkins and The Pixies. Their debut album exploded immediately, going places that indiepop records and bands rarely do (like TV appearances on Carson Daly's and David Letterman's shows) and leading to several years of constant touring and the further release of two more well-received albums.
Rilo Kiley - Take Offs and Landings LP (20th Anniversary)
In celebration of the 20th Anniversary, Barsuk Records is pleased to release this limited edition of Rilo Kiley's Take Offs And Landings. Limited to 3,000 copies worldwide, this reissue will be on white 180 gram vinyl and include a color UV print on the 4th disc. A download code is included.
THIS SATURDAY 4/23, IS RECORD STORE DAY!
CHECK OUT OUR WEBSITE FOR A COMPLETE RUNDOWN OF HOW WE ARE OPERATING, STARTING AT 8AM
COMING NEXT WEEK!!
WEEKND - Dawn FM LP
NORAH JONES - Come Away With Me CD/LP reissue
FROG EYES - Bees CD/LP
SERATONES - Love + Algorhythms CD/LP
SPARKS - Balls CD/LP reissue
SPARKS - Hello Young Lovers CD/LP reissue
SPARKS - Lil Beethoven CD/LP reissue
WILLIE NELSON - Beautiful Time CD/LP
TOMBERLIN - I Don't Know Who Needs To Hear This CD/LP
BLINK 182 - Buddah LP
DIANE COFFEE - With People CD/LP
FLOTSAM AND JETSAM - Live In Phoenix LP
BLOC PARTY - Alpha Games CD/LP
COIL - Musick To Play In The Dark 2  LP
CACTUS BLOSSOMS - One Day LP
ODDISEE - Odd Tape LP
OPEN MIKE EAGLE  - Dark Comedy LP