Login
Log in if you have an account
Dont have an account? Register
New Releases & Staff Picks - 4/8/2022
07 Apr 2022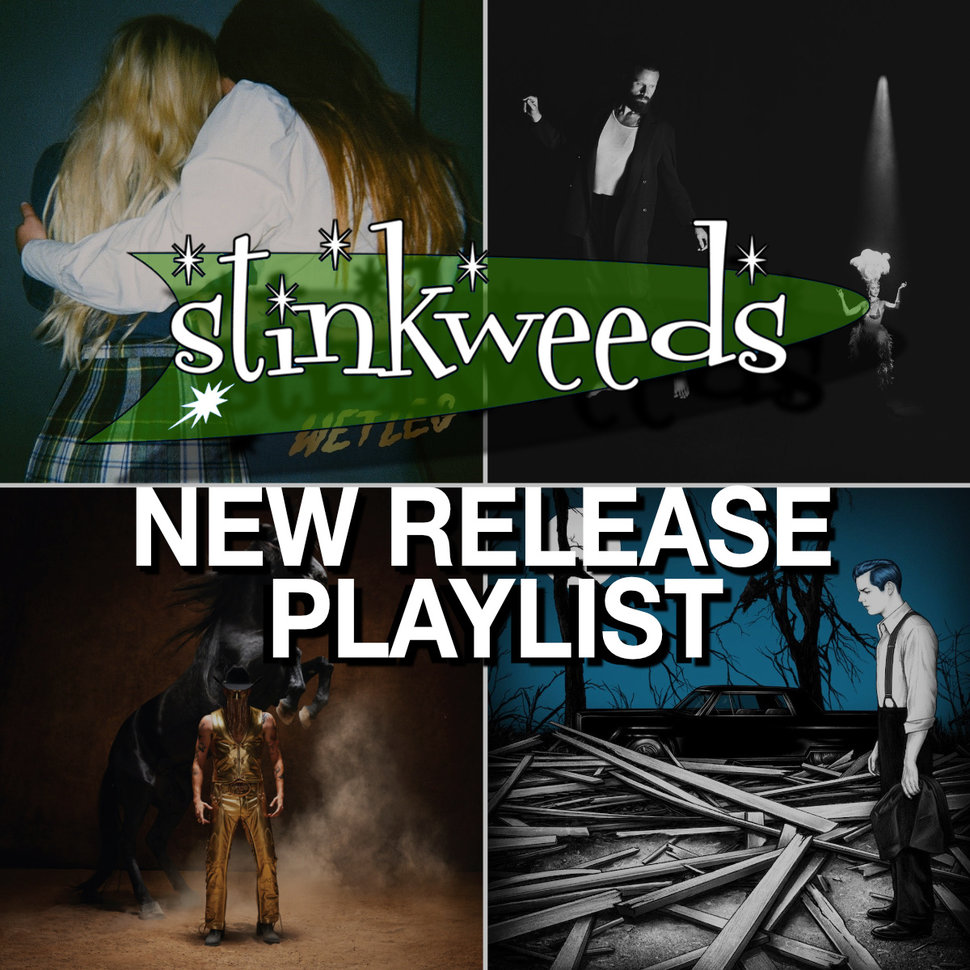 LISTEN to this week's new releases on Spotify or Apple Music. 
Staff Picks
Lindsay - Daniel Rossen and Wet Leg 
Dario - Wet Leg and Daniel Rossen
Zach - Orville Peck, Wet Leg, King Gizzard
 Caleb - Pavement 
Kimber - Calexico
Jack White - Fear Of The Dawn CD/LP (Thirdman)
Jack White returns in 2022 with not one but two brand new albums – his first new full-length collections in over four years. Fear Of The Dawn is available now, while Entering Heaven Alive will follow in July 2022. White has been writing and recording music throughout the entirety of the past several years, creating two entirely distinctive albums – each defined by different inspirations, different themes, different moods. Introduced by the blazing single "Taking Me Back", Fear Of The Dawn is the fourth solo studio album from the founding member of The White Stripes, The Raconteurs, and The Dead Weather. True to his DIY roots, this record was recorded at White's Third Man Studio throughout 2021, mastered by Third Man Mastering, pressed to vinyl at Third Man Pressing, and released by Third Man Records.
After releasing two of the hottest singles of the year ("Chaise Longue" & "Wet Dream"), Wet Leg's Rhian Teasdale and Hester Chambers were catapulted from their confines on the Isle of Wight to sold out venues and packed-out tents at festivals causing giddy excitement wherever they went. Their debut album is called Wet Leg. Available on limited edition colored vinyl.
Daniel Rossen - You Belong There CD/LP (Warp)
Daniel Rossen knew there was a lot to learn if he was finally going to finish his debut solo album. For nearly two decades, Rossen had been a crucial component of Grizzly Bear, the era-epitomizing act whose shared harmonies and interlaced textures meant he was responsible for only part of a whole. Rossen left the close-knit nest of Brooklyn many years ago, first for an isolated patch of land in upstate New York and then for the high desert climes of Santa Fe. The whole, as it were, was now his. So Rossen bought an upright bass and played all the parts himself, along with the cello. Best known as a guitarist, he took up woodwinds, too, buying several cheap student models and learning just enough to understand the rudiments. And then, largely at home in Santa Fe, he slowly built the world that is You Belong There, a riveting 10-song reintroduction to a voice that sounds both entirely familiar and fully re energized by the act of unfettered expression.
Available on black and limited edition colored vinyl. Deluxe boxset delayed a week or two.
Father John Misty returns with Chloë and The Next 20th Century, his fifth album and first new material since the release of God's Favorite Customer in 2018. Chloë and the Next 20th Century was written and recorded August through December 2020 and features arrangements by Drew Erickson. The album sees Father John Misty - aka Josh Tillman - and producer/multi-instrumentalist Jonathan Wilson resume their longtime collaboration, with Dave Cerminara returning as engineer and mixer. Basic tracks were recorded at Wilson's Five Star Studios with strings, brass and woodwinds recorded at United Recordings in a session featuring Dan Higgins and Wayne Bergeron, among others. Chloë and The Next 20th Century features the singles "Funny Girl," "Q4," "Goodbye Mr. Blue," and "Kiss Me (I Loved You)."
This is a black LP only release, no CD for whatever odd reason, the label is only pressing vinyl. Bronco is the new album from country artist and songwriter Orville Peck. A consummate storyteller, the country rock inspired Bronco plays upon the horse theme so often found in Orville's work, but this time with an exploration of freedom, breaking free from that which binds us and all that is wild and untamed. Bronco builds upon and follows Peck's previous album Pony and EP Show Pony, which explored themes of love, loss and loneliness but advances the story arc in a bolder, newer and warmer trajectory. "This is my most impassioned and authentic album to date," says Peck. "I was inspired by country rock, 60s & 70s psychedelic, California and even bluegrass with everything being anchored in country. Bronco is all about being unrestrained and the culmination of a year of touring, writing in isolation and going through and ultimately emerging from a challenging personal time."
Pavement - Spit On A Stranger 12" (Matador)
An expanded edition of Pavement's Spit On A Stranger EP, on vinyl for the first time. The EP coincides with the long-awaited release of the 5xLP box Terror Twilight: Farewell Horizontal and the announcement of several months of North American and European touring. Spit On A Stranger includes the viral phenomenon "Harness Your Hopes" and a previously unreleased live take from the band's legendary 1999 Brixton performance.
Pavement - Terror Twilight: Farewell Horizontal 4LP
Matador's complete series of expanded editions of their five studio albums culminates with this deluxe reissue of their 1999 fifth studio album Terror Twilight, originally released in 1999. Pavement is widely renowned as one of the most popular and influential bands to come out of the American underground in the last three decades This expanded reissue contains numerous unreleased recordings, plus "Be The Hook" - one of three never-before-heard songs. The set includes the original Terror Twilight album remastered from the original tapes, and for the LP edition, it is presented in the original Nigel Godrich track order. The set includes B-Sides from the "Spit On A Stranger" and "Major Leagues" CD EPs, Stephen Malkmus home demos, tracks from the scrapped recording sessions in New York, full band rehearsal demos and 6 live tracks from 1999. PLUS each format contains a perfect-bound book with never-before-seen photos, a roundtable discussion with Bob Nastanovich, Mark Ibold and Steve West, interspersed with an interview conducted with producer Nigel Godrich, an essay by Scott Kannberg, and a Tape Op interview with Stephen Malkmus. It also contains previously unseen photos, handwritten lyrics, notes about ideas for the song titles and album title (where this edition's titled comes from....Farewell Horizontal), photos of the reels and cassettes, faxes to/from band members, internal marketing timelines, and a 1999 hospitality rider.
Tool - Fear Inoculum 5LP (Sony)
Super limited! This is the long awaited limited edition vinyl package of Tool's Grammy winning and critically acclaimed album, Fear Inoculum. This package features five 180 Gram BLACK vinyl discs, with album tracks featured on Side A, and unique etchings featured on Side B. The discs are packaged in a hard shell box with new album art, and a bound casebook holding the vinyl along with new imagery not previously seen.
Papercuts - Past Life Regression LP (Slumberland)
Jason Quever has been releasing timeless guitar-based dream pop as Papercuts since 2004, impervious to trends or micro genres that have come and gone around him. In that regard, his contemporaries are artists like Hiss Golden Messenger, Fruit Bats, Andy Shauf or Kings of Convenience – artists who are more concerned with song craft and perfecting their sound, and less concerned with gimmicks or fitting into a specific scene. Past Life Regression is his new album and it's a journey into the dreamier reaches of Velvets-flavored strum that digs deep into influences as wide-ranging as Leonard Cohen, The West Coast Pop Art Experimental Band, Spiritualized, Echo & The Bunnymen, 60s sunshine pop and folk rock of all eras. As always, Jason's songcraft and production are immaculate, marking Past Life Regression as a crucial addition to his discography.
Albert Ayler - First Recordings 1 LP (Sowing Records)
Recorded in Stockholm in 1962, and originally released on Sonet Records, these sessions stand as Ayler's first step into a new sonic world. This was when Ayler was still dealing with classic Jazz standards such as "I'll remember April", M Davis's "Tune Up" and "Rollins Tune", a declared tribute to the older master Sonny Rollins. His already super-strong tenor sax voice dominates a quiet, almost shy, local rhythm section featuring Torbjorn Hultcrant on bass and Sune Spangberg on drums. This was just before stepping into his unique, hyper energetic and ecstatic form of Free Jazz. This was Ayler sowing the seeds of a revolution to come!
Albert Ayler - First Recordings 2 LP (Sowing Records)
Recorded in Stockholm on October 25, 1962, this session is one of Albert Ayler's earliest recordings, featuring a European backing group he assembled during his brief stay there, before returning to the States in 1963 and beginning his legendary run with ESP-Disk' and Impulse. Though his genius is not yet fully formed, one can easily hear he's headed that direction, and this rare and long out of print recording is an essential piece of the history from one of America's most uniquely lyrical voices on the saxophone.
Calexico - El Mirador CD/LP (Anti)
CD and black LP now, gold LP next week! Calexico occupy their signature sound on the new album, El Mirador; riding the continental divide between dream pop, Mexican folk and Americana. If any band understands how to expand their sound without losing the brilliant essence of the band, it's Calexico. Their songs run the gamut from retro-tinged alt-rock, to sentimental folk to southwestern tracks with an impressive display of vision and expertly honed skills. With vocals that intertwine English and Spanish, El Mirador embraces the musical heritage of the southwest, and features guest artists from all musical genres including: Sam Beam (Iron & Wine) who drops backing vocals on "Harness the Wind" Jairo Zavala of Depedro is featured vocalist on "Cumbia Peninsula" Gaby Moreno and Mexican Institute Of Sound are featured on "Cumbia Del Polvo".
Zero 7 - Yeah Ghost CD/LP (New State)
ZERO 7 4th album Yeah Ghost from 2009, spans everything from dance pop to acoustic folk and everything in between it's an idea-splattered work of genius that even includes a quartet of instrumental tracks derived from their experimental side projects and sampled, overdubbed and rebuilt from scratch. One thing that remains consistent though is the roll call of up-and-coming talent on vocal duties, including singer ESKA Mtungwazi. The Londoner, whose collaboration credits include Matthew Herbert and Bugs In The Attic, appears on 'Mr McGee', 'Medicine Man', 'Sleeper' and 'The Road' & folk singer songwriter/ painter / filmmaker Martha Tilson for Pop Art Blue. This is the 1st time this album has been made available on vinyl – it's being released as a double vinyl 180g heavyweight with gatefold sleeve.
Lucius - Second Nature CD/LP (Mom+Pop)
Available on pink vinyl. Second Nature is a journey through the stages of grief, and the moments of joy that push their way through. It's a record that begs you not to sit in the difficult moments, but to dance through them.  Produced by Dave Cobb and Brandi Carlile, the album was recorded in Nashville at RCA's Studio A, the same room songs like "Jolene" and "I Will Always Love You" were brought to life. The grounds for a dramatic, vulnerable record making experience were there, but there was also an acceptance and peace in the band, who would be coming together for the first time in over a year, to create something positive.
Jon Hopkins - Music For Psychedelic Therapy LP (Domino)
Music For Psychedelic Therapy carves a new path for Jon Hopkins sonically and philosophically as a follow up to 2018's Grammy nominated Singularity. Enveloping Hopkins' journeys across geographical and cosmological spectrums, the album is an inimitable and all-embodying journey in and of itself. It's a richly rewarding and personal listening experience; one highly recommends indulging in without distraction.
Earthless - Sonic Prayer LP (Nuclear Blast)
The debut album from Earthless, remastered for a limited edition colored vinyl release.
Geographer - Down and Out In The Garden Of Earthly Delights LP (Nettwerk)
Royal Blue & Cream Vinyl. Geographer captured the interests of many over the last ten years through his unique indie-pop/rock sonic scapes that have solidified his sound. The solo project for Mike Deni, Geographer, is constantly evolving and reinventing his music, which began as an outlet for Deni after his sister's tragic death; born from a place of grief but ultimately capturing the optimism that is inherent to persevering through life. He continues his quest in music exploration with his new album Down and Out in the Garden of Earthly Delights - which he was inspired to name after moving to LA from SF: "Everything feels possible here. Everything should be wonderful. That's the vibe of LA: You've made it to paradise! You should be really happy... and then nobody is. There's a lot of darkness - you have to sift through everything to find your own path."
The Regrettes - Further Joy CD/LP (Warner)
While supplies last: signed poster from the band! The Regrettes, consisting of singer and songwriter, Lydia Night, as well as Genessa Gariano (guitar), Brooke Dickson (bass) and Drew Thomsen (drums), have written a manual for living in these times, replete with highly personalized songs about things we're all going through. Night shares, "that phrase, 'further joy,' summarized what it meant to be on the hamster wheel of constantly chasing happiness, but in turn, that's what makes you unhappy. I was stuck in a loop of wanting to be better, wanting to be good, and therefore I couldn't be here. I couldn't be present." The desire to break free of that cycle is what the band's third album, Further Joy, is all about, a joyous and self-aware soundtrack for those interested in what Lydia refers to as "dancing the pain away."
Rocket From The Crypt - Group Sounds LP (Vagrant)
Vagrant Records continues their 25th Anniversary celebration with a colored vinyl LP reissue of Rocket from the Crypt'sGroup Sounds. Rocket from the Crypt's ninth full-length album and debut for Vagrant, Group Sounds was originally issued in 2001 and features 13 blasts of the most explosive and dense rock & roll ever committed to tape. The new "Wall of Sound" is erected only to be kicked over. Bricks continuously toppling over without mercy. Passionately out of control and adventurously violent. Past promises are made good and old allegiances are unapologetically broken. These are theGroup Sounds. The perfect combination of everything you could ever want.
Rocket From The Crypt - Live From Camp X-Ray LP (Vagrant)
Live from Camp X-Ray is the seventh and final studio album from Rocket from the Crypt, originally released on Vagrant Records in 2002. Contrary to the title it's not a live recording and plays off of the temporary detention facility Camp X-Ray in Guantanamo Bay. Wild guitars, party vocals and upbeat horns are delivered in the band's signature urgent and explosive fashion throughout the brief yet bold swan song from opener "I'm Not Invisible" through closer "Too Many Balls."
Of Monsters and Men - My Head Is An Animal (10th Anniversary) LP (Republic)
To celebrate a decade since the arrival of My Head Is An Animal, Of Monsters and Men presents the 10th Anniversary Edition. Originally released in Iceland in 2011, this version has 4 tracks that were not on the version released in the U.S. in 2012. Includes 2 never-before-heard songs: "Phantom" and "Sugar in a Bowl." 2 LP set pressed on translucent red vinyl
King Gizzard and the Lizard Wizard - Made In Timeland LP (ATO)
Made In Timeland has been whispered about on fan message boards for almost 2 years. Like so many other things, it was delayed by the pandemic. It was finally released after the band's marathon 3-hour show in Melbourne and will be made available in stores on April 2022.
Jonny Greenwood - Spencer Soundtrack LP (Mercury KX)
Mercury KX presents the original soundtrack to Spencer, the highly acclaimed film from director Pablo Larraín and starring Kristen Stewart as the late Princess Diana. It features an original score by award-winning composer Jonny Greenwood (Radiohead) of genre-bending music that combines free jazz and classical baroque, making it a poignant accompaniment to the film. Greenwood's past soundtrack works include Phantom Thread, There Will Be Blood, and Norwegian Wood.
Nick Lowe - Dig My Mood LP (Yep Roc)
Three decades on, Nick Lowe has evolved from British pub-rock pioneer (with Brinsley Schwarz) to new wave godfather (producing Elvis Costello, among others) to postrock crooner. It's a surprising but convincing transformation, begun with the country-inflected minimalism of 1994's superb The Impossible Bird and pared to an even leaner chamber pop on this subdued charmer. Bird found Lowe damping his jokester's instincts to dig deeply and soberly into romantic despair and a gnawing, midlife confrontation of self. While the tracks on Dig My Mood suggest that some of the wounds have healed, there's still an elegiac air to songs like "Faithless Lover," "What Lack of Love Has Done," and "Failed Christian" that qualifies these as songs of experience. Lowe's baritone has deepened and acquired a deft finesse with redeeming glimmers of wit and no loss of intelligence. The 2022 reissue of Dig My Mood is remastered from the original tapes.
COMING NEXT WEEK!
KURT VILE - Watch My Moves CD/LP
BOXMASTERS - Help I'm Alive CD/LP
CHAMELEONS - Edge Sessions CD/LP
DR DOG - Be The Void LP reissue
SHOUT OUT LOUDS - House LP
THESE ARMS ARE SNAKES - Duct Tape + Shivering Crows CD/LP
TSUNAMI BOMB - Trust No One LP
UPSIDE DOWNERS - Rocking At Golden Bulls LP
MAMA'S GUN - Cure The Jones LP
M83 - Hurry Up, We're Dreaming LP 10th Anniversary Reissue
MARS VOLTA - Noctourniquet LP
MARS VOLTA - Octahedron LP
VELVET UNDERGROUND - Documentary Film LP
ARRESTED DEVELOPMENT - For The Fkin Love LP
ODDISEE - Odd Tape LP