Login
Log in if you have an account
Dont have an account? Register
New Releases & Staff Picks - 5/20/22
19 May 2022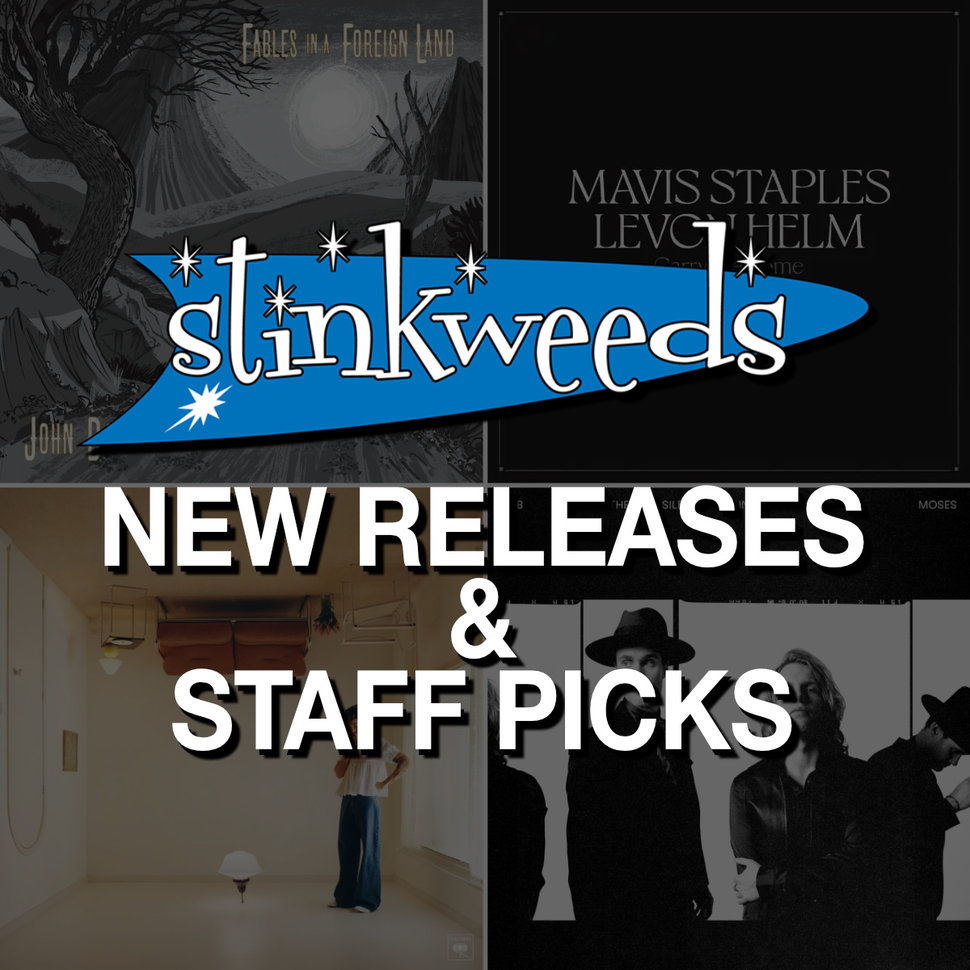 Staff Picks
Lindsay - Mavis Staples / Levon Helm, Weird Nightmare and John Doe
Zach - Weird Nightmare, Soak, and Arca
Dario - Mary Lattimore and Paul Sukeena
Caleb - Patrick Shiroishi
BOB MOSES - The Silence In Between LP (Astralwerks)
Now available on LP. The Silence In Between is the third full-length album from Grammy-winning indie dance duo Bob Moses - and their first since signing with Astralwerks. It finds musician/producers Tom Howie and Jimmy Vallance tapping into their deep-rooted love for '90s alt-rock and left-of-center dance music and features the singles "Never Ending" and "Love Brand New."
ART BLAKEY'S JAZZ MESSENGERS WITH THELONIOUS MONK LP (Atlantic)
In May of 1957, Art Blakey and his Jazz Messengers went into the studio with Thelonious Monk to record a one-off album for Atlantic. The Jazz Messengers were a loose collective of young Jazz musicians, with a constantly rotating lineup to keep the music fresh and help launch new careers. In this iteration we find Art Blakey on drums, Thelonious Monk on piano, Johnny Griffin on tenor saxophone, Bill Hardman on trumpet and Spanky DeBrest on bass. Blakey had recorded with Monk on various occasions, but this was the first time Monk sat in with the Jazz Messengers. This also marks Thelonious Monk's only appearance on Atlantic Records. The result is a true meeting of the minds, a beautiful union of Monk's melodies with Blakey's unshakable sense of swing. This 65th Anniversary deluxe edition includes an extra disc of unreleased outtakes, celebrating the most sensational jazz collaboration of the 1950s.
CAVE IN - Heavy Pendulum CD/LP (Relapse)
The legendary Cave In makes a highly anticipated return with their Relapse Records debut, Heavy Pendulum, their first full studio record in over a decade. The band sees a revival following the addition of Nate Newton (Converge, Doomriders, Old Man Gloom) on bass and vocals. Produced by Kurt Ballou at God City, Heavy Pendulum showcases everything that has long established Cave In as one of the best contemporary rock, hardcore, and metal bands since their monumental 1998 debut Until Your Heart Stops.
CLASH - Combat Rock + People's Hall 2CD/3LP (Sony)
Digitally remastered and expanded version including a bonus CD containing 12 additional tracks. Originally released in May 1982, Combat Rock is the final album from The Clash line-up featuring Joe Strummer, Mick Jones, Paul Simonon and Topper Headon. Featuring two of the band's most well-known songs, 'Should I Stay Or Should I Go' and 'Rock The Casbah'. Having returned to London following their pivotal 17-show residency at New York's Bond's Casino in 1981, the band rehearsed and recorded at The People's Hall in the squatted Republic of Frestonia near Latimer Road in London and from there they embarked on a tour of the East and South East Asia, during which the album sleeve image was captured by Pennie Smith in Thailand. The tracks on The People's Hall chart the period from what was their last single, "Radio Clash," right up to the release of Combat Rock, including unheard, rare and early versions of tracks.
CLAYPOOL LENNON DELIRIUM - Monolith Of Phobos LP (ATO)
Double smoky ghostly grey colored vinyl LP pressing in a gatefold jacket. Two worlds have collided, and what glorious and odd worlds they are. After a summer tour pairing Primus with The Ghost of a Saber Tooth Tiger, Les Claypool and Sean Lennon combined their abstract talents into a project called The Claypool Lennon Delirium. Monolith of Phobos is their 2016 debut album featuring the single "Cricket and the Genie."
DESAPARECIDOS - Read Music / Speak Spanish LP (Saddle Creek)
Limited translucent blue vinyl LP pressing. 2022 finds us releasing the 20th Anniversary Edition of Desaparecidos' Read Music/Speak Spanish into a world in which the dread and disenfranchisement detailed throughout the album feel as pertinent today as they did then. The characters and settings may have changed, but the startling narrative has not. In late 2001, Conor Oberst, Denver Dalley, Landon Hedges, Ian McElroy, and Matt Baum spent a week at Presto! Recording Studio in Lincoln, NE recording a punk album. That debut album, released in the post-9/11 fog of early 2002, screamed out observational commentary on urban development, the sacrifice of human value for the dollar bill, and the new American Dream in a way that felt distinctly out of sync with the hyper-patriotic atmosphere of peak G.W. Bush-era America. The band toured, got a bit of attention, and then went their separate ways for a long spell. In the ensuing years, Read Music/Speak Spanish gained cult status and became one of the most beloved and meaningful documents of the era, capturing the alienation that those who had seen through the fog of war for $$$$ experienced at the time.
JOHN DOE- Fables In A Foreign Land CD/LP (Fat Possum)
Punk rock pioneer with X, songwriter, poet, actor, solo artist, published author... folk musician. With Fables in a Foreign Land, the debut release from The John Doe Folk Trio, his tales are now set in the pre-Industrial Era. And though many of the 13 songs were written over the last three years, the sound was born in loose weekly backyard jams on Kevin Smith's (Willie Nelson and Family) patio. "I guess Fables in a Foreign Land is my version of folk music. It started by being sick of musicians that play too much and having to orchestrate or arrange songs. 'What if it was just less?' Everyone says less is more, but you have to figure out for yourself what that means. I didn't do a deep dive into folk music and concern myself with what was 'traditional,' it was just an outgrowth of trying to strip the songs down to the basics." Singles include contributions from outsider country polymath Terry Allen on Never Coming Back, Los Lobos' Louie Perez on El Romance-O, and fellow X bandmate Exene Cervenka and Shirley Manson (Garbage) on Destroying Angels.
LOYAL SEAS - Strange Mornings In The Garden CD/LP (American Laundromat)
The Loyal Seas are Tanya Donelly (Throwing Muses, Breeders, Belly) and Brian Sullivan (Dylan in the Movies). Their debut full-length features 10 glorious originals. Mastered by Sean Glonek at SRG studios (Matthew Sweet, Juliana Hatfield, Waxahatchee), with original artwork by Nicole Anguish at Daykamp Creative (Nada Surf, Letters to Cleo, Lake Street Dive).
GRANT LEE PHILLIPS - All That You Can Dream CD/LP (Yep Roc)
Grant-Lee Phillips' new album, All That You Can Dream, is a turbulent and highly musical rumination that finds the veteran singer-songwriter addressing the strange fragility of life. The collection of songs bears the markings of his prolific output, a melodic prowess and an ear for lyric in everyday conversation. Comparable to the works Low or Duster, Phillips offers a salve to a wounded world, struggling to regain equilibrium. This is Grant-Lee Phillips at his most reflective, wrestling with the most pertinent of questions. Focusing on life in quarantine ("A Sudden Place," "Cruel Trick") and the ever-shifting political landscape ("Rats in a Barrel," "Cut to the Ending"), this collection shows that Phillips remains one of the finest singer-songwriters of our time.
BILL EVANS - At The Montreux Jazz Festival LP
Limited 180gm vinyl LP pressing in gatefold jacket. One of Bill Evans' best live albums, At The Montreux Jazz Festivalwon the 1969 GRAMMY for Best Jazz Instrumental Album. The legendary pianist is backed here by drummer Jack DeJohnette, who had just joined the trio and would gain renown in later years as a member of Keith Jarrett's Standards Trio. Evans' longtime bassist Eddie Gomez is also extensively featured on this iconic and immortal set. Includes new, specially prepared liner notes by Brian Morton
CRAIG FINN - Legacy Of Rentals CD (Positive Jams)
Best known as the singer of the Hold Steady, Craig Finn is a Minnesota-bred singer, songwriter, and guitarist based out of New York City. Combining literary influences like Jack Kerouac and John Berryman with the musical influences of Bruce Springsteen and fellow Minnesotan Paul Westerberg, Finn's highly descriptive lyrical style has a strong focus on narrative, crafting whole worlds for the people in his songs to exist within. A Legacy of Rentals, the 6th solo record from Finn, was produced by Josh Kaufman and recorded by D. James Goodwin at The Clubhouse recording studio. Compared to past solo releases, this new collection was recorded with the help of a 14-piece string section including violins, violas and cellos, instead of the usually horn-heavy sounds that Craig and The Hold Steady are known for. The themes of the record explore memory - how we remember our loved ones, the places in our lives that have changed, and recent events that are part of our pasts.
BEN KWELLER - Circuit Boredom LP (The Noise Company)
Been stuck in our homes, phones, and Zooms for months. Time to turn the wack into rawk.
HOT WATER MUSIC - Feel The Void LP (Equal Vision)
Recorded at Black Bear Studios in Gainesville, FL, Feel The Void marks the return of producer Brian McTernan, who worked with the band on 2001's A Flight And A Crash, 2002's Caution and 2004's The New What Next, often thought of as Hot Water Music's classic period. From the moment the dark, portentous intensity of 'Another Breath' kicks the record off, it's clear that this is a band at the peak of their powers.
KNXWLEDGE - 1988 LP (Stones Throw)
Limited grape colored vinyl LP pressing. 2020 album from the Grammy Award-winning beatmaker. 1988 is the highly anticipated follow-up to Knxwledge's hugely acclaimed 2015 album Hud Dreems.
MARY LATTIMORE & PAUL SUKEENA -West Kensington LP (3 Lobed)
The cult of Mary Lattimore is strong and growing by the day. Her work in demystifying the harp, especially in an approachable yet avant setting, makes her a huge favorite within the underground and expanding circles. She became friends with guitarist Paul Sukeena when they both lived in Philly. Sukeena, of Angel Olsen's live band and formerly of Spacin' and Steve Gunn's live band, and Lattimore ended up in Los Angeles and for a while were next door neighbors. Working through processed guitar, synth and Lattimore's trademark harp sounds the duo create inviting and comfortable miniature universes that are kindred spirits with Eno's expansive works like "Apollo" and Alice Coltrane's expansive works. Great stuff.
JOHN ROCCA - Once Upon A Time In NYC LP+7" (Beggars Banquet)
A collection of pioneering proto-electro and house music made in NYC (and London) by FREEEZ founder JOHN ROCCA between 1982-1987. The splattered orange vinyl LP contains six tracks, and another two, one of which is the international hit "I.O.U.", are included on a bonus marbled grey 7". JOHN ROCCA led FREEEZ, a pioneering early-80s band from North London. They had several massive hits, "I.O.U" being the biggest, having hit Number 1 in the Billboard Dance/Club Play chart. More recently, the track has been sampled by many artists including Jamie xx, Burial, Brandy, Coolio, Cheryl Cole and more. Once Upon A Time In N.Y.C. is a sonic document of Rocca's musical and geographical adventures between 1982 and 1987. It is the sound of the bold maneuvers he made in club culture, both in America and the UK. John Rocca was there, every step of the way, and this brilliant new compilation is the proof. "
ARCA - Kick II (XL Recordings)
If Kick I was a multidimensional self-portrait that held all of Arca's many mutations, Kick II sees her deconstruct reggaeton rhythms she grew up listening to in Caracas, balancing structure and chaos to create her most accessible work yet, without sacrificing any of her uncompromising experimentation; the rising cycle.
ARCA - Kick III (XL Recordings)
Kick III sees her returning to the club nights that shaped her early adulthood where Arca was born: the surrealist DJ, warping dance music structures to fit her singular vision-relentless rhythms to drive listeners into uncharted states of euphoria, anthems for the basement-dark queer clubs of our cyberpunk near-future; the climax of the cycle.
ARCA - Kick IIII (XL Recordings)
With Kick IIII, the cycle resolves, and a new species of xenopop emerges, sensual and serene. Arca's talents as a composer and sound designer take the lead on closing track 'Paw', setting melodies to drift on deep, gentle waves of orchestral ambience, an oceanic bliss. On Kick IIII, the ambient ecstasy transitions swiftly into lullaby-like compositions as we come to the conclusion of the Kick series; the renewal stage.
ARCA - Kick IIIII (XL Recordings)
With Kick IIIII, Arca focuses entirely on quieter ambient pieces, mainly on piano, plucked strings and swirling pads. Famed Japanese composer Ryuichi Sakamoto makes a guest vocal appearance on 'Sanctuary.'
MATMOS - Regards / Uklony Dla Boguslaw Schaeffer CD/LP (Thrill Jockey)
Matmos are one of the most prominent experimental electronic artists working today, crafting work by creating new conceptual frameworks & immediately testing those frameworks' absolute limits. For Regards / Uklony dla Boguslaw Schaeffer, they've focused on another artist known, in large part, for doing the same. Boguslaw Schaeffer was one of the first Polish artists creating electronic music. In step with American contemporaries like John Cage and Morton Feldman, he worked across the boundaries of classical composition, electronic experimentation, and radical theater in playfully form-breaking ways. Regards.. however, was not just inspired by his work, Matmos were given access to the entirety of Schaeffer's recorded works to use as they saw fit, commissioned by the prestigious Instytutu Adama Mickiewicza. They re-assembled & re-combined these recorded works with modern instrumentations in a way that only Matmos could, and what emerges is a composite portrait of the utopian 1960s Polish avant-garde and the contemporary dystopian cultural moment regarding each other across a distance.
PATRICK SHIROISHI - Hidemi LP (American Dreams)
Vinyl LP pressing. 'The concentration camps that Japanese Americans had to go through has been a major part of my work for the last couple of years,' says Los Angeles-based composer and saxophonist Patrick Shiroishi. Hidemi, a solo multilayered woodwind journey, considers the personal experience of his grandfather after getting out. 'His name is Hidemi Pat,' Shiroishi explains, 'so I was named after him, but I never got to meet him, as he passed away before I was born.' As Patrick's name is in memory to his grandfather, Hidemi is too, and across the album's nine tracks, Shiroishi brings the listener through tension and release, showcasing something unfiltered, beautiful, and ultimately hopeful, a testament to perseverance and grace. All of the album was written and performed by Shiroishi, who sang and played alto, baritone, tenor, C melody, and soprano saxophones, stacking up layers of harmonies often each recorded in one take. RIYL: Colin Stetson, Battle Trance, Upsilon Acrux.
VAN MORRISON - What's It Gonna Take CD/LP (Virgin)
Van Morrison's 43rd studio album, What's It Gonna Take? features 14 new compositions that collectively reflect his indefatigable drive to record and perform live in front of audiences. The album was produced by Morrison and includes the single 'Pretending', a gorgeous, restless, soul song.
PUSHA T - It's Almost Dry CD (G.O.O.D. Music)
Pusha T returns with his highly-anticipated fourth studio album, It's Almost Dry. Picking up where his GRAMMY nominated, #1 rap album Daytona left off, Pusha stays true to his roots with his signature snarl, razor-sharp lyrics, and menacing beats. Produced entirely by Pharrell Williams and Kanye West, It's Almost Dry features an all-star cast including Jay-Z, Ye, Pharrell, Kid Cudi, Lil Uzi, and more. The 'Rap Album Of The Year' has arrived!
SOAK - If I Never Know You Like This Again CD/LP (Rough Trade)
With If I never know you like this again, Soak's Bridie Monds-Watson (they/them) have shaken the hangover of their starry Mercury-nominated debut Before We Forgot How To Dreamand their ambitious follow-up album Grim Town, and the pressures that came with them. Having written much of their new album when time felt at its slowest, Bridie, who has always had an obsessive need to document each chapter of their life, now makes a marvel of the mundane. On If I never.., Soak's brilliant melodies are on full display. Lead single 'Last July' features a masterfully off-kilter vocal set against swooning guitars, creating a lush pop song that wouldn't be out of place in the end credits of a 90s coming-of-age film. Lyrically, Bridie manages to be both playful and self-aware. The idea of identity is central to the record, and Bridie's lyrics are as deeply personal as they are universal. 'This record is the most accurate picture of me. I felt no pressure at all, it was almost like I was ranting as I was writing,' they explain. Bridie's memories string together to create intimate vignettes of a life richly lived. Tapping into their specific experiences, the result is a record that is deeply relatable and sparkling, as it traverses the ups and downs of their journey to becoming a fully realized person.
ESPERANZA SPALDING - Songwrights Apothecary Lab LP (Concord)
Esperanza Spalding's new album Songwrights Apothecary Lab explores how songwriters may incorporate knowledge in consultation with practitioners of music therapy, neuroscience, and more to create music that can have a specific effect on the listener. These 12 new songs were created and recorded with different musicians in her traveling lab over the past several months and follow her GRAMMY Award-winning album from 2019, 12 Little Spells. 2 LP includes 1 bonus track Formwela 12.
MAVIS STAPLES / LEVON HELM - Carry Me Home CD (Epitaph)
CD now, LP in June. Live archive release. Iconic singer Mavis Staples is an alchemist of American music, and during her 70+ year career one of her most beloved musical moments was her riveting performance in Martin Scorsese's film The Last Waltz, performing 'The Weight,' with The Band, a moment that forged a life-long friendship between her and Levon Helm. Staples came to Woodstock, NY to perform as part of Helm's renowned Midnight Ramble series, and the ensuing concert -available now for the first time on Carry Me Home- would mark a personal high watermark for both artists. Captured live in the summer of 2011, Carry Me Home showcases two of the past century's most iconic voices coming together in love and joy, tracing their shared roots and celebrating the enduring power of faith and music. The result is an album that's at once a time capsule and a memorial, a blissful homecoming and a fond farewell, a once-in-a-lifetime concert-and friendship-preserved for the ages.
HARRY STYLES - Harry's House CD/LP (Columbia)
Harry's House is the third solo studio album from Grammy award-winning global superstar Harry Styles. The 13-track full-length album was recorded in multiple locations across the UK, Los Angeles, and Tokyo from 2020 to 2021. It was written by Harry alongside frequent collaborators Kid Harpoon, Tyler Johnson, and Mitch Rowland.
SUICIDAL TENDENCIES - Controlled By Hatred / Feel Like Shit ... Deja Vu LP (Red Music Legacy)
Limited red, orange and blue colored vinyl LP pressing. Controlled By Hatred/Feel Like Shit... Deja-vu is where Suicidal Tendencies put down the Pepsi, got possessed to skate and cranked up the tempo into thrash's proverbial red. By 1989, guitarist Mike Clark had jumped to ST from fellow Venice wrecking crew, No Mercy (who Suicidal covers on four of this record's tracks) and upped the ante as Mike Muir's loved-n-feared mob gave the likes of Anthrax, Slayer or Megadeth a run for their collective monies. This is Suicidal Tendencies at their fastest and deadliest.
WEIRD NIGHTMARE - S/T CD (Sub Pop)
If you're looking for a raw, sugary blast of distorted pop, look no further than Weird Nightmare. The debut album from METZ guitarist and vocalist Alex Edkins contains all of his main band's bite with an unexpected, yet totally satisfying, sweetness. Imagine The Amps covering Big Star, or the gloriously hissy miniature epics of classic-era Guided by Voices combined with the bombast of Copper Blue-era Sugar- just tons of redline distortion cut with the type of tunecraft that thrills the moment it hits your ears. These ten songs showcase a new side of Edkins' already-established songwriting, but even though the bulk of Weird Nightmare was recorded during the COVID-19 pandemic some of its tunes date back to 2013 in demo form.
NEIL YOUNG - Citizen Kane Jr. Blues 1974 (LIVE AT BOTTOM LINE) CD/LP
Neil Young - Citizen Kane Jr. Blues 1974 (Live at The Bottom Line) - A fan favorite bootleg that is usually called Live at The Bottom Line. A surprise solo acoustic performance following a Ry Cooder show on May 16, 1974. Notably features songs that would be included on On The Beach. The album title comes from Neil introducing the opening song with that title; a song that later became 'Push It Over The End.'
WIDESPREAD PANIC - Miss Kitty's Lounge LP (Widespread Panic)
Recorded in John Keane's Studio, Athens GA during the demo tracking session in the winter of 1990. The original five; John Bell, Michael Houser, Todd Nance, Dave Schools, Domingo Ortiz with John Keane on guitars, Page McConnell on organ, and Randal Bramblett on sax. Includes liner notes from John Keane and John Bell. 'They provide an interesting snapshot of where the band was at the time; more stripped down and guitar oriented prior to the addition of a full time keyboard player.' - John Keane, Producer & Engineer. 'This was Widespread Panic un-filtered - or, at least self-filtered - filling in almost every cranny with sound and movement.' - John Bell, Widespread Panic.
COMING NEXT WEEK!
LIAM GALLAGHER - C'mon You Know CD/LP
DEHD - Blues Skies CD/LP
FRIGHTNRS - Always CD/LP
BRIGHT EYES - A Collection of Songs Written and Recorded 1995-1997: A Companion LP
BRIGHT EYES - Letting Off The Happiness: A Companion CD/LP
BRIGHT EYES - Fevers and Mirrors: A Companion CD/LP
STARS - From Capelton CD/LP
CRANBERRIES - Stars (Best Of 1992-2002) LP
GET UP KIDS - On A Wire LP reissue
GET UP KIDS - Live At Granada Theater LP reissue
ERYKAH BADU - But You Can't Use My Phone LP
TY SEGALL - Whirlybird LP
DOJA CAT -Planet Her LP
PETER MURPHY - Wild Birds Live LP