Login
Log in if you have an account
Dont have an account? Register
New Releases & Staff Picks - 6/24/22
23 Jun 2022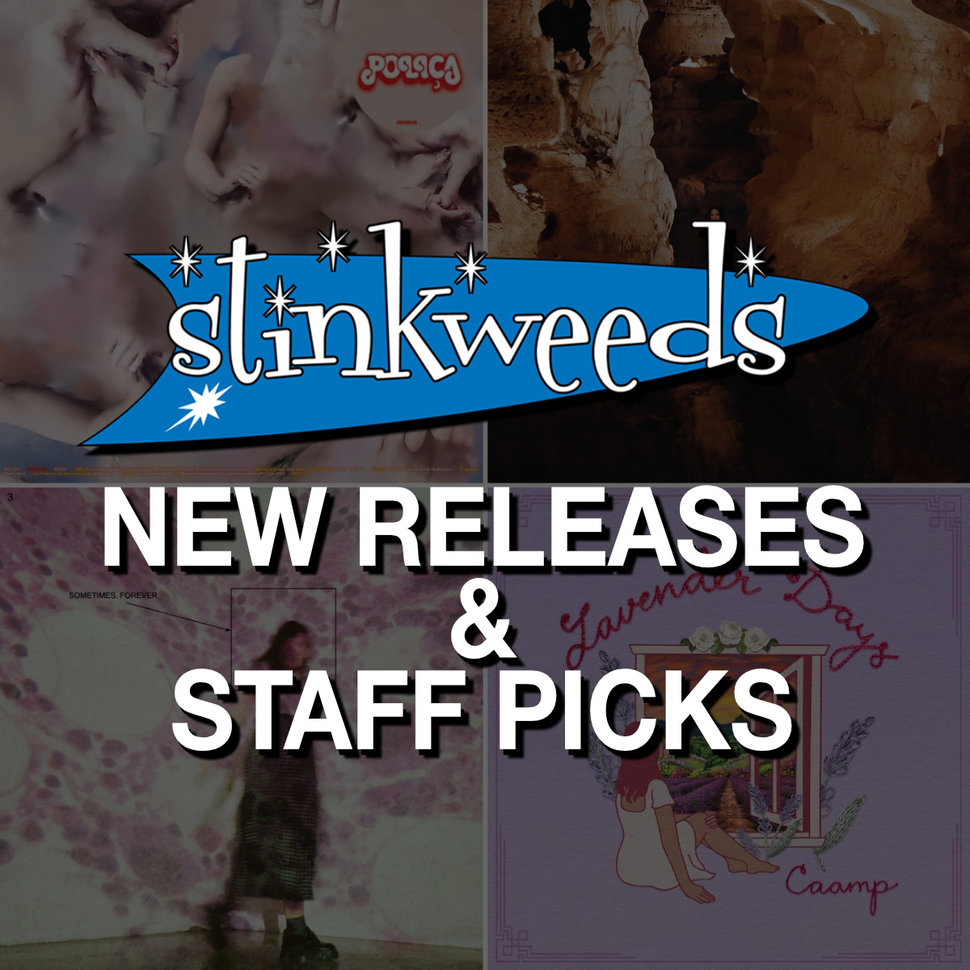 Staff Picks
Lindsay - Leyla McCalla
Zach - Hollie Cook, Zola Jesus, Soccer Mommy
Caleb - Beverly Glenn-Copeland
Kimber - Porcupine Tree and 50 Foot Wave 
Poliça – Madness CD/LP (Memphis Industries)
Minneapolis-based project Poliça return with the new album Madness. Recorded mostly from 2020-2021 in Ryan Olson's Minneapolis studio with lyrics written and recorded by Channy Leaneagh, Madness is an experimental expansion of the 4-piece family band to include the anthropomorphic production tool "allovers(c)", designed by Olson and fellow producer and sound-artist Seth Rosetter. Madness continues within the collaborative enclave in which Poliça resides and includes co-production by Dustin Zahn Alex Ridha and Alex Nutter. The lyrics and startling artwork for Madness are summed up by Channy as follows: "I am here for you all and I am never truly myself here. I am her for you all and I am never truly her". [An indie store exclusive yellow color vinyl pressing is available.]
Zola Jesus – Arkhon CD/LP (Sacred Bones)
There is a way a voice can cut through the fascia of reality, cleaving through habit into the raw nerve of experience. Nika Roza Danilova, the singer, songwriter, and producer who since 2009 has released music as Zola Jesus, wields a voice that does that. When you hear it, it is like you are being summoned to a place that's already wrapped inside you but obscured from conscious experience. This place has been buried because it tends to hold pain, but it's also a gift, because once it's opened, once you're inside of it, it can show you the truth. Zola Jesus's new album, Arkhon, finds new ways of losing this submerged, stalled pain. [An indie store exclusive sand color vinyl pressing is available.]
Sometimes, Forever - the immersive and compulsively replayable new Soccer Mommy full-length - cements Sophie Allison's status as one of the most gifted songwriters making rock music right now. The album finds Sophie broadening the borders of her aesthetic without abandoning the unsparing lyricism and addictive melodies that made earlier songs so easy to obsess over. To support her vision, Sophie enlisted producer Daniel Lopatin, whose recent credits include the Uncut Gems movie score and The Weeknd's Dawn FM. [An indie store exclusive pink w/ black color vinyl pressing and an indie store exclusive CD featuring alternate cover art, are available.]
Lavender Days was written in the aftermath of a period of loss and heartache suffered by Taylor Meier. A great love, a great dog, his livelihood, his sanity... all gone in the same period when touring and every bit of human interaction was taken from him and the rest of the world. It was a humbling experience, and one that placed him firmly back in the spot that Caamp so often writes about - his Midwestern home and the life he lives there in the state of Ohio. It's the romanticism that Caamp approaches that simple life with that speaks to their volume of fans and is even further ruminated on in Lavender Days. It's about the in between days - the small pleasures and the forgotten disappointments. [A limited-edition pink and purple color vinyl pressing is available.]
Joan Shelley – The Spur CD/LP (No Quarter)
Joan Shelley returns with The Spur, her fi­rst new album in three years. The twelve-song set is a profound meditation on light and darkness, recorded in the spring of 2021 at Earthwave Farm in the Kentucky countryside. James Elkington serves as co-producer (alongside Shelley) and the album features collaborations with Bill Callahan, Meg Baird, and the British novelist Max Porter along with Shelley's musical partner and husband Nathan Salsburg. Shelley says: "The Spur is the result of a period of opposite extremes: of intellectual hyper-connection and physical isolation. This album will forever be fused with the memory of our marriage, the birth of our child, and the intense joy despite the darkness". [An indie store exclusive translucent white vinyl pressing is available.]
MUNA – MUNA CD/LP (Saddest Factory)
MUNA is working the source code of pop that pulls at your heartstrings; the album is full of longing and revelation and hard-won freedom. They'd made their first album themselves, with free plugins, in a home studio; they'd made the second one in proper sessions with co-producers, thinking they ought to professionalize. With MUNA, they did it all by themselves again, with newfound creative assurance and technical ability – in terms of Naomi McPherson and Josette Maskin's arrangements and production as well as Katie Gavin's songwriting, which is as propulsive as ever, but here opens into new moments of perspective and grace. [A limited-edition olive-green color vinyl pressing is available.]
Coheed and Cambria – Vaxis II:  A Window Of The Waking Mind CD/2LP (Roadrunner)
Produced by the band's own Claudio Sanchez and Zakk Cervini, Coheed and Cambria's ambitious new album, Vaxis II: A Window Of The Waking Mind welcomes us back to "The Amory Wars" as the second installment of the five-part Vaxis arc about a couple on the run from tyrannical forces and their mysterious new addition. For the last 20 years, Coheed and Cambria has continuously broken the mold of what a rock band can be, forging their own path and building a universe around their music unlike any other. Whether it is in the way their genre-spanning approach to songwriting has allowed them to bridge worlds without being contained to one, or the multifaceted story arc of their albums and comic book series which mark the longest running concept story in music, Coheed and Cambria has consistently shaped new standards, never conformed. [In addition to a 'light blue' clear vinyl pressing, an indie store exclusive translucent 'darker blue' color vinyl pressing is also available.]
Cold War Kids – New Age Norms 2 LP (Cwktwo Corp.)
The epic tale of Cold War Kids has long been informed by deeply personal songcraft, enthusiastic experimentation, and an avowed commitment towards forward motion.
G. Love – Philadelphia Mississippi CD/LP (Philadelphonic)
Mixing old school blues and folk with new school hip-hop and funk, G. Love's electrifying new album, Philadelphia Mississippi, brings together both sides of the genre-bending pioneer's eclectic career in a wildly innovative and deeply reverent sonic pilgrimage to the heart of the South. Produced by North Mississippi All-Stars' Luther Dickinson, the collection is loose and spontaneous, full of joyful, improvised performances and freewheeling collaborations with a slew of special guests including blues torchbearers like Alvin Youngblood Hart and Christone "Kingfish" Ingram and rap icons like Schoolly D and Speech.
Martin Courtney – Magic Sign CD/LP+MP3 (Domino)
Second solo album from the Real Estate frontman, following 2015's Many Moons. When Martin Courtney was a teenager, he knew how to get lost. In the late '90s and early 2000s, there's Martin, loaded into a car with friends. They're navigating the suburban sprawl of New Jersey with no destination in mind. He and his friends would "get thoroughly confused and look for familiar green signs with arrows pointing to towns we'd heard of. We'd call them 'magic signs,'" he says. That's the thing about magic: when you go looking for it, you start to see it everywhere. And you can hear it twinklingly throughout the ten songs on Magic Sign. [An indie store exclusive vinyl pressing is available.]
Hypnopazūzu – Create Christ Sailor Boy [Reissue/2016] LP (House Of Mythology)
A transformative union of two idiosyncratic tellers, Hypnopazūzu sees Current 93 speller David Tibet joining forces with the eternal Youth, famed not only for his work as bassist with Killing Joke but for production and collaborative work with an outlandishly eclectic list of artists from Alien Sex Fiend to Paul McCartney. Together, they've created a singular hallucinatory vision that marries symphonic splendour to indignant gnostic intensity.
Jack Johnson – Meet The Moonlight CD/LP (Brushfire)
Meet The Moonlight, Jack Johnson's eighth studio album and first full-length release in five years, was produced by Blake Mills (Alabama Shakes, Perfume Genius, Jim James) and recorded in Los Angeles and Hawaii. The creation process marks a major artistic milestone from past work, taking shape from a one-on-one collaboration with Mills, and unveiling an intimate and highly experimental process that involved embedding Johnson's elegantly stripped-back arrangements with enchanting sonic details. [Limited value-added moon tracker calendar included. An indie store exclusive 180gm clear vinyl pressing is available.]
Leyla McCalla – Breaking The Thermometer LP+MP3 (ANTI)
Recently released on CD – now available on vinyl. Haitian American artist Leyla McCalla draws upon her experience as a bilingual multi-instrumentalist and New Orleans resident to create distinctive music that reflects both her past and present. Her new album, Breaking The Thermometer, is captivating, fueled by rich, sophisticated melodic work and intoxicating Afro-Caribbean rhythms, and the juxtaposition of voices – English and Kreyòl, personal and political, anecdotal and journalistic – is similarly entrancing, raising the dead as it shines a light on the enduring spirit of the Haitian people. McCalla isn't just some detached observer here, though; she writes with great insight and introspection, examining her own personal journey of growth and self-discovery as she uncovers the Radio Haiti story as well as the broader understanding of what Democracy and unalienable human rights means to each of us, no matter where we're from.
Black Rebel Motorcycle Club – Screaming Gun Demos LP (Cobraside)
Black Rebel Motorcycle Club – B.R.M.C. [Reissue/2001] 2xLP (Cobraside)
This standalone companion album to the deluxe triple-LP reissue of B.R.M.C collects demo versions from the 1999 Screaming Gun sessions which have never seen release. The tracks "Sulk", "Soul Searching" and "Motor Bass" have never been released period. The other tracks are different versions of the tracks from their B.R.M.C. album (reissued this week as a double-LP) and from the original Screaming Gun, which also has never been released.
Sessa – Estrela Acesa CD/LP+MP3 (Mexican Summer)
São Paulo's Sessa returns with Estrela Acesa, an enchanting collection of songs adorned with elegant strings and hypnotic rhythms, honoring post-Tropicalia masters like Arthur Verocai, Jorge Ben, and Milton Nascimento. [An indie store exclusive turquoise color vinyl pressing is available.]
The Magnetic Fields – The House Of Tomorrow [Reissue/1992] 12"+MP3 (Merge)
Cast your mind back to notable landmarks of 1992. Outside the Twin Cities, Mall of America opened to the public. Frank Gehry's enormous golden fish sculpture, El Peix, welcomed Barcelona Olympians. And The House of Tomorrow, a four-song 7-inch on a small indie label, ushered in a new era for The Magnetic Fields. Never released as a 12", this 30thanniversary remastered edition includes the additional track "Alien Being" plus a vinyl etching on side B.
Chateau Chateau – Grow Up CD/LP (Kill Rock Stars)
Equal parts melancholy and glitter, Chateau Chateau is an evolving community of musicians from Tuscon, Arizona making cathartic indie pop for weirdos, outcasts, queer folks, and anyone else who needs it. Formed in 2018, the band is led by Bleu and Alex, a DIY-minded duo who transform things that are 'traditionally ugly, abstract, and leftover' into new shiny and special forms. Although their songs explore dark subjects like mental illness, addiction, and trauma, Chateau Chateau channel their anguish into upbeat, danceable tracks packed with grim humor and messages of resilience. Grow Up, the band's debut release for Kill Rock Stars, tells the 'coming of age story' of frontperson Bleu, who dedicates each song to different toxic relationships throughout her life and how she found herself growing up through each experience. On the raucous lead single 'I Don't Love You Anymore,' she takes a stand against her abusive father with acerbic lines of indifference, while the galavanting song 'Converted,' they poke fun at a narcissistic ex who once saw Bleu as his 'token fantasy.'
Hollie Cook – Happy Hour CD/LP+MP3 (Merge)
With Happy Hour, Hollie Cook matures into the queen of modern-day "lovers rock" – the lush girly harmony reggae style beloved in Britain since the 1970s. Evolution rings from the bittersweet opening title track; tender yet assertive, Hollie's voice caresses evocative lyrics through the arrangement's tumbling changes. Hollie dares to invite listeners into her true personality through these alluring songs, which she co-produced with her General Roots band members Ben Mckone and Luke Allwood, and executive producer Youth. [An indie store exclusive 'orchid & tangerine' color vinyl pressing is available.]
Regina Spektor – Home, before and after CD (Sire)
Signed CD jackets available with purchase - while supplies last! Home, before and after is Regina Spektor's eighth studio album and most quintessentially "New York" in years. Recorded in upstate New York, produced by John Congleton and coproduced by Spektor, the album is Spektor at her most inspired, heralded by "Becoming All Alone", a surrealist ballad that swells with arrangements and comes alive in your head.
Damien Jurado – Reggae Film Star CD (Maraqopa)
25 years since his debut album Waters Ave S. came out, Jurado is more prolific, driven, and creative than ever. The twelve mystical songs on Reggae Film Star are gorgeously cinematic and feature a rich production and diverse sonic textures. [Vinyl edition due July 8.]
Converge – Bloodmoon: I 2LP+MP3 (Epitaph)
Recently released on CD – now available on vinyl, including an indie store exclusive pressing. Converge release their new album with Chelsea Wolfe, her frequent collaborator and bandmate Ben Chisholm, and Cave In's Stephen Brodsky. It's called Bloodmoon: I and was produced by Converge's Kurt Ballou, and the musicians began collaborating for the prospective project in 2016. "The project stretched my vocals in new ways," Wolfe said in a statement. "It's so different than what I normally sing over that I was able to open up and be vulnerable with my vocals."
Machine Gun Kelly – Mainstream Sellout LP (Bad Boy/Interscope)
Released in March on CD – now available on vinyl. Originally called Born With Horns, Mainstream Sellout is the sixth studio album from the multi-faceted rapper turned rocker Machine Gun Kelly. Following up on the pop-punk sound of 2020's Tickets To My Downfall, he described the project as TTMD if he "turned the lights off." With a harder rock sound than TTMD and references to the journey of his career, Mainstream Sellout is an introspective project that reflects on his musical adventures.
Porcupine Tree – Closure / Continuation CD/2LP (Kscope)
Over the years Porcupine Tree (featuring Steven Wilson, Richard Barbieri and Gavin Harrison) has constantly evolved as their expansive music has shifted from pastoral psychedelic rock and ambient electronic soundscapes to experimental pop and eventually - with 21st century masterpiece In Absentia - a propulsive metal sound all of their own. Their latter records effortlessly combined each of those genres and allowed Porcupine Tree to occupy a musical universe unique to them. One of the UK's most forward thinking, genre defying rock bands, returns in 2022 with their first new music in twelve years.
These Arms Are Snakes – Oxeneers Or The Lion Sleeps When Its Antelope Go Home [Reissue/2004] LP (Jade Tree)
These Arms Are Snakes – Easter [Reissue/2005] LP (Jade Tree)
Vinyl reissues – including indie store exclusive colorways – of the post-hardcore/mathrock's first two albums.
Double vinyl pressing in gatefold jacket. Includes poster. Call Me If You Get Lost is Tyler's sixth studio album and includes additional guest appearances from 42 Dugg, Lil Wayne, Domo Genesis, Brent Faiyaz, Lil Uzi Vert, Pharrell Williams, Teezo Touchdown, Fana Hues, and Daisy World.
Adult. – Resuscitation [Reissue/2001] 2xLP+MP3 (Ghostly Int'l)
Available for the first time in a new red and black marble colorway. When it first dropped in 2001, Resuscitation served as a de facto introduction to the duo, collecting a bunch of songs on CD that had only previously been available on hard-to-find singles and EPs. Years later, it does the same thing, except this time around, we can see just how influential it's creators' work has been - and Adult.'s music only sounds more remarkable with the benefit of hindsight. At the time, Resuscitation's combination of crisp beats, squelch-laden synths and Nicola Kuperus' detached monotone sounded like a broadcast from the future, steeped in the analog synth sounds of forebears like Kraftwerk but possessed of an ultramodern sheen all its own.
Just Mustard – Heart Under CD/LP (Partisan)
Heart Under, Just Mustard's second LP, asks you to forget what you know. At every turn, this remarkable record reconfigures and stretches the ideas and ambition of a rock band and turns a year of lockdown and personal struggles into a breathtaking artistic statement. Across its 10 tracks, the album presents a coherent style and ethos – those scything guitars, Katie's magical vocals – but still incorporates a wide and untethered vision. There are brooding, atmospheric rock songs ("Still", "In Shade") and others that apply a lighter, dreamier touch ("Sore", "Mirrors"), all tied together with impeccable instrumentation and a united vision. On Wednesday, the band played with dreamier soundscapes and production techniques, and Heart Under serves as the next stage of this development, with every instrument brilliantly pushed to its limit and every boundary of the band stretched. [A limited-edition translucent blue color vinyl pressing is available. Standard vinyl edition due August 19. Deluxe LP due November 1.]
Chrome - Another World [Reissue/1985] LP (Cleopatra)
Brand new vinyl pressing of the groundbreaking 1985 album from experimental rock icons, Chrome! This is the second album of the Damon Edge era of Chrome and laid the groundwork for the hugely influential cold wave sound Edge developed through the '80s and into the early '90s!
Redd Kross - Neurotisk [Reissue/1987] CD/LP (Merge)
Merge Records is thrilled to release the 35th anniversary edition of Neurotica, the 1987 power pop and alternative rock opus by Redd Kross. This remastered reissue is available on a single CD or color vinyl 2-LP, and both formats include 12 previously unreleased demos from the era (rediscovered in the archive of the band's original A&R guy, Geoffrey Weiss). The double vinyl edition-the album on translucent turquoise, the demos on translucent orange-arrives in a slick gatefold jacket.
50 Foot Wave - Black Pearl LP (Fire)
Recently released on CD, now available on vinyl. Black Pearl is the brand new album from 50 Foot Wave: Kristin Hersh's 'other' band – active since 2003, with fellow Throwing Muses' member Bernard Georges on bass and drummer Rob Ahlers. A sonic trip from the heavy, echoey riff of 'Staring Into The Sun' with all of its grunge melancholy and dronecore menace to the perfectly baroque 'Hog Child' with its spidery guitar that dissolves into motorik bass and drums.
Michael Rault - Michael Rault LP (Wick)
Wick Records is proud to present Michael Rault, the eponymous new album from one of the most talented songwriters in the game.  A remarkable re-imagination of '70s pop perfection, the album began to take shape during a time of endings. Michael, on the cusp of turning 30 and freshly off the road promoting 2018's A New Day Tonight, had just ended a romantic relationship, and cut ties with his management and touring band. Returning home to Montreal where his van was already buried in six feet of snow, he hunkered down in his bedroom studio and began writing. Over the span of five months he penned most of the album. From the drug-fueled, dance floor slow-stepper, "Neither Love Nor Money", to the introspective "Inside Your Heart", to the tongue-in-cheek playfulness of "Champagne", the body of work he created in this epoch of uncertainty is proof of just how crucial that time of endings really was. Bruised but certainly not beaten, Michael delivers a lush, timeless collection of songs - continuing his increasingly profound exploration into the worlds of progressive pop, psych folk, yacht rock and beyond. Trust us...you're gonna love it!
Cypress Hill - Back In Black LP (Ruffnation) 
New LP from Cypress Hill, Back in Black, is Cypress's 10th Studio album. Cypress Hill is arguably one of the most successful hip-hop acts of all time celebrating 30 years of Non-stop touring. They are the biggest selling latin Hip-hop group in the world first hip-hop group to have sold multi-platinum
Morcheeba -Blackest Blue Remixes 12" (Fly Agaric) 
12" Remixes of tracks from their latest album 'The Blackest Blue'. Leading on from their last remix 12" which sold out on RSD 2019, Morcheeba are back with some great remixes.
Beverly Glenn-Copeland - KeyboardFantasies Reimagined LP (Transgressive)
In 1970, nine years after leaving the United States to study music in Canada, Beverly Glenn-Copeland released two self-titled albums. Both were a stunning showcase of classical and jazz acumen, layered with poetry and accompanied by some of the best players of the time. Original pressings now fetch thousands of dollars. Glenn-Copeland then vanished as a recording artist until his re-emergence in 1986 with the release (just a few hundred copies on cassette) of what many now believe to be his masterpiece, Keyboard Fantasies. This seminal album just celebrated it's 35th anniversary, and this new reimagining features indie all-stars from Bon Iver to Blood Orange.
Kanye West - Donda LP (Def Jam)
Kanye West delivers a Deluxe Edition of the record-shattering Donda, featuring 4 bonus tracks plus fan-favorite verses from Andre 3k, Kid Cudi and more. This release, from one of "the most influential pop stars of the 21st century," was his 10th #1 album on the Billboard 200, racking up over 1 billion streams in the first 10 days. Originally previewed at 3 historic livestream events, the global phenomenon topped charts in 11 countries and set an Apple Music record of #1s in 152 countries.
Coming Next Week!!
Judds - Love Can Build A Bridge CD/LP
Minions Soundtrack - The Rise Of Gru CD/LP
Grey Daze - Phoenix CD/LP
Imagine Dragons - Mercury Acts 1+2 CD
Tedeschi Trucks Band - I Am The Moon: II Ascension CD
Dream Syndicate - Ultraviolet Battle Hymns + True Confessions CD/LP
Guided By Voices - Tremblers and Goggles By Rank CD/LP
Charlie Gabriel - 89 CD/LP
Nick Cave - Seven Psalms 10"
Roxy Music - Avalon LP reissue
Roxy Music - Flesh and Blood LP reissue