Login
Log in if you have an account
Dont have an account? Register
New Releases & Staff Picks - 6/3/22
03 Jun 2022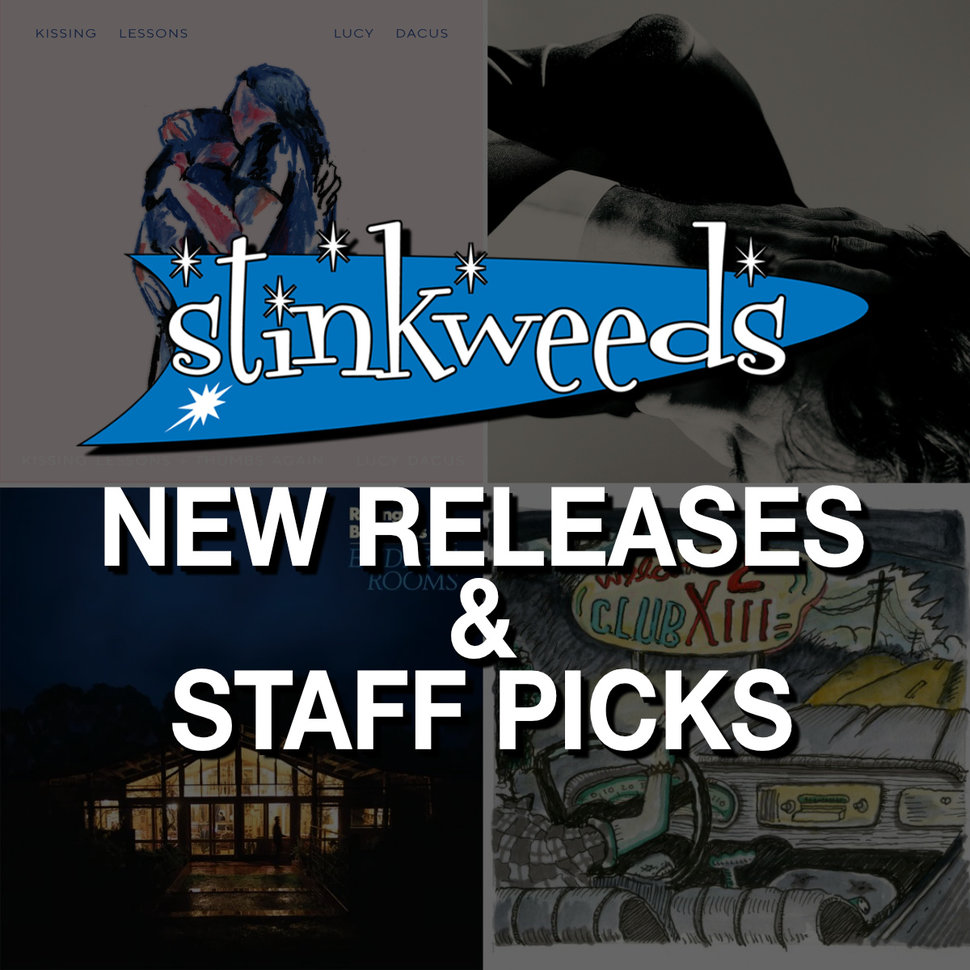 Staff Picks
Lindsay - Rolling Blackouts CF
Zach - Horsegirl, Jens Lekman, Rolling Blackouts CF, Angel Olsen 
Dario - Angel Olsen and Horsegirl
Caleb - Neil Young 
Kimber - Andrew Bird and Max Roach
Andrew Bird – Inside Problems CD/LP (Loma Vista)
On his brand-new album Inside Problems, Andrew Bird acknowledges all the complex thoughts, questions and middle-of-the-night obsessions swirling around in each of us. Inside Problems is a collection of eleven original songs that take on those inner demons that run amok when things get especially quiet. It's a lush and rousing entry to his acclaimed, constantly evolving and perennially curious career. For Bird, the idea that kept coming back to haunt him was the unavoidable presence of thresholds: the moment when something becomes something else, when somewhere becomes somewhere else. The phenomenon appears in endless aspects of daily life, from the process of projecting internal feelings and dialogue to the outside environment, or the seemingly mundane experience of standing in the frame of the doorway, crossing state lines or any place where one is neither here nor there, but in between. These are the questions that course through Inside Problems - where is the threshold, who are we during the moments in between? [An indie store exclusive red color vinyl pressing is available.]
Death Grips - The Money Store LP Reissue
HALF BLACK & HALF  WHITE - 10TH Anniversary - Death Grips are angry. It's unclear why. But on their major label debut, the Sacramento noise group's monomaniacal desire to rain down fiery destruction on the powers-that-be is crystal-clear, even if nothing else is on The Money Store, even if nothing else-- where the hell this album came from; who plays which instrument; what the lead singer is yelling about; and what on earth this band of insurgents is doing signing an Epic Records contract with L.A. Reid-- makes much sense at all. - Pitchfork 8.7
Rolling Blackouts Coastal Fever - Endless Room CD/LP (Sub Pop)
Rolling Blackouts Coastal Fever return in 2022 with Endless Rooms, the Melbourne quintet's third album proper. Described by the band as them "Doing what we do best: chasing down songs in a room together", Endless Rooms stands as a testament to the collaborative spirit and live power of RBCF. While initial ideas were traded online during long spells spent separated by lockdowns, the album was truly born during small windows of freedom in which the band would decamp to a mud-brick house in the bush around 2hrs north of Melbourne built by the extended Russo family in the 1970s. There, it's 12 tracks took shape, informed to such an extent by the acoustics and ambience of the rambling lakeside house that they decided to record the album there. The house also features on the album cover. For the first time, the band self-produced the record (alongside engineer, collaborator and old friend, Matt Duffy), creating their most naturalistic and expansive document yet. The result is a collection of songs permeated by the spirit of the place; punctuated by field recordings of rain, fire, birds, and wind.
Fantastic Negrito - White Jesus Black Problems CD/LP (Storefront)
Fantastic Negrito's 2022 album and short film White Jesus Black Problems was inspired by a search into his ancestry where he found that his 7th generation grandmother was a Scottish indentured servant who entered into a common law marriage with an African American enslaved man, his 7th generation grandfather, in open defiance of the racist laws of 1750's colonial Virginia. Their love story is a healing testament to standing up against inhumane and brutal systems with love as your only weapon. Their perseverance is a lesson in today's polarized society on the virtues of constant struggle in the face of ignorance, fear, and violence, which is still present in the contemporary embodiments of white supremacy, bigotry, and hatred. It's important to tell the story of how those who suffered much greater indignities and violence than we do in contemporary times were nonetheless able to preserve their humanity through human connection and the determination to love. If they can do it in 1759, we can do it 2022.
Drive By Truckers – Welcome 2 Club XIII CD/LP (ATO)
Arriving as Drive-By Truckers enter their 26th year, Welcome 2 Club XIII marks a sharp departure from the trenchant commentary of The Unraveling and The New OK (both released in 2020). Produced by longtime DBT collaborator David Barbe and mainly recorded at his studio in Athens, GA, Welcome 2 Club XIII took shape over the course of three frenetic days in summer 2021 – a doubly extraordinary feat considering that the band had no prior intentions of making a new album. Featuring background vocals from the likes of Margo Price, R.E.M.'s Mike Mills, and Mississippi-bred singer/songwriter Schaefer Llana, Welcome 2 Club XIII was recorded live with most songs cut in one or two takes, fully harnessing Drive-By Truckers' freewheeling energy.
Michael Franti & Spearhead – Follow Your Heart CD (Boo Boo Wax)
"Follow Your Heart is all about resilience, connection, and joy. How we reunite with our souls, our power, our loves, and our heart as we go through the greatest challenges our world has seen. I wanted to make a record that was uplifting and vulnerable. These songs have all been written during the pandemic, a time in which I lost my father to Covid, lost my job (as a touring musician), and leaned on my wife, family and friends and found a closeness with them that I never knew before. I laughed louder, played harder, cried deeper and danced with more freedom than I've ever felt during this crazy time - this music reflects it all." – Michael Franti [Vinyl edition due August 12.]
S.G. Goodman – Teeth Marks CD/LP (Verve Forecast)
Teeth Marks is steeped in Kentucky rock 'n' roll truth teller S.G. Goodman's signature caustic wit and social commentary, specifically exploring the various and often painful indelible marks that love can leave behind. Mining garage rock, Appalachian folk and post-punk influence, the album finds Goodman's stirring vocals draped in a sonic patchwork of southern indie rock. The title track, which recounts dating as a queer woman and facing the jarring reality of unrequited love over a swirling guitar lick, was debuted via Rolling Stone, who stated, "Goodman launches a wounded plea at an unavailable lover. Verses and choruses collide with instrumental passages of ethereal beauty, the clouds of ringing feedback calling to mind the mellower side of Yo La Tengo... Her voice glasslike and flecked with pain."
Horsegirl – Versions Of Modern Performance CD/LP+MP3 (Matador)
Horsegirl are best friends. You don't have to talk to the trio for more than five minutes to feel the warmth and strength of their bond, which crackles through every second of their debut full-length, Versions Of Modern Performance. Penelope Lowenstein (guitar, vocals), Nora Cheng (guitar, vocals), and Gigi Reece (drums) do everything collectively, from songwriting to trading vocal duties and swapping instruments to sound and visual art design. "We made [this album] knowing so fully what we were trying to do," the band says. "We would never pursue something if one person wasn't feeling good about it. But also, if someone thought something was good, chances are we all thought it was good." Horsegirl expertly play with texture, shape, and shade across Versions Of Modern Performance, showcasing their fondness for improvisation and experimentation.
The Kills – No Wow (The Tchad Blake Mix 2022) CD/LP+MP3 Reissue (Domino)
On their seminal second album, 2005's No Wow, The Kills established the ethos that would set the tone for their expansive career - capture the rawest emotions and sounds, and then push them to the furthest possible edge. The band is celebrating No Wow's 15-year anniversary with a deluxe reissue featuring the original recording and a fresh new mix by the multiple Grammy Award-winning Tchad Blake (The Black Keys, Fiona Apple, Arctic Monkeys) that brings new life to the 11 vivid tracks. [An indie store exclusive gold color vinyl pressing is available.]
Nicki Bluhm – Avondale Drive CD/LP (Compass)
Nicki Bluhm's creative confidence and authentic vocals are front and center on Avondale Drive, her sophomore solo album and the follow up to her critically acclaimed 2018 release To Rise You Gotta Fall. The native San Franciscan who now calls Tennessee home possesses a gorgeously emotive voice and her clear-eyed perspective on life informs the 10 tracks on the new release. [A limited-edition translucent blue color and an indie store exclusive green color vinyl pressing are available.]
Mary Gauthier – Dark Enough To See The Stars CD/LP (In The Black)
As she has so eloquently accomplished over the past 25 years, acclaimed singer-songwriter Mary Gauthier has used her art once again to traverse the uncharted waters of the past few years. "I'm the kind of songwriter who writes what I see in the world right now," she affirms. Thankfully, amid dark storms of pandemic loss, she found and followed the beacon of new love: Her gift to us, the powerful Dark Enough To See The Stars, collects ten sparkling jewels of Gauthier songcraft reflecting both love and loss. On Dark Enough To See The Stars, she mourns recent devastating losses: the deaths of John Prine, David Olney, Nanci Griffith, and her beloved friend Betsy. But she also sings open-heartedly of love.
Jens Lekman – The Linden Trees Are Still In Blossom CD/2xLP+MP3 (Secretly Canadian)
Jens Lekman – The Cherry Trees Are Still In Blossom CD/2xLP+MP3 (Secretly Canadian)
Lekman's impulse for giving old music fresh life and context has led him to remake the records under new names, each delicately positioned in dialogue with the past - the same albums, just different. The Cherry Trees Are Still In Blossom and The Linden Trees Are Still In Blossom are a pair of lovingly and painstakingly assembled reduxes, each keeping the same core tracklisting, spirit and source material as the originals, but blending brand new versions of some tracks, in part or in whole, together with many tracks left largely as they were. Both records are fleshed out with rare, previously unreleased, and even previously unfinished old songs, as well as other contemporaneous material such as cassette diaries. [Pink and clear (respectively) color vinyl pressings are available.]
Merzbow – Eternal Stalker CD/LP (Dais)
On their first official collaboration, Japanese noise pioneer Masami Akita aka Merzbow and Australian sound sculptor Lawrence English present a harrowing, surrealist portrait of nocturnal industrial activity, spawned by field recordings made in a sprawling factory complex seven hours north of English's home in Brisbane. He characterizes the area as "uneasy and unsettling," awash in the sickly glow of smelters and refinement machinery, somehow not of this world - a liminal quality vividly captured in Andrei Tarkovsky's sprawling purgatorial opus, Stalker, to which the title alludes. Akita, too
Angel Olsen – Big Time CD/2xLP/Cassette (Jagjaguwar)
Big Time is an album about the expansive power of new love, but this brightness and optimism is tempered by a profound and layered sense of loss. During Olsen's process of coming to terms with her queerness and confronting the traumas that had been keeping her from fully accepting herself, she felt it was time to come out to her parents, a hurdle she'd been avoiding for some time. After that tearful but relieving conversation, she celebrated with her partner, their friends, oysters, and wine. Three days later, her father died; his funeral became the occasion for Olsen to introduce her partner to her family. Though she was fearful their presence as a newly out queer couple would be "an additional symbol of loss," those days went peacefully, yet only two weeks later Olsen got the call that her mother was in the ER. Hospice came soon after, and a second funeral came quickly on the heels of the first. Another trip back to St. Louis, another grief to face, another deepening and intensification of this still-new love. Three weeks after her mother's funeral she was in the studio, recording this incredibly wise and tender album. [A limited-edition opaque pink color vinyl pressing is available.]
Tedeschi Trucks Band – I Am The Moon: I. Crescent CD (Fantasy)
The fifth studio project from the Tedeschi Trucks band is the most ambitious and, at the same time, intimate record that America's best rock 'n' roll big band has ever made: a genuinely epic undertaking in four episodes and 24 songs inspired by classical literature but emotionally driven by the immediate drama, isolation and mourning of the pandemic era. [Vinyl edition due September 9.]
The Chainsmokers – So Far So Good LP (Columbia)
Recently released on CD – now available on white color vinyl. So Far So Good is the fourth studio album from Grammy award-winning and Billboard Chart topping artist/producer duo The Chainsmokers. The 13-track full-length album was written across Hawaii, Joshua Tree, New York City and L.A. from 2020 to 2021. It was written and produced by Alex Pall and Drew Taggart with additional contributions from frequent collaborators Emily Warren, Ian Kirkpatrick, and Whethan.
Clutch – Robot Hive / Exodus [Reissue/2005 LP+7" (Weathermaker Music)
Weathermaker Records presents a series of Clutch catalog releases reimagined and individually curated by one of the band members and reissued as part of the Clutch Collector's Series. The artwork is in the vein of the original yet strikingly different. The vinyl releases are remastered and manufactured on colored 180gm vinyl which in turn is stored in extra heavy sleeves. The gatefold jackets are printed on metalized polyester paper and each album includes a numbered insert autographed by all band members.
Lucy Dacus – Kissing Lessions b/w Thumbs Again 7"+MP3 (Matador)
After landing towards the top of too many year-end lists to count with 2021's Home Video, Lucy Dacus is back with two new tracks "Kissing Lessons" and "Thumbs Again" on vinyl for the first time.
Alan Vega – Saturn Strip [Reissue/1983] LP (Real Gone Music)
Limited yellow color vinyl pressing. Alan Vega's work with Suicide is revered by just about every electronic music artist who's tapped a keyboard or moved a mouse; his snarling, rockabilly-styled vocals teamed with Martin Rev's ominous, repetitive soundscapes blazed a trail for post-punk, synth pop, industrial rock, techno... The list goes on. Vega's solo career substantially overlapped with his Suicide recordings; this 1983 release, his first for a major label (Elektra), was his bid for commercial success, enlisting Ric Ocasek of the Cars (who had produced the second Suicide record) to produce and recruiting a young Al Jourgenson (who had just founded Ministry) to play keyboards.
Weird Nightmare – Weird Nightmare LP+MP3 (Sub Pop)
Limited 'Loser Edition' on transparent cotton-candy swirl vinyl. If you're looking for a raw, sugary blast of distorted pop, look no further than Weird Nightmare. The debut album from METZ guitarist and vocalist Alex Edkins contains all his main band's bite with an unexpected, yet totally satisfying, sweetness. Imagine The Amps covering Big Star, or the gloriously hissy miniature epics of classic-era Guided by Voices combined with the bombast of Copper Blue-era Sugar - just tons of red-line distortion cut with the type of tunecraft that thrills the moment it hits your ears.
Amy Winehouse – Live At Glastonbury 2007 2xLP (Republic)
In celebration of the return of Glastonbury Festival in 2022, Amy Winehouse's 2007 Pyramid Stage set is available on vinyl for the first time.
Neil Young – Royce Hall 1971 LP (Reprise)
Recently released on CD – now available on vinyl. During Neil Young's long and storied career, some of his concerts have gained mythic status, thanks to the practice of bootlegging. Recorded on January 30, 1971, this previously unreleased concert was performed at gorgeous Royce Hall on the campus of UCLA in Los Angeles, near the end of the singer/songwriter's 1971 solo tour. Young played 16 solo acoustic numbers that night, accompanying himself on guitar and harmonica. The track list features beloved classics like "Old Man", "Heart Of Gold", "Ohio", "Cowgirl In The Sand", "Don't Let It Bring You Down", and "Down By The River", plus the timeless version of "The Needle And The Damage Done" that appears on 1972's Harvest, one of the greatest albums of all time.
Neil Young – Dorothy Chandler Pavilion 1971 LP (Reprise)
Recently release on CD – now available on vinyl. A famous bootleg titled I'm happy that y'all came down. A live solo acoustic show recorded at Los Angeles Dorothy Chandler Pavilion on February 1, 1971. This was the last night of Neil's 1971 solo tour, that also featured the shows have been released as the much-loved albums Massey Hall and Young Shakespeare. The show was marked by the first time Neil played harmonica live. This album features 15 songs including "On The Way Home", "Heart of Gold", "The Needle And The Damage Done", and "A Man Needs A Mai
Max Roach - Members Don't Git Weary LP (Real Gone Music)
Max Roach wasn't just one of the greatest drummers and percussionists in jazz history; he was also one of the greatest bandleaders in all of jazz, able to adapt his playing to an innumerable array of styles, from bop to free, and blessed with a keen eye and ear for talent. And he always, always kept pushing himself and his bandmates to find new modes of musical expression throughout his six-decade career. Speaking of modes, this 1968 release on the Atlantic label is one of his finest albums, a masterpiece of modal jazz featuring a crack outfit of saxman Gary Bartz, trumpeter Charles Tolliver, bassist Jymie Merritt, pianist Stanley Cowell (composer of half the tracks on the album including the gem "Equipoise"), and, on the title track, vocalist Andy Bey. Discerning ears might detect the first hints of jazz fusion, but Members, Don't Git Weary is simply modern jazz of the highest order.
COMING NEXT WEEK!
JOHNETTE NAPOLITANO - Exquisite Corpses CD
RUFUS WAINWRIGHT - Rufus Does Judy At Capitol Studios CD
DAVID SYLVIAN - Sleepwalkers CD/LP
AMERICAN AQUARIUM - Chicamacomica CD/LP
BAD RELIGION - Process Of Belief LP Reissue
JOYCE MANOR - 40 Oz To Fresno CD/LP
FOETUS - Ache LP reissue
LAURA JANE GRACE - At War With The Silverfish LP
SHEARWATER - Great Awakening CD/LP
KELLEY STOLTZ - Stylist LP
BOBBY OROZA - Get On The Other Side CD/LP
KELLY LEE OWENS - LP8 LP
BLANCK MASS - Ted K Original Score CD/LP
ROXY MUSIC - Siren LP reissue
ROXY MUSIC - Manifesto LP reissue
EMMA RUTH RUNDLE - Eg2: Dowsing Voice LP
ARRESTED DEVELOPMENT - For The Fkn Love LP
ROYKSOPP - Profound Mysteries CD