Login
Log in if you have an account
Dont have an account? Register
New Releases & Staff Picks - 11/3/23
01 Nov 2023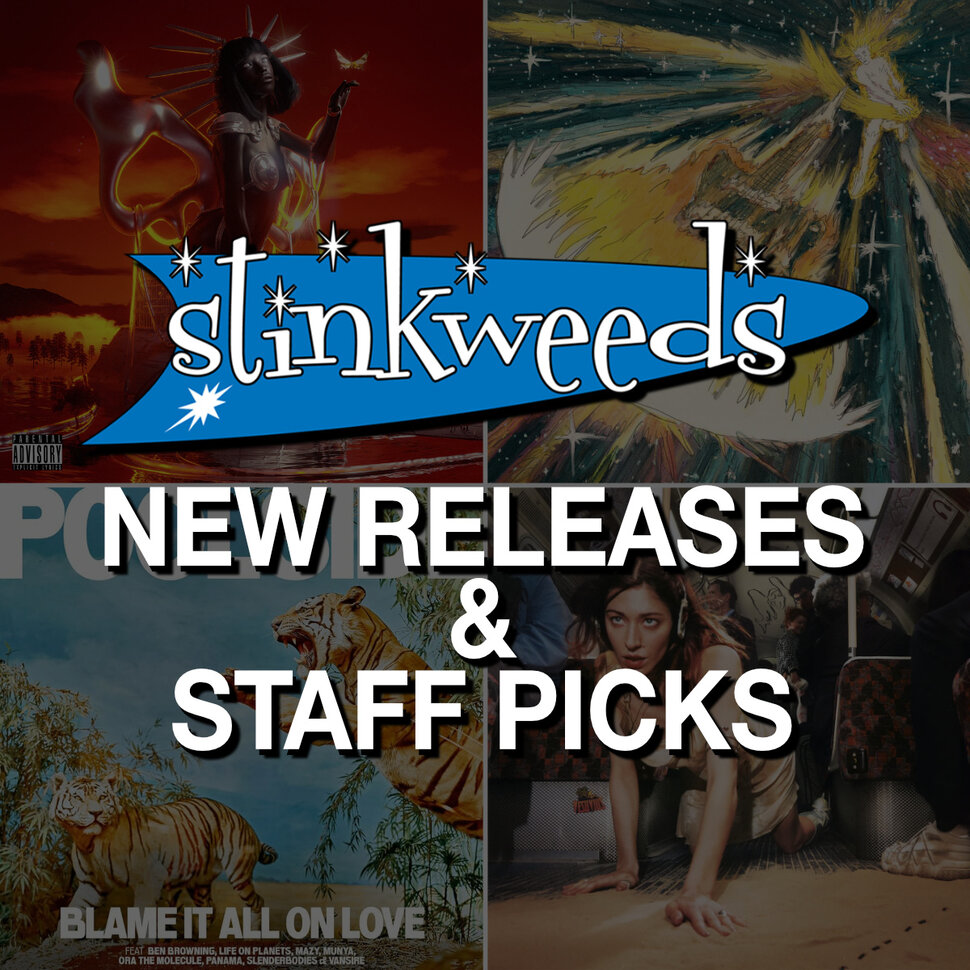 Staff Picks
Lindsay - Tkay Maidza and Marnie Stern
Dario - Marnie Stern and Ella Fitzgerald reissue
Zach - Poolside and They Might Be Giants reissue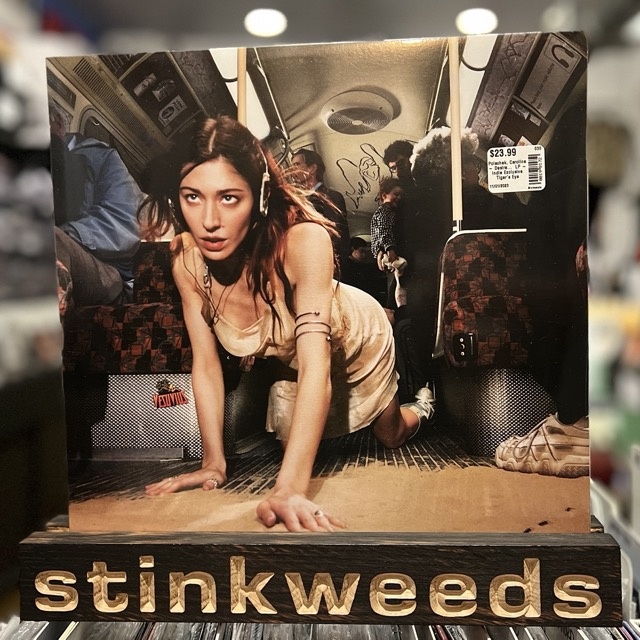 Caroline Polachek – Desire, I Want To Turn Into You CD/LP/Cassette (Caroline Polachek, LLC)
Desire, I Want To Turn Into You is the fourth studio album by singer-songwriter and producer Caroline Polachek, and second under her given name. It's been over 1,143 days since Caroline Polachek's breakout solo album Pang was released. A word-of-mouth classic, cemented by star-making live turns... to say we've been eager for its sequel is something of an understatement. Desire, I Want To Turn Into You contains incendiary new single "Welcome To My Island". The world has caught up with the hyper-pop maximalism since Pang and is forever changed. 2023 already belongs to Caroline Polachek. [Two color vinyl pressings are available – an indie store exclusive version and limited-edition copper.]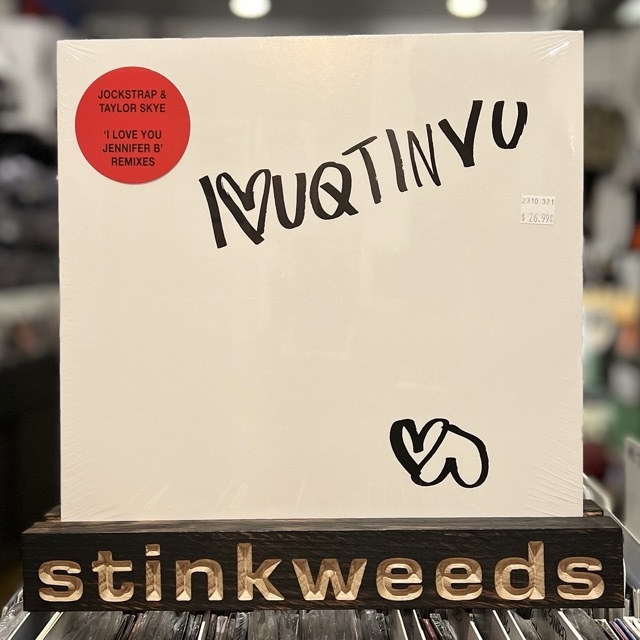 Jockstrap & Taylor Skye – I<3UQTINVU LP (Rough Trade)
London-based duo Jockstrap release I<3UQTINVU, a fully remixed version of their Mercury Prize shortlisted 2022 album I Love You Jennifer B by the band's Taylor Skye. I<3UQTINVU is the brainchild of Skye, who was making multiple versions of the album's original tracklisting to stay inspired during the writing of I Love You Jennifer B. The guest features on the remix record range from Ersatz, who inspired Skye to make music many years ago to Ian Starr who he only connected with online a few months ago.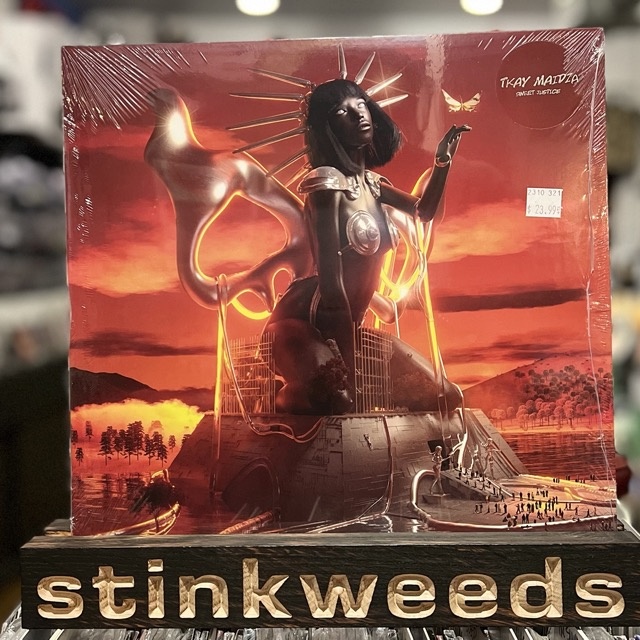 Tkay Maidza – Sweet Justice CD/LP (4AD)
Tkay Maidza, the first female rapper signed to 4AD, releases her highly anticipated new album, Sweet Justice. The follow-up to her 2016 self-titled debut, includes the recent Flume-produced earth-shuddering single "Silent Assassin". "I'm never choosing compliance," a defiant Maidza utters on "Ring-A-Ling"; a warning from the Zimbabwean-born, Australian-raised, Los Angeles-based rapper, singer and producer and a mantra for Sweet Justice. Produced by Two Fresh, Tkay says of "Ring-A-Ling", "I wanted to make an empowering song that tells others that my biggest focus are my goals." The result of a dark night of the soul - and ensuing epiphany - that led to a series of professional and personal reckonings, Sweet Justice isn't a revenge album, but it does stem from a profound sense of karma. In a traditional sense, it's a breakup record: about Tkay splitting off from her self-doubt and warped sense of self; the toxic figures that populated the last chapter of her life; and the idea that she should stick to any one lane.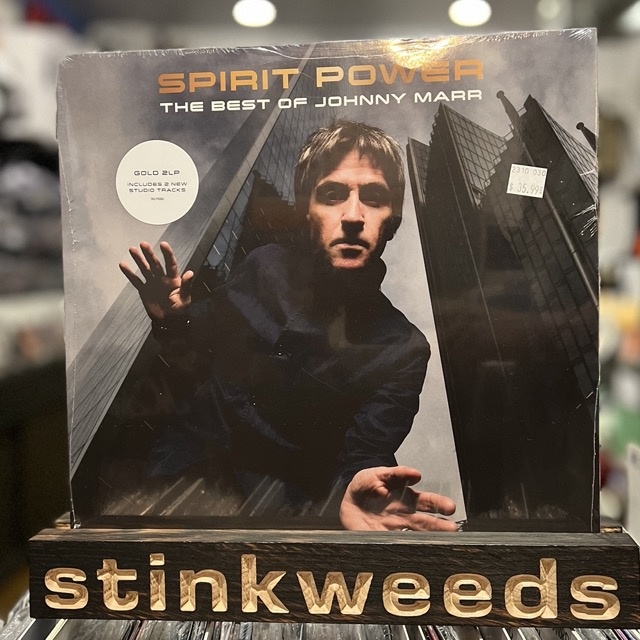 Johnny Marr – Spirit Power: The Best Of Johnny Marr CD/2xCD/2xLP (BMG)
Personally curated and compiled by Johnny Marr, Spirit Power: The Best Of Johnny Marr encompasses music from across his four widely acclaimed solo albums released over the last decade (2013's The Messenger, 2014's Playland, 2018's Call The Comet, 2022 double album Fever Dreams Pts 1-4), non-album single releases "Armatopia" and "The Priest" (w/ Maxine Peake). The collection also includes two brand new studio recordings "Somewhere" and "The Answer". Since establishing the current chapter of his solo work a decade ago, Johnny has remained a restless creative. Working and recording out of his own purpose-built Manchester studio, the Crazy Face Factory, his songwriting has embraced an instinctive sonic evolution across four full length albums. [A deluxe double-CD version and an indie store exclusive gold color vinyl pressing are available.]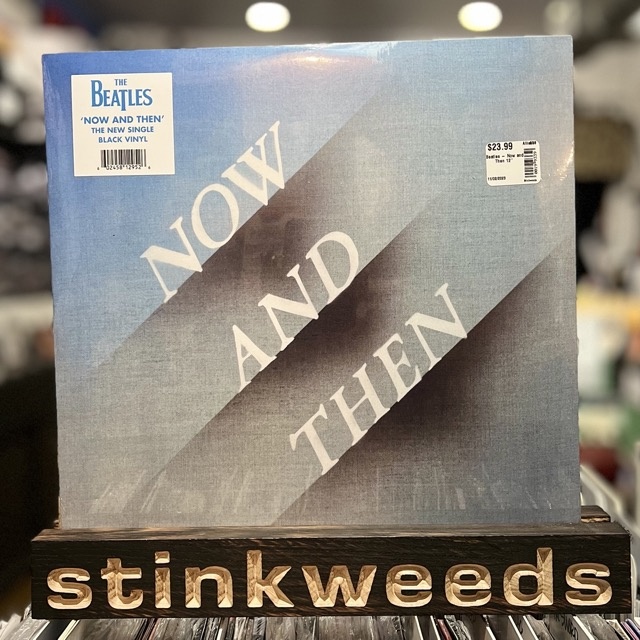 The Beatles – Now And Then 12" LP (Capitol)
The Beatles' double-A-side single for "Now And Then" and "Love Me Do" pairs the last Beatles song with the band's first UK single. Powerful musical bookends to The Beatles' recorded canon, both songs are also featured in the expanded 2023 Editions for 1962-1966 (The Red Album) and 1967-1970 (The Blue Album). "Now And Then" is the last Beatles song, written and demoed by John Lennon in the mid/late '70s. With John's voice now pristine in the mix, "Now And Then" features elements from the 1995 sessions including George Harrison's guitar parts, and vocal and instrumental parts recorded by Paul McCartney and Ringo Starr in 2022, along with a new arrangement for strings. Produced by Paul and Giles Martin, "Now And Then" is the last song recorded by all four Beatles, a powerful and fitting finale for the band's timeless recordings. The song that started it all, "Love Me Do" was The Beatles' first UK single in 1962. For the first time, the iconic song has been de-mixed using machine aided learning and remixed in true stereo.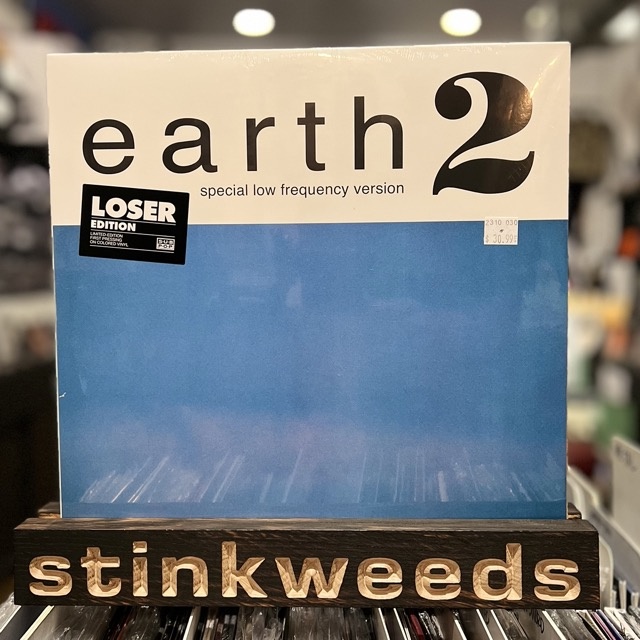 Earth – Earth 2: Special Low Frequency Version [Reissue/1993] 2xLP+MP3 (Sub Pop)
30th anniversary repress on glacial blue vinyl. Did you know there are horses on the cover of Earth 2: Special Low Frequency Version? There are at least three in the right-hand corner, gathered inexplicably near a white canvas tent, a human possibly perched among its folds. As widescreen and vast as the cover may seem, those little details-the horses, the possible human, the faint wisp of white clouds-give it depth and wonder, something to which the imagination can return. Did you know that the music on Earth 2 - repressed now for its 30th anniversary, back in its original artwork, and accompanied by a riveting set of remixes that demonstrate the reach of what Dylan Carlson long ago called "ambient metal"-works much the same way? The surface is massive and obvious, the meatpaw riffs of Carlson and bassist Dave Harwell pounding and swiping and pawing at the speakers, a true bludgeon in three-dimensional sound. Listen, though, for the details in the corners, for the finesse beneath the force, and Earth 2 reveals new levels of depth and wonder.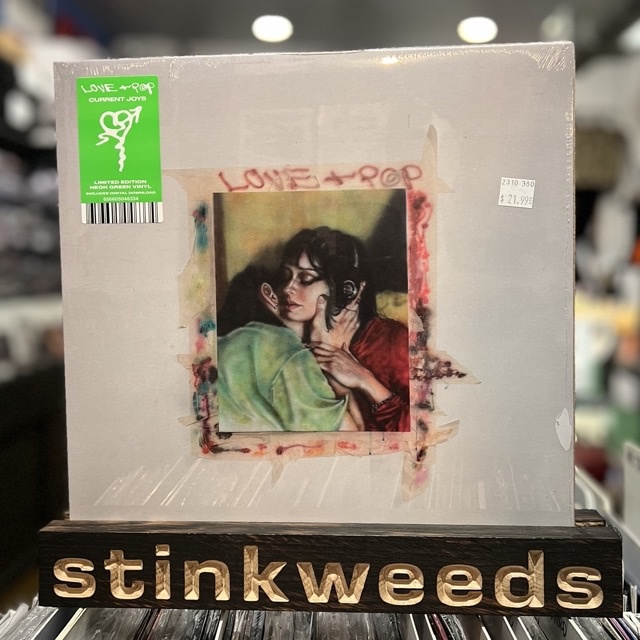 Current Joys – Love + Pop CD/LP/Cassette (Secretly Candadian)
Love + Pop is a snapshot of a moment in not-so-far-away time; something fast, loud, moody and a little dangerous. It is, in some ways, classic Current Joys: full of wild ambition, sneaky hooks, and songs that move from concept to completion with prolific speed. But Love + Pop also explodes myriad expectations with aggressive, deconstructed production, house music influence, and a guest appearance from Lil Yachty. It is not so much a twist as it is a unique multiverse identity for Current Joys, as Nick Rattigan's set out to "capture this sonic moment and harken back to the way I first released music." [A limited-edition green color vinyl pressing is available.]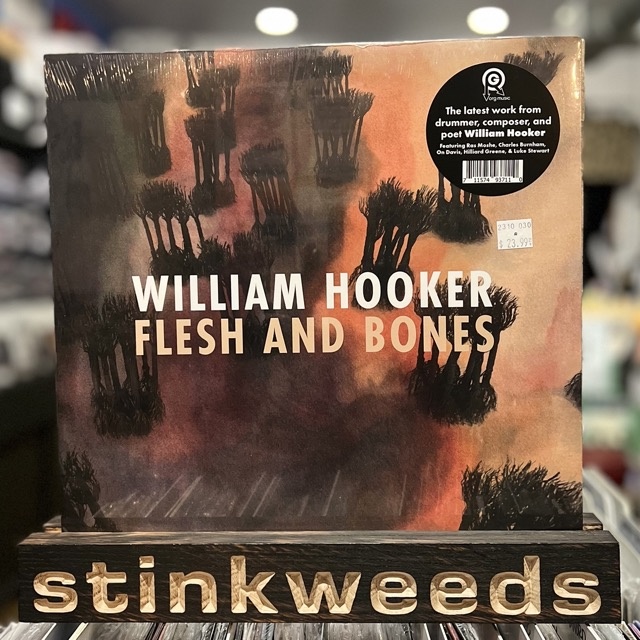 William Hooker – Flesh And Bones CD/LP (Org Music)
Flesh And Bones is the latest release from drummer, composer, and poet William Hooker. The album marks his third full length effort for Org Music, following Big Moon (2021) and Symphonie Of Flowers (2019). Hooker has also referred to the new work as his "Black Lives Suite", a multi-disciplinary event which uses music and poetry to address the social issues of the times. Recorded at NYU Steinhart Studios, the recording features fellow New York based players Ras Moshe, Charles Burnham, On Davis, Hilliard Greene, and Luke Stewart. After more than 70 releases as a leader and nearly five decades into his career, William Hooker has solidified his reputation as one of the most unique composers and drummers of his generation, and he continues to explore new territory.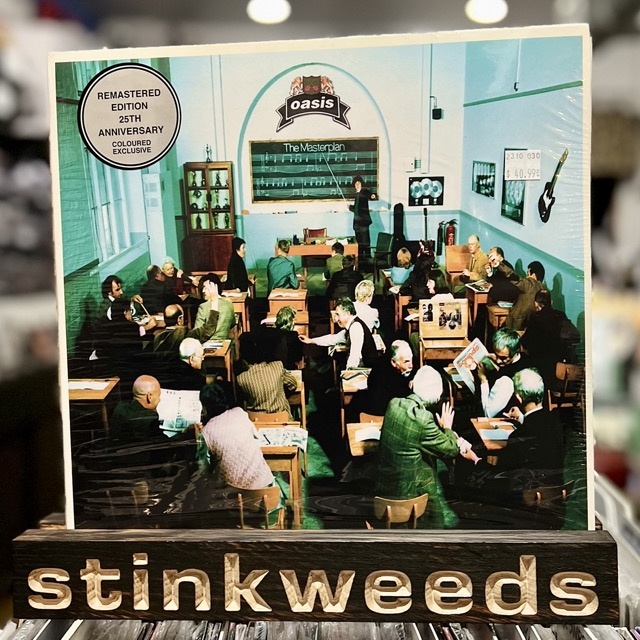 Oasis – The Masterplan [Reissue/1998] LP (Big Brother Recordings)
Digitally remastered edition. The Masterplan is a compilation album by Oasis, originally released in 1998. It comprises B-sides which never made it onto an album up to that point. Originally intended for release only in areas such as the United States and Japan, where the tracks were previously only available on expensive European-import singles, The Masterplan reached number 2 in the UK, where it initially went platinum, and number 51 in the United States. [A limited-edition silver color vinyl pressing is available.]
Art Pepper – Stardust [Reissue/1985] LP (Omnivore Recordings)
Producer John Snyder had always wanted to record Pepper and booked him into a week at the Village Vanguard in New York. At the time, Pepper was under contract to Contemporary Records and label head, Les Koenig, decided he would record the gigs, quashing any notion Snyder had of doing the same. However, Art promised Snyder that he'd record an album for Snyder's label, Artists House, at some point down the road. Together they wound up making four. Stardust (originally issued in 1985) features Pepper's takes on Hoagy Carmichael title track, Duke Ellington's "In A Mellow Tone," and more.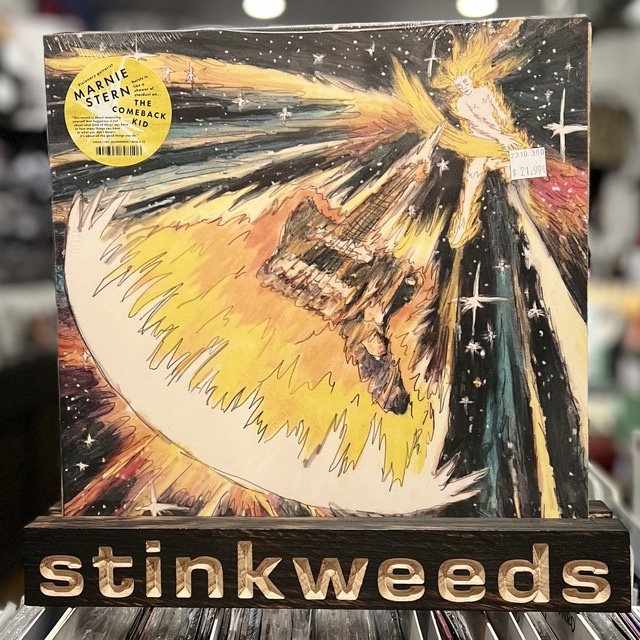 Marnie Stern – The Comeback Kid CD/LP/Cassette (Joyful Noise)
Visionary guitarist Marnie Stern bursts in like a shower of stardust on The Comeback Kid. "This record is about reassuring yourself that happiness is not about what kind of things you have or how many things you have or what you don't have-it's about all the good things you do."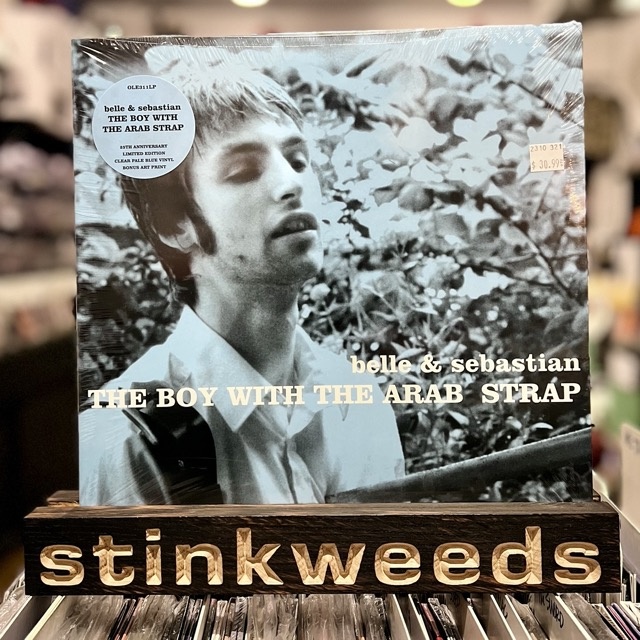 Belle & Sebastian – The Boy With The Arab Strap [Reissue/1998] LP (Matador)
Belle & Sebastian's beloved third album The Boy With The Arab Strap returns on limited blue vinyl and blue tint cover this autumn to celebrate the LPs 25th anniversary.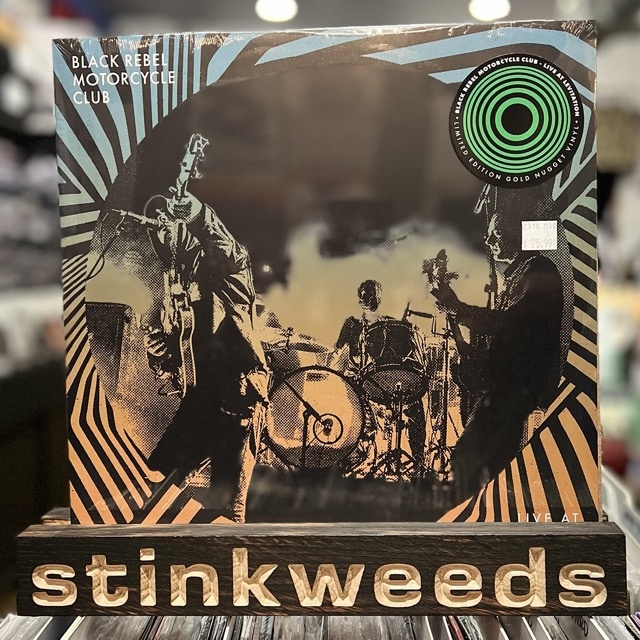 Black Rebel Motorcycle Club – Live At Levitation LP (Reverberation Appreciation Society)
Limited gold nugget color vinyl pressing. The first Austin Psych Fest was held in March 2008, and expanded to the three-day Levitation event the following year. The event quickly developed into an international destination for psychedelic rock fans, with lineups spanning the fringes of indie rock, from up-and-comers to vintage legends, and capped off with headline performances from co-founders The Black Angels, along with Tame Impala, The Flaming Lips, The Brian Jonestown Massacre, Thee Oh Sees (in various forms) and many more.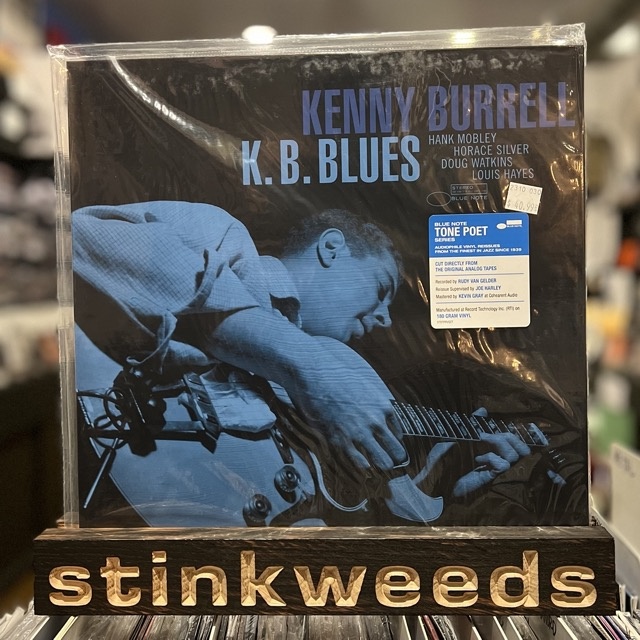 Kenny Burrell – K.B. Blues [Reissue/1979] LP (Blue Note)
Limited 180gm vinyl LP pressing housed in a deluxe gatefold tip-on jacket. Recorded in 1957, Kenny Burrell's third session as a leader for Blue Note presented the guitarist's signature stylings with a crack team of hard boppers featuring Horace Silver, Hank Mobley, Doug Watkins, & Louis Hayes. Previously only issued on vinyl in Japan this swinging set is given a new shine with this mono Tone Poet Vinyl Edition produced by Joe Harley, mastered by Kevin Gray from the original analog master tapes.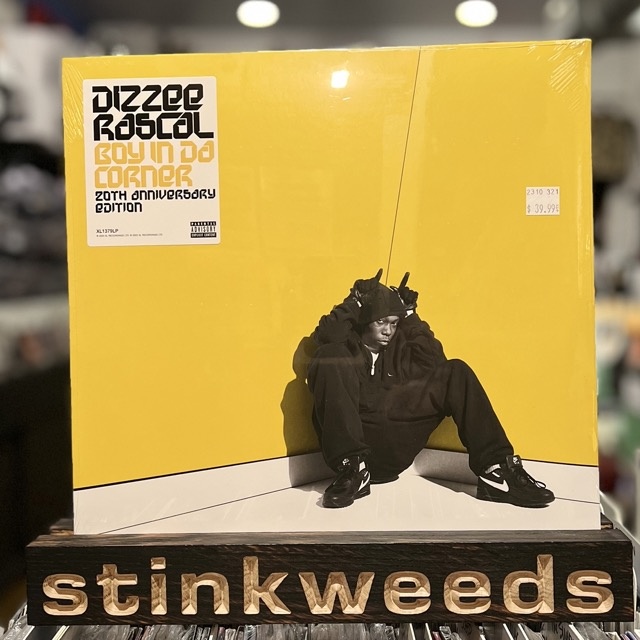 Dizzee Rascal – Boy In Da Corner [Reissue/2003] 3xLP (XL Recordings)
Comes with a free coaster! This 20th Anniversary triple-LP release features instrumentals and never heard rarities, pressed on white, yellow, and black vinyl in a wide spine sleeve. On July 21, 2003, an 18-year-old Dizzee Rascal released his debut album Boy In Da Corner. Little did he know that the 15-track album would go on to win the Mercury-Prize, become the first-ever Platinum-selling UK Rap album released, and lay the foundation for Grime. XL Recordings mark the 20th Anniversary of Dizzee Rascal's seminal debut album Boy In Da Corner with the release of a two-volume deluxe edition that features 14 rare and previously unreleased tracks, alongside the original album.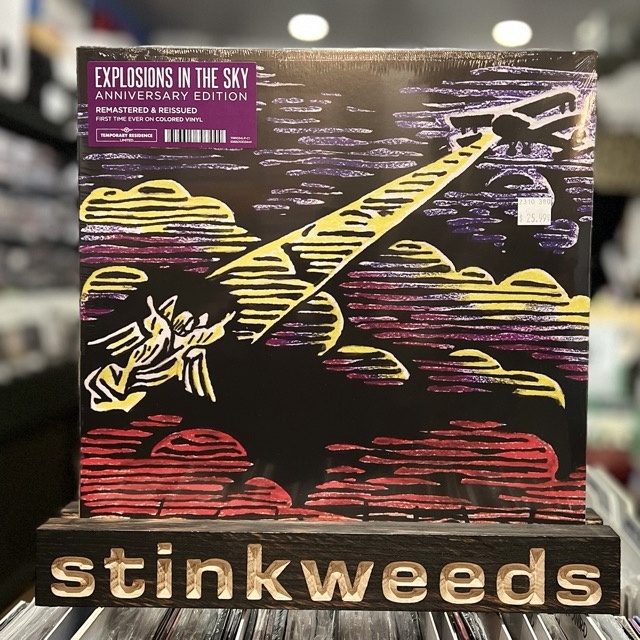 Explosions In The Sky – Those Who Tell The Truth Shall Die, Those Who Tell The Truth Shall Live Forever [Reissue/2001] LP (Temporary Residence)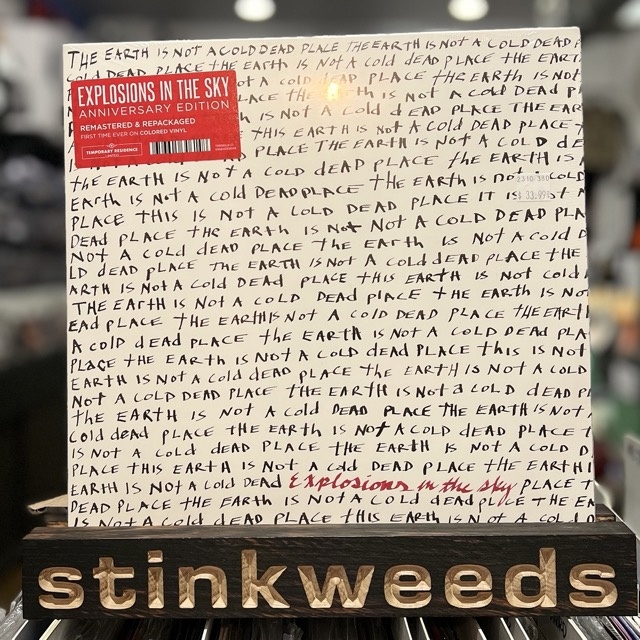 Explosions In The Sky – The Earth Is Not A Cold Dead Place [Reissue/2003] 2xLP (Temporary Residence)
Two new colorways: purple and red (respectively). Picking up where their hugely successful sophomore album Those Who Tell The Truth Shall Die, Those Who Tell The Truth Shall Live Forever left off, The Earth Is Not A Cold Dead Place begins as a flickering twinkle that soon grows to a blinding light. This new sense of hope is the defining characteristic of this record, and ultimately the journey that their music takes us on. Immeasurably more dramatic and dynamic than their last album, The Earth Is Not A Cold Dead Place takes its shape not in the unexpected cacophony that had become the band's trademark, but in the infinitely deeper caverns of the human soul.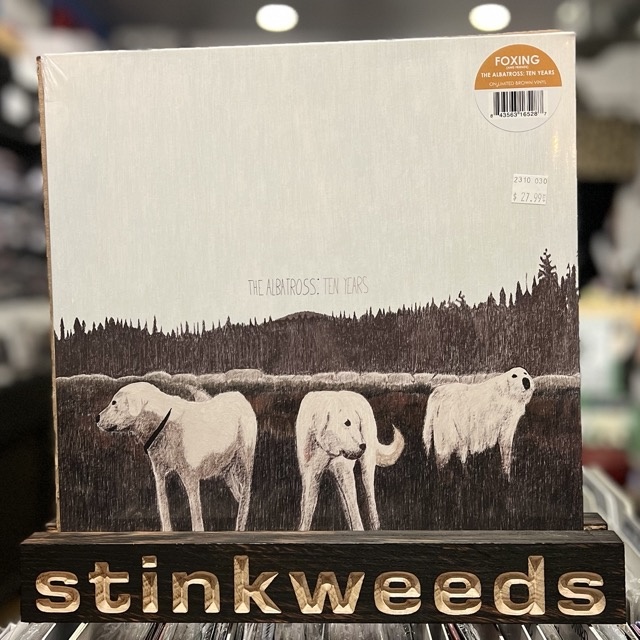 Foxing – The Albatross: Ten Years LP (Miscellaneous Records)Brown colorway. 
Foxing's The Albatross is one of the seminal emo/indie albums of the last decade. Ten years later, the band has put together an all-star cast of artists inspired by the album to record their own versions of songs from the release. In addition to Foxing reimagining several of their own songs, artists like Prince Daddy & the Hyena, Sweet Pill, Home Is Where, and many more put their own stamp on the album that shaped the last ten years of the genre.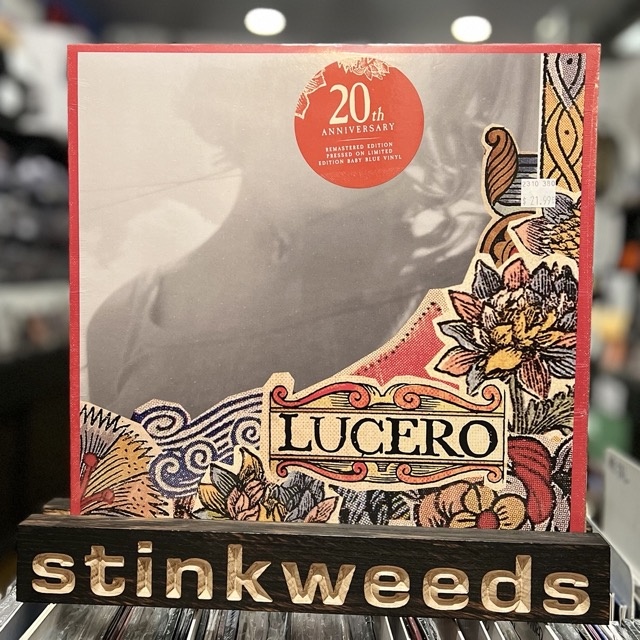 Lucero – That Much Further West [Reissue/2003] LP (Liberty & Lament)
It would be difficult to find a band that is more self-aware than the longtime touring band Lucero. Since forming in Memphis in the late '90s, Lucero's base musical hallmarks have remained like the band's initial sound established with their first record The Attic Tapes. In the history of their expansive discography, Lucero has evolved and embraced everything from southern rock to Stax-inspired Memphis soul, whilst simultaneously maintaining their distinctive sonic foundations. Years later, dedicated fans of the group still flock to hear the band's punchy driving rhythms, punk-rooted guitar licks, and lyrics that evoke the whiskey drenched sentimentality of Americana singer-songwriters.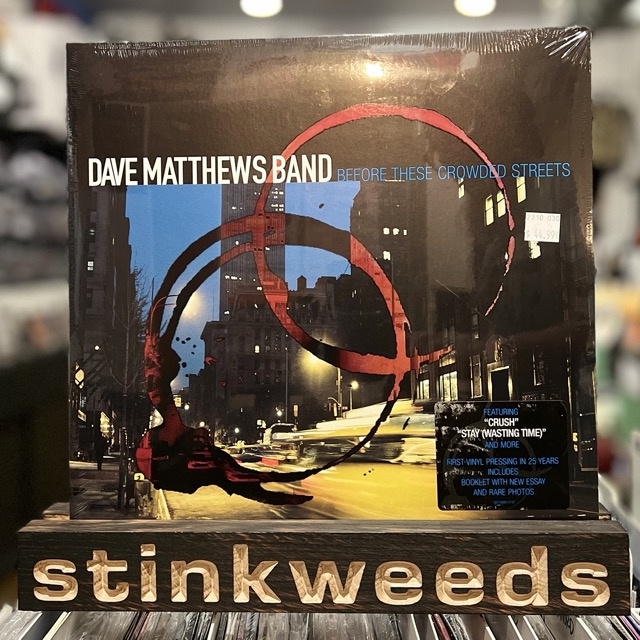 Dave Matthews – Before These Crowded Streets [Reissue/1998] 2xLP (Sony Legacy)
Before These Crowded Streets is the third studio album by Grammy award-winning rock band, Dave Matthews Band. Originally released in spring of 1998, the album received both critical and commercial success. Dethroning the Titanic soundtrack, which sat atop the Billboard 200 for 16 consecutive weeks, Before These Crowded Streets was certified triple-platinum and began the band's impressive streak of six No. 1 albums in a row. The L.A. Times said: "On this album, the band places an even higher premium on musical proficiency. Songs such as 'Rapunzel' and 'The Stone' are built around vertiginous polyrhythms and serpentine riffs that dart around Matthew's clenched vocals, yet always manage to lock into an enjoyable groove."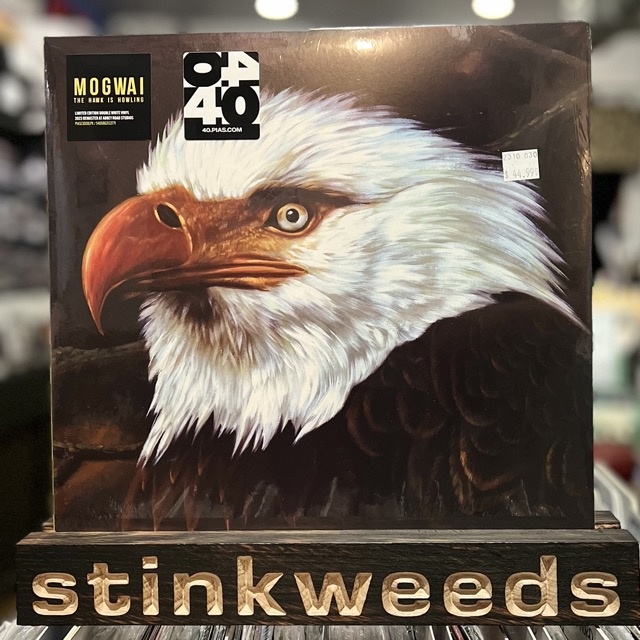 Mogwai – The Hawk Is Howling [Reissue/2008] 2xLP (PIAS America)
Color vinyl reissues of the sixth album by the influential Scottish post rock band.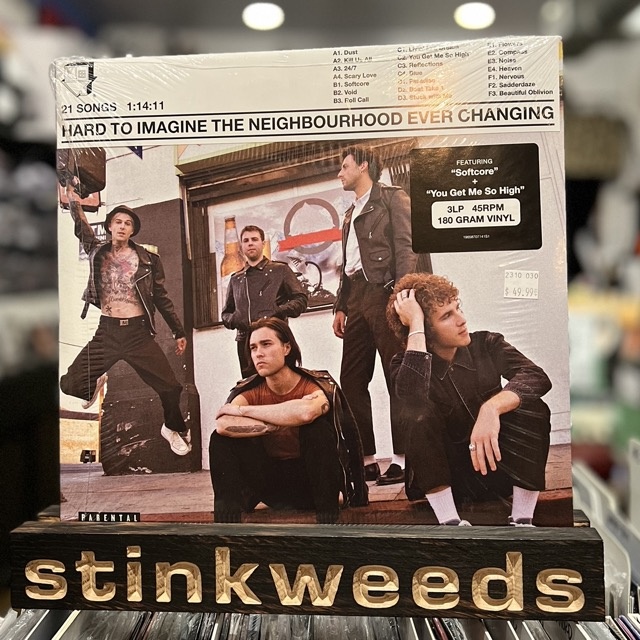 The Neighbourhood – Hard To Imagine The Neighbourhood Ever Changing 3xLP (Sony Legacy)
The Neighbourhood present their compilation album, Hard To Imagine The Neighbourhood Ever Changing. For the first time on vinyl this triple LP brings together tracks from their self-titled album as well as from the EPs HARD, To Imagine, and Ever Changing. The set is pressed on 180gm vinyl and plays at 45 RPM for pristine sound quality.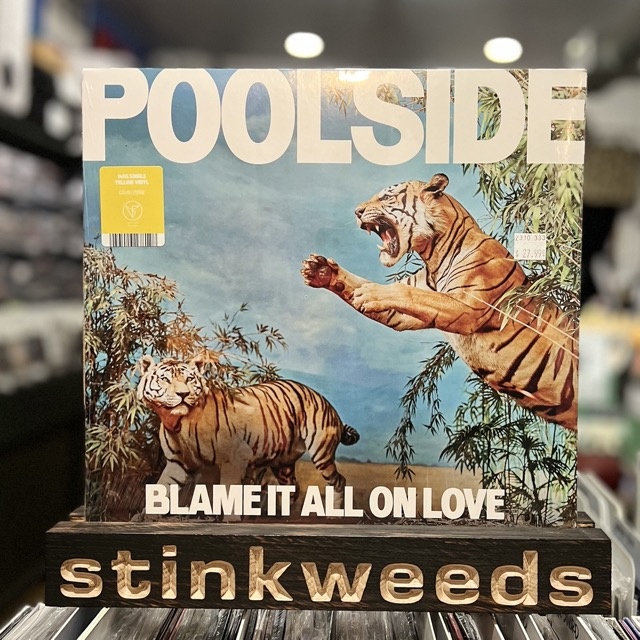 Poolside – Blame It All On Love LP+MP3 (Counter)
Translucent green colorway. Poolside is the recording project of producer, songwriter, and multi-instrumentalist Jeffrey Paradise. In 2011 Poolside set out to produce appropriately chill music for summer soirees, a light but danceable kind of music with sunny vibes and liquid rhythm that he dubbed "daytime disco." Poolside's new album bolsters his reputation as a dignified tastemaker with features from notable vocalists including Panama, Vansire, Ben Browning of Cut Copy, Slenderbodies, Mazy, Ora The Molecule, and Munya.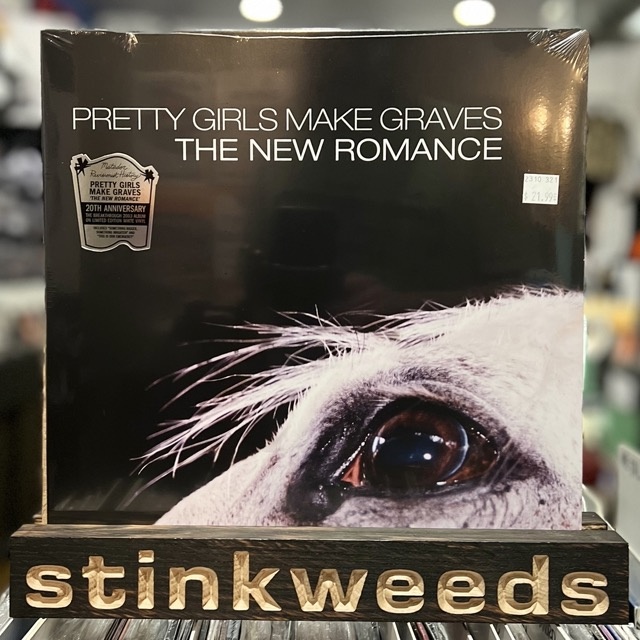 Pretty Girls Make Graves – The New Romance [Reissue/2003] LP (Matador)
White colorway. Brilliantly produced by Phil Ek (Modest Mouse, Built To Spill, Les Savy Fav), The New Romance magnifies Pretty Girls Make Graves' songcraft and technical prowess while letting some air into their songs and keeping things in crisp focus. Every song on The New Romance is an anthem, yet without traditional verses and choruses. Tension builds and shifts without conventional release, as moments of glassy beauty and rousing aggression trade sides.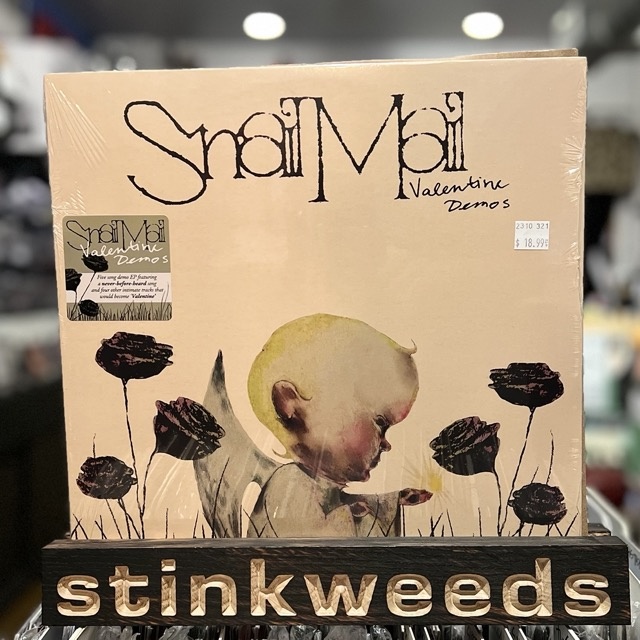 Snail Mail – Valentine Demos 12" (Matador)
Snail Mail returns with her first recordings since the critically adored 2021 LP Valentine. Valentine Demos collects four intimate recordings leading up to Snail Mail's most recent studio album along with a never-before-heard track "Easy Thing". Snail Mail's Lindsey Jordan will embark on a North American acoustic tour accompanied by a full string section in tandem with the release of the demos EP.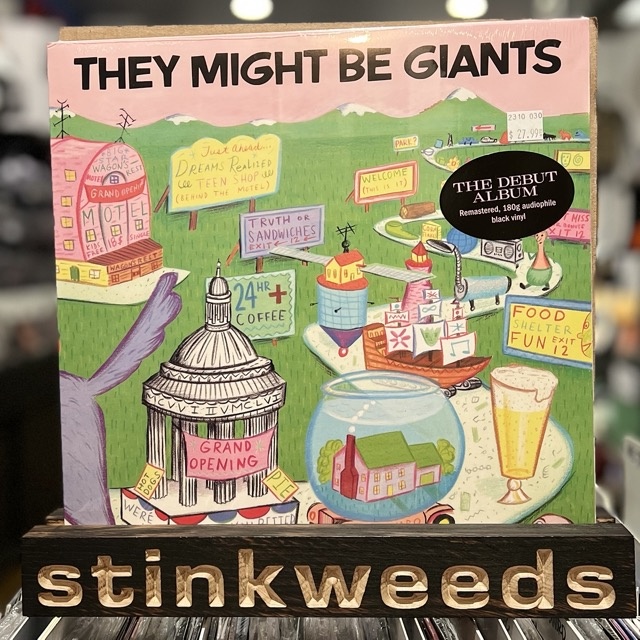 They Might Be Giants – They Might Be Giants [Reissue/1986] LP (Idlewild)
They Might Be Giants is the debut studio album from Brooklyn-based band They Might Be Giants, originally released in 1986. The album generated two singles, "Don't Let's Start" and "(She Was A) Hotel Detective".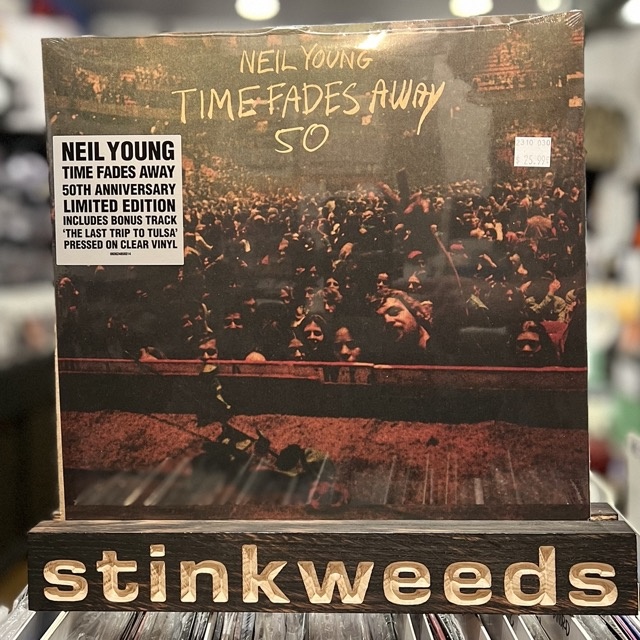 Neil Young – Time Fades Away 50th Anniv LP (Reprise)
Time Fades Away is the first live album released by Neil Young. He is backed on the album by The Stray Gators, the band who played on Harvest, and includes the superb musicians Ben Keith, Jack Nitzsche, and Tim Drummond. David Crosby and Graham Nash are special guest musicians. The album followed the release of Young's hugely successful album Harvest, and when it was released in 1973 it featured all previously unreleased songs. To commemorate the 50th anniversary of this album the track "The Last Trip To Tulsa" (originally released as a B-side to the 1973 single of "Time Fades Away") has been added to the album.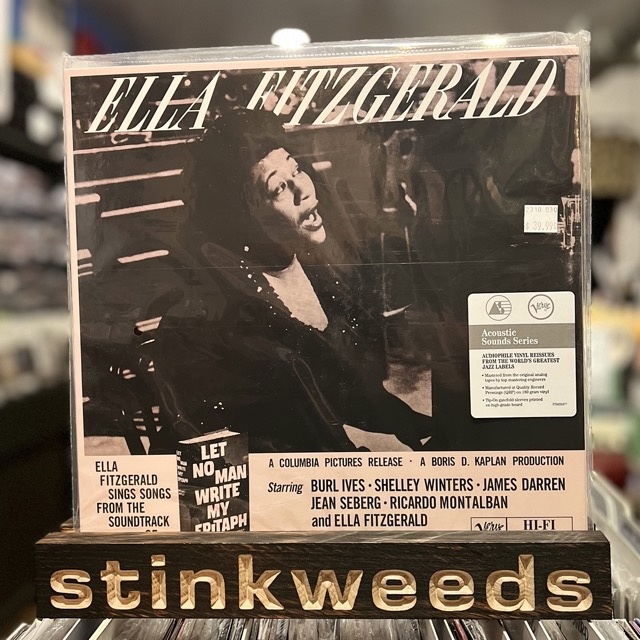 Ella Fitzgerald - Let No Man Write My Epitaph (Verve Acoustic Sound Series LP (Verve)
Considered one of Ella's greatest recordings, she's backed on this 1960 release by pianist Paul Smith. Let No Man Write My Epitaph was a 1960 Hollywood movie featuring Fitzgerald. The album hits at a rare depth of emotional understanding and once again establishes Fitzgerald as one of the supreme interpreters of the Great American Songbook. Verve's Acoustic Sounds Series features transfers from analog tapes and remastered 180-gram vinyl in deluxe gatefold packaging.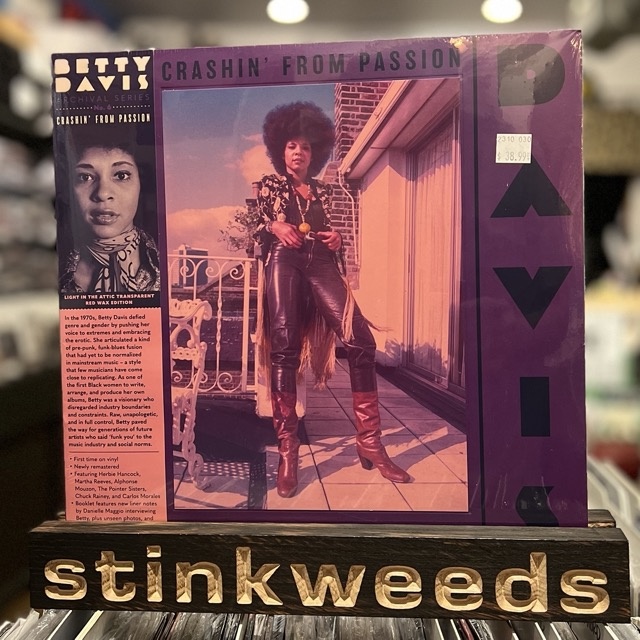 Betty Davis - Crashin From Passion LP (Light In The Attic)
In the 1970s, Betty Davis defied genre and gender by pushing her voice to extremes and embracing the erotic. She articulated a kind of pre-punk, funk-blues fusion that had yet to be normalized in mainstream music - a style that few musicians have come close to replicating. As one of the first Black women to write, arrange, and produce her own albums, Betty was a visionary who disregarded industry boundaries and constraints. Raw, unapologetic and in full control, Betty paved the way for generations of future artists who said "funk you" to the music industry and social norms. Crashin' From Passion, was her most musically diverse, blending elements of reggae and calypso, jazz , dark synth-pop, and even disco. Equally exploratory are Davis' vocals, as she trades in her signature sass and snarls for more nuanced stylings.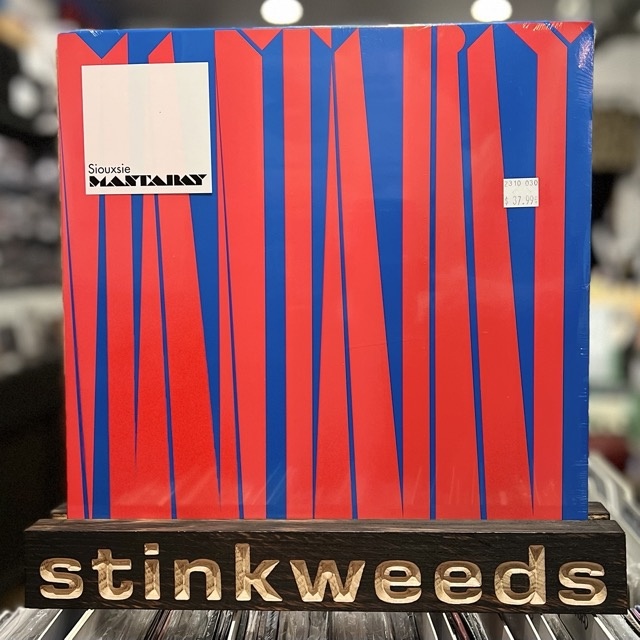 Siouxsie - Mantaray LP (Republic Of Music)
Siouxsie Sioux's debut solo album Mantaray is to be reissued with new artwork. Mantaray has been remastered and cut at half speed by Miles Showell at Abbey Road Studios and is being released on vinyl for the first time since its original release in 2007.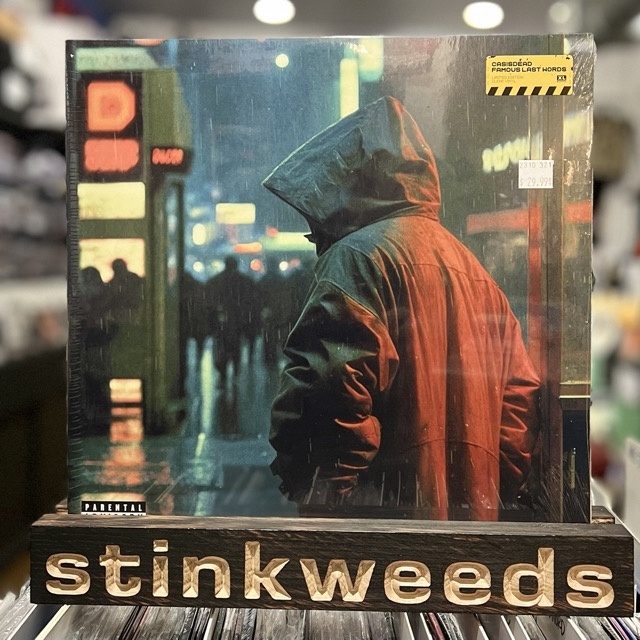 Casisdead - Famous Last Words CD/LP (XL)
Titled Famous Last Words, the twenty three track album is the London-based rapper, producer and director's most ambitious statement yet and will be released in the US on November 3rd. Famous Last Words is a fully realised expansion of the dystopian futurism that has captivated audiences since CASISDEAD first announced himself in 2013.
COMING NEXT WEEK!
CAT POWER - Sings Dylan: The 1966 Royal Albert Hall CD/LP
HELMET - Left CD/LP
OINGO BOINGO - Dead Man's Party LP
CATE LE BON - Crab Day LP reissue
NEW ORDER - Substance LP reissue
SOCIAL DISTORTION - Mommy's LIttle Monster LP 40th Anniversary Reissue
R.E.M. - Up LP reissue
TYPE O NEGATIVE - Dead Again LP reissue
COLD WAR KIDS - Self Titled LP
DAVE BRUBECK - Jazz At Oberlin LP
DROP NINETEENS - Hard Light CD/LP
FEELIES - Some Kinda Love: Performing Music Of The Velvet CD/LP
KEVIN MORBY - More Photographs (A Continuum) LP
AESOP ROCK -  Integrated Tech Solutions CD/LP
GOAT - Medicine LP
POWERMAN 5000 - Mega Kung Fun Radio LP
THIRD MIND - Third Mind 2 LP
NEIL VINCENT EMERSON - Golden Crystal Kingdom LP