Login
Log in if you have an account
Dont have an account? Register
New Releases & Staff Picks - 9/15/23
14 Sep 2023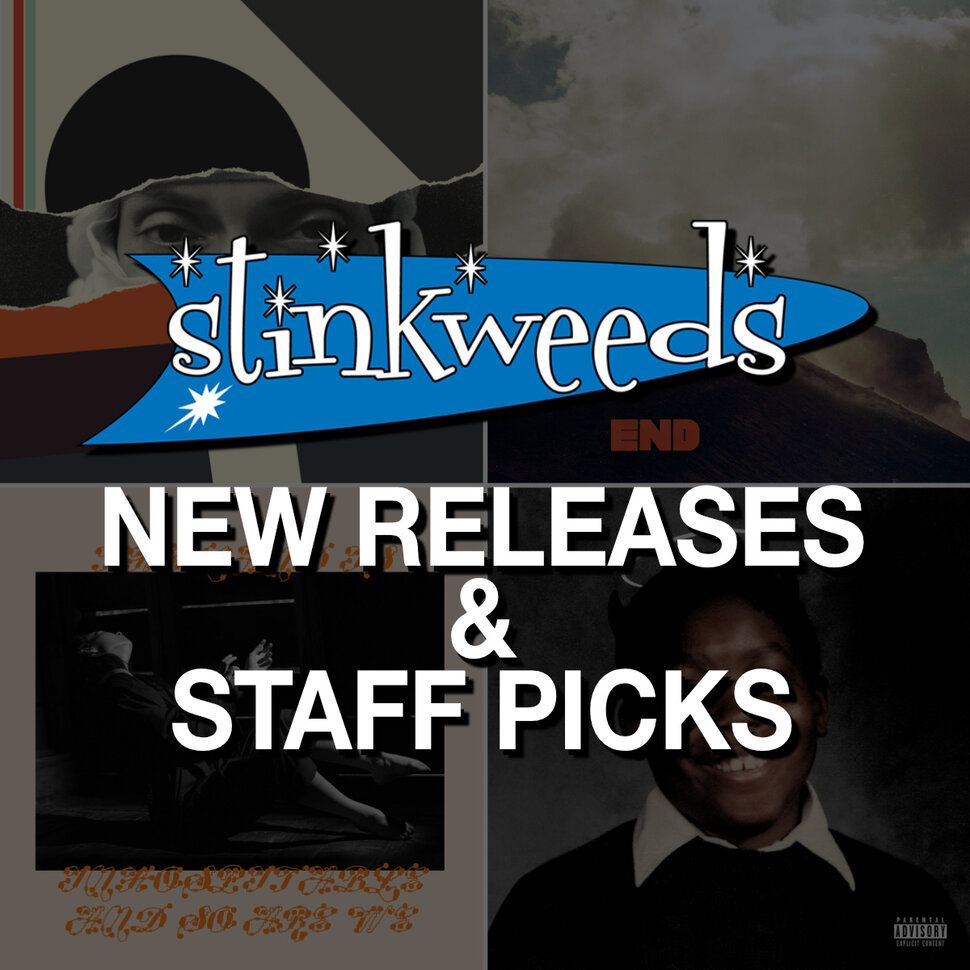 STAFF PICKS
Lindsay – Will Johnson 
Dario – Mitski and Vagabon
Kimber – Chilly Gonzales
Caleb – Jad Fair 
Zach – Explosions in the Sky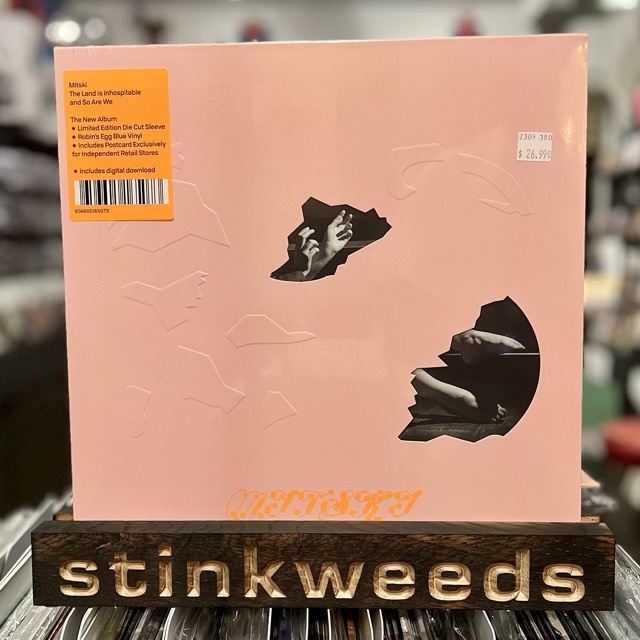 MITSKI - The Land Is Inhospitable And So Are We CD/CASS/LP (Dead Oceans)
Available on CD, cassette, LP and limited edition robin egg blue vinyl. Mitski says, "it feels like life would be easier without hope, or a soul, or love." But when she closes her eyes and thinks about what's truly hers, what can't be repossessed or demolished, she sees love. She hopes her album, The Land Is Inhospitable and So Are We, will continue to shine that love long after she's gone. Listening to it, that's precisely how it feels: like a love that's haunting the land." This is my most American album," Mitski says about her seventh record, and the music feels like a profound act of witnessing this country, in all of its private sorrows and painful contradictions. In this album, which is sonically Mitski's most expansive, epic, and wise, the songs seem to be introducing wounds and then actively healing them. Here, love is time-traveling to bless our tender days, like the light from a distant star. The album is full of the ache of the grown-up, seemingly mundane heartbreaks and joys that are often unsung but feel enormous. It's a tiny epic. From the bottom of a glass, to a driveway slushy with memory and snow, to a freight train barreling through the Midwest, and all the way to the moon, it feels like everything, and everyone, is crying out, screaming in pain, arching towards love. Love is that inhospitable land, beckoning us and then rejecting us. To love this place - this earth, this America, this body - takes active work. It might be impossible. The best things are.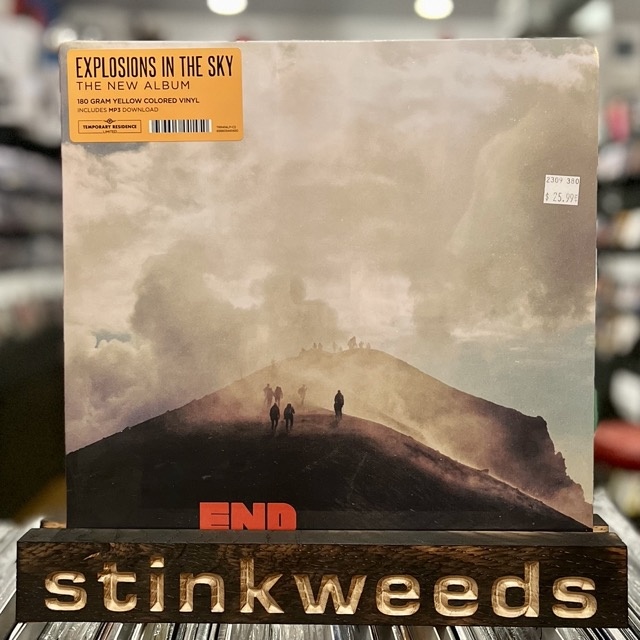 EXPLOSIONS IN THE SKY - End CD/LP/CASS (Temporary Residence)
Available on black and colored vinyl. End, the enigmatic new album by Explosions in the Sky, was inspired by darkness, but became a loud, dramatic, wild rumination on life and death. "Our starting point was the concept of an ending-death, or the end of a friendship or relationship. Every song comes from a story, or an idea one of us has had that we've all expanded on and made its own world. Maybe it's our nature, but we kept feeling that the album title was ultimately open to a lot more interpretation-the end of a thing or a time can mean a stop, but it can also mean a beginning, and what happens after one thing ends might pale in comparison to what it becomes next," says the band about the album. End is perhaps the "grandest" Explosions In The Sky album - melding the quiet restraint and crushing feel of their early releases with the sonic texturing and ornate experimentation of their later releases, and their increasingly deep film and television scoring catalog, influenced by personal tastes stretching from classical to soul to experimental ambient music.
KILLER MIKE - Michael CD/LP (Loma Vista)
Available on black and limited gold 2 LP with 3 bonus tracks. Killer Mike's Michael marks the celebrated  Run The Jewels' MC first solo project since 2012's critically lauded R.A.P. Music; and serves as an introduction to the totality of Michael Render, a lifelong rap fiend whose consciousness is steeped in the sounds of community that raised him - multiple eras of southern rap flows, Sunday church service, and barbershop discourse.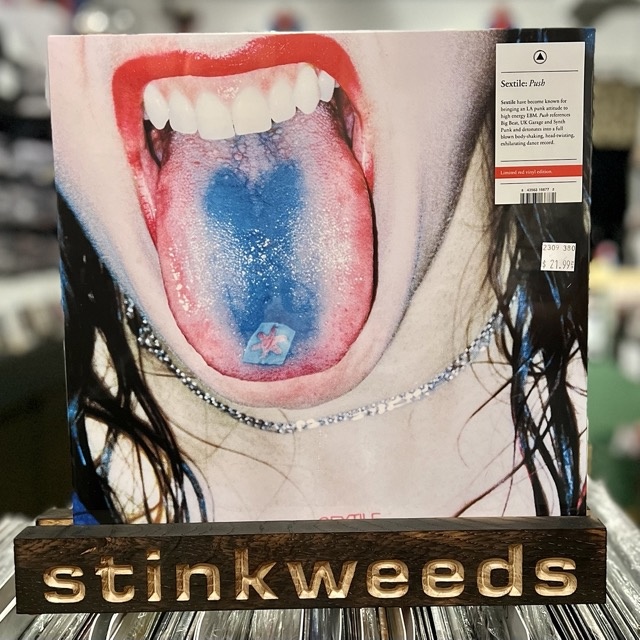 SEXTILE - Push CD/LP (Sacred Bones)
Sextile have become known for bringing an LA punk attitude to high energy EBM. PUSH references big beat, UK garage and synth punk and detonates into a full blown body-shaking, head-twisting, exhilarating dance record.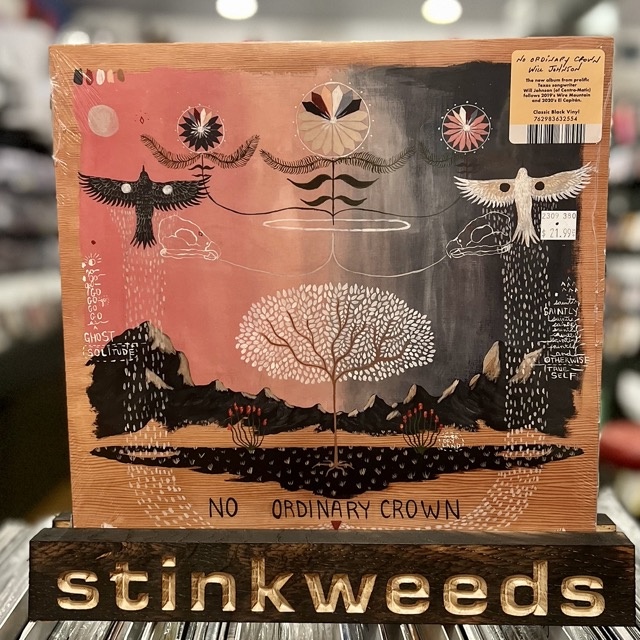 WILL JOHNSON - No Ordinary Crown CD/LP (Keeled Scales)
Available on black and limited, colored vinyl. Will Johnson's ninth solo album, No Ordinary Crown, hums with palpable motion. Travelers, runners and conductors fill its lyrics, and gesticulating storms and emotional highs and lows seep through the instinctual quality of its rock 'n roll performances. It's also cabled by ephemeral momentum. The songs were conceived in stolen moments and brief windows of time between the responsibilities of family and a multi-hyphenate career. The singer, songwriter, multi-instrumentalist, painter and novelist describes the demo process as "fairly jagged," a gathering and stitching of audio snippets recorded via cell phone and dictaphone over a year and half. "I finalized the songs on short tours where I could hear my thoughts a bit more clearly," he says. "Somewhere along the line someone advised me to never be afraid to hurt my characters, that I will always be able to get them out of it," he says. "I do want there to be these small victories and small portals of hope." With No Ordinary Crown, people may behave badly, and the road may get rough, but the reward is in the journey.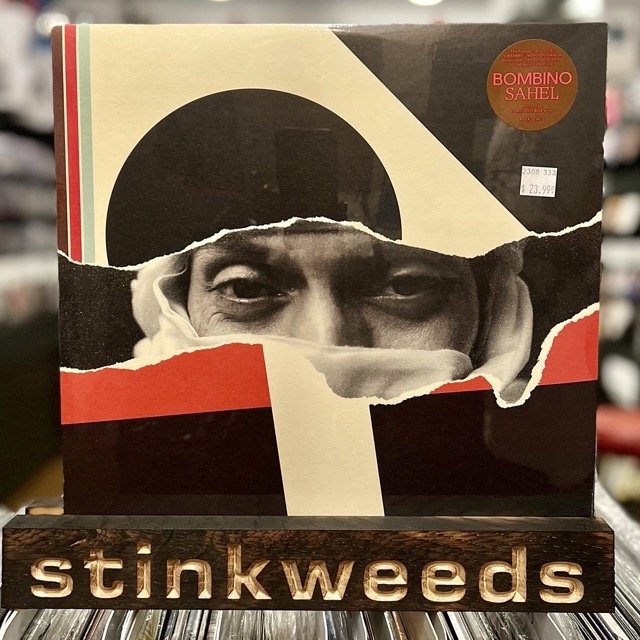 BOMBINO - Sahel CD/LP (Partisan)
Guitar luminary + Tuareg folk hero Omara "Bombino" Moctar knows the nomadic life well. Being constantly on the road for his music while also perpetually on the move throughout the Sahel region of Africa is the norm. So when the pandemic brought the world to a screeching halt, Bombino found himself in an unfamiliar space: being in one place. What resulted was Sahel, the follow-up to 2018's Deran, a record that turned Bombino into the first-ever GRAMMY-nominated artist from Niger. This new collection of songs, named after the African region spanning East-West from the Atlantic Ocean to the Red Sea, is Bombino's most personal, powerful, and politically-minded work to date. It's also his most sonically diverse, a quality he set out to achieve from the start, and one that is meant to directly mirror the complex tapestry of cultures and people that make up the Sahel region itself.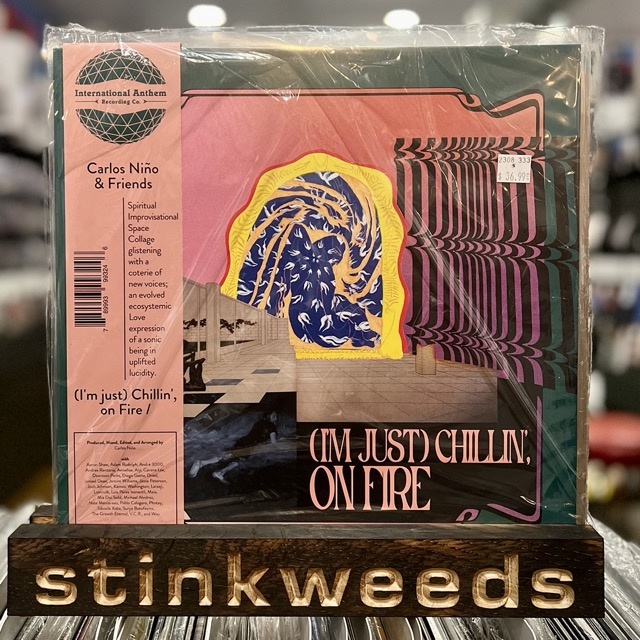 CARLOS NINO AND FRIENDS - I'm Just Chillin, On Fire CD/LP (International Anthem)
Prolific percussionist/producer Carlos Niño's most singular, intentional work ever, featuring a vibrant and abundant gathering of "friends." Featured artists across 80+ minutes of music include Kamasi Washington, Nate Mercereau, bubbling violinist/vocalist V.C.R, Photay, Deantoni Parks, Laraaji, Jamael Dean, and more, including André 3000, who makes an appearance on flutes. Unique sounds recall DJ Premier & QTip-like architectures made from fluid explorations and minimalist musical atmospheres.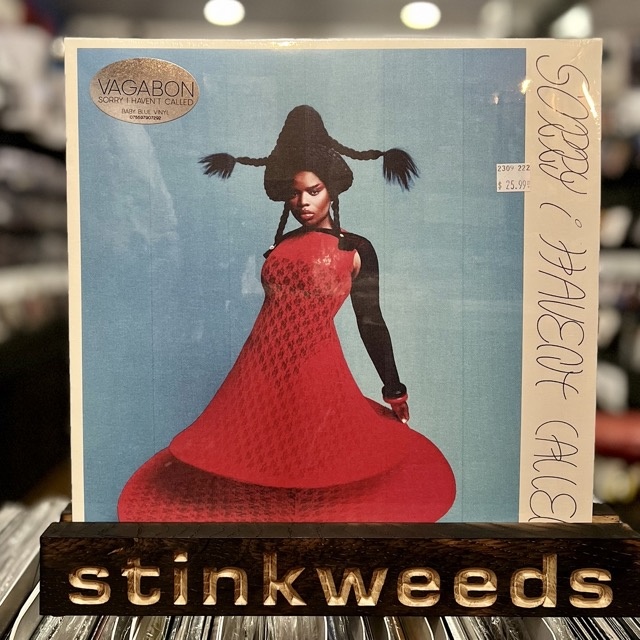 VAGABON - Sorry I Haven't Called CD/LP (Nonesuch)
Sorry I Haven't Called is the 2023 album from Vagabon, the moniker of Lætitia Tamko. The album, co-produced by Tamko and Rostam (Vampire Weekend, Haim, Clairo), finds Tamko reinventing herself once again and features the most playful and adventurous music of her career. "I didn't feel like being introspective," says Laetitia Tamko of her new album Sorry I Haven't Called. "I just wanted to have fun." Following her intimate 2017 debut Infinite Worlds, the New York artist favored expansive and evocative electronic textures in her breakthrough 2019 self-titled follow-up. But her latest LP feels like a wholly new era for Tamko, one that's transformational and uncompromising. Across 12 vibrant tracks she wrote and produced primarily in Germany, she channels dance music and effervescent pop through her own confident sensibilities. These conversational songs are alive and unselfconscious, a document of an artist fully embracing her vision and reclaiming her joy. Tamko's lyrics on Sorry I Haven't Called are uniformly playful and inviting. The first words she sings on the album are, "Can I talk my shit? / I got way too high for this." It's a statement of purpose for the rest of the album that this is an unapologetic artist. "This whole record is how I talk to my friends and how to talk to my lovers," says Tamko. "I think honesty and conversational songwriting can become poetry. There's beauty in plainly speaking without metaphors and without flowery imagery."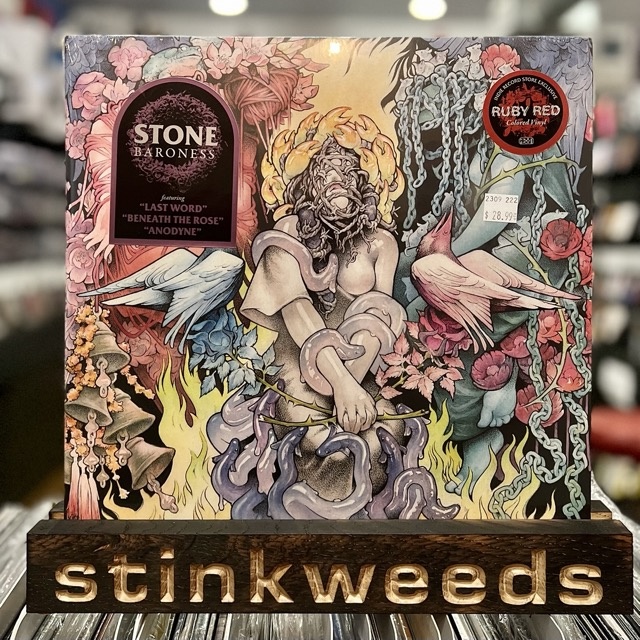 BARONESS - Stone CD/LP (Abraxan Hymns)
Baroness return with their highly-anticipated sixth album, STONE. While they wrote STONE, frontman John Baizley recorded and pre-mixed it in real time, giving each song on the album its own sonic treatment. The album features original cover art by John Baizley.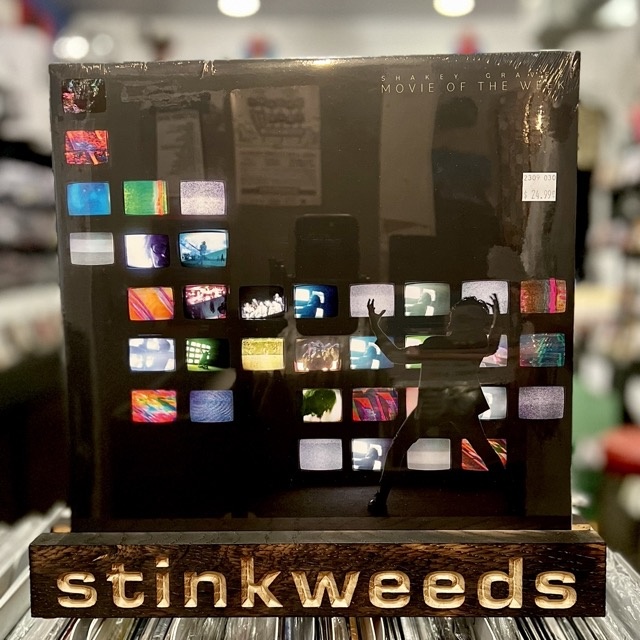 SHAKEY GRAVES - Movie Of The Week CD/LP (Dualtone)
Shakey Graves, the brainchild of musician, actor, and artist Alejandro Rose-Garcia, returns with his 4th studio album Movie of The Week, featuring the bona fide streaming hit "Ready or Not (feat. Sierra Ferrell)," which has garnered over 15M streams. He'll embark on a worldwide tour around album release, hitting 3-5k seat theaters and amphitheaters including Red Rocks in Morrison, CO as well as a major Triple A radio push, where he is a cornerstone of the format.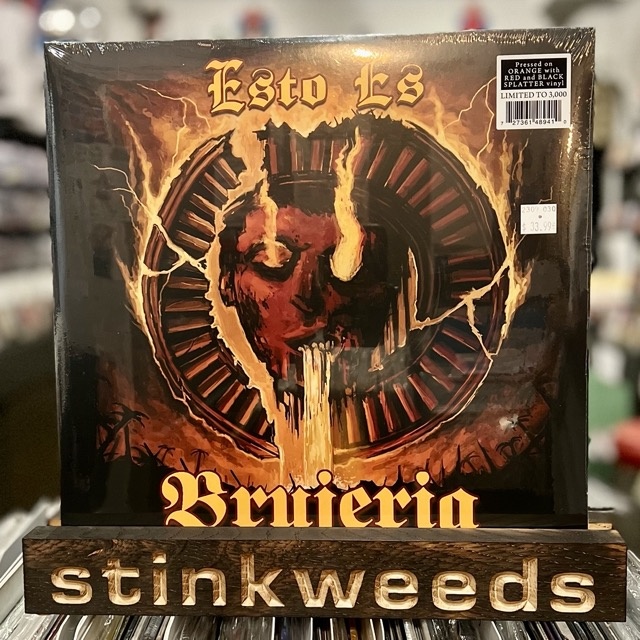 BRUJERIA - Esto Es Brujeria LP (Nuclear Blast)
Brujeria emerged, shrouded in mystery and infamy, in 1989. Forcefully introducing phrases like Matando Güeros, La Migra, and Marijuana y Brujerizmo, the brutal death-grind band from Mexico came to represent the notoriously violent world of illegal drug trafficking, vicious retaliation, and a sinister syncretism between Afro-Caribbean sorcery like Palo Mayombe and Santeria with outright demonic possession. Brujeria makes the metal version of the corrido, a traditional Mexican song style built on storytelling. The narratives cover everything from history to daily life for outlaws. In Brujeria's case, the narrator's tales range from outright murder of the oppressor to drug deals gone wrong. On Esto Es, their blistering new platter, they spin stories about everything from being Party Boss to a first night in jail.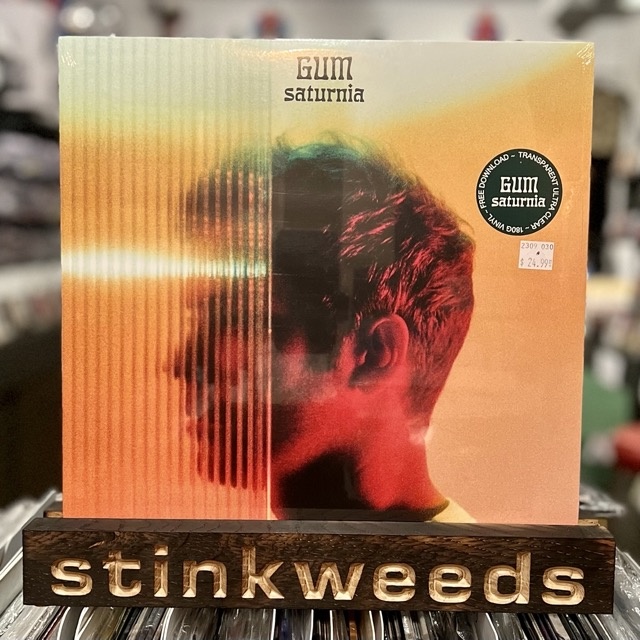 GUM - Saturnia LP (Spinning Top)
Over five albums fronting Gum, not to mention the nine he's made as co-leader of psych cosmonauts Pond, Watson's restless imagination has treated us to some of the most sonically diverse explorations of the past decade. On Saturnia, however, these visions have coalesced into the richest, but also the most coherent work of Watson's career to date. When you've got the ability to merge any combination of sounds and moods that pop into your head, there's a temptation to cram everything you can into each second of tape. The lesson for Watson this time was to realise that sometimes you have to strip away a great idea for the benefit of the song. Opener "Race To The Air" provides the perfect curtain-raiser. Soaring into view like a gigantic interplanetary craft, it takes in a sparkling vista of cosmic disco - all robo grooves and quivering strings, while "Would It Pain You To See", perhaps one of the most surprising songs on the album, is a glistening slink of sensual R&B. Indeed, one of the most rewarding things about Saturnia is how the songs pivot and change unexpectedly throughout, beginning as one thing before launching off into a completely different stratosphere.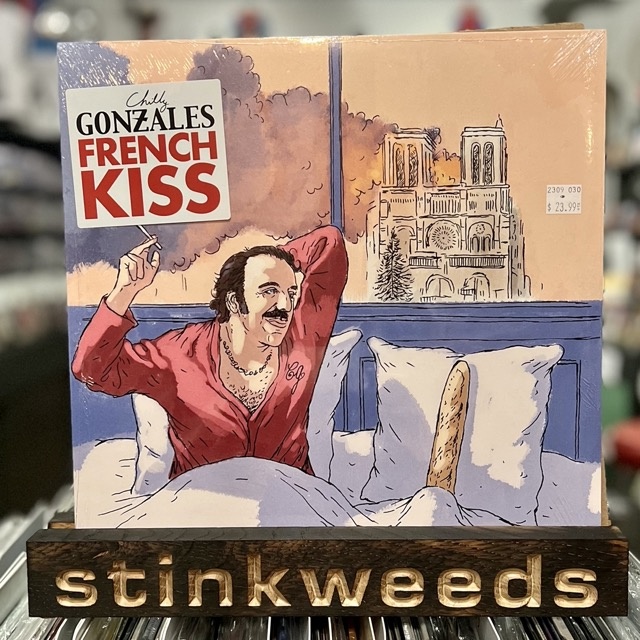 CHILLY GONZALES - French Kiss LP (Gentle Threat)
Chilly Gonzales is as well known for his intimate approach to the piano through his Solo Piano album trilogy, for his talent as a showman performing in the philharmonic halls of Europe in slippers and robe, and for his collaborations with internationally renowned artists such as Feist, Drake, Jarvis Cocker and Daft Punk. In 2023, he takes a new artistic turn with French Kiss, his first album written and performed in French. Before moving to Germany, Chilly lived in Paris for almost 10 years. Recently he started spending time in France again and immersed himself in French literature. The first eponymous track on the album, "French Kiss', announces the reasons for his renewed interest. It is a text that has very specific references to French culture, ranging from Molière to Benjamin Biolay, via Virginie Despentes, Emmanuel Carrère, François Mitterrand, Makala and Thomas Bangalter. To produce this album, Chilly Gonzales got closer to the new generation of French talents, mixing them with old friends and one of his heroes, to whom he gives up his place at the piano for the first time. But Gonzo does not abandon his solo piano. He reinterprets the giants Gabriel Fauré and Michel Berger, and plays an instrumental duet with Christine Ott and her mysterious Ondes Martenot. A brief interlude recounts the equally brief collaboration with Charles Aznavour, and to make us dance, he offers a cover of "Cut Dick" by Mr. Oizo and a remix by Myd. Also featured on the album are Bonnie Banane and Juliette Armanet, Arielle Dombasle and Teki Latex, and Richard Clayderman.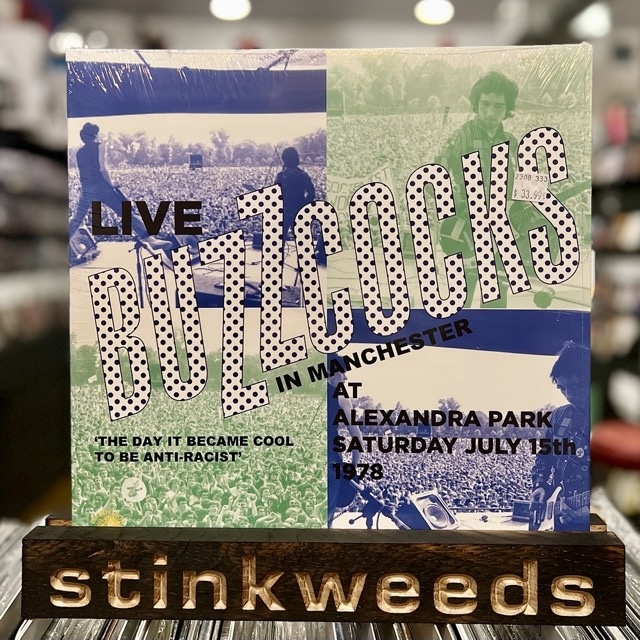 BUZZCOCKS - Live at Alexander Park Manchester 1978 LP (Ozit)
When Bernie Wilcox and Geoff Brown approached Chris Hewitt in June 1978 about building a stage and providing a PA system for Alexandra Park, Manchester, Chris already had all the hardware booked for the Deeply Vale Festival which was a week later in July 1978 than the date Bernie and Geoff had proposed for the Northern Carnival Against Racism Concert. This meant that all of the equipment, generators, scaffolding and fencing could simply have the hire period brought forward to cover Alexandra Park and the costs would be far more reasonable than a 'start from scratch hire'. So it was that about 12 days before Deeply Vale 1978 we started to build a stage and secure compound in Alexandra Park, Manchester. Three days before Buzzcocks were due to play on the Saturday we got a call to ask if Graham Parker and The Rumour could rehearse in the park on the stage on the Thursday night as he was supporting Bob Dylan and Eric Clapton at a festival at Blackbushe Aerodrome on the Saturday and Graham and the Rumour had never played outdoors before. So we finished the stage by Thursday lunchtime for a free concert by Graham Parker in the evening and then Buzzcocks played Alexandra Park Saturday afternoon.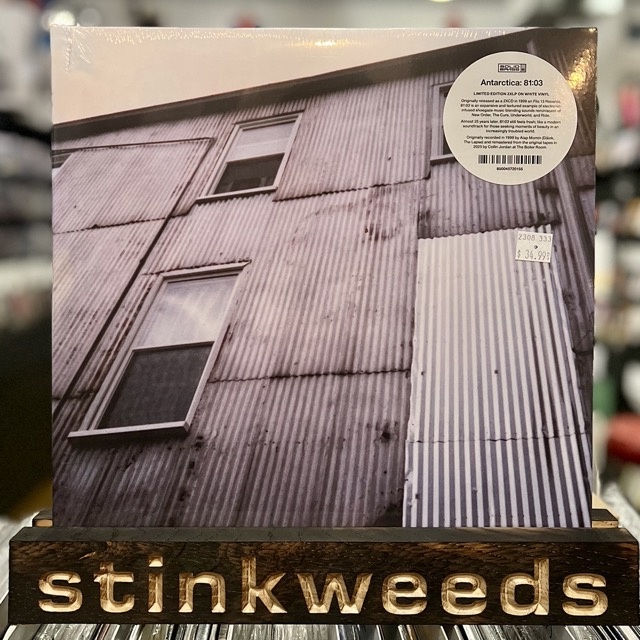 ANTARCTICA - 81:03 LP (Solid Brass)
Limited double white colored vinyl LP pressing. After the demise of Denver emo legends, Christie Front Drive, singer/guitarist Eric Richter moved to Brooklyn and started Antarctica with other members from the scene. Despite just a few releases to their name they gathered a large cult following. Originally released as a 2xCD in 1999 on File 13 Records, 81:03 is an expansive and textured example of electronic-infused shoegaze music blending the swooning, syncopated pop of New Order, the dark chill of Pornography-era Cure, the hypnotic pulse of Underworld, and the guitar harmonies of Ride and For Against. Almost 25 years later, 81:03 still feels fresh; like a modern soundtrack for those seeking moments of beauty in an increasingly troubled world. Newly remastered and finally available on vinyl for the first time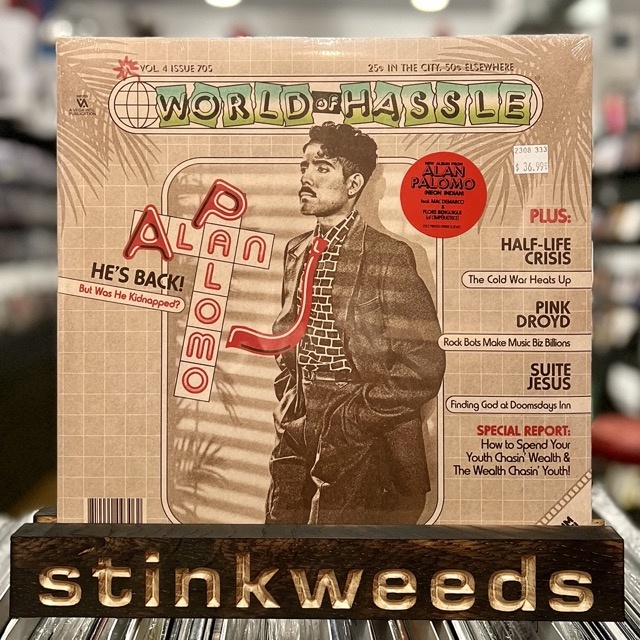 ALAN PALOMO - World Of Hassle LP (Mom+Pop)
Alan Palomo (fka Neon Indian) is making his return this year with the brand new album World of Hassle. As Neon Indian, Alan most recently released VEGA INTL. Night School in 2015 and Era Extraña in 2013. His 2009 debut record Psychic Chasms not only earned the musician a spot on numerous year-end lists, but assisted the forming of a genre that, though known by a few names now (hypnagogic pop, glo-fi, chillwave), summoned a very unique and specific electro-mangled sound.
MILD HIGH CLUB - Timeline LP [Reissue/2015] (Stones Throw)
Deluxe white, pink, black and blue splatter vinyl LP pressing. Mild High Club is the solo project and live band helmed by Alex Brettin, a Los Angeles-based musician originally from Chicago. Influenced by AOR and jazz, Brettin began working on Mild High Club material in 2012 by himself, using guitars, keyboards, computers, and a four-track recorder, while shuttling between Chicago, Baltimore, and Los Angeles. The debut Mild High Club album, Timeline, was released on Stones Throw in 2015.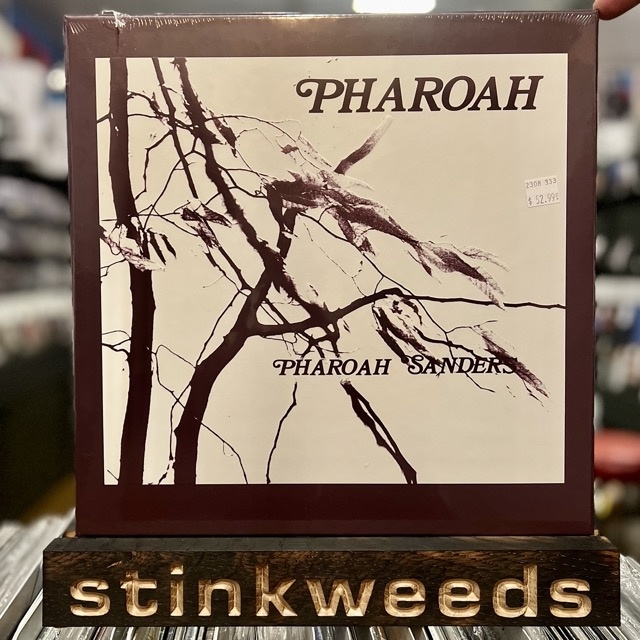 PHAROAH SANDERS - Pharoah 2LP boxset (Luaka Bop)
With Pharoah Sanders' blessing, this limited edition 2 LP box set presents the definitive, remastered version of PHAROAH, his seminal record from 1977, along with two previously unreleased live performances of his masterpiece "Harvest Time." PHAROAH will be released a year after the legendary tenor saxophonists' untimely death, and two years after the release of what was to become his final album, the widely acclaimed PROMISES, a collaboration between the composer Floating Points and Pharoah Sanders, featuring the London Symphony Orchestra (Luaka Bop, 2021). This first pressing comes with an embossed cover and is accompanied by never-before-shared photographs and ephemera, as well as a 24-page booklet featuring rarely seen photographs, interviews with many of the participants, and a conversation with Pharoah himself.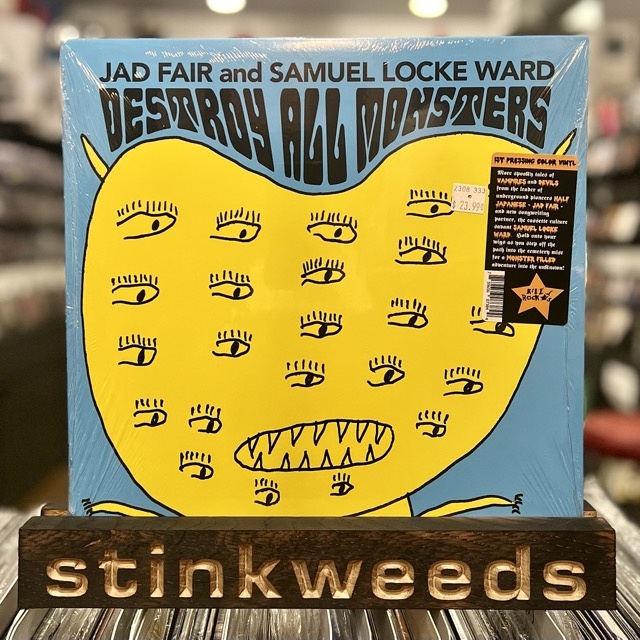 JAD FAIR + SAMUEL, LOCKE WARD - Destroy All Monsters LP (Kill Rock Stars)
More spooky tales of Vampires and Devils from the leader of underground pioneers HALF Japanese – Jad Fair – and new songwriting partner, the cassette culture savant Samuel Locke Ward. Hold onto your wigs as you step off the path into the cemetery mist for a monster filled adventure into the unknown!
COMING NEXT WEEK
DEVENDRA BANHART - Flying Wig CD/LP
REPLACEMENTS - Tim (Let It Bleed) CDbox+LP
BREEDERS - Last Splash CD/LP 30th Anniv
LYDIA LOVELESS - Nothing's Gonna Stand In My Way Again CD/LP
WILL BUTLER + SQUARE SISTERS - Self -Titled CD/LP
FOLLAKZOID - V CD/LP
GRAILS - Anches En Maat CD/LP
KHRUANGBIN / TORO Y MOI - Live at The Fillmore Miami CD/LP
SLAUGHTER BEACH, DOG - Crying, Laughing, Waving, Smiling CD/LP
TEENAGE FANCLUB -  Nothing Lasts Forever CD/LP
BETTY DAVIS - Is It Love Or Desire CD/LP
NEW PORNOGRAPHERS - Electric Version LP reissue
TOM WAITS - Rain Dogs LP reissue
DENZEL CURRY - 32 Zel LP reissue
BASEMENT JAXX - Kish Kash LP reissue