Login
Log in if you have an account
Dont have an account? Register
New Releases & Staff Picks - 10/27/23
26 Oct 2023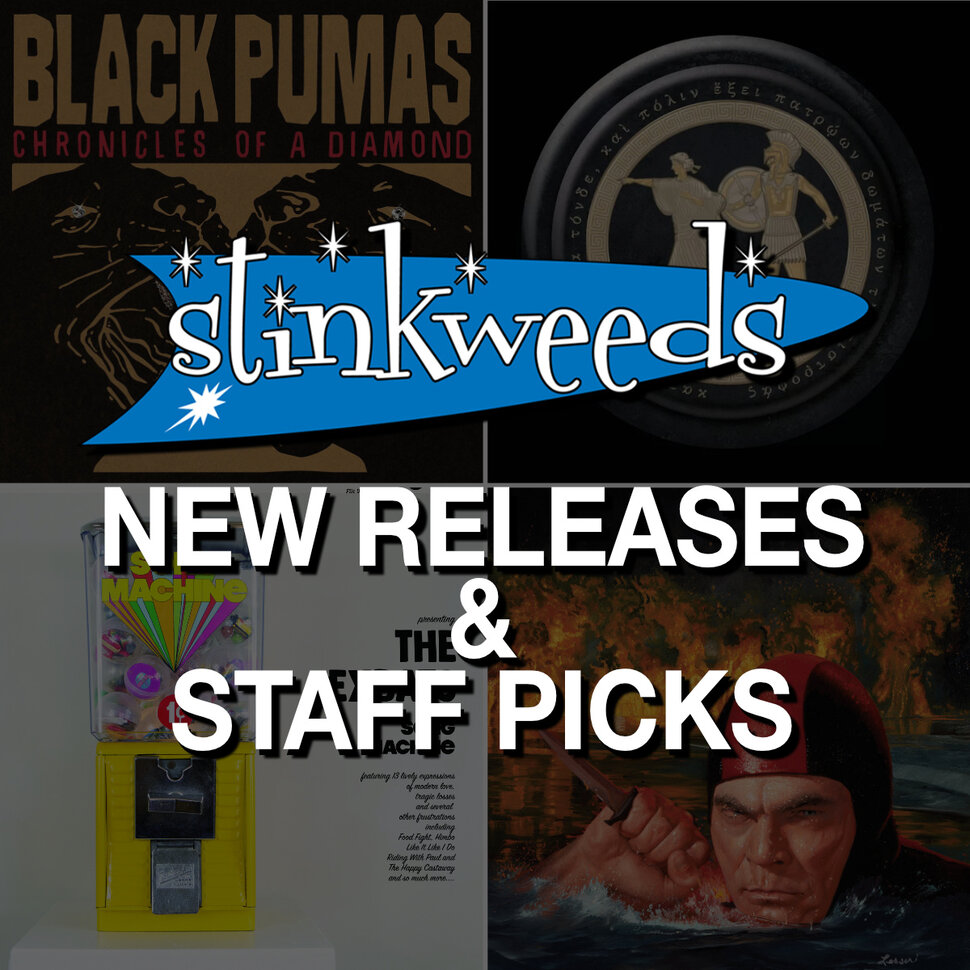 Staff Picks
Kimber - Mountain Goats 
Lindsay - The ExBats and Black Pumas
Dario - Jamila Woods 
Zach - Mountain Goats and José González reissue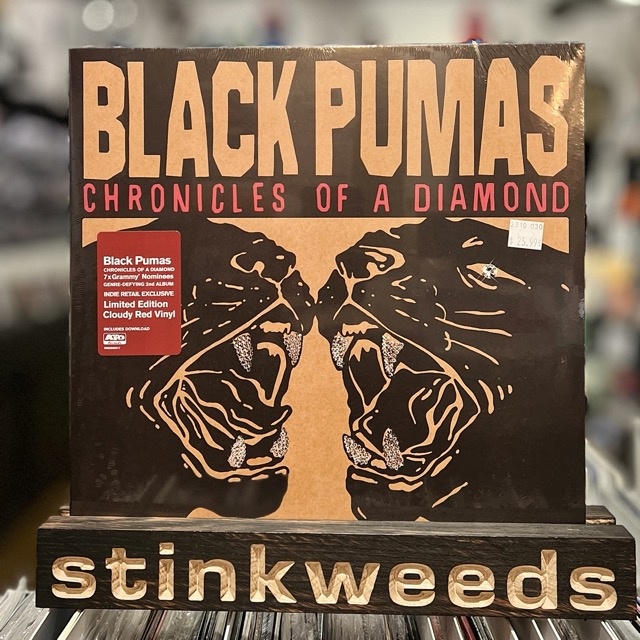 BLACK PUMAS - Chronicles of a Diamond CD/LP (ATO)
As they set to work on their highly awaited sophomore album, Black Pumas broadened their palette to include a dazzling expanse of musical forms: heavenly hybrids of soul and symphonic pop, mind-bending excursions into jazz-funk and psychedelia, and starry-eyed love songs that feel dropped from the cosmos. The debut was nominated for seven Grammys and reached one million album equivalents. Chronicles Of A Diamond arrives as the fullest expression yet of their frenetic creativity and limitless vision. Available on black and indie exclusive clear LP with poster and download card included.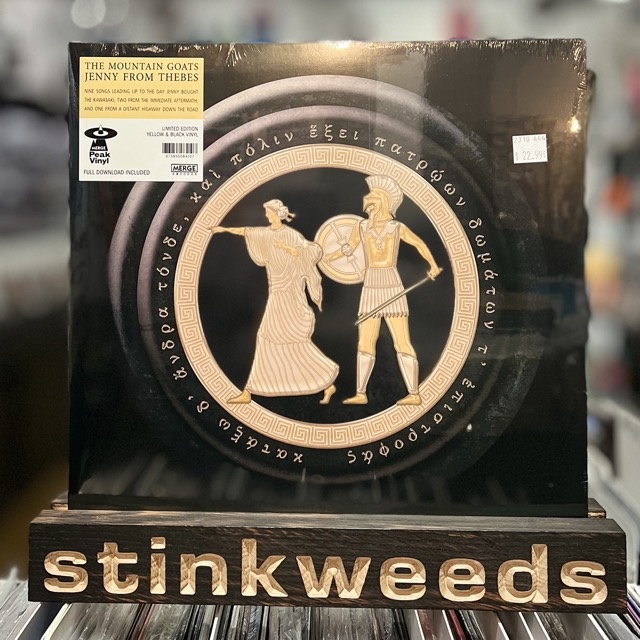 MOUNTAIN GOATS - Jenny From Thebes LP/CD/CASS (Merge)
Jenny from Thebes began its life as many albums by The Mountain Goats do, with John Darnielle playing the piano until a lyric emerged. That lyric, "Jenny was a warrior / Jenny was a thief / Jenny hit the corner clinic begging for relief," became "Jenny III," a song which laid down a challenge he'd never taken up before: writing a sequel to one of his most beloved albums: All Hail West Texas. Recorded at Tulsa, Oklahoma's legendary The Church Studio with Grammy-winning producer/engineer Trina Shoemaker, Jenny from Thebes is a lush collection of showtunes, pushing Darnielle as a vocalist and The Mountain Goats as a band, broadening their sonic palette once again by leaning into influences like Godspell, Jim Steinman, and The Cars.  Available on black and indie exclusive colored vinyl.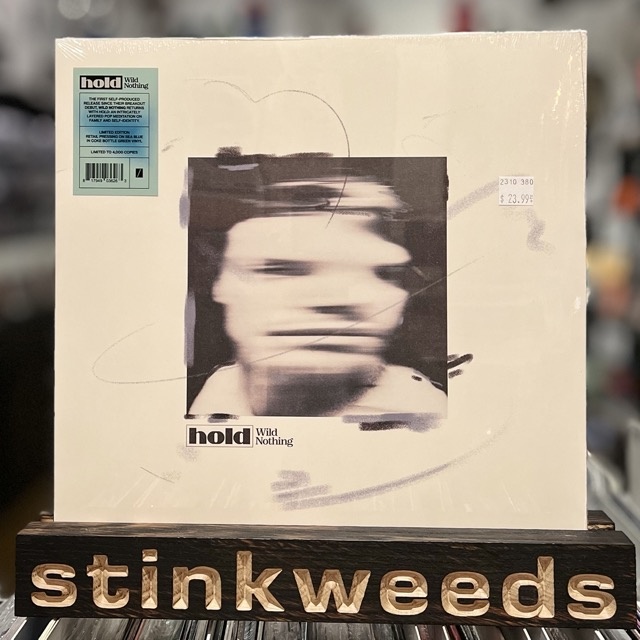 WILD NOTHING - Hold CD/LP (Captured Tracks)
Because Hold, Jack Tatum's fifth album under the moniker Wild Nothing, was written in the aftermath of new parenthood during the pandemic, it was probably inevitable that it would be searching and existential music. But during the recording process, the artist known for synth-pop tastefulness used it as an opportunity to reach for a new sonic maximalism and wider set of influences. With contributions from longtime collaborator Jorge Elbrecht, Tommy Davidson of Beach Fossils and Hatchie's Harriette Pilbeam, first single "Headlights On" features an acid house-worthy bass groove and breakbeat that prove Tatum is playing for the rafters.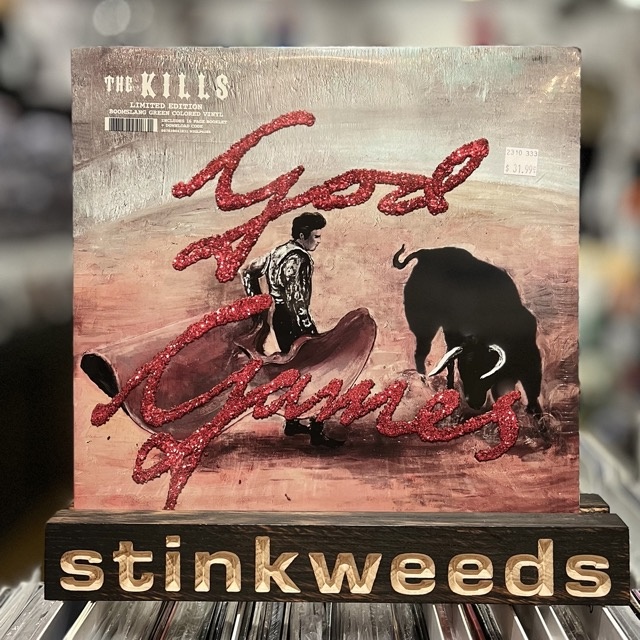 KILLS - God Games CD/LP (Domino)
Whether we look for him or not, we all find God somewhere. It could be in nature. It could be in church. It could be in the metaverse. It differs for each and every one of us. In terms of where God might be, The Kills aren't necessarily saying, but the duo (Alison Mosshart and Jamie Hince) certainly sound like they've seen him. How else could you explain the primal call-and-response between Alison's full body blues-soul vocal catharsis and Jamie's swaggering, guillotine-smooth guitar transmissions on the duo's sixth full-length offering, God Games? Available on black and indie exclusive green vinyl. 
MOGWAI - Government Commissions LP [Reissue/2005] (Rock Action)
Government Commissions: BBC Sessions 1996–2003 is a compilation album consisting of sessions recorded between 1996 and 2003 for BBC Radio in the UK. This is the first time since the original pressing in 2005 that the album has been available on vinyl.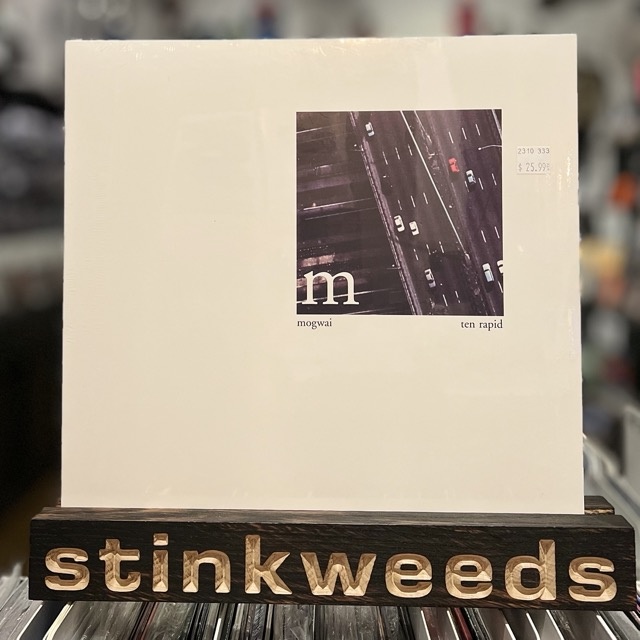 MOGWAI - Ten Rapid LP [Reissue/1997] (Rock Action)
Mogwai's sell-out 1997 compilation album of singles, b-sides and rarities from 1996-1997 is getting a re-press. This time on a limited run of dark green heavyweight vinyl and released again via the bands own Rock Action Records.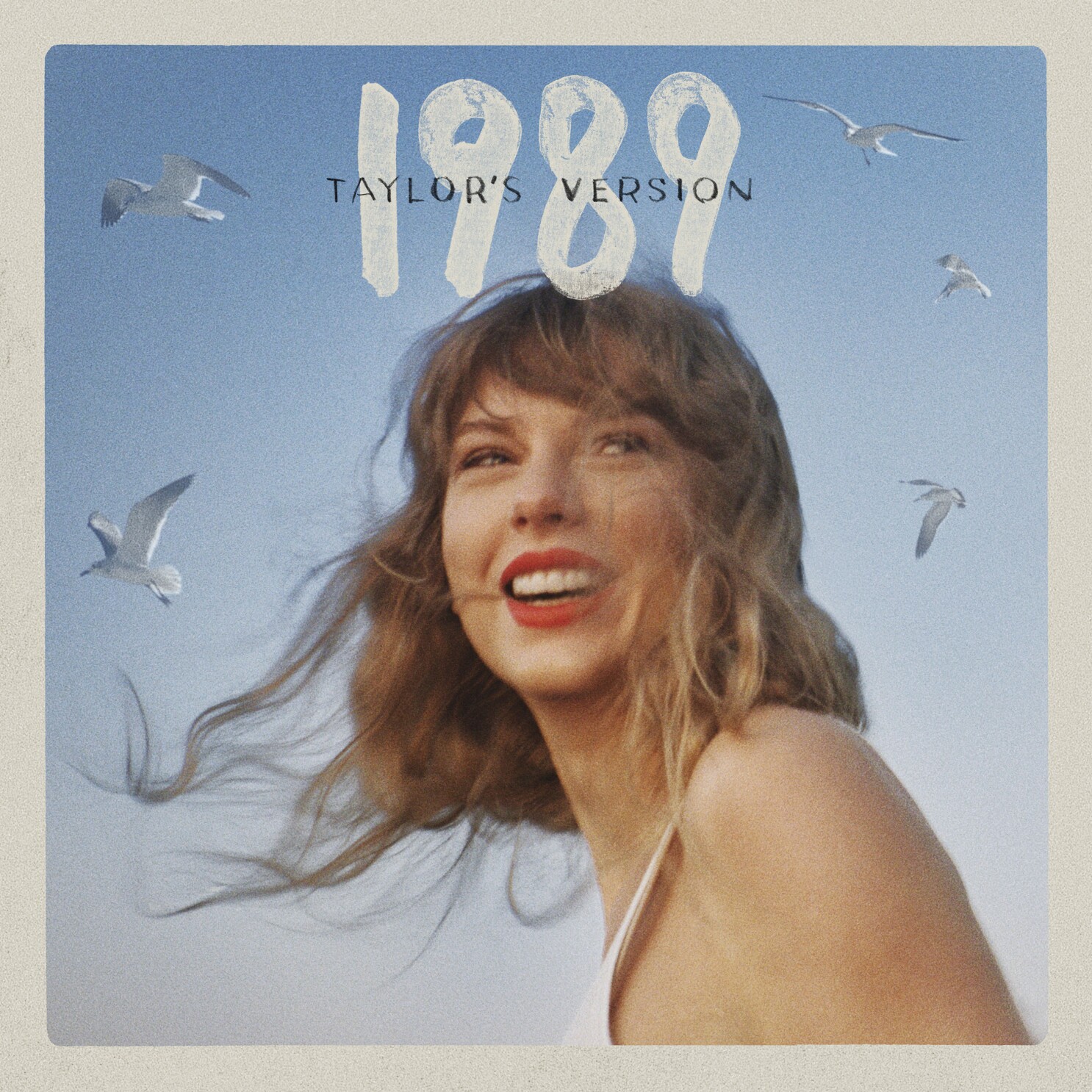 TAYLOR SWIFT - 1989 (Taylor's Version) CD/LP (Republic)
"The 1989 album changed my life in countless ways, and it fills me with such excitement to announce that my version of it will be out October 27th. To be perfectly honest, this is my most FAVORITE re-record I've ever done because the 5 From The Vault tracks are so insane. I can't believe they were ever left behind. But not for long!" - Taylor Swift
Including 5 previously unreleased songs from The Vault

1 of 4 Editions: Collectible album gatefold jacket with unique front and back cover art

1 of 4 Editions: Collectible album sleeves including lyrics and never-before-seen photos for each version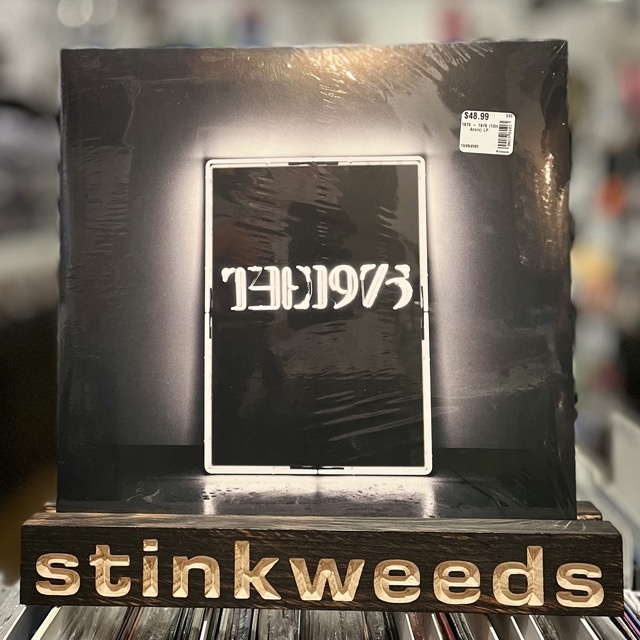 THE 1975 - The 1975 10th Anniversary LP [Reissue/2013] (Interscope)
Marking the 10th anniversary, this 2 LP set is pressed on white vinyl. Limited Edition. Growing out of the success of their initial EPs and singles, The 1975's self-titled album shot straight to the top of the U.K. charts in 2013. Mastering '80s pop sounds and a dash of '90s R&B with a modern edge and lyrics, the band became the catchy new sound out of Manchester. The 1975's odd name was inspired by an inscription they found in an old book of beat poetry. The platinum-certified album features the singles "The City," "Chocolate," "Sex," "Settle Down," "Robbers" and "Girls."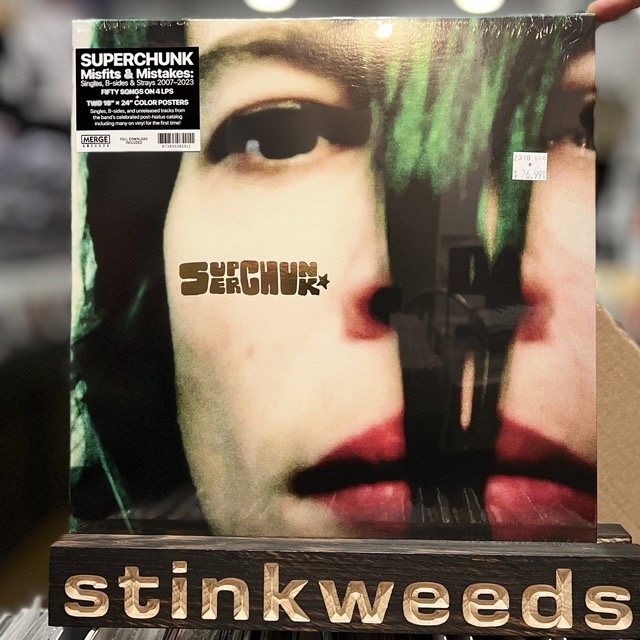 SUPERCHUNK - Misfits & Mistakes: Singles B-sides and Strays 2007-2023 4LP/2CD
Misfits & Mistakes: Singles, B-sides & Strays 2007–2023 is Superchunk's fourth singles compilation, a massive, 4-LP (or 2-CD) collection covering their triumphant return from hiatus. The amount of ground covered within its gorgeous packaging is staggering: 50 songs, 16 of which are on physical media for the first time, sourced from out-of-print releases, digital singles, compilations, and more—a vital piece of the Superchunk canon. Featuring extensive liner notes by Mac McCaughan (with additional notes from Laura Ballance), Misfits & Mistakes tells the story of each release, from why they chose to cover songs by The Misfits, The Cure, Destiny's Child, and Bananarama, to working with collaborators like Katie Crutchfield (Waxahatchee), Jane Wiedlin (The Go-Go's), Eleanor Friedberger, Damian Abraham (Fucked Up), Norman Blake and Raymond McGinley (Teenage Fanclub), and more!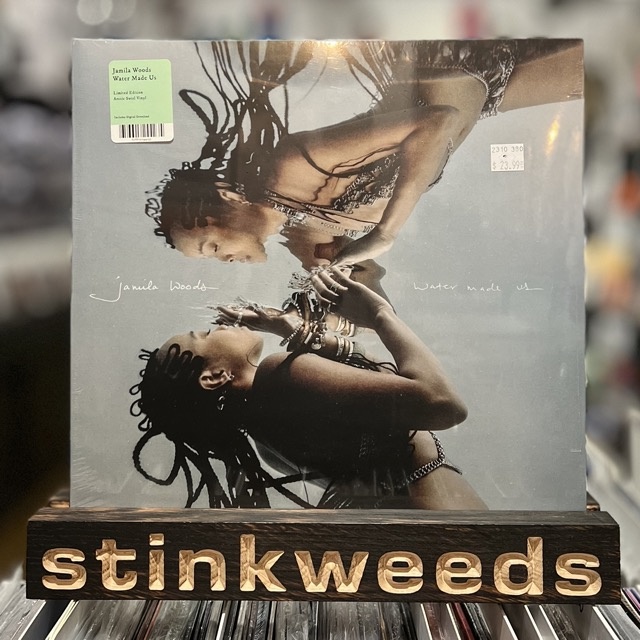 JAMILA WOODS - Water Made Us CD/LP (Jagjaguwar)
On her expansive new album Water Made Us, Chicago musician and poet Jamila Woods shines anew as she asks the question, what does it mean to fully surrender into love? Across Water Made Us, Jamila embraces new genres, playful melodies, and hypnotizing wordplay, as she wades through the exhilarating tumult of love's wreckage and refuge.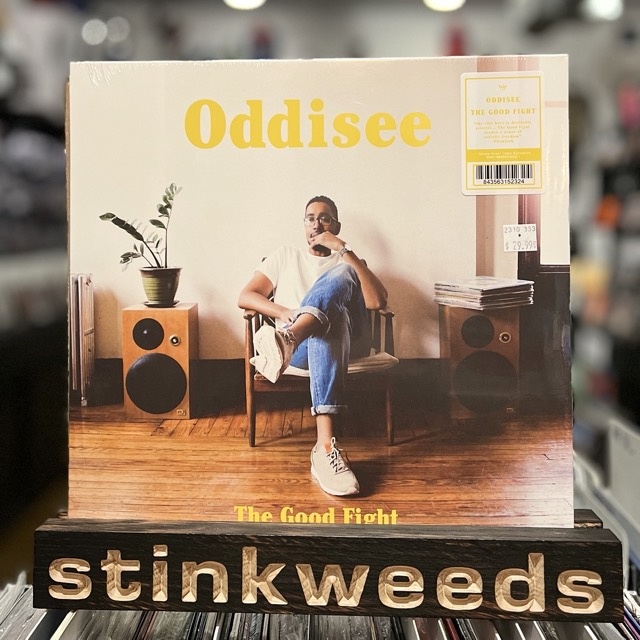 ODDISEE - The Good Fight LP 
Oddisee's breakthrough album: Imbued with love, honesty, and selflessness, The Good Fight is virtuosic in its musicality, direct in its language, and infinitely relatable. In a landscape overrun with abstract indulgence and shallow trend-chasers, the Prince George's County, Maryland artist has created a record that reminds you that it's music before it's hip-hop.
EXBATS - Song Machine LP (Goner)
In a just world, Song Machine, the fifth full-length album from The Exbats, which arrives via Goner Records, would become one of the most-loved and most-listened to albums of the 2020s. With the thirteen-track album, the Bisbee, Arizona-based band further their analog back-to-the-future combination of the Shangri-Las and pre-Velvet Underground doo-wop wannabe Lou Reed, churning out catchy tunes laden with buoyant choruses that rank alongside the best A-sides recorded in the shadow of the Brill Building or with the Wrecking Crew in tow. The Exbats are effortless time travelers—this time, they've set the dial for the early 1970s, incorporating the sonic magic of The Partridge Family, Muswell Hillbillies-era Kinks, and Brian Wilson into the crux of their musical ethos, evident on tracks like the propulsive "Riding With Paul" and "The Happy Castaway," which bookend the album.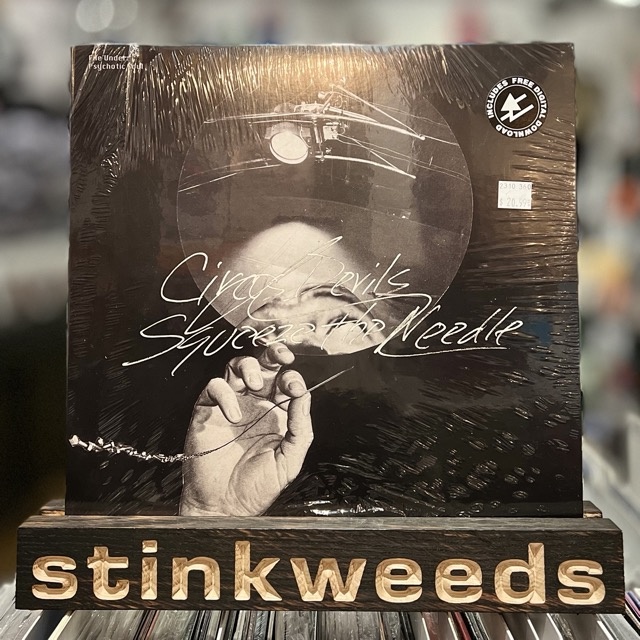 CIRCUS DEVILS - Squeeze the Needle CD/LP (GBV inc)
Formed in 2001, the psychedelic rock trio Circus Devils features vocalist Robert Pollard, backed by brothers Todd Tobias and Tim Tobias. In their first album in six years, and their fifteenth overall, Circus Devils is back with Squeeze The Needle, a funhouse romp full of rock and roll swagger and childlike glee. The pounding psychedelia of the single "The Owl Presents…" harkens back to The Doors. Mixed into the twenty-track song collage are heavy rock thumpers ("Street Toughs," "Mama's Got A Brand New Snake"), cryptic interludes ("Age Of Transfusion"), and pretty acoustic pieces ("Difficult Dreamer," "The Joke is Over").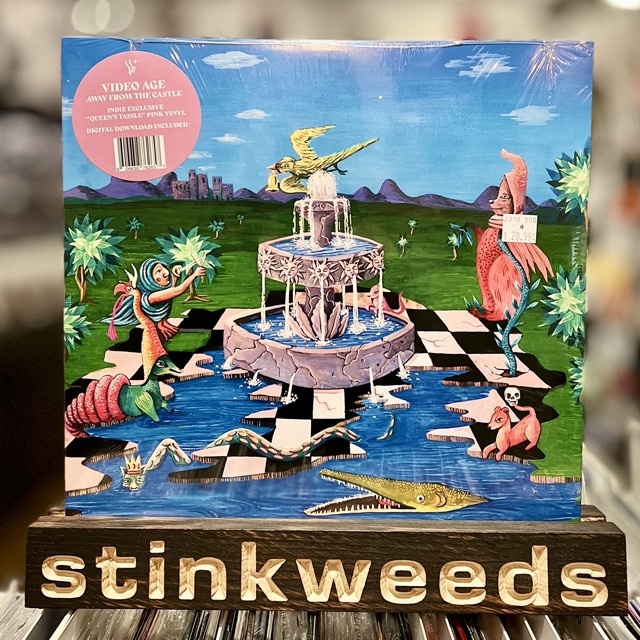 VIDEO AGE - Away From the Castle CD/LP (Winspear)
Video Age makes breezy and timeless songs that are so ineffable, they can only be the result of a decades-long friendship and songwriting partnership. Across four albums, Ross Farbe and Ray Micarelli have gleefully worn their influences on their sleeve, writing inviting tunes that reference sounds ranging from disco to pop and indie rock. On their latest LP, Away From The Castle, the New Orleans duo have strayed from nostalgia and instead have honed their own unique musicality, making songs that sound like themselves with a taste of inspiration from classic singer-songwriters of the 60s and 70s.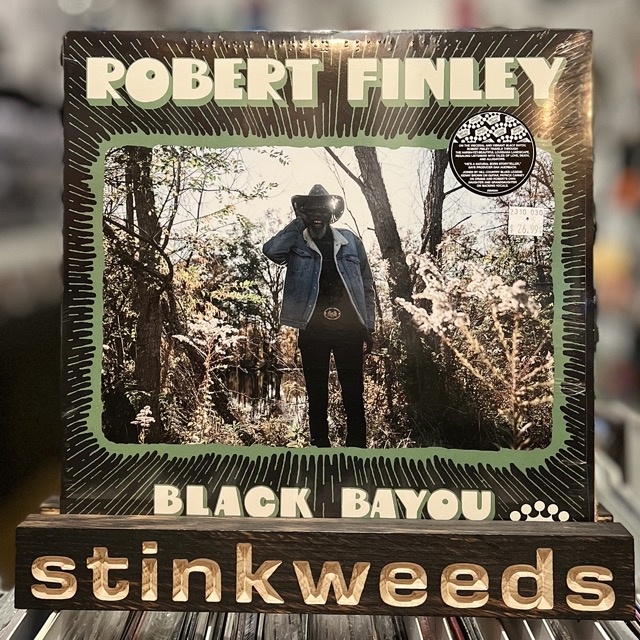 ROBERT FINLEY - Black Bayou CD/LP (Easy Eye)
Robert Finley's Black Bayou takes listeners on a journey through the haunting, mystical landscapes of Louisiana while sharing deeply personal stories. From the slow-burning funk of "What Goes Around (Comes Around)" to the upbeat and groovy "Sneakin' Around," each track on this album showcases Finley's exceptional tone and vocal versatility. Produced by Dan Auerbach, every note on this album is a testament to Finley's musical prowess and his unwavering commitment to soul, R&B and the blues. LP Packaging: Standard black vinyl. First pressing will have embossed braille on the cover.
ASTRUD GILBERTO - Great Women Of Song LP (Verve)
After making her professional debut as the cool, breathy voice behind the historic 1964 crossover smash "The Girl from Ipanema," Brazilian singer Astrud Gilberto became a major force in popularizing the bossa nova sound. Her understated yet magnetic delivery is spotlighted on this collection, showcasing her instantly recognizable approach to songs.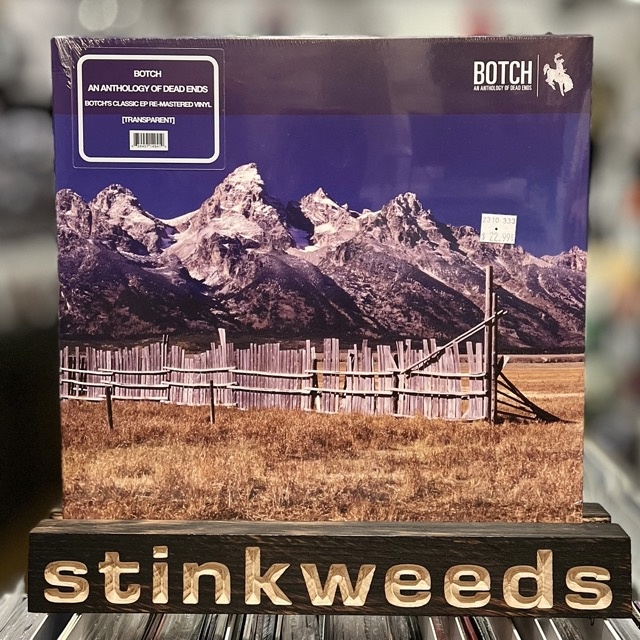 BOTCH - An Anthology of Dead Ends LP (Sargent House)
Legendary Tacoma, Washington mathcore/hardcore/metal band Botch's final EP of metal, noise, indie rock guitar trickery, and depth is on full display. This is a last will and testament to the group's drive and intent, cementing their legacy as one of the untouchable greats, already having influenced many a group.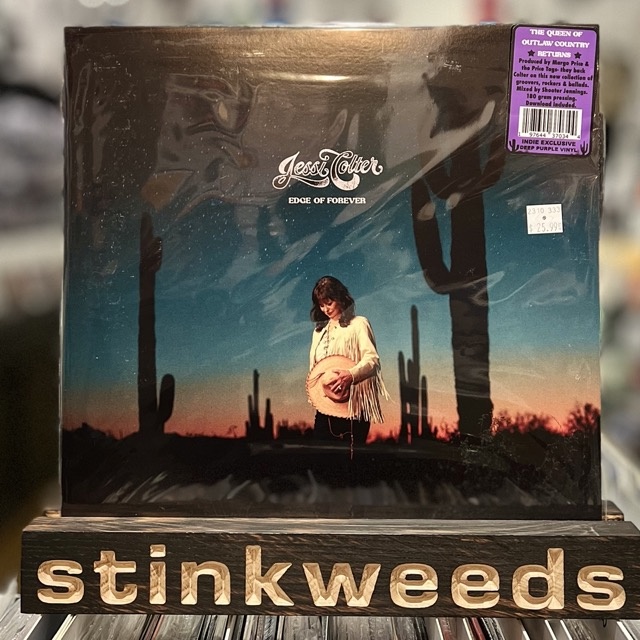 JESSI COLTER - Edge of Forever CD/LP (Appalachia Record Co)
THE Queen of Outlaw Country has returned to her 1970's crossover sound of country, rock, soul, and gospel, with Edge of Forever- collaborating with one of today's most outspoken independent country artists, Margo Price. Price produced the album with her band, The Price Tags, backing Jessi on a 10 song collection of all new songs as well as favorite tunes pitched to her and Waylon Jennings over the years- their son, producer/ performer/ and engineer, Shooter Jennings, mixed the album.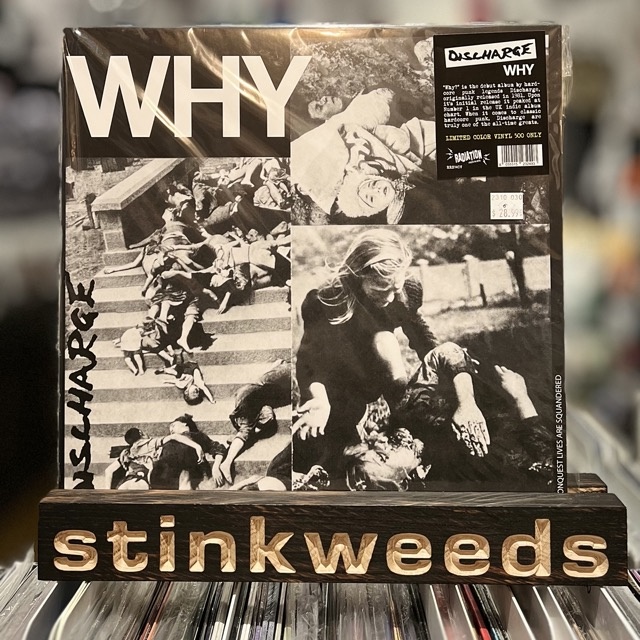 DISCHARGE - Why? LP [Reissue/1981] (Radiation Reissues)
Limited red colored vinyl LP pressing. Why? is the debut album by hardcore punk legends Discharge, originally released in 1981. Upon its initial release it peaked at Number 1 in the UK indie album chart. When it comes to classic hardcore punk, Discharge are truly one of the all-time greats.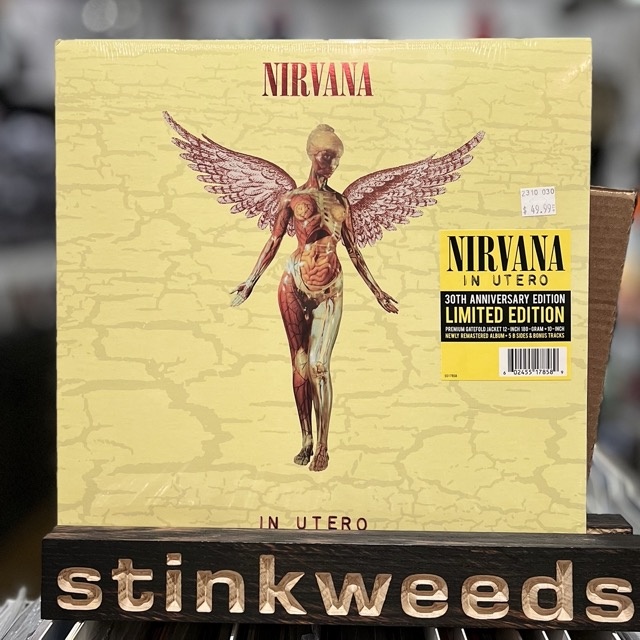 NIRVANA - In Utero CD/LP 30th Anniversary (Geffen)
Double vinyl pressing. Celebrating In Utero's 30th, the album pressed on 180-gram vinyl plus 5 b-sides & bonus tracks pressed on a 10-inch have been newly remastered from 96kHz 24-bit transfers of the original analog tapes by original album engineer Bob Weston. Original album artwork has been expanded to a premium tip-on gatefold jacket for the first time with new 10-inch jacket art.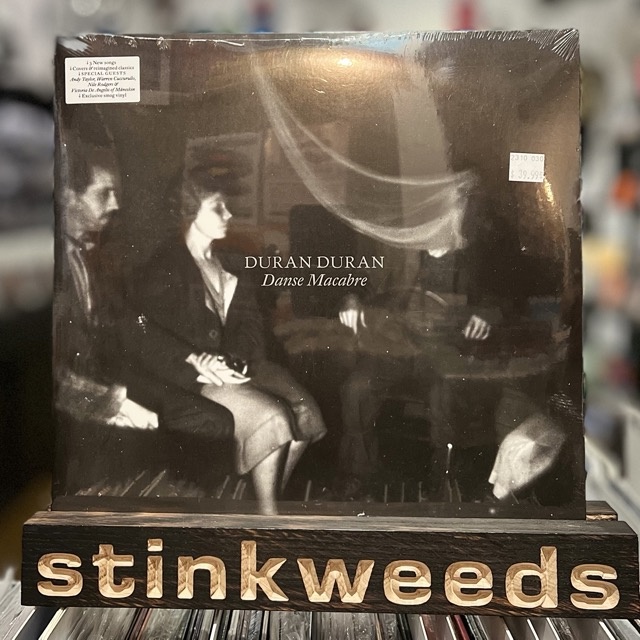 DURAN DURAN - Danse Macabre LP (BMG)
Duran Duran return with their new album Danse Macabre. The 13 song collection features: three brand new songs; haunting covers of songs by artists such as Billie Eilish, Talking Heads, The Rolling Stones and The Specials; and new versions of Duran Duran classics from their own catalog. It also includes a rare b-side and fan favorite: "Secret Oktober 31st". Guest artists include producer, guitarist and composer Nile Rodgers, Victoria de Angelis of Måneskin and former band members Andy Taylor and Warren Cuccurullo. Exquisitely packaged with a fold-out poster, the record features images adapted from a collection of authentic vintage séance photos that band member Nick Rhodes sourced at auction.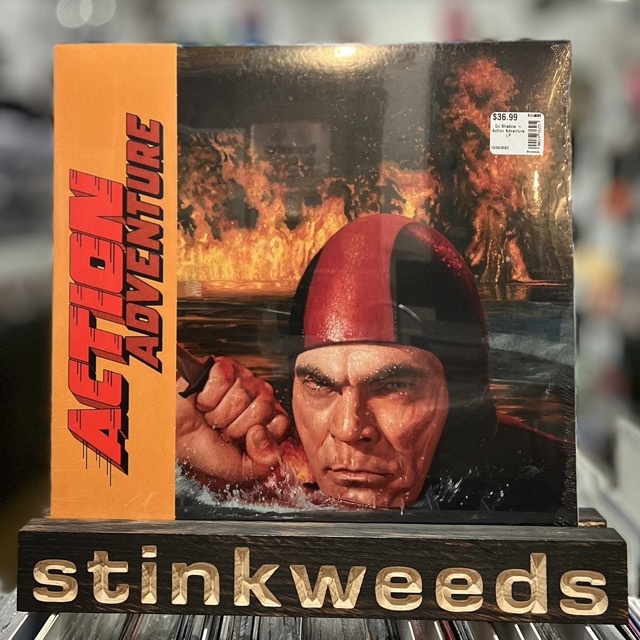 DJ SHADOW - Action Adventure CD/LP/CASS (Mass Appeal)
Action Adventure is DJ Shadow's seventh solo LP, an inward-looking project, made for Shadow alone without any collaborators. DJ Shadow explains, "This album is about my relationship to music. My life as a collector and curator. All my records and tapes."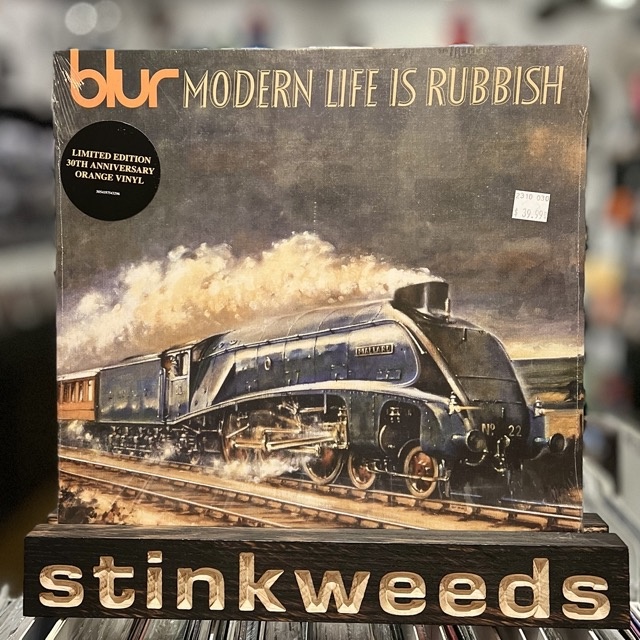 BLUR - Modern Life Is Rubbish LP 30th Anniversary [Reissue/1993] (Warner)
Blur is releasing a special colored vinyl edition of Modern Life Is Rubbish in line with the record's 30th anniversary. The record will be released on transparent orange 12" vinyl.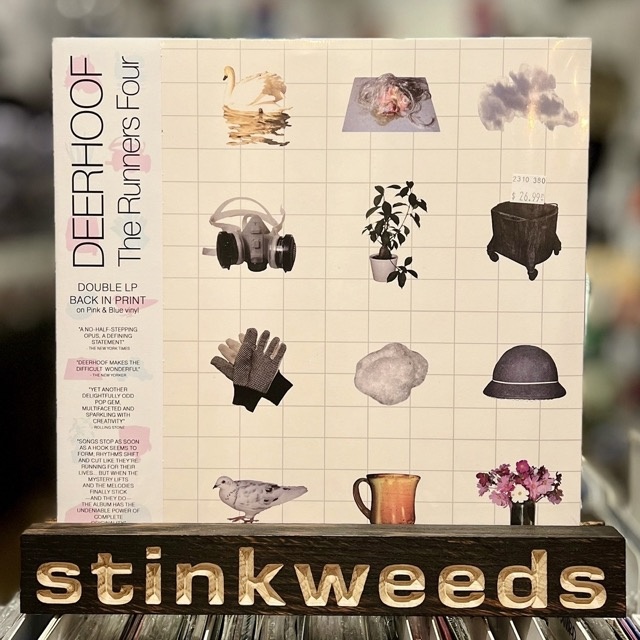 DEERHOOF - The Runners Four LP [Reissue/2005] (Joyful Noise)
Available on vinyl for the first time in over 15 years! The Runners Four is Deerhoof's double-LP concept album about friends banding together as honorable outlaws in a corrupt world, deciding what to save in an apocalypse, passing secret messages of warning and hope from a remade future back to a soon-to-be-destroyed present. Abundant with lyrical allusions to the flood, where cargo hold claustrophobia inside meets a watery chaos outside, it was written and self-produced by Satomi Matsuzaki, John Dieterich, Chris Cohen and Greg Saunier while they holed up in a rented Oakland rehearsal room for the winter months 2004-5. On pink and blue vinyl.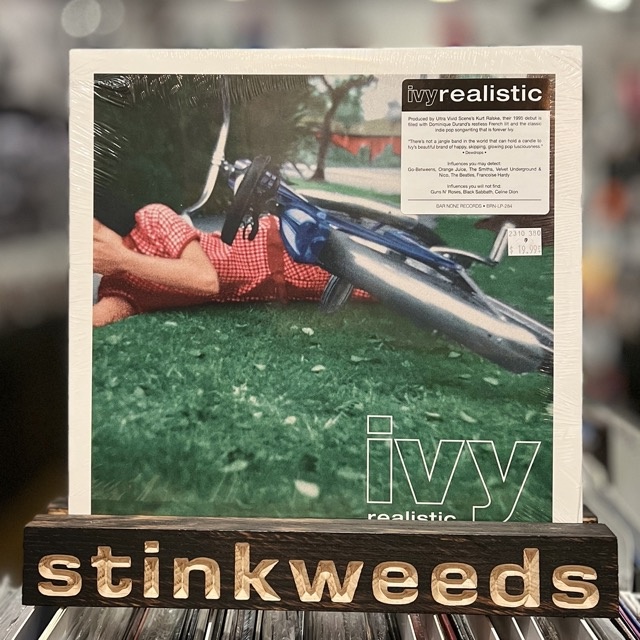 IVY - Realistic LP [Reissue/1995] (Bar/None)
Ivy's debut album was released February 14, 1995. Produced by the band and Ultra Vivid Scene's Kurt Ralske, the sparse indie pop jangle was just a hint at what the band would go on to achieve. The album received rave reviews on both sides of the Atlantic. The single "Get Enough" was named Single of the Week in the British tabloid Melody Maker. Ivy opened for Oasis on their maiden trip to the states and toured extensively with Edwin Collins and Lloyd Cole. While still promoting Realistic bass player Adam Schlesinger formed his successful side project Fountains of Wayne and penned the title track for the Tom Hanks film That Thing You Do.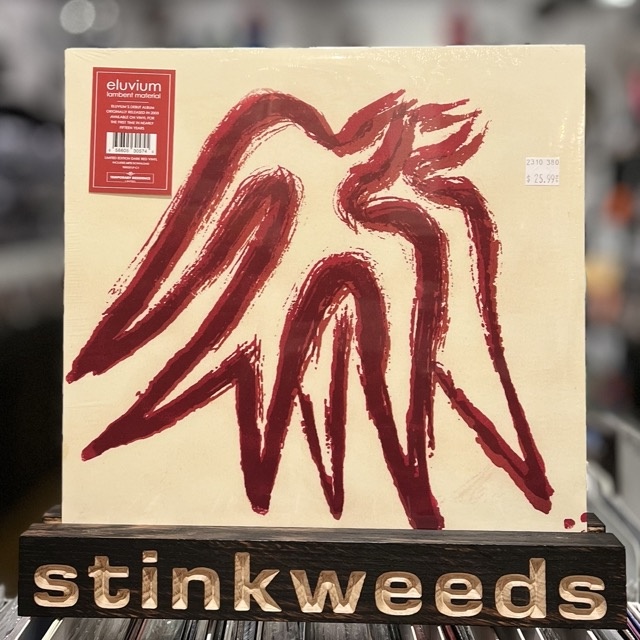 ELUVIUM - Lambent Material LP (Temporary Residence)
Reissue on dark red vinyl. In the dictionary, the literal definition for Eluvium reads: the debris from the disintegration of rock. One listen to Matthew Cooper's (aka Eluvium) flawless debut album, even peripherally, and you can't help but smirk at how perfectly appropriate the moniker is. Sounding somewhat like the echoed resonance of a Sonic Youth show after everyone has stopped playing and the crowd has gone home, Cooper himself isn't guilty of the mass destruction, he's merely there to pick up the beautifully broken pieces. Resting comfortably and confidently in the spirits of Brian Eno's Discreet Music and Ambient Music For Airports, Eluvium is a freakishly beautiful affair. If it was ever possible for a warm gust of wind to send chills through every bone in your body, then Eluvium is that warm wind. It is pure, epic rock music... after the lights go out.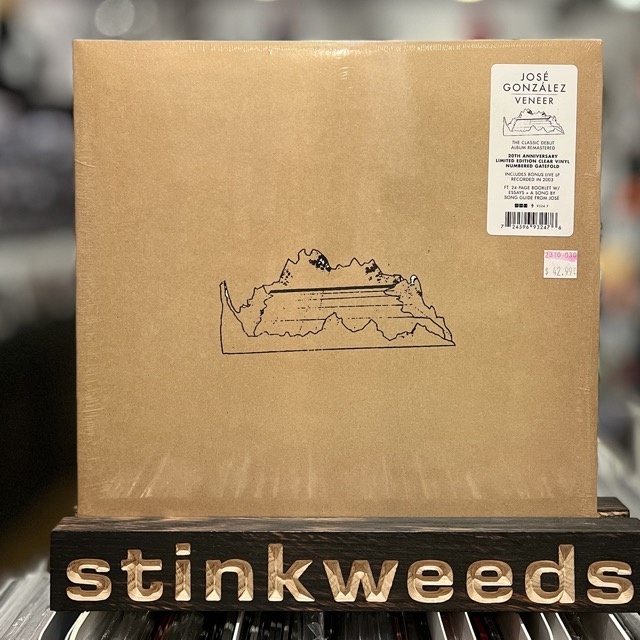 JOSE GONZALEZ - Veneer LP 20th Anniversary [Reissue/2003] (Mute)
Mute is excited to announce the 20th Anniversary Deluxe Edition of José González's seminal debut album Veneer, out October 27th on limited edition clear vinyl. Featuring newly remastered audio and a previously unreleased bonus LP comprising 13 intimate live recordings from the Swedish Grammy winner's legendary 2003 performance at Gothenburg Concert Hall in Sweden. This special deluxe edition is packaged in a numbered gatefold jacket, includes printed inner sleeves and an extensive 24-page booklet featuring exclusive photos, illustrations, essays and a track by track guide from José. Limited to 3800 copies for North America. José González has tallied over 1 billion streams and has sold over 1 million copies of Veneer to date. The record introduced the world to the Argentine-Swedish singer-songwriter's unique blend of intricate guitar work and introspective songwriting.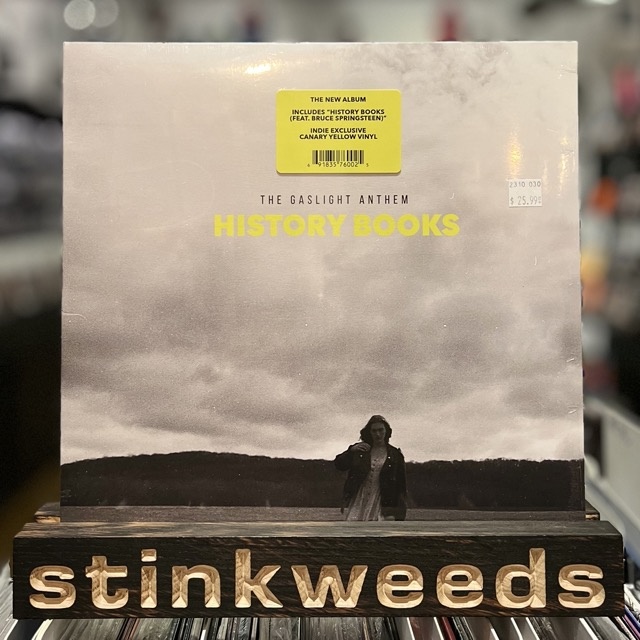 GASLIGHT ANTHEM - History Books CD/LP (Rich Mahogany)
The Gaslight Anthem have announced a new album! Titled History Books, the upcoming album from the American rock band is the long-awaited follow-up to 2014's Get Hurt. The new song features a very special guest appearance from the legendary BRUCE SPRINGSTEEN and is the second single to be released from the upcoming album, following on from Positive Charge. Available on black and limited, pink vinyl.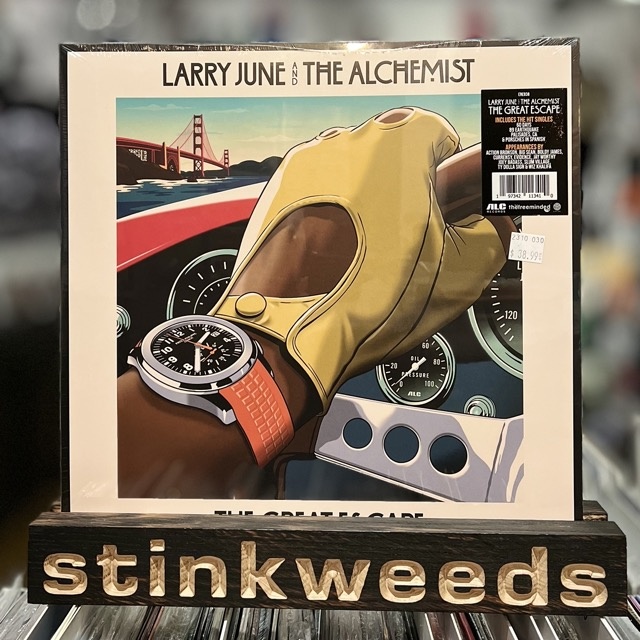 LARRY JUNE AND THE ALCHEMIST - The Great Escape LP (Freeminded Recs)
The Great Escape is the debut collaborative album from San Francisco Legend, Larry June & prolific super producer, The Alchemist. Through a process that felt very organic, the two churned out an extra healthy amount of music that resulted in what may be their magnum opus. The album includes tasteful features from some of Hip-Hop's most celebrated figures; Action Bronson, Big Sean, Ty Dolla $ign, Slum Village, Boldy James, Evidence, Wiz Khalifa, Jay Worthy, Curren$y & Joey Bada$$. Like a fine wine, sit back, let it breathe, and enjoy the neat yet exquisitely rich complexities of two of hip-hop's smoothest figures.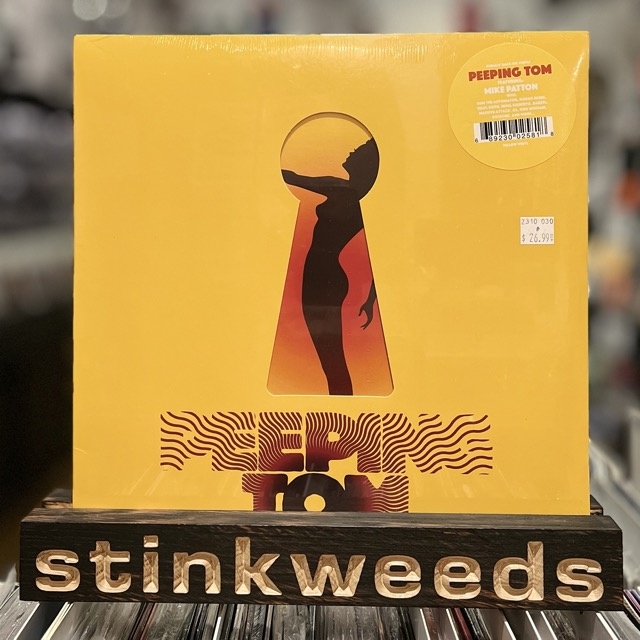 PEEPING TOM - Peeping Tom LP [Reissue/2006] (Ipecac)
Vinyl reissue of the long-out-print 2006 release. Peeping Tom is Mike Patton with special guests Norah Jones, Massive Attack, Dan The Automator and more.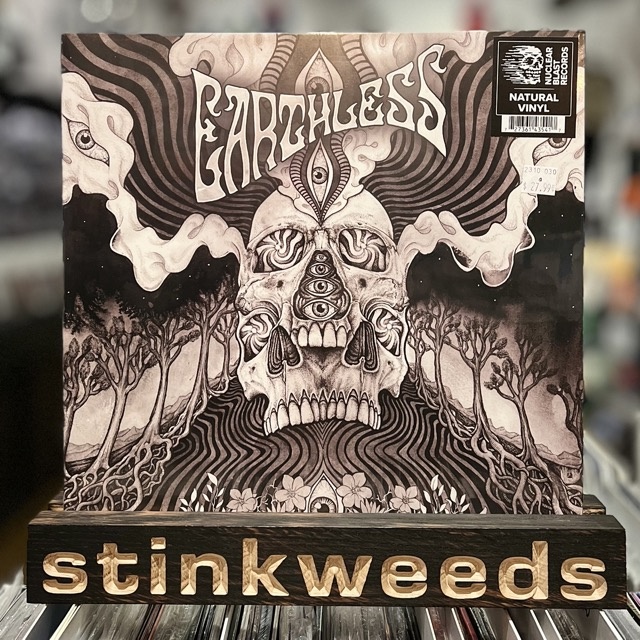 EARTHLESS - Black Heaven LP (Nuclear Blast)
On Black Heaven, the band's fourth studio album, Earthless has a surprise for you. Whereas the band's three previous albums featured anywhere from two to four completely instrumental space rock jams, the California trio's fourth album is nothing like that. Black Heaven is made up of six tracks and, unlike the band's previous albums, only two tracks are instrumental and one of those songs is less than two minutes long. Black Heaven is a game changer for Earthless and nobody is more aware of this than the band members themselves. Gatefold, Natural Color LP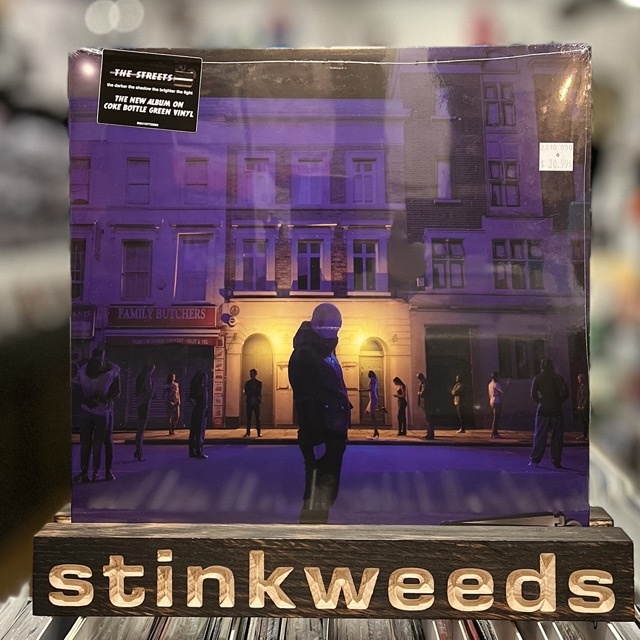 THE STREETS - The Darker The Shadow The Brighter The Light CD/LP (Int'l Repetoire)
The first album in 12 years from The Streets, the British act led by Mike Skinner. Includes the single "Troubled Waters."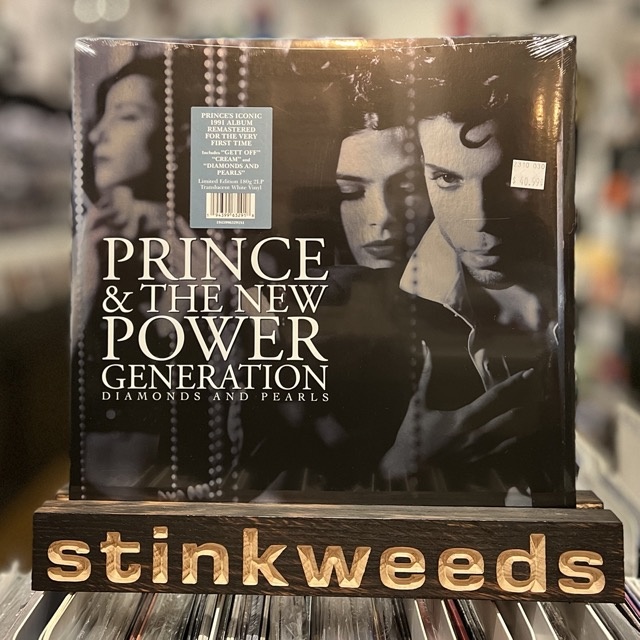 PRINCE & THE NEW POWER GENERATION - Diamonds and Pearls CD/LP [Reissue/1993] (Sony Legacy)
Prince & The New Power Generation's multi-platinum album, Diamonds And Pearls, dazzlingly remastered for the very first time by Prince's original mastering engineer Bernie Grundman. 2LP pressed on 180 gram milky white marble vinyl.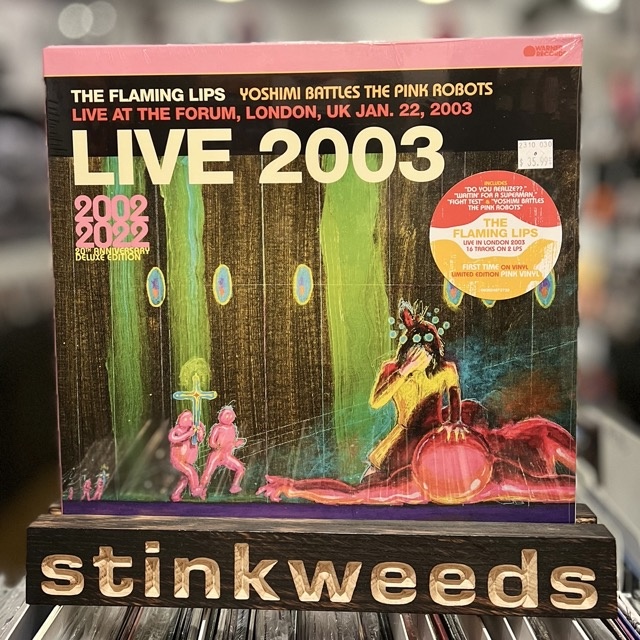 FLAMING LIPS - Live at the Forum LP (Warner)
The Flaming Lips 2002 album Yoshimi Battles The Pink Robots was a huge album in the UK, selling over 300,000 units on its way to Platinum certification. The success was driven by 4 hit singles, including the title track and the Lips' most popular song "Do You Realize". The band frequently toured the UK during the album cycle, playing larger venues than previous tours, and were frequent guests on several radio shows. This release is a recording of the last show of the UK dates in January 2003 at London's Forum Theatre. The 15-song show was broadcast nationally by the BBC. In addition to playing key songs from "Yoshimi" album, the set list includes fan-favorites such as "She Don't Use Jelly", "Waitin' For A Superman" and "Race For The Prize".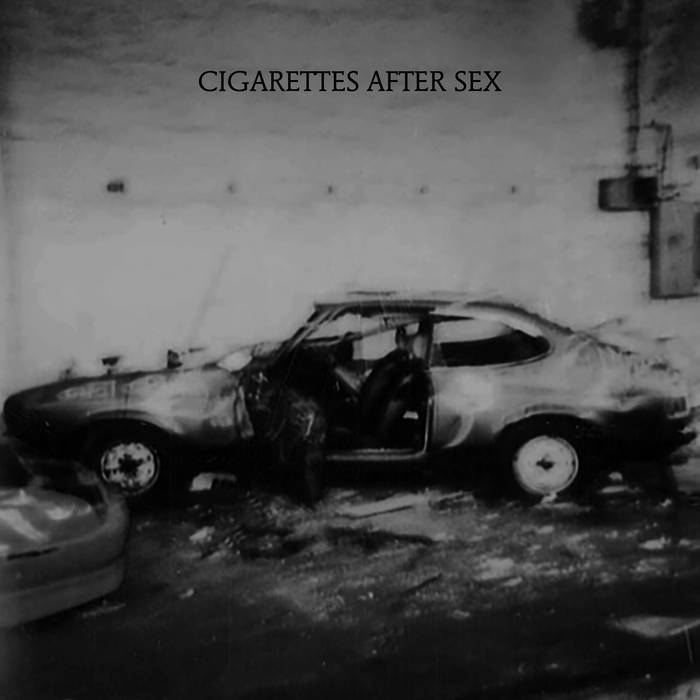 CIGARETTES AFTER SEX - Bubblegum 7" (Partisan)
"Bubblegum" and "Stop Waiting" are the latest pair of singles from Cigarettes After Sex, and their first new music of 2023. Syrupy, sensual, subterranean dream-pop is set against vocals from bandleader Greg Gonzalez that walk the subtle line between croon and whisper. The songs are a perfect distillation of the starry-eyed atmosphere that the band has claimed as their signature in the six years since the release of their globally successful self-titled debut. 
LAUFEY - Bewitched CD/LP
Composer, singer, producer, and multi-instrumentalist Laufey continues her story by writing and recording Bewitched, her second album. Inspired by jazz greats and classical masters while possessing a point of view that could only be conveyed by a 21st-century twentysomething, Bewitched represents an expansion of Laufey's sonic palette. Tracks like the breezy bossa nova cut "From The Start" and the smoldering string-assisted ballad "Promise" have classic songcraft and intricate arrangements that make them feel instantly timeless, while Laufey's conversational lyrics give her music a relatability to the next generation of jazz, pop, and classical aficionados.
NED'S ATOMIC DUSTBIN - God Fodder LP [Reissue/1991] (Music On Vinyl)
Limited edition of 1000 individually numbered copies on translucent blue, white & black marbled 180-gram audiophile vinyl. Ned's Atomic Dustbin's debut album God Fodder is an often overlooked classic in the British shoegaze and alternative rock scene. God Fodder was a critical and commercial success, peaking at number 4 in the UK chart and number 91 on the Billboard 200.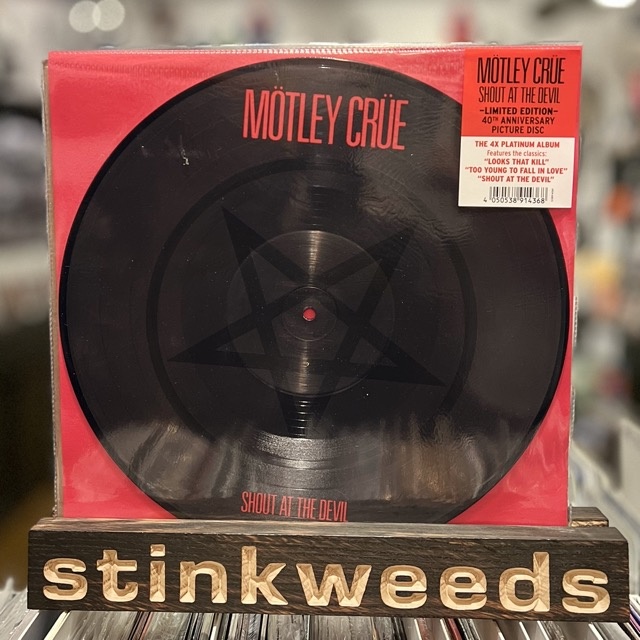 MOTLEY CRUE - Shout At The Devil picturedisc (BMG)
Originally released in 1983 at the height of the Satanic Panic, Shout At The Devil  catapulted Mötley Crüe to superstardom. Delivering on the hype and promise of their PLATINUM debut, Too Fast For Love, Mötley Crüe's second album hit the US Top 20 and was certified 4X PLATINUM. For many music fans, Shout At The Devil  was the first time they witnessed an album with this imagery and lyrical content on mainstream retail shelves. Limited Edition Picture Disc LP featuring the iconic Shout At The Devil album art.
COMING NEXT WEEK!
JOHNNY MARR - Spirit Pour: The Best Of CD/LP
CAROLINE POLACHEK - Desire I Want To Turn Into You CD/LP
TKAY MAIDZA - Sweet Justice CD/LP
CURRENT JOYS - Love + Pop CD/LP
EARTH -2 LP reissue
EXPLOSIONS IN THE SKY - The Earth Is Not A Cold Dead Place LP reissue
EXPLOSIONS IN THE SKY - Those Who Tell You The Truth LP reissue
FOXING: Albatross: Ten Years LP
LUCERO -  That Much Further West LP (20th Anniversary)
MOGWAI - Happy Songs For Happy People LP reissue
MOGWAI- Hawk Is Howling LP reissue
MOGWAI - Rock Action LP reissue
SINEAD O'CONNOR - Universal Mother LP reissue
SINEAD O'CONNOR - Lion and the Cobra LP reissue
SINEAD O'CONNOR - Am I Not Your Girl LP reissue
OINGO BOINGO - Skeletons In The Closet: Best Of LP
WILLIAM HOOKER -  Flesh and Bones LP
BELLE AND SEBASTIAN - Boy With The Arab Strap LP reissue
COLD WAR KIDS - Self-Titled LP
JOCKSTRAP - I<3UQTINVU 12"
DAVE MATTHEWS BAND - Before These Crowded Streets LP reissue
NEIGHBOURHOOD - Hard To Imagine The Neighbourhood Ever Changing LP
OASIS - Masterplan LP reissue
PRETTY GIRLS MAKE GRAVES - New Romance LP reissue
SNAIL MAIL - Valentine Demos LP
THEY MIGHT BE GIANTS - Self-Titled LP reissue
NEIL YOUNG - Time Fades Away LP reissue
DIZZEE RASCAL - Boy In Da Corner LP reissue
ACRESS - LXXXVIII lp
POOLSIDE - Blame It All On Love LP