Login
Log in if you have an account
Dont have an account? Register
New Releases & Staff Picks - 11/17/23
16 Nov 2023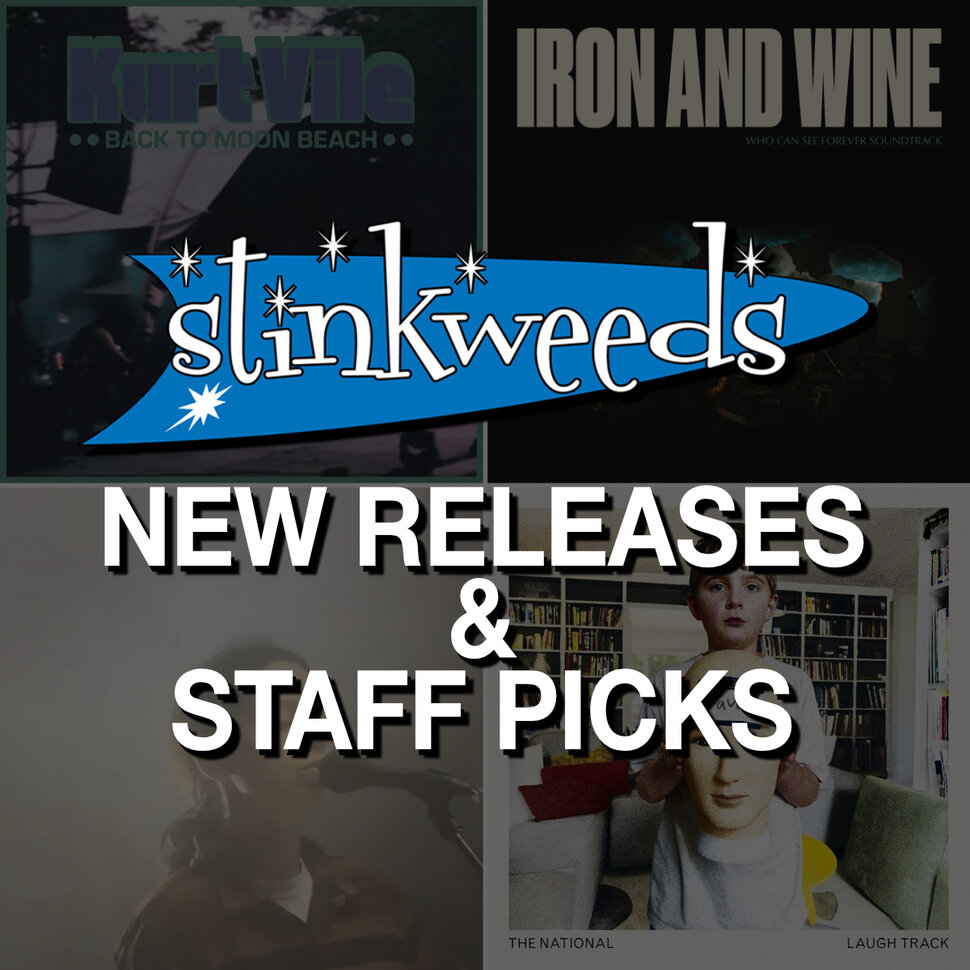 STAFF PICKS 
Lindsay - Tirzah, Thandi Ntuli and Sinead O'Connor reissues
Dario - Thandi Ntuli 
Kimber - The National 
Zach - Andrew Bird and Deafheaven reissue
Tribe Called Quest - The Love Movement LP (Sony Legacy)
The Love Movement is the fifth studio album by A Tribe Called Quest. Originally released on September 29, 1998, by Jive Records, it is a concept album exploring the lyrical theme of love containing 15 album tracks and 6 bonus tracks over 3-LPs. The album features the singles "Find A Way" and "Hot Sex" and has been certified Gold by the RIAA.
The National - Laugh Track CD/LP (4ad)
The surprise companion to The National's April release First Two Pages of Frankenstein, Laugh Track is the band's most freewheeling, all-hands-on-deck album in years. If Frankenstein represented a rebuilding of trust between group members after 20+ years together, the vibrant, exploratory Laugh Track is both the product of that faith and a new statement of intent. Reveling in the license to radically upend its creative process, The National honed most of this material in live performances on tour, and captured those invigorated versions in impromptu sessions at producer Tucker Martine's Portland studio. Two nights later in Vancouver, the nearly eight-minute album closer "Smoke Detector" was recorded during soundcheck, completing a body of work bristling with spontaneity and vintage rock energy that makes a perfect complement to the songs found on its more introspective predecessor
Tirzah - trip9love… ??? CD/LP (Domino)
trip9love...??? is the third album from Tirzah, produced by long-time musical collaborator Mica Levi. It was written and recorded at both their homes and various corners of South East London and Kent. After several recording sessions over roughly a year, eventually the music suddenly came into a sound that they wanted to follow. The tracks were built using piano loops on top of one beat, distortion added, then romantic vocal toplines. Poems center on themes of love, both real and imagined. The world the record finds space in is a lazy club fantasy zone. The speed, the connection and similarity between all of the instrumentals led the record to feel like one song, a diary entry of a moment or a fascination with one sound that they felt was important to go with. The nature of trip9love...???'s release reflects how it was made. 
Iron and Wine - Who Can See Forever CD/LP (Sub Pop)
Limited edition on glacial blue vinyl. Iron & Wine's Who Can See Forever is an accompanying live record to the film of the same name. Captured at Haw River Ballroom in Saxapahaw, North Carolina, the soundtrack features nineteen songs from the twenty plus year career of singer-songwriter Sam Beam. Having found inventive ways to re-invent his catalog live over the years, Who Can See Forever offers new and fresh versions of Iron & Wine songs including "The Trapeze Swinger", "Boy With a Coin" and "Naked As We Came." The film - initially intended as a live concert film - evolved into a visual portrait capturing Beam during a creative outburst that earned him four Grammy nominations in four years. Like his music, the film touches on universally personal themes as Beam juggles being an artist, husband and father. Taken as one, the soundtrack and film are a fascinating first-time glimpse behind-the-scenes of Iron & Wine.
Andrew Bird - Outside Problems CD/LP (Loma Vista)
Andrew Bird on Outside Problems: I wanted to record Inside Problems outside, but this plan fell apart when it became clear that some dude with a wood chipper could really ruin our day. I did so much casual recording during the pandemic, in my backyard or in Ojai, that I gathered enough outdoor recordings to make Outside Problems. Most of these were made without any intention of making an album, just improvisations on simple themes, some of which make up the musical backbone of Inside Problems.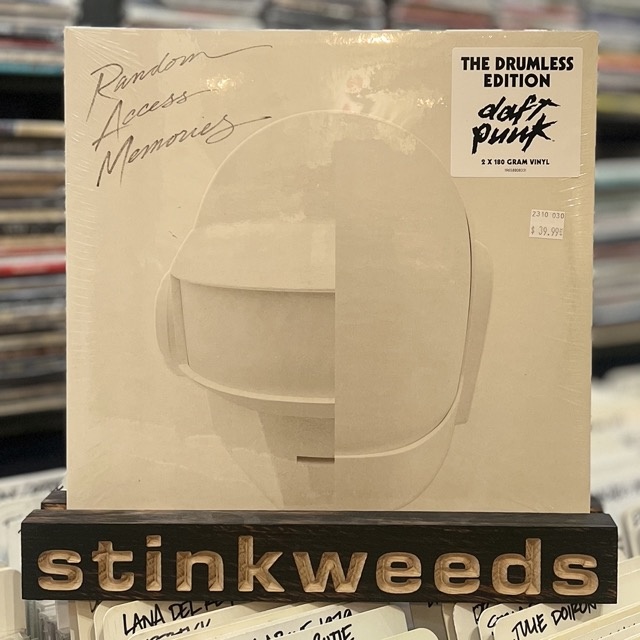 Daft Punk - Random Access Memories (Drumless Edition) CD/LP (Sony Legacy) 
Daft Punk Following the release of the critically acclaimed Random Access Memories 10th Anniversary Edition earlier this year, this new iteration of the GRAMMY-award winning Album of the Year strips away all drum and percussive elements from the album, giving listeners the ability to dive deeper into the layers of instrumentation on each track.
Thandi Ntuli w/Carlos Nino - Rainbow Revisited CD/LP (International Anthem)
South African pianist Thandi Ntuli traveled to Los Angeles in 2019, where she recorded this album of bare, explorative piano and voice pieces at a Venice Beach studio with International Anthem artist Carlos Niño in the producer chair. An absolutely stunning, intimate listen, with Ntuli's prowess as a pianist and singularity as a vocalist on vivid display as much as her fearlessness, vulnerability and adventurousness during occasional experiments with synthesizers and percussion. Niño colors open minimalist soundscapes with overdubbed percussion, cymbals and plants. 
Kurt Vile - Back To Moon Beach CD/LP (Verve)
Back To Moon Beach is an EP by no one's definition but Kurt Vile's. For Kurt, this collection is an expression of just how deep his well of non-album material runs. This includes six tracks culled from various sessions over the last four years, and represents a wide swath of the inspirational musical community Kurt surrounds himself with. 
Sinead O'Connor - The Lion and the Cobra LP (Chrysalis)
Released in November 1987, Sinéad's striking debut album The Lion and the Cobra was met with critical and commercial success. The album synthesizes several of Sinead's influences into a diverse array of sounds and styles, from the hushed, atmospheric 'Troy' and 'Jackie' to the pop-rock hit single 'Mandinka', and the hip-hop inspired 'I Want Your (Hands on Me)'.
Sinead O'Connor - Am I  Not Your Girl LP (Chrysalis)
The follow-up album to the hugely successful I Do Not Want What I Haven't Got album, Am I Not Your Girl? was released in September 1992 and features Sinéad performing a collection of songs that she had grown up listening to and which had inspired her to become a singer. It was during the promotional campaign for the album when Sinéad made a controversial appearance on Saturday Night Live.
Sinead O'Connor - Universal Mother LP (Chrysalis)
Released in September 1994, Universal Mother was described by Sinéad as "the first attempt to try to expose what was really underneath a lot of the anger of the other records". The album features sparse, striking but delicate arrangements on intense and honest songs. Standout moments include the singles 'Thank You For Hearing Me' and 'Fire On Babylon', along with contributions from Germaine Greer (on opening track 'Germaine'), and Sinéad's son.
The Cult - Electric LP (Beggars)
The Cult's third album Electric was released in 1987 and caused the band to explode to new levels of fame. It contains the massive hits "Love Removal Machine", Wild Flower" and "Lil' Devil" and was produced by Rick Rubin. Electric was a commercial and critical success, propelling The Cult to the forefront of the hard rock scene and cementing their status as one of the most influential bands of the era. The album remains a touchstone for hard rock and heavy metal fans, a classic work that captures the spirit of rebellion and the power of rock and roll. 
Ween - The Pod (Fuscus Edition) LP (ATO)
The Pod (Fuscus Edition) / Back in print on vinyl. Named one of the 20 best albums of 1992 by Spin Magazine, Ween's 2nd record was recorded by Dean and Gene Ween on a Tascam four-track cassette recorder between January and October 1990. All songs were recorded at the Pod, the apartment where they lived for a year and 10 months. In 1999 The Stranger declared: "someday, classical music students will write dissertations on The Pod." "Fuscus Edition" pressed on brown and cream A-side/B-side 2xLP vinyl.
Jai Paul - Bait Ones LP (XL)
The first ever retail release of the infamous April 2013 leak of unfinished Jai Paul demos that took the world by storm, titled Leak 04-13 (Bait Ones). Coined one of the best albums of the 2010s (Pitchfork), Bait Ones boasts an impressive tracklist with songs that have been sampled by some of today's biggest artists such as Beyoncé and Drake. 
Scritti Politti - White Bread Black Beer LP (Rough Trade)
Fittingly, for the release of White Bread, Black Beer, which was a beautiful expression of the creative energy Gartside had sustained over two decades at that point, Scritti Politti returned to Rough Trade for the first time since the mid-1980s. Humbly described by Green on release as "an album of me playing around in the back room... just me alone at home", White Bread, Black Beer was universally acclaimed. 
Scritti Politti - Early LP (Rough Trade)
Early brought together a series of formative recordings from the late 70s and early 80s, for an America-only vinyl release in 2005. The collection, accompanied by sleeve notes from Green Gartside, included the band's debut single Skank Bloc Bologna, along with seminal tracks including The "Sweetest Girl", 27/8/78 and Lions After Slumber, and offered a stunning chance to enjoy the long-overlooked musical foundations of Scritti Politti again.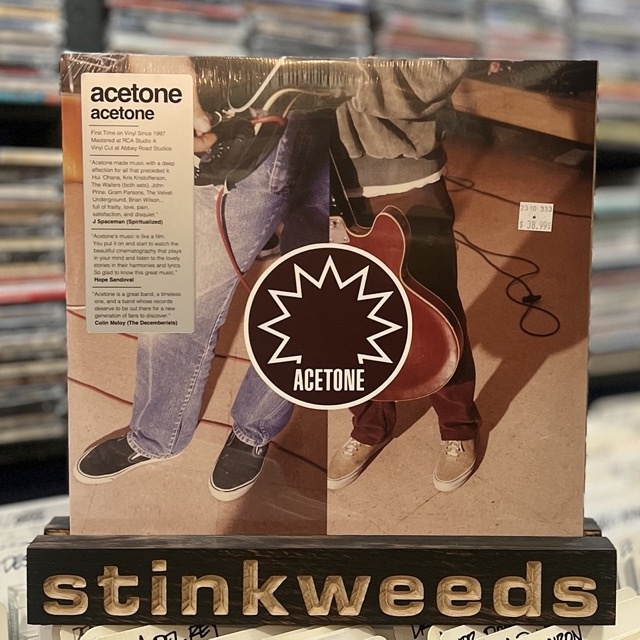 Acetone - Acetone LP (New West)
Originally released in 1997 on Vapor Records. Acetone (Full Album) was the band's most identifiable record. New West Records is proud to present this reissue with an expanded audio format pressed across two LPs and packaged in a full color gatefold.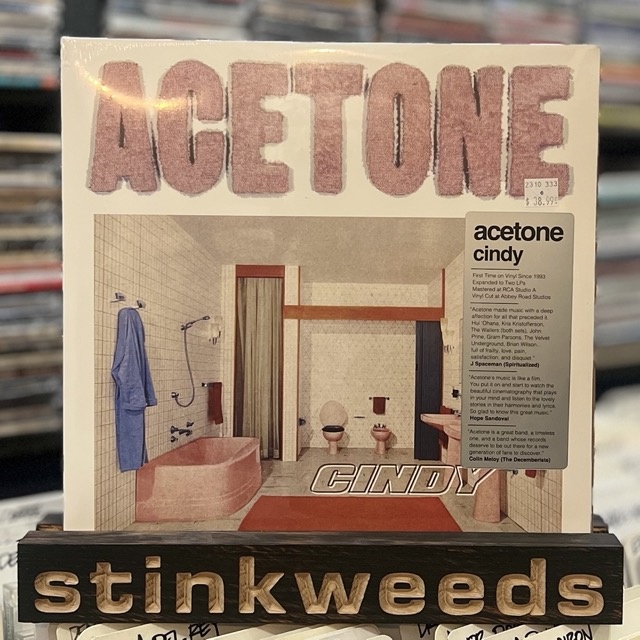 Acetone - Cindy LP (New West)
Originally released on vinyl in 1993 via Hut Recordings (UK), Acetone's debut album is now available in an expanded 2LP format and packaged in a gatefold. The is the first pressing in over 30 years.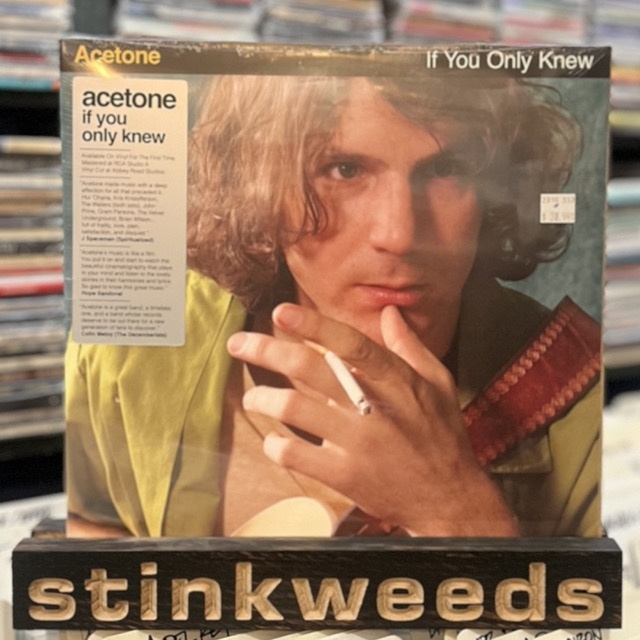 Acetone - If You Only Knew LP (New West)
Originally released in 1995 on Vernon Yard Recording. If You Only Knew is now available for the first time on vinyl. New West Records is proud to present this record pressed across two LPs and packaged in a full color gatefold.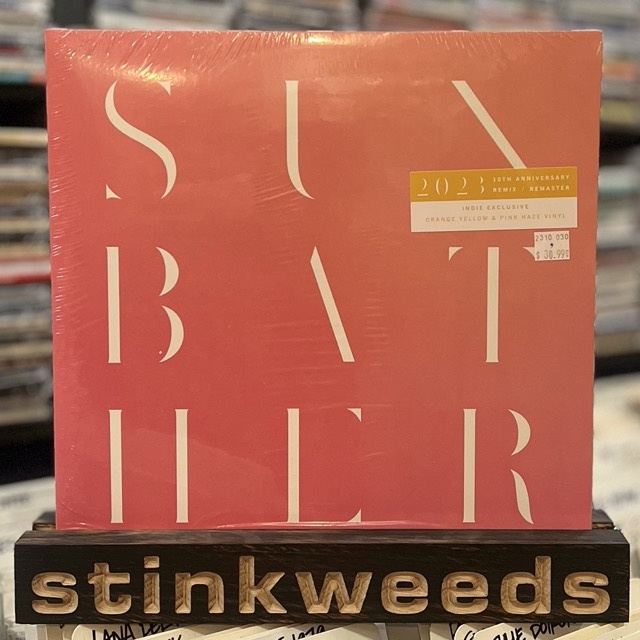 Deafheaven - Sunbather 10th Anniversary Remix LP (Deathwish)
Double vinyl LP pressing. A 10th anniversary remix and remaster of Deafheaven's monolithic 2013 release. Sunbather created a radical shift in heavy music culture, an acceptance of the genre by previous outsiders, and a trailblazing sound that heretofore hadn't been heard outside of learned circles One of the most important and original rock bands of the past fifteen years, the long-awaited reissue of this pivotal release celebrates its tenth anniversary with a fresh shine and coat of paint- a newly remixed and remastered sound by original producer Jack Shirley with available spacial audio.
Local Natives - Gorilla Manor reissue LP (French Kiss)
Double maroon colored vinyl LP pressing. Gorilla Manor is the debut album by Los Angeles based indie rock band Local Natives, originally released in 2009.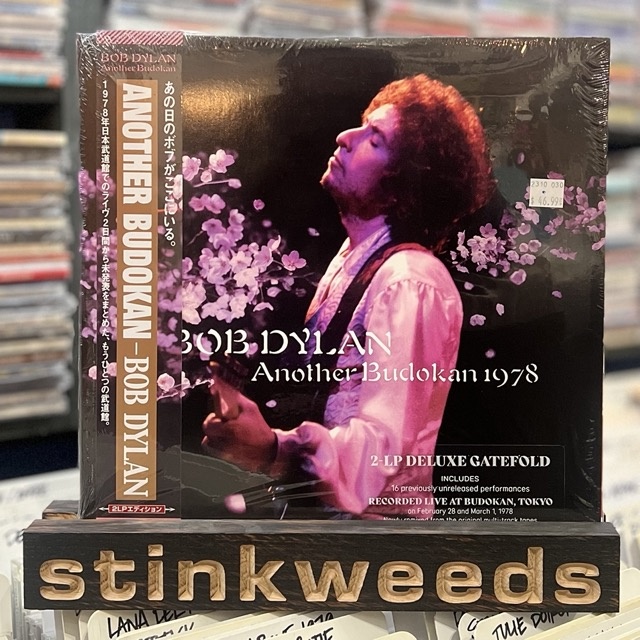 Bob Dylan - Another Budokan 1978 LP (Sony Legacy)
Another Budokan 1978 includes 16 specially selected tracks from the new Complete Budokan 1978 box set, newly mixed from the original 24-track analog tapes. All tracks are previously unreleased. This 2-LP set comes in a gatefold sleeve with an OBI-strip and a 4-panel insert with liner notes.
Rancid - Indestructible LP Anniversary Edition (Epitaph)
Reddish W/ Black Galaxy. Drawing from and amplifying upon Rancid's entire body of work, Indestructible is a testament to the durability of the human spirit, and to the positive power that music can have in our lives. Perhaps their most personal album to date, on Indestructible, Rancid takes us along on an unforgettable musical journey. On this, the groups' sixth album, styles range from the long awaited return of Rancid's patented brand of ska on "Red Hot Moon" to the super intense Discharge inspired hardcore strains of "Out Of Control". New repressing on Red & Black Galaxy vinyl to celebrate the 20th anniversary of the album.
Dolly Parton - Rock Star CD/LP (Big Machine)
Global icon and recent Rock & Roll Hall of Fame inductee, Dolly Parton, has joined forces with some of rock music's most legendary artists along with today's biggest stars for her first-ever rock album, Rockstar. The ever-evolving Parton teamed up with an all-star roster of musicians for the 30-song collection which includes 9 original tracks and 21 covers of iconic rock anthems.
Dwarves - Concept Album LP (Dwarves)
Punk Rock veterans The Dwarves return with a sprawling genre defying trip through the underbelly of rock & roll, thrash, garage, pop, metal and experimental music with their trademark transgressive lyrics and shocking visual imagery. And if you're not careful, you just might catch something!
Flume - Arrived Anxious, Left Bored LP (Future Classics)
The second part of his excavation of material from the past 10 years, Flume shares ten tracks created across his meteoric rise to becoming a global leader in electronic music. Arrived Anxious, Left Bored explores experimental production across pop, hip hop, house and more, including collabs with producer Emile Haynie (Dua Lipa, Lana Del Rey, ASAP Rocky) and Jim-E Stack. Track three "All There" also includes Flume's vocal debut; the first time his singing voice has been heard on his production.
Whitney Houston - I'm Your Baby Tonight LP (Sony Legacy)
Whitney Houston's third studio album, I'm Your Baby Tonight, is now available on a single LP vinyl edition. Houston served as executive producer for the first time on this 4x Platinum album, originally released on November 6th, 1990. 
Oingo Boingo - Self Titled EP (Rubellan Remasters)
The debut EP by Oingo Boingo was released in 1980 on IRS Records. This new colored vinyl reissue compiles everything into a 12" package containing both versions of "Ain't This The Life" and including an insert replicating the inner sleeve from the original 10" release.
Pearl Jam - Vs 30th Anniversary Edition LP (Sony Legacy)
Double 180gm vinyl LP pressing mastered at 45RPM. In celebration of the 30th Anniversary of Pearl Jam's historic second studio album Vs., which features hits like "Daughter," "Elderly Woman Behind the Counter in a Small Town," and "Rearviewmirror."
The Maine - Can't Stop Won't Stop LP (Craft)
15th Anniversary Edition of The Maine's debut album, Can't Stop Won't Stop. The album includes the single "Into Your Arms" and fan favorites "Everything I Ask For" and "Girls Do What They Want." After its initial 2008 release, the album debuted at #40 on the Billboard 200 and #4 on the Independent Albums chart. Indie Exclusive Lemon LP in a gatefold jacket. Limited Edition.
King Gizzard and the Lizard Wizard - Nonagon Infinity (Alien Warp Drive Edition) LP (ATO)
2xLP Deluxe Edition of Nonagon Infinity! The original album plus a bonus LP with 10 demos. New packaging includes an embossed gatefold jacket with gold foil stamping and a 24" x 36" fold-out poster. Originally released in 2016, Nonagon Infinity remains the band's best selling album. Constructed as an infinite loop, Pitchfork claimed upon its release that the record was "overstuffed with so many stomach-tossing thrills that you'll actually be jonesing to ride the roller-coaster all over again."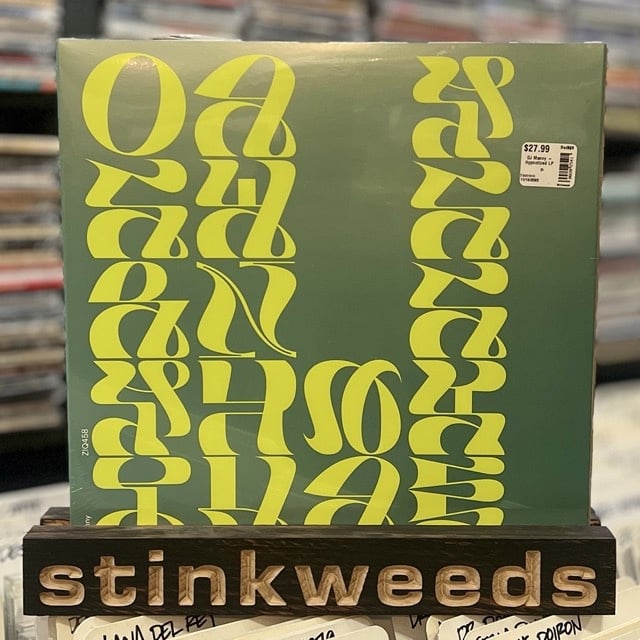 DJ Manny - Hypnotized LP (Planet Mu) 
DJ Manny's new album 'Hypnotized' is full of fresh ideas which push the footwork format of 160 bpm hyper-rhythmic music in really enjoyable new directions. He builds on the romantic themes of his last album 'Signals In My Head' and evolves them with shades of blue, taking very natural sounding experimentation into new moods and musical color while never making the album inaccessible. Arguably this is a fine successor to the ground broken by DJ Rashad's 'Double Cup' album, which of course Manny also worked on. 'Hypnotized' solidifies Manny's style, from relaxed r'n'b rollers to moments of romantic distress – like 'WTF Goin On' and the reflective 'You N You (ft. DJ Phil)', to more intense moments like the dubstep inflected 'Ooh Baby' from the vaults, co-produced by DJ Rashad himself.
Post Malone - The Diamond Collection CD (Republic)
Global superstar Post Malone holds the record for most RIAA Diamond certified singles in history. The Diamond Collection is a compilation of his top hits to date, including "Congratulations (feat. Quavo)," "Sunflower" with Swae Lee, "White Iverson," and more.
Jason Isbell - Sirens of the Ditch LP [Reissue/2007] (New West)
The debut album from accomplished guitarist and songwriter Jason Isbell, formerly of Drive By Truckers (DBT), is reissued with 4 unreleased tracks from the original recording sessions. The addition of those 4 extra songs finds Sirens Of The Ditch clocking in at 15 total tracks. - Sirens Of The Ditch's mystical quality can be partially attributed to the FAME recording studio (Aretha Franklin, Duane Allman, Otis Redding) in Isbell's hometown of Muscle Shoals, AL where the album was recorded. Co-produced by Isbell and Patterson Hood (DBT), Sirens Of The Ditch features Isbell singing lead vocals and playing guitar throughout, joined by Shonna Tucker (Formerly of DBT) on Bass and Brad Morgan (DBT) on drums. Several musicians pop in for cameos including Spooner Oldham and David Hood (Patterson's father) on "Down In A Hole", John Neff (Formerly of DBT) on "Dress Blues" and Patterson himself guests on "Shotgun Wedding".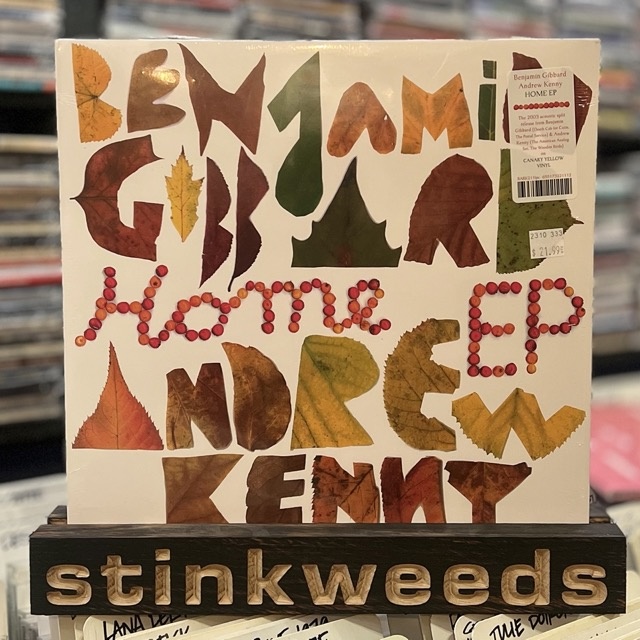 Ben Gibbard + Andrew Kenny - Home LP (Barsuk
The first-ever North American vinyl release of the Benjamin Gibbard (Death Cab for Cutie, The Postal Service) and Andrew Kenny (The American Analog Set, The Wooden Birds) Home split mini-album on translucent cobalt vinyl. Originally released as the fifth and final volume of the early-'00s Home series of split albums on Austin, TX indie Post-Parlo, the Gibbard/Kenny pairing showcases two brilliant songwriters whose legacies continue to shine twenty years later. Kenny and Gibbard took a simple approach for their entry into the series, recording on cassette four-track machines in their respective living rooms in New York and Seattle and each performing four exclusive stripped-down tracks (including a cover of one of the other's songs — Kenny choosing a rendition of Death Cab's "Line of Best Fit" and Gibbard delivering his version of AmAnSet's "Choir Vandals").
Rural Alberta Advantage - The Rise and Fall LP (Saddle Creek) 
The Rise & The Fall is the fifth studio album from charged folk-rock trio The Rural Alberta Advantage. It is the first album featuring the return of original band member, multi-instrumentalist and vocalist, Amy Cole alongside Paul Banwatt (drums) and Nils Edenloff (lead vocals, guitar, keyboard).
Ozzy Osbourne - Bark At The Moon LP
RSD Essentials has pressed a special 40th Anniversary Edition of Ozzy Osbourne's classic third studio album Bark at the Moon on Translucent Cobalt Blue vinyl. This is the first repressing in 40 years and the first (and only) color variant! Bonus poster included.
COMING NEXT WEEK!
OVER 140+ RSD BLACK FRIDAY EXCLUSIVE RELEASES!