Login
Log in if you have an account
Dont have an account? Register
New Releases & Staff Picks - 9/8/23
07 Sep 2023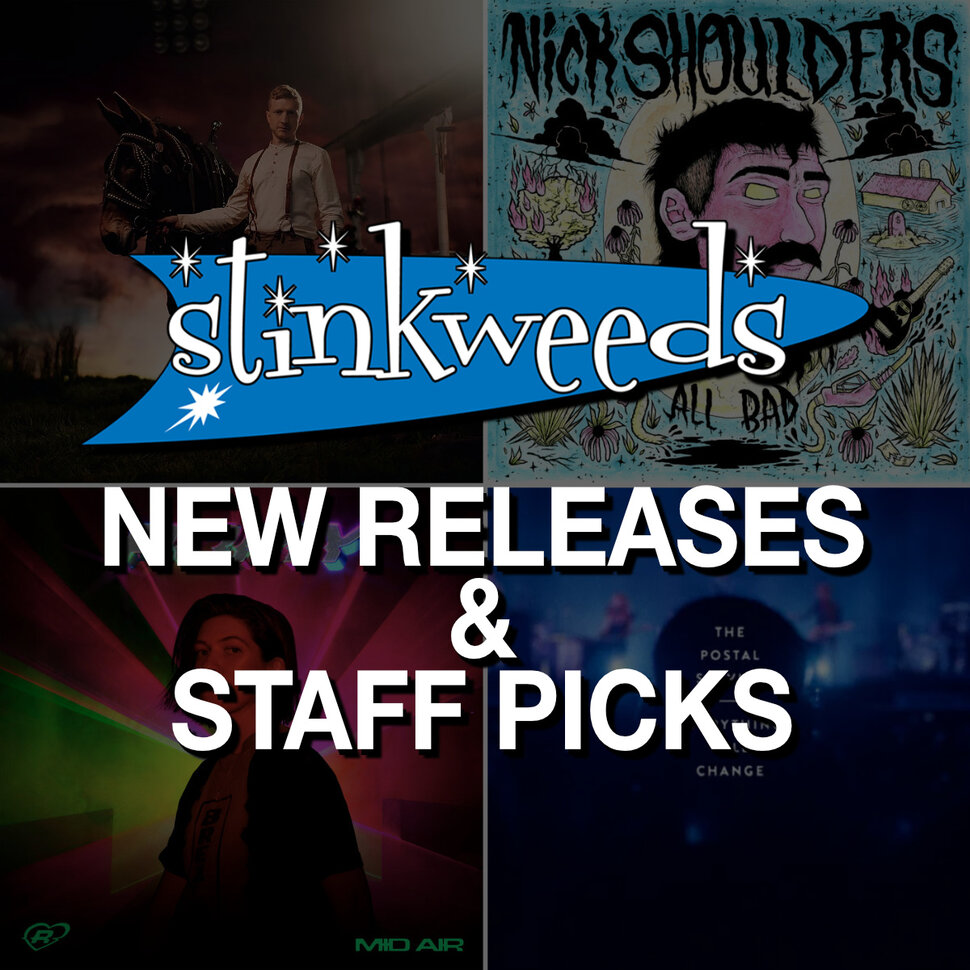 STAFF PICKS
Lindsay – Black Market Brass, Sparklehorse, Jalen Ngonda, Betty Davis reissues, Handsome Family, Jonathan Wilson
Dario – Alabaster Deplume and John Fahey
Kimber – Kristin Hersh
Caleb – Sparklehorse, Nick Shoulders and John Fahey
Zach – Nick Shoulders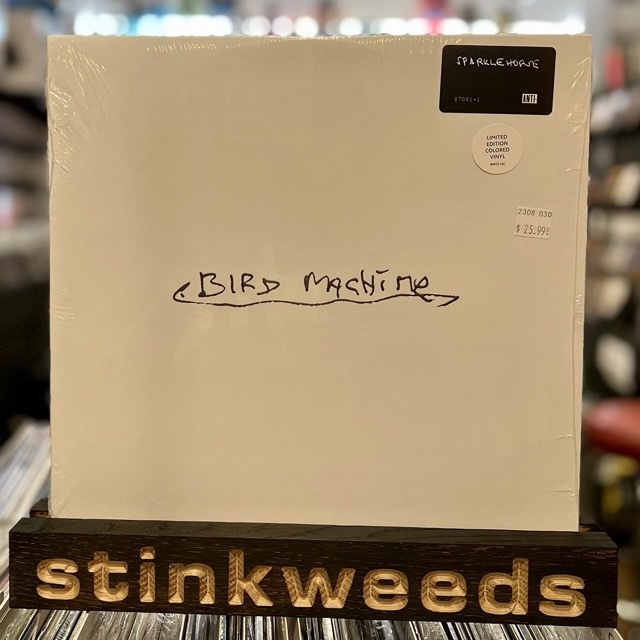 Sparklehorse – Bird Machine CD/LP+MP3 (ANTI-)
Sparklehorse was an American indie rock band formed by singer-songwriter and multi-instrumentalist Mark Linkous in the mid-1990s. Born on September 9, 1962, in Arlington, Virginia, Linkous began playing music as a teenager. Described as an artist who "compelled listeners to heed the beauty of darkness" by Pitchfork, Sparklehorse released many influential records, including the renowned albums Vivadixiesubmarinetransmissionplot and Good Morning Spider in the '90s, It's A Wonderful Life and Dreamt For Light Years In The Belly of a Mountain in the early '00s, and a collaborative album Dark Night Of The Soul released in 2010. Bird Machine is a never-before-heard album, originally recorded in 2010 and mixed by Joel Hamilton (who also worked on It's A Wonderful Life). Joel's brother Matt notes, "Great care has been taken to archive and preserve Mark's music. We are very thankful for Mark and the beauty he brought to this world." [An indie store exclusive translucent opaque white color vinyl pressing is available.]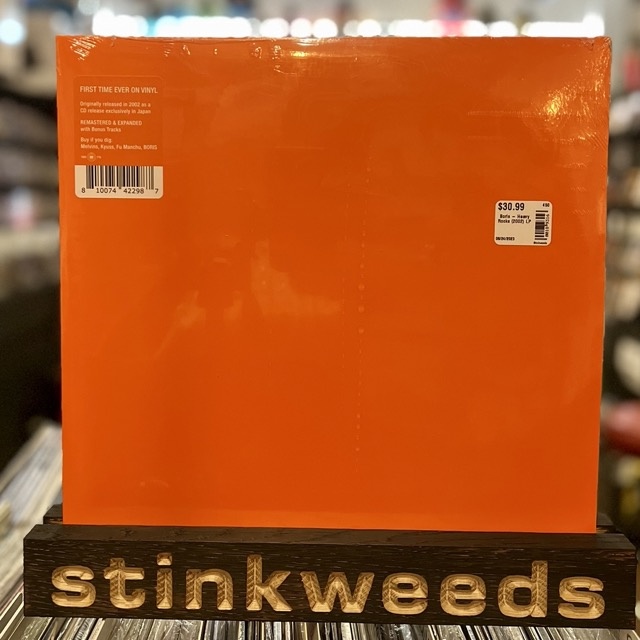 Boris – Heavy Rocks [Reissue/2002] CD/2xLP (Third Man)
Exclusive, Boris tote bag free with purchase, while supplies last! Formed in 1992, Boris boldly explore their own vision of heavy music, where words like "explosive" and "thunderous" barely do justice. Using overpowering soundscapes embellished with copious amounts of lighting and billowing smoke, Boris has shared with audiences across the planet an experience for all five senses in their concerts, earning legions of zealous fans along the way. This is the highly requested, unbelievably anticipated official vinyl release of Boris's 2002 album and first dive into the stoner rock idiom, originally released in Japan on CD only. Heavy Rocks (2002) is heavy, sure, but fuses sludge, noise, stoner rock and hardcore all together for a deeply bone-shaking and unforgettable trip. For fans of: Melvins, Kyuss, Fu Manchu. [An indie store exclusive yellow color vinyl pressing is available.]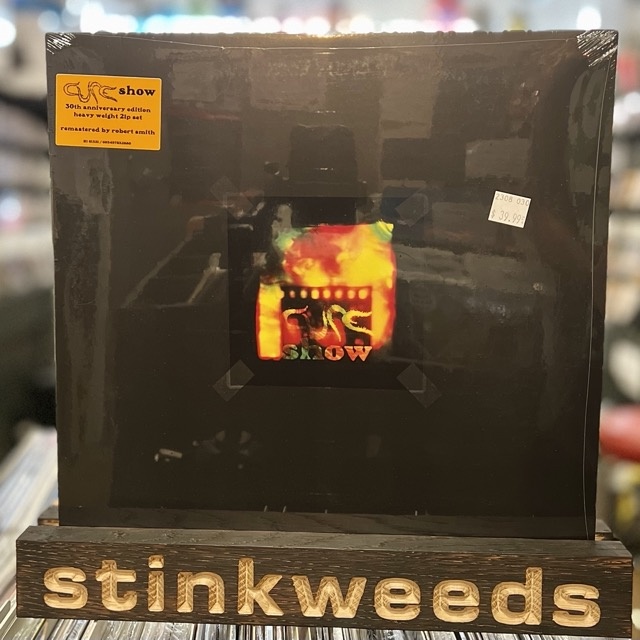 The Cure – Show [Reissue/1993] 2xLP (Elektra)
Show, the double live album by The Cure, turns 30 and to celebrate the anniversary, the 2xLP set is to be made available on heavyweight black vinyl for the first time since 1993. Show has been remastered by Robert Smith and Miles Showell at Abbey Road Studios, London, with the vinyl cut by Miles Showell at Abbey Road.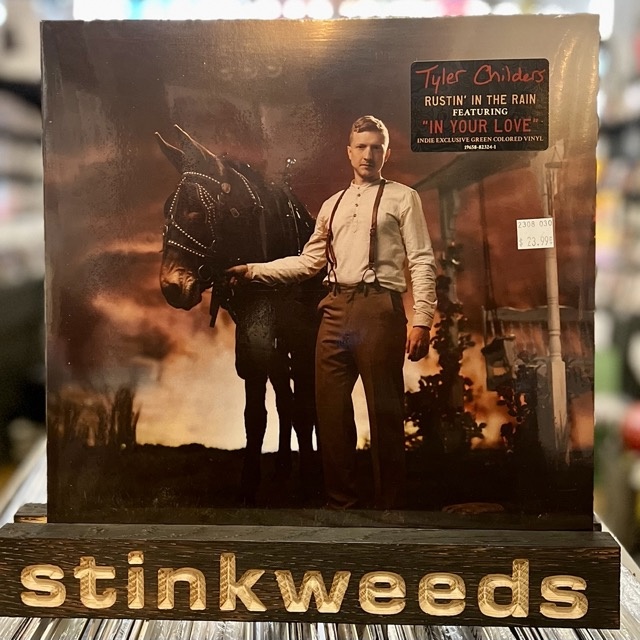 Tyler Childers – Rustin' In The Rain CD/LP (RCA)
Rustin' In the Rain is the eagerly anticipated new album from singer-songwriter Tyler Childers. This collection of new songs is Childers' sixth studio album, and the follow up to his critically acclaimed release Can I Take My Hounds to Heaven?. Rustin' In the Rain is produced by Childers alongside his longtime band The Food Stamps, and the album features the heartfelt single "In Your Love", which Tyler first teased to fans earlier in 2023 during his Bonnaroo Music Festival performance. [An indie store exclusive green color vinyl pressing is available.]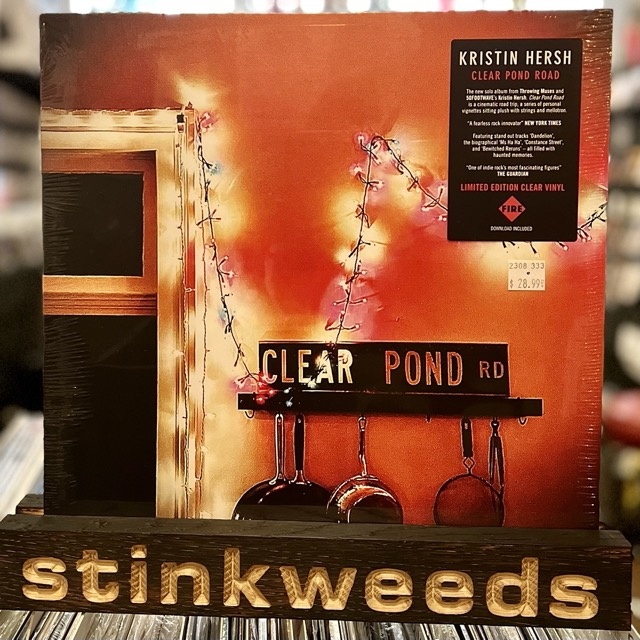 Kristin Hersh – Clear Pond Road CD/LP (Fire)
Kristin Hersh's new album is a cinematic road trip; a series of personal vignettes from a fiercely independent auteur, sitting plush with layers of all-consuming strings and mellotron. It's a watershed moment in a career overflowing with creative firsts and inspirational thinking; an elegant piece of personal reportage, a home movie caught in time. Previously, the juxtaposition of light and dark has been essential to the drama of Throwing Muses and 50FOOTWAVE, but this solo set is something of a departure; more inward looking, quieter but outspoken, underpinned by background noise for ambience and awkwardness. [A limited-edition clear vinyl pressing is available.]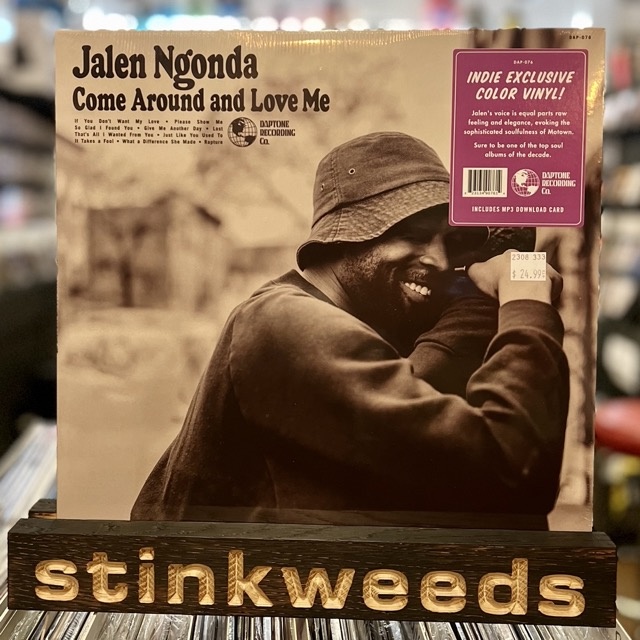 Jalen Ngonda – Come Around And Love Me CD/LP (Daptone)
Anyone who has had the pleasure of seeing Jalen perform live knows that he is one of the most captivating performers on today's soul scene. His full-length debut on Daptone Records is equal parts raw feeling and elegance and exudes confidence and charm. Over the last few months, he has disarmed packed rooms of rowdy concert goers, leaving them silent as they hold fast to every syllable sung. Recorded at Hive Mind Studios in Brooklyn, NY, with the help of producer/arrangers Mike Buckley and Vincent Chiarito (both members of Charles Bradley's Extraordinaires) and crack team of a-list musicians, his upcoming album blends heavy arrangements and introspective lyrics with sophistication, leaving the listener in a blissful wash of wonderment. [An indie store exclusive translucent purple color vinyl pressing is available.]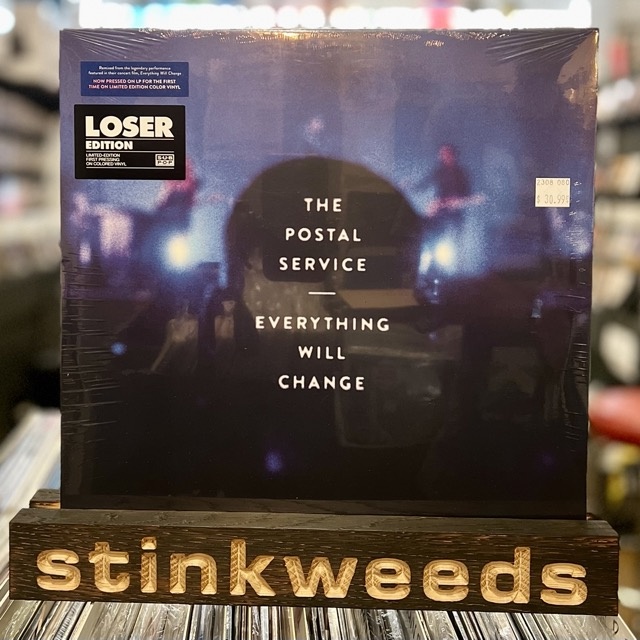 The Postal Service – Everything Will Change CD/2xLP+MP3 (Sub Pop)
Everything Will Change is a feature-length documentary concert film of The Postal Service's performance at the Greek Theater in Berkeley, CA during their 2013 reunion tour. A collaboration between Benjamin Gibbard (of Death Cab for Cutie) and Jimmy Tamborello (from Dntel), with Rilo Kiley's Jenny Lewis, The Postal Service released Give Up, their one and only album, in 2003. That record went on to sell over a million copies and most of the band's fans never had the chance to see them perform live. In celebration of the 10-year anniversary of Give Up, the band reunited to tour the world. Everything Will Change captures one of the nights when everything did change. [A limited "Loser Edition" lavender/blue color vinyl pressing is available.]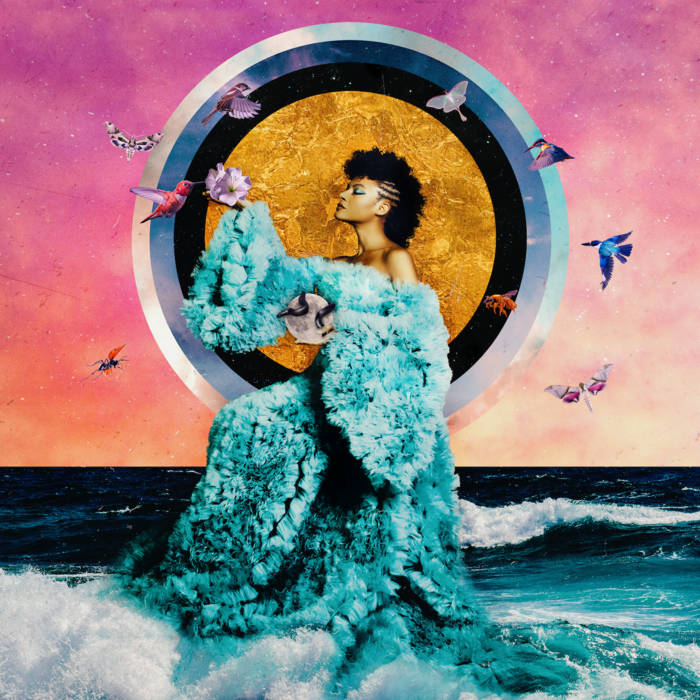 Allison Russell – The Returner CD (Fantasy)
A record of fierce joy, The Returner is the new album from 4x Grammy-nominated singer, songwriter, and multi-instrumentalist Allison Russell. Co-produced by Allison along with dim star (JT Nero and Drew Lindsay), it features her "Rainbow Coalition" band of female musicians along with special guests: the legendary Wendy and Lisa, Brandi Carlile, Brandy Clark, and Hozier. The follow-up to her acclaimed debut Outside Child, The Returner is a soulful expression of liberation, love, and self-respect.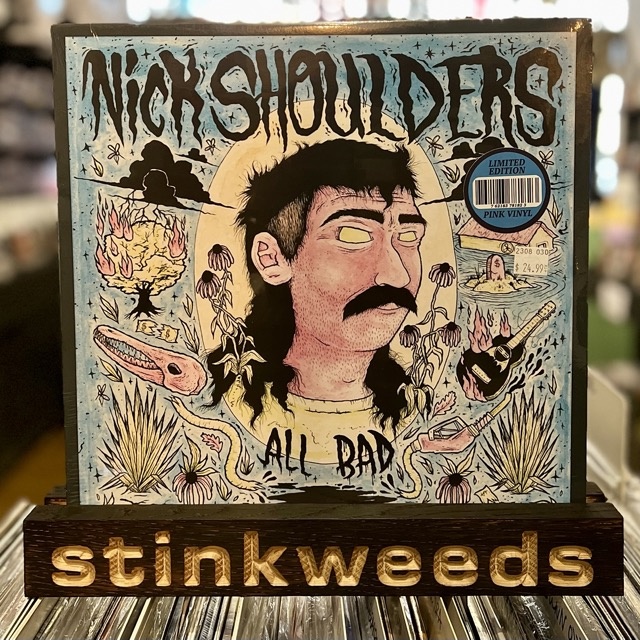 Nick Shoulders – All Bad CD/LP (Gar Hole)
All Bad, the latest album from Nick Shoulders, ultimately encapsulates everything that makes Shoulders' inimitable form of country music so vital: a heady balance of dazzling musicianship and punk defiance, coupled with gritty eccentricity and a generational connection to the roots of the genre. With a singing style inherited from his family's vocal lineage, Nick's songs achieve the rare feat of imparting difficult truths while inciting a certain joyful abandon, balancing a sound forged by years of hard travel with a heartfelt reverence for the origins of country music. [An indie store exclusive pink color vinyl pressing is available.]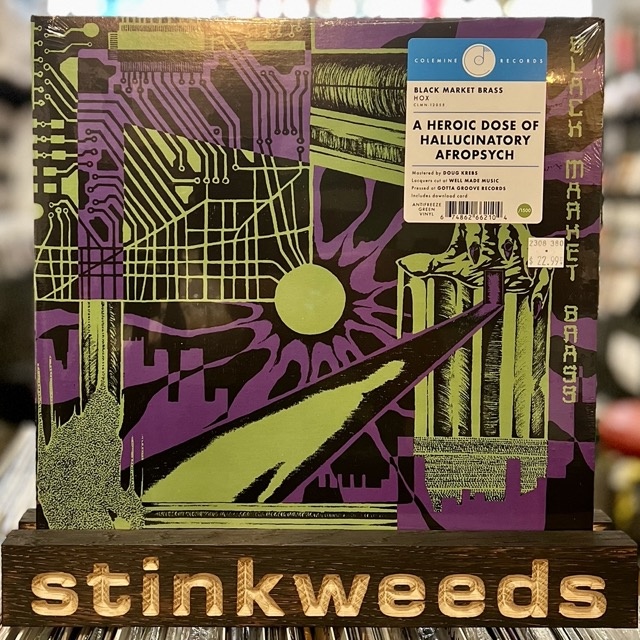 Black Market Brass – Hox CD/LP (Colemine)
Hox is a new take on afrobeat that combines traditional grooves with heavy, hypnotic, sci-fi sounds that reflect the band's myriad of influences as record collectors across genres. "We didn't leave the traditional afro-beat sound behind, but we did allow ourselves to pull from different places with less hesitation." Shared saxophonist Cole Pulice. Like their previous albums, the nine-piece band recorded Hox live to tape. "The sound and aesthetic of the analog recording process is important for this kind of music," Pulice explained. "We're looking to capture lightning in a bottle." With that, the album features several sections of heavily processed synthesizers, harsh glitches, fuzzed out guitars, and a burning percussion section that pays homage to the traditional drumming cultures of Nigeria and Ghana. The performances are dynamic and confident. The grooves are infectious and hypnotic. [A limited-edition green color vinyl pressing is available.]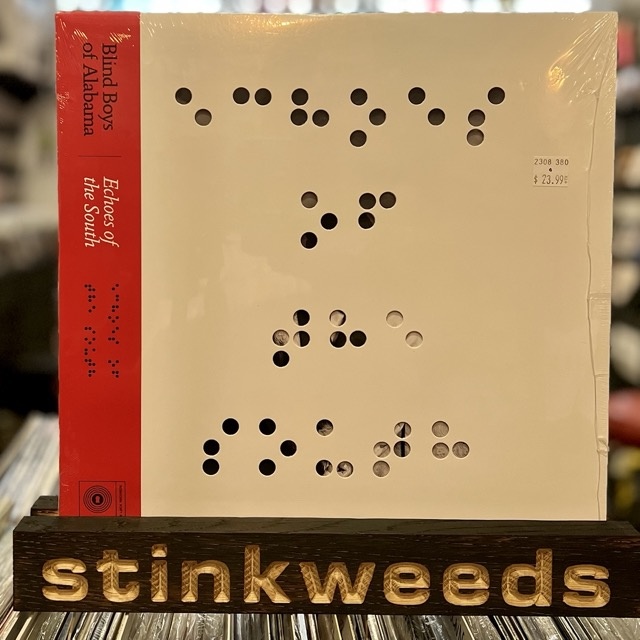 The Blind Boys Of Alabama – Echoes Of The South CD/LP (Single Lock)
Hailed as "gospel titans" by Rolling Stone, The Blind Boys Of Alabama defied the considerable odds stacked against them in the segregated South, working their way up from singing for pocket change to performing for three different presidents over the course of an 80-year career that saw them break down racial barriers, soundtrack the Civil Rights movement, and help redefine modern gospel music forever. The five-time Grammy-winner's latest album, Echoes Of The South, draws its name from the Birmingham radio program that hosted the group's very first professional performance back in 1944. Pairing traditional spirituals and long-lost gospel classics with vintage soul and R&B tunes, the collection is as moving as it is timeless, transcending genre and era to touch something deep and fundamental about the human condition.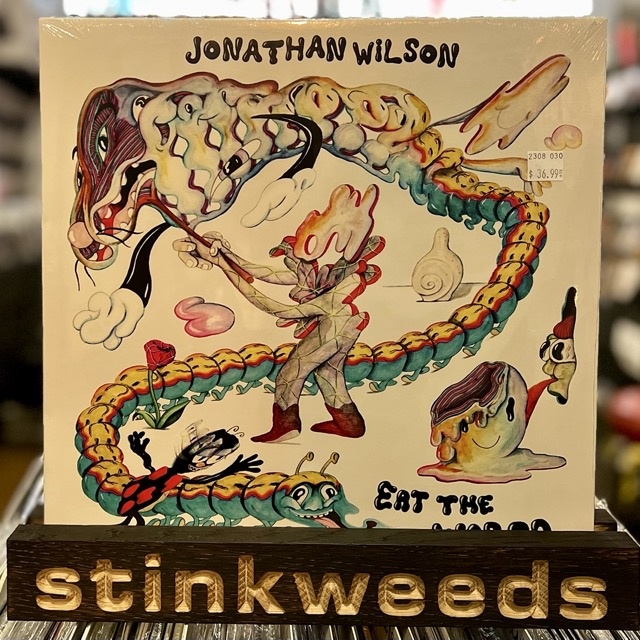 Jonathan Wilson – Eat The Worm CD/LP (BMG)
Wilson, a North Carolina native, moved to Los Angeles 15 years ago and became an integral part of the music community as a respected artist and producer. It was there he recorded and played most of the instruments on his celebrated albums Gentle Spirit (2011), Fanfare (2013), and Rare Birds (2018). Just prior to the pandemic, the multi-talented artist went to Nashville to record at Cowboy Jack Clement's legendary Sound Emporium Studio for what would become Dixie Blur (2020), a collection of songs that harkened back to his Southern roots, both musically and personally. Dixie Blur found Wilson reaching back to the musical foundation of his upbringing while simultaneously moving forward by infusing the music with modern textures and aesthetic soundscapes. "Eat The Worm feels like a celestial meeting point for Wilson, who has dipped a toe in jazz, country, psych rock, folk, roots, and pop." – No Depression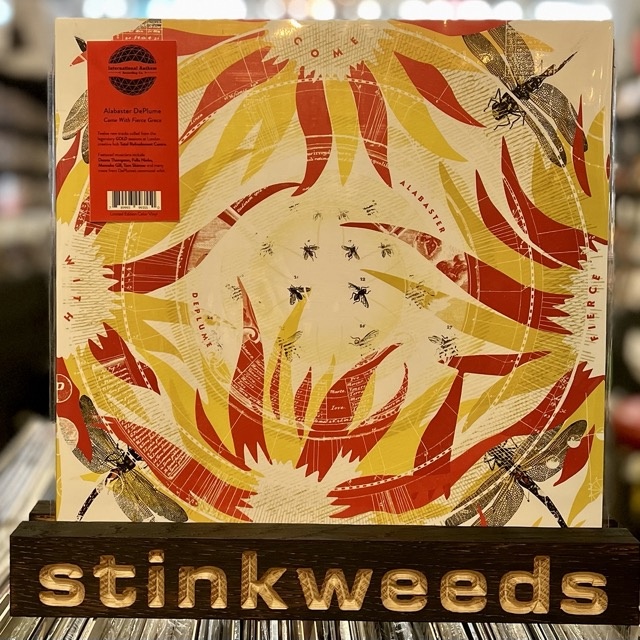 Alabaster Deplume – Come With Fierce Grace LP (International Anthem)
Composed in the act of performance by and with: Alabaster Deplume - tenor sax, guitar, synths and voice Falle Nioke - voice, percussion Rozi Plain - guitar Sarathy Korwar - drums, tabla Tom Skinner - drums Kenichi Iwasa - percussion James Howard - guitar Tom Herbert - double bass Natalie Pela - voice Rosa Slade - voice Elly Condron - voice Luisa Gerstein - voice Matt Webb - double bass Michael Chestnutt - synths Ursula Russell - drums Conrad Singh - guitar Hannah Miller - cello and voice Donna Thompson - voice Matthew Bourne - piano Momoko Gill - lead vocal Ruth Goller – bass.
Fleetwood Mac – Rumours Live 2xCD/2xLP (Rhino)
Fleetwood Mac was at the top of its game in August 1977 when the band returned to its adopted home in Southern California to play three shows at The Forum in Los Angeles. Rumours had only been out a few weeks when the band left in February to tour the world, returning six months later to play three shows at The Forum for nearly 50,000 fans. Rumours Live captures the energy and excitement of the band's opening night at The Forum on August 29, 1977.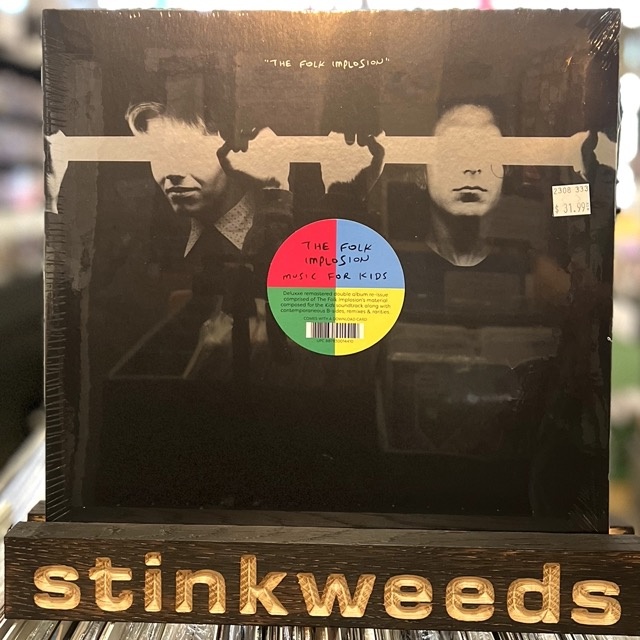 The Folk Implosion – Music For KIDS CD/2xLP+MP3 (Domino)
The Folk Implosion, Lou Barlow and John Davis's recently reactivated musical project, release Music For KIDS, a deluxe reissue of their original compositions that soundtracked Harmony Korine's 1995 cult classic film.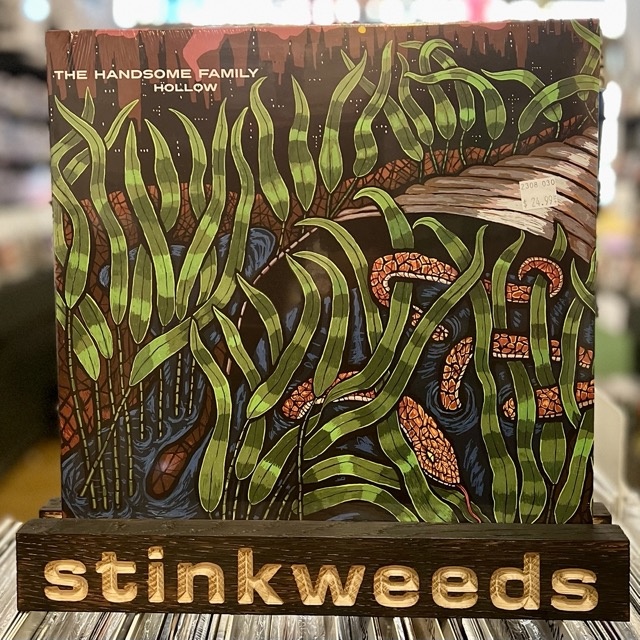 The Handsome Family – Hollow CD/LP/Cassette (Milk & Scissors)
The Handsome Family (songwriting and marriage partners Brett and Rennie Sparks) have been defining the dark end of Americana for over 30 years. Brett writes the music and Rennie writes the words. Their work has been covered by many artists including Jeff Tweedy, Andrew Bird, and most-recently, Phoebe Bridgers. Their song "Far From Any Road" was the opening theme for HBOs True Detective season one. Handsome Family songs take place under overpasses and inside airports. Historical figures like George A. Custer and Nikola Tesla appear alongside a flying milkman and the whisper of an air conditioner against a plastic tree. Their eleventh studio album, Hollow, delves into the natural world at the edges of the man-made.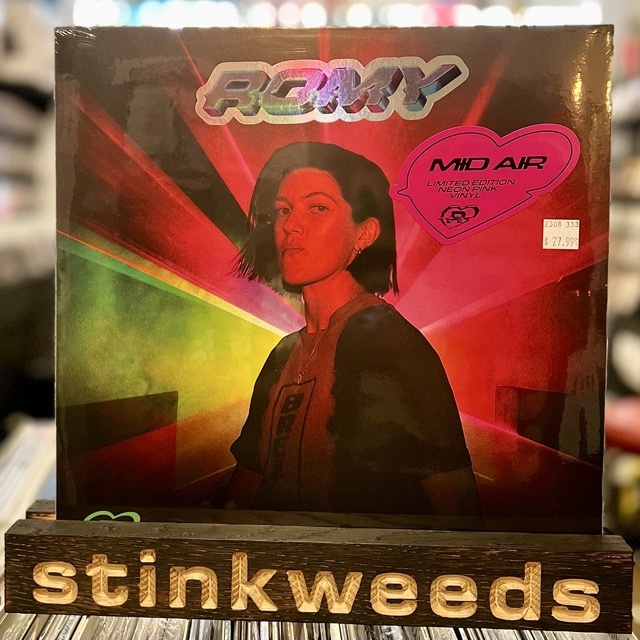 Romy – Mid Air CD/LP (Young)
Mid Air is the debut solo album from Romy Madley-Croft, beloved for her work as one-third of The xx; as a formidable pop songwriter for artists including Dua Lipa, Halsey, and King Princess; and for her powerful and emotional vocals on songs by Fred Again.. and Jamie xx. According to Romy, "Mid Air is an album about celebration, sanctuary, and salvation on the dance floor. It's an album that deals with love, grief, relationships, identity, and sexuality. It's a love letter to the queer clubs where I've found community and connection." [An indie store exclusive pink color vinyl pressing is available.]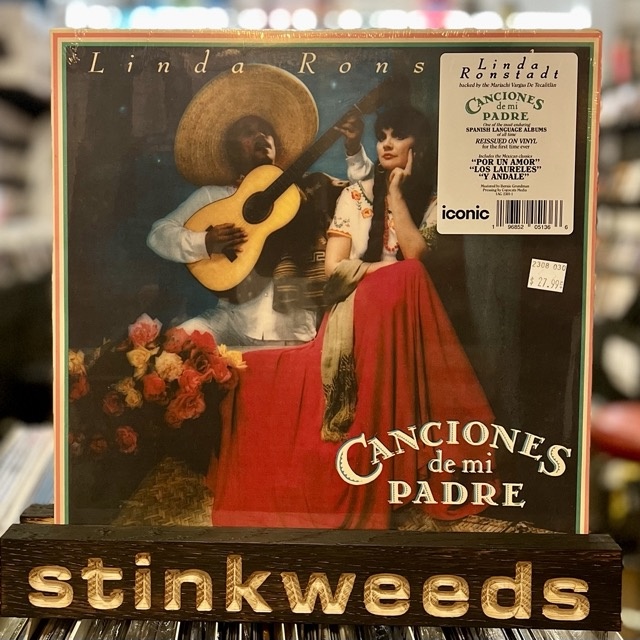 Linda Ronstadt – Canciones De Mi Padre [Reissue/1987] CD/LP (Real Gone Music)
There are times when an artist transcends the form. When the spirit of music goes beyond embodying sound. 1987 saw the release of Linda Ronstadt's groundbreaking love letter to her family soul and lifeblood - Canciones de Mi Padre.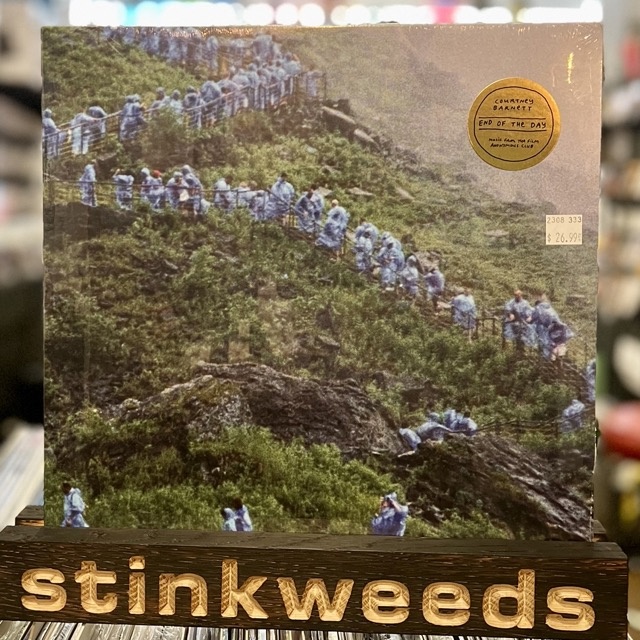 Courtney Barnett – End Of The Day (Music From The Film Anonymous Club) LP (Mom & Pop Music)
Clear vinyl pressing. Anonymous Club is Danny Cohen's candid documentary about the personal travails and hard-fought triumphs of Courtney Barnett, as she rose through the ranks of indie rock during the last decade. A cautiously redemptive portrait, any happy ending reflects the possibilities of fulfillment and stability, not the things themselves. In May 2021, months before the film's release, Courtney Barnett and collaborator Stella Mozgawa rendezvoused with Cohen in Melbourne to shape a score that fit that premise-nothing too obvious or instructive, to tell the audience how they should feel. Barnett found she liked listening to what the duo had made, existing within its reflective gaze. She began sorting through those little instrumentals like amoebic puzzle pieces, figuring out how they fit into a full picture. The result is a seamless series of 17 instrumental improvisations called End Of The Day (Music From The Film Anonymous Club), soundtrack reimagined as impressionistic sound-art collage.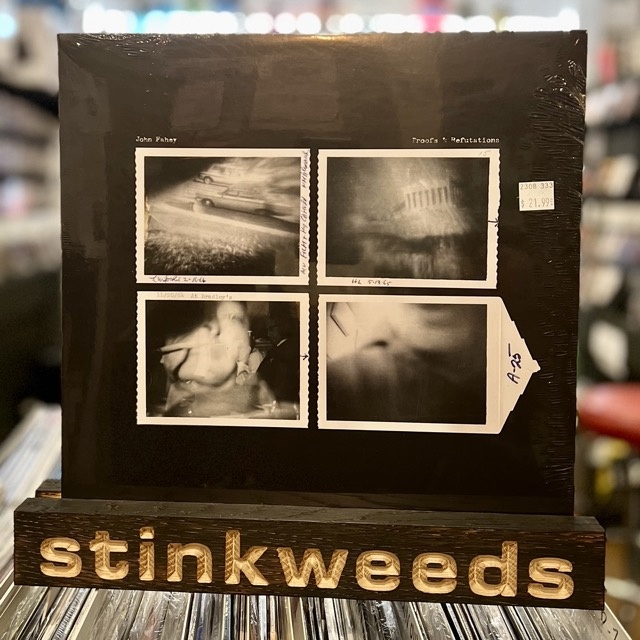 John Fahey – Proofs & Refutations LP (Drag City)
Recorded circa 1995/96, mostly in John Fahey's room at a Salem, Oregon boardinghouse, the performances on Proofs & Refutations prefigure the ornery turn of the page that marked Fahey's final years, drawing another enigmatic rabbit from his seemingly bottomless musical hat, making confoundingly delightful demands upon your listening (and thinking) ears.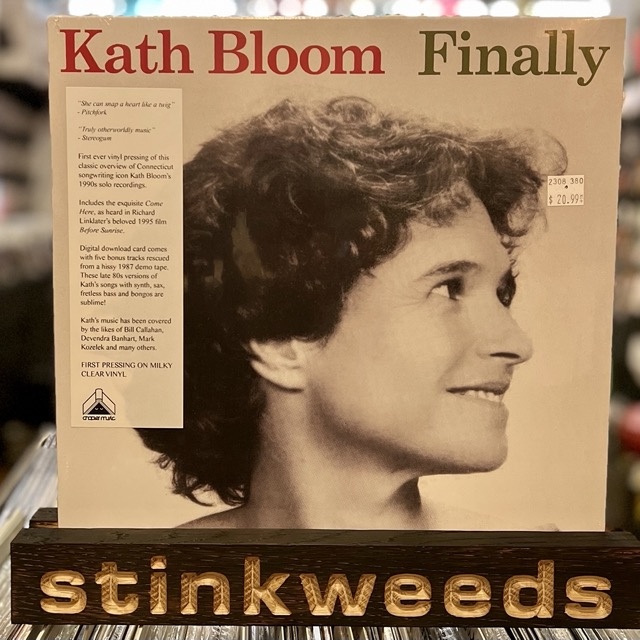 Kath Bloom – Finally [Reissue/2005] LP (Chapter Music)
First vinyl reissue of pivotal overview for revered Connecticut songwriter Kath Bloom, featuring five never heard bonus tracks from a 1987 recording session. Kath Bloom has been covered by Bill Callahan, Mark Kozelek and Devendra Banhart, and featured in Pitchfork and Aquarium Drunkard.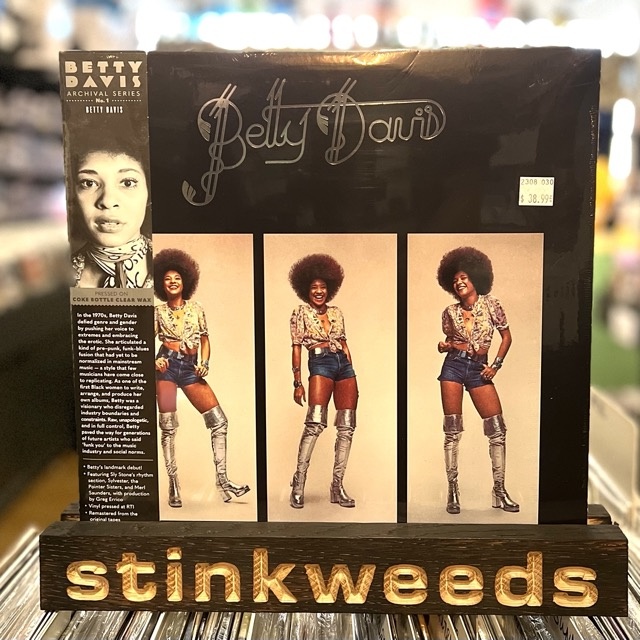 Betty Davis – Betty Davis [Reissue/1973] CD/LP (Light In The Attic)
Betty Davis – They Say I'm Different [Reissue/1974] CD/LP (Light In The Attic)
Betty Davis – Is It Love Or Desire [Reissue/2009] LP (Light In The Attic)
One can hardly imagine the genre-busting, culture-crossing musical magic of Outkast, Prince, Erykah Badu, Rick James, The Roots, or even the early Red Hot Chili Peppers without the influence of R&B pioneer Betty Davis. Her style of raw and revelatory punk-funk defies any notions that women can't be visionaries in the worlds of rock and pop. In recent years, rappers from Ice Cube to Talib Kweli to Ludacris have rhymed over her intensely strong but sensual music. [Color vinyl pressings of They Say I'm Different (Coke bottle clear) and Is It Love Or Desire (translucent orange) are available.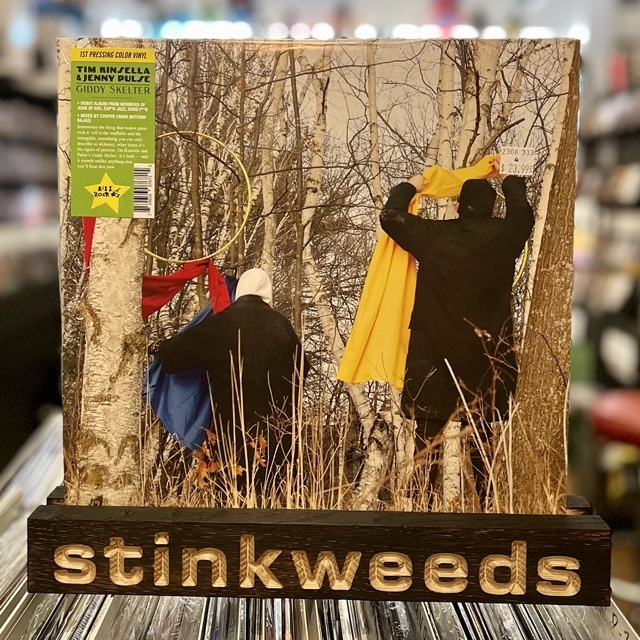 Tim Kinsella & Jenny Pulse - Giddy Skelter LP (Kill Rock Stars)
Available on yellow vinyl. Tim Kinsella and Jenny Pulse have spent years making thoughtful and unpredictable art, whether musically as Joan of Arc or Spa Moans, or under their given names as writers and visual artists. On Giddy Skelter, their debut album as the unadorned "Tim Kinsella and Jenny Pulse," they once again take an unexpected turn, but aim for something more direct. They've crafted a swirling, past-future, future-past, sorta-rock, collage-rock, melange borne from the confined anxiety of the pandemic. It's a full-length undeniably of its moment, rich with musical references while radiating a visionary path forward.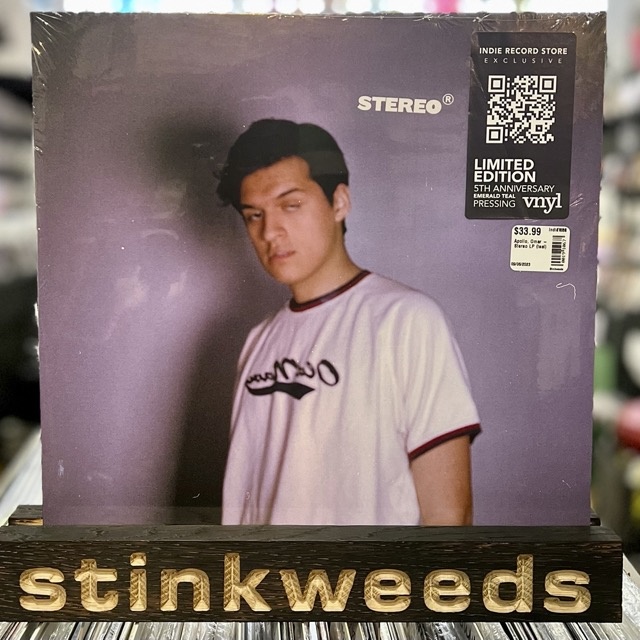 Omar Apollo - Stereo LP (Vnyl)
Repress on teal vinyl. Omar Apollo is one of music's most invigorating acts. The Latin GRAMMY-nominated singer/songwriter is fresh off the heels of his 2022 album Ivory that built off his "bedroom soul" sound and experimental passions established with Stereo.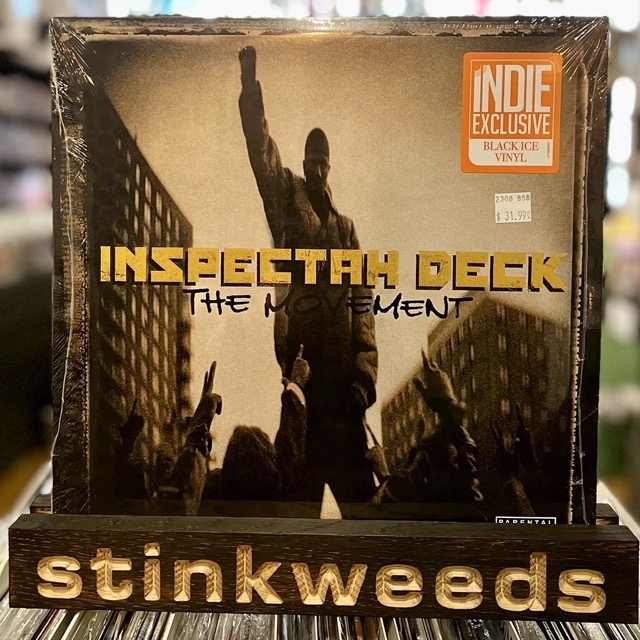 Inspectah Deck - The Movement LP (HHC)
Reissued on black ice colored vinyl. The second solo record from the Wu-Tang OG is finally on vinyl for the first time! With beats from the legendary Ayatolla, this is essential for any True Wu fan.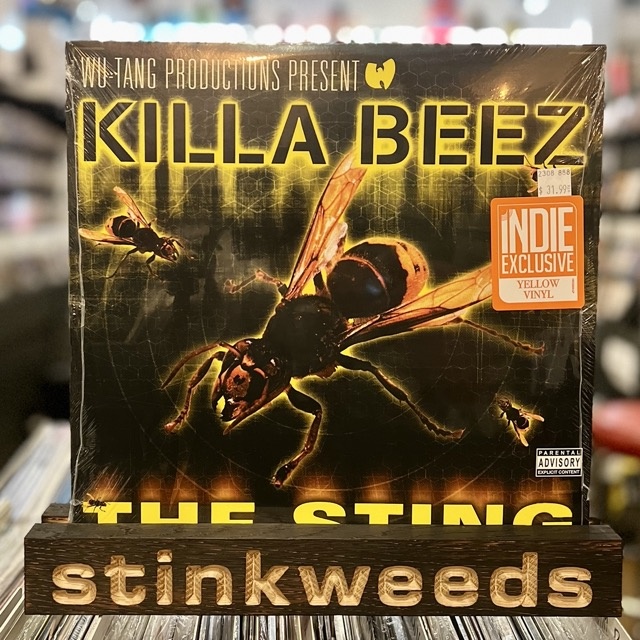 Killa Beez - The Sting LP [Reissue/2002] (HHC)
2LP on indie exclusive yellow vinyl. The Wu-Tang crew is back with a sting!!! Produced by the Rza and featuring Ol' Dirty, U-God, Inspectah Deck, Cappadonna, and many more. This album is reissued on vinyl for the first time since its initial release in 2002.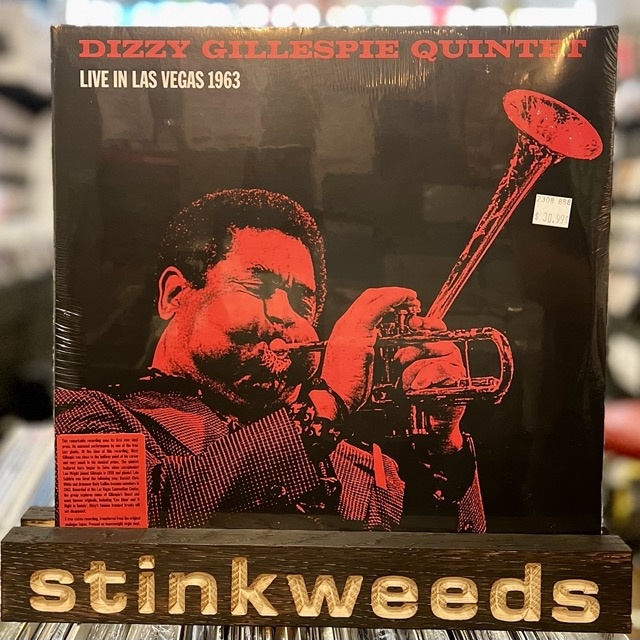 Dizzy Gillespie Quintet - Live In Las Vegas 1963 LP (Jazz Rewind)
This remarkable recording sees its first-ever vinyl press. An unissued performance by one of the true jazz giants, Dizzy Gillespie. At the time of this recording, Gillespie was close to the halfway point of his career and very much in his musical prime. The quintet featured here began to form when saxophonist Leo Wright joined Gillespie in 1959 and pianist Lalo Schifrin was hired the following year. Bassist Chris White and drummer Rudy Collins became members in 1962. Recorded at the Las Vegas Convention Center, the group explores some of Gillespie's finest and most famous originals, including "Con Alma" and "A Night in Tunisia". Those famous trumpet breaks will not disappoint. A true stereo recording, transferred from the original analog tapes. Pressed on heavyweight virgin vinyl.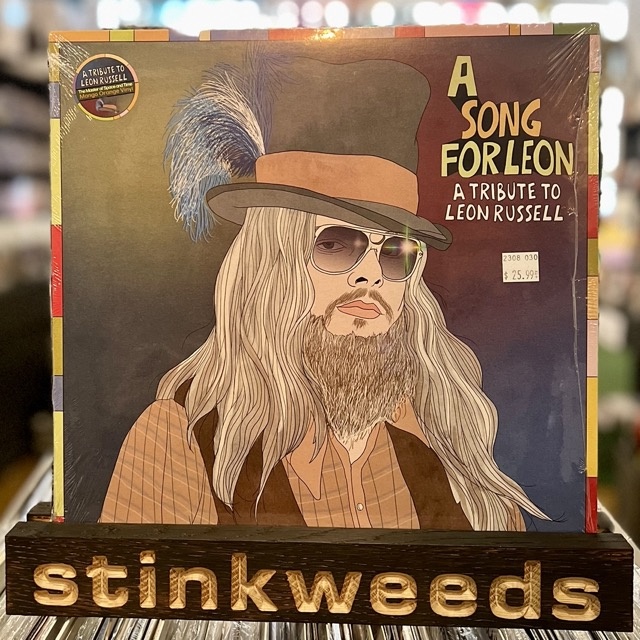 Various Artists - A Song For Leon:A Tribute To Leon Russell LP (Primary Wave)
"A Song For Leon" celebrates Leon's life and career, consisting of iconic acts such as Pixies, Orville Peck, Nathaniel Rateliff & the Night Sweats, U.S. Girls featuring Bootsy Collins and other incredible artists. Showcasing the impact of Leon Russell's songs, "A Song For Leon" is meant to educate experienced Leon Russell fans by highlighting other versions of his music, but also bring new fans into the fold by highlighting how many of today's rising musicians have taken inspiration from him.
COMING NEXT WEEK!
MITSKI - The Land Is Inhospitable and So Are We CD/LP/CASS
VAGABON - Sorry I Haven't Called CD/LP
KILLER MIKE - Michael CD/LP
JOSHUA REDMAN - Where Are We CD/LP
BAHAMAS - Bootcut CD/LP
BARONESS - Stone CD/LP
CORINNE BAILEY RAE - Black Rainbows CD/LP
BOMBINO - Sahel CD/LP
DENGUE FEVER - Ting Mong CD/LP
BRUJERIA - Esto Es Brujeria CD/LP
EXPLOSIONS IN THE SKY - End CD/LP
GUM - Saturnia LP
SHAKEY GRAVES - Movie Of The Week CD/LP
SEXTILE - Push CD/LP
WILL JOHNSON - No Ordinary Crown CD/LP
ANTARCTICA - 81:03 LP
CAAMP - Boys LP reissue
CAAMP - Self-Titled LP reissue
CAKE - Comfort Eagle LP
MILE HIGH CLUB - Timeline LP
GODFLESH - Nero 12"
JESU - Pity /Piety LP