Login
Log in if you have an account
Dont have an account? Register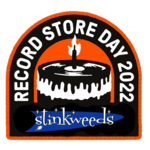 RSD Info
Record Store Day Drop 2022 is June 18, 2022!
This date is a catch-all for product that did not meet production for the April RSD event. Navigate over to our online store to see current product that we've received, and check back often to see what we'll be getting! You can always call us at 602-248-9461 or message us on Instagram to see how many of each title we've received. 
All rules pertaining to RSD still apply to this drop; no holds, no special orders, all first come first serve. Check below for RSD info to see all the rules!
Stinkweeds will be selling RSD drop product at 8 AM on June 18th, in store. Patrons may choose to line up outside prior to opening along the buildings next to us (our neighbor Frances!).
Record Store Day 2022 is April 23, 2022!
Here's the low down:
On Saturday, April 23, we'll be selling RSD releases in the Stinkweeds parking lot starting at 8 AM. 
All releases are first come, first serve, are limited to one copy of each title per customer. 
Several releases are VERY limited; feel free to call us at 602-248-9461 to ask about how many copies we will have for sale on Record Store Day. You can also check back here at stinkweeds.com/rsd to see what products we will have. 
See the full list at the Record Store Day Website
Unfortunately, some items have been bumped to June 18. Check the RSD site, or our RSD shop page to see if the titles you're looking for are still slated for April 23. (RSD Shop page will update as we get product, and should be close to final April 18th)
As always, there are NO pre-orders and NO holds for and RSD product. 
Remaining RSD stock will be available starting Sunday, April 24 online via our website.
Stinkweeds Goodie Bags are famous! We'll have 'em again for the first chunk of people in line.
The store interior will also be open for shopping all morning. We'll be putting out a massive stack of used collectibles, so while you're here..... take a look inside the shop as well.
Feel free to reach out with any additional questions via phone (602-248-9461) or email. 
FAQ:
Q: It's my first RSD! What is Record Store Day? 
A: Record Store Day is an annual day to celebrate independent record stores, and their customers! Each year, RSD and labels helps organize exclusive releases that are super limited and available only on Record Store Day.  It's always been a day to celebrate music, independent retail, and YOU! To learn more about RSD and the organization behind it, check out this link!
Q: How early should I arrive at Stinkweeds for RSD?
A: People usually line up early, well before 8AM, so plan accordingly. But, we have plenty of nearby parking! Please plan on using the Park & Ride on the South side of Camelback, across the street from our shop,  the AJ's parking lot on the NE corner of Central and Camelback, or take the LightRail. There's a stop across the street! THERE WILL NOT BE ON-SITE PARKING THE MORNING OF RSD.
Q: Why can't I preorder or hold RSD Exclusives?
A: The idea behind all RSD events is to get locals out to their favorite local record stores. Holding items or allowing pre-orders opens it up for out of towners getting all that good stuff that you want! Plus, it's against the rules! All participating RSD stores must sign a pledge that this sort of thing can not and will not happen. These releases are in high demand and keeping exclusives to local customers gives you a better chance of getting what you want!
Q: Are you getting the thing that I want and how many are you going to have? Will you have this specific album? 
A: Many of these items are in VERY high demand, and will be arriving in VERY limited quantities. However, some titles are more limited than others, and we're always happy to answer any questions about how many of each title we will receive. Call us at 602-248-9461, send us an email, or DM us on Instagram/Facebook. 
Feel free to reach out with any additional questions via phone (602-248-9461) or email.